More
Sexual consent can be tough to explain to young kids. But this psychotherapist has some advice.
My daughter and I are waiting in the exam room for the pediatrician. We are here for her annual wellness checkup.

And from the moment our pediatrician walks through the door, she is all about focusing on my daughter. She looks my daughter in the eyes and kindly greets her. She shakes her hand. She addresses my daughter with her questions. She explains what we'll be doing today.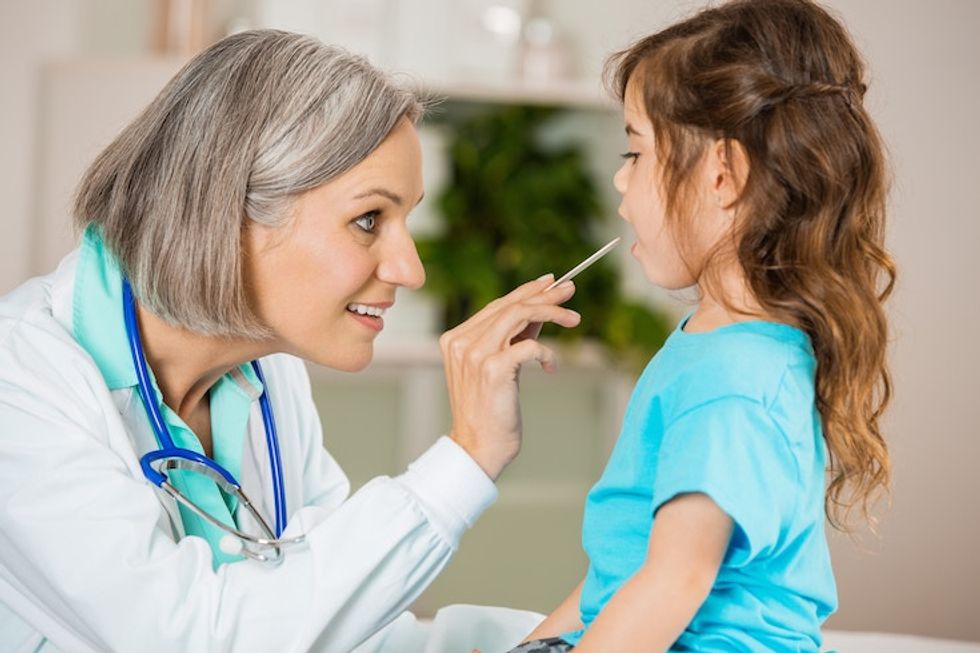 <p class="image-caption">Image via iStock.</p><p><strong>And the pediatrician asks for consent. She asks, "May I listen to your heartbeat now?"</strong></p><p>As a psychotherapist, I'm tuned into the ways in which our pediatrician is communicating this message to our daughter: "I regard you as a human being," "You matter," and "Your body is to be regarded."</p><h2>This is very different from a routine doctor's visit at a different office I had many years ago with my son, though. </h2><p>During that visit, the pediatrician rushed through the exam. He didn't look at my son or address him. The nurse came in with the immunizations and said, "Hold him down. It's better if we do this fast without him knowing what's coming. He won't remember this."</p><p>As a mom, I knew my son. As a body-centered psychotherapist, I knew that his nervous system would remember this experience. And I knew that conditions like that can cause an experience to be traumatic for a young person. "No," I said. "I know what my son needs. I need to talk to him first and explain what we are doing."</p><p><strong>That day, we didn't rush, we didn't surprise him, we didn't hold him down, and we didn't give him a treat for "not crying." I showed my son regard by honoring what I knew he needed. </strong> </p><h2>Parents: Teaching sexual consent to our children begins with us. </h2><p>Every parent I know wants their child to grow up to be confident, be resilient, feel good about who they are, and show compassion toward others. As parents, we want to communicate: "You matter. Your body matters. Your consent and boundaries matter."</p><p><img type="lazy-image" data-runner-src="https://assets.rebelmouse.io/eyJhbGciOiJIUzI1NiIsInR5cCI6IkpXVCJ9.eyJpbWFnZSI6Imh0dHBzOi8vYXNzZXRzLnJibC5tcy8xOTQ5ODQxNS9vcmlnaW4uanBnIiwiZXhwaXJlc19hdCI6MTY1MTUwMzM1NX0.czo--ELbfhVx33y7G_Vzd3PM0vU8CKj9e0Q4qGlQggg/img.jpg?width=980" id="f8119" class="rm-shortcode" data-rm-shortcode-id="5b676ca44fe8d9e1ef6cabccf51928ba" data-rm-shortcode-name="rebelmouse-image"></p><p class="image-caption">Image via iStock.</p><p>This is regard, and it begins the moment our children are born. We communicate messages that help our children form their self-concept and sense of self-worth. And they learn how to interact with themselves and others through our regard for their bodies, emotions, opinions, and personhood.</p><p><strong>With regard as your foundation, here are five everyday ways you can teach your children about sexual consent:</strong></p><h2>1. Ask for their consent often. </h2><p>Last night, my son and I were walking home from the park. I went to reach for his hand, but then I stopped myself and asked him, "Can I hold your hand?" He smiled at me and reached out.</p><p>Asking for your child's permission to touch them or come into their personal space can be this simple. <strong>You can ask such questions as: "May I brush your hair?" "Can I have a hug?" and "Is it OK if I hold your hand?"</strong></p><p>Does this mean you have to ask for their consent every time? As parents, we want to be intentional about what we are doing and why we are doing it. </p><p>Imagine your children as teenagers going out with friends with hundreds — if not thousands — of experiences at home where you modeled consent day after day. They will be more likely to respond to any situation with regard for their bodies, and they will be more likely to regard others' bodies and ask for consent, too.</p><h2>2. Teach them that their "no" matters.</h2><p>A client came to me because she was feeling distant from her 12-year-old daughter. <strong>And in working together, we eventually realized that her daughter wanted more regard for her personal space, time, and boundaries.</strong></p><p>So she started to look for ways she could ask, rather than demand, that her daughter engage with her. Instead of saying, "Give me a hug goodbye," she would ask her daughter, "Can I have a hug goodbye?" And on the days her daughter said "no" or her body language indicated "no," she would say, "That's cool. If you ever want a hug, I'm here. I love you. Have a great day."</p><p><strong>If you ask to brush your daughter's hair, and she says "no," it's so important to regard her "no." If you ask to hug your son, and he says "no," regard his "no," too. </strong>You could reply with, "OK, I respect that. Let me know if you change your mind."</p><p><img type="lazy-image" data-runner-src="https://assets.rebelmouse.io/eyJhbGciOiJIUzI1NiIsInR5cCI6IkpXVCJ9.eyJpbWFnZSI6Imh0dHBzOi8vYXNzZXRzLnJibC5tcy8xOTQ5ODQxNi9vcmlnaW4uanBnIiwiZXhwaXJlc19hdCI6MTY0NTg3NDQ0M30.Jmp8jH3yuJz-ukEb5NNyKvajPNViXkyLmh-HWA5lOcA/img.jpg?width=980" id="dd9b8" class="rm-shortcode" data-rm-shortcode-id="5cfd7deb21fbb7c2836f7eea523fcced" data-rm-shortcode-name="rebelmouse-image"></p><p class="image-caption">Image via iStock.</p><p>It's also OK if your child doesn't want to hug anyone at all. They can still respectfully greet others with a sincere acknowledgment of "hello."</p><p><strong>When you or anyone else begs or tries to convince a child to change their answer now, they learn to override their inner barometer of what feels comfortable and what doesn't feel comfortable just to give in to someone who they perceive has more power.</strong> Over time, you respecting their "no" teaches your children that their "no" matters.</p><h2>3. Model to your child that "yes" can become "no" at any time.</h2><p>Let's say you are gently wrestling with your young child, and she says, "Stop!" What do you do? You stop. Even if she is joking, you stop and check in with her.</p><p><span></span>Let's say you have a group of elementary-school-aged boys over your house, and they are running around with swords and roughhousing.<strong> Teach them to pause the game every so often and check in with each other to see if the game is going OK for everyone.</strong></p><p><strong></strong>And if you have a tween or teenager? Have "the conversation." As you share about sexual intimacy based on your family's values, include communicating to them that the absence of "no" is not "yes." <strong>Teach them that a "yes" can turn into a "no" at any time.</strong></p><p><strong></strong>When you model to your child that "yes" can become "no" at any time in everyday experiences, you are sending the message "at any point when you feel uncomfortable or have had enough in any situation, you are to listen to that inner voice. And at any point another person feels uncomfortable and has had enough, you are to respect them and stop what you are doing."</p><h2>4. Seek to understand.</h2><p>This past spring, my daughter announced, "I don't want to take gymnastics anymore!" I was confused. I thought she loved gymnastics. I had put a lot of thought and effort into finding the right place for her. But instead of saying to her: "Yes, you do! I know you do!" I said, "Tell me about it."</p><p><img type="lazy-image" data-runner-src="https://assets.rebelmouse.io/eyJhbGciOiJIUzI1NiIsInR5cCI6IkpXVCJ9.eyJpbWFnZSI6Imh0dHBzOi8vYXNzZXRzLnJibC5tcy8xOTQ5ODQxNy9vcmlnaW4uanBnIiwiZXhwaXJlc19hdCI6MTYxMjM3ODcyNH0.7wjcpCcEPK3WgLatfUSWi8PIZ6w5SRyStKgyaDbfuac/img.jpg?width=980" id="b2620" class="rm-shortcode" data-rm-shortcode-id="6e3fd7345d51d5a8824981cf03fa9526" data-rm-shortcode-name="rebelmouse-image"></p><p class="image-caption">Image via iStock.</p><p>This opened the door for my daughter to feel comfortable to share what she was feeling and for me to listen to her. I came to understand that actually she loved gymnastics, but what she really loved was doing gymnastics on her own at home and making up routines rather than being in a structured class. </p><p><strong>When you seek to understand your child, you communicate the message: "Your opinion matters. Your voice matters. Your feelings matter.</strong><strong> And I'm here to listen and be alongside you." </strong> Even if you think your child is playing around or sharing an opinion out of frustration, when you seek to understand, you are connecting to your child with regard.</p><h2>5. Keep "regard" at the forefront of your mind.</h2><p>Our children have their own bodies, minds, feelings, opinions, and dreams. <strong>Just like adults, our children want to be regarded, listened to, and respected. </strong> So ask for your child's opinion. Speak your child's name in a way that is regarding. Look at your child when he or she is talking. These are everyday ways that you can communicate the message "You matter."</p><h2>We are our children's first teachers.</h2><p>The recent Stanford sexual assault case reminded me, yet again, that we have work to do as a culture when it comes to teaching our children about sexual consent.</p><p>As parents, it can feel scary to broach loaded and triggering topics like sexual consent. <strong>However, these simple, everyday actions can empower us to show regard to our children in our daily lives. </strong>And as our children experience our regard in everyday ways, they are more likely to regard themselves and other people's bodies and integrity, too. </p><p>No matter the age of your child, you can support your child being a confident, resilient, compassionate (to self and others) person by choosing to look at, talk to, and be with your child. <strong>You can support your child's future by the regard you show them today. </strong></p>