More
How Kellyanne Conway sits on a couch shouldn't matter.
"Does Seeing President Obama's Foot on the Oval Office Desk Make Your Blood Boil?" reads a September 2013 headline at The Blaze, Glenn Beck's website.
Conservative sites like Twitchy, Drudge Report, and others joined in, with some accusing Barack Obama of desecrating the Resolute desk. In many conservative circles, this photo was seen as proof that Obama didn't have respect for the Oval Office. As Joe Biden would have said, it was a BFD.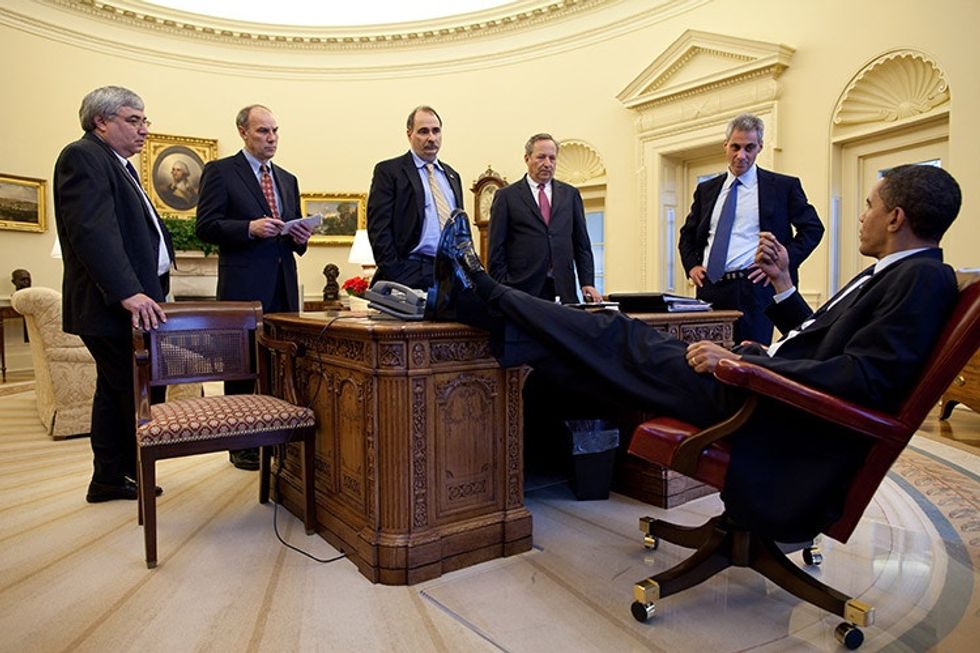 </div></div></div><h2>On Monday, a photo of President Donald Trump's adviser, Kellyanne Conway, sitting with her feet on one of the office's couches <a href="http://www.nbcnews.com/news/us-news/kellyanne-conway-s-feet-oval-office-couch-kick-debate-n726596" target="_blank">sparked its own bit of decorum-related controversy</a>.</h2><p>And yeah, while putting your feet (and shoes) on a couch is something generally frowned upon by parents nationwide (sorry, Mom), is it really that important?</p><div><div class="push-wrapper--mobile" data-card="image" data-reactroot=""><img type="lazy-image" data-runner-src="https://assets.rebelmouse.io/eyJhbGciOiJIUzI1NiIsInR5cCI6IkpXVCJ9.eyJpbWFnZSI6Imh0dHBzOi8vYXNzZXRzLnJibC5tcy8xOTQ3MzAzNy9vcmlnaW4uanBnIiwiZXhwaXJlc19hdCI6MTYxNTU5MjU0NX0.nlSKej4CjAqhdx-huDMGVLekV57EAaWN8lWhQZOU3xY/img.jpg?width=980" id="f4c68" class="rm-shortcode" data-rm-shortcode-id="33122c19a847892820d76f264f8e1807" data-rm-shortcode-name="rebelmouse-image"><div class="image-caption"><p>Pablo Martinez Monsivais/AP.</p></div></div></div><p>There's a lot of hypocrisy and selective outrage in the world of partisan politics. There's nothing new about that, and it's (unfortunately) not going away anytime soon. </p><p>Some of the same people who saw fault with Obama's foot on the desk had no problem when past presidents put their feet on the desk and have no problem with Conway putting her feet on the couch. </p><div><div class="push-wrapper--mobile" data-card="image" data-reactroot=""><img type="lazy-image" data-runner-src="https://assets.rebelmouse.io/eyJhbGciOiJIUzI1NiIsInR5cCI6IkpXVCJ9.eyJpbWFnZSI6Imh0dHBzOi8vYXNzZXRzLnJibC5tcy8xOTQ3MzAzOC9vcmlnaW4uanBnIiwiZXhwaXJlc19hdCI6MTY0MTE1MDk5Mn0.PZApr3aaGIeReyzpMXVAnwlTQy5jYn6b2wI2KKTDWVQ/img.jpg?width=980" id="e6648" class="rm-shortcode" data-rm-shortcode-id="67d23412b6626ff6531562bfd3fd5167" data-rm-shortcode-name="rebelmouse-image"><div class="image-caption"><p>President George H.W. Bush in 1990. Photo by Carol T. Powers/picture-alliance/dpa/AP.</p></div></div></div><p>On the flip side, people who rushed to defend Obama's right to put his feet on the desk are indignant over the photo of Conway on the couch.</p><p><strong>So what's this really about? Is the outrage really about Oval Office decorum?</strong></p><p>No. Of course not. How Obama or Trump or Bush or Conway choose to sit in the Oval Office is meaningless in the grand scheme of things.</p><p>Context, however, does matter. A lot of the outrage over Conway's photo didn't stem <em>solely </em>from the fact that she had her feet on the couch but the situation in which she did it. As part of an administration with a less-than-stellar record on race and open support from white nationalists, maybe <a href="https://www.washingtonpost.com/video/politics/trump-meets-with-leaders-of-black-colleges-at-the-white-house/2017/02/27/23ac0ea0-fd4b-11e6-9b78-824ccab94435_video.html" target="_blank">the president's meeting with leaders of some of the nation's Historically Black Colleges and Universities</a> wasn't the ideal occasion for Conway to strike an informal pose.</p><p>But maybe instead of getting worked up about the little things — like whether or not an elected official wears an <a href="http://www.foxnews.com/story/2007/10/04/barack-obama-stops-wearing-american-flag-lapel-pin.html" target="_blank">American flag pin</a> or what type of food they eat (Obama's "<a href="http://www.huffingtonpost.com/2009/05/07/hannity-attacks-obama-for_n_198851.html" target="_blank">fancy burger</a>" or Trump's <a href="http://www.eater.com/2017/2/27/14748346/donald-trump-ketchup-steak" target="_blank">well-done steak with ketchup</a>), maybe we should focus our energy on some of the other things that happen behind those closed doors.</p><h2>Let's take some of the energy we put into being shocked about the White House furniture and refocus it on the bills and executive orders being signed by the president.</h2><p>Whether it's Trump reinstating the <a href="http://www.upworthy.com/abortion-rights-are-in-trouble-here-are-9-actions-you-can-take-to-protect-them">harmful anti-abortion</a> "Mexico City" policy, ordering the building of a <a href="http://www.upworthy.com/9-things-most-people-dont-know-about-life-on-the-mexican-american-border">southern border wall</a>, or gutting safety regulations, the most important things we need to pay attention to in the White House have nothing to do with chairs or desks but rather pens and paper.</p><div><div class="push-wrapper--mobile" data-card="image" data-reactroot=""><img type="lazy-image" data-runner-src="https://assets.rebelmouse.io/eyJhbGciOiJIUzI1NiIsInR5cCI6IkpXVCJ9.eyJpbWFnZSI6Imh0dHBzOi8vYXNzZXRzLnJibC5tcy8xOTQ3MzAzOS9vcmlnaW4uanBnIiwiZXhwaXJlc19hdCI6MTYwNjc5Mzg1NX0.7Fil_nOhI6-1Sm3N3D3mW5mrS1-WBnbsBPqlzm0_-u4/img.jpg?width=980" id="ea116" class="rm-shortcode" data-rm-shortcode-id="26953478fe8b7463f58ee4509461cd32" data-rm-shortcode-name="rebelmouse-image"><div class="image-caption"><p>Photo by Ron Sachs - Pool/Getty Images.</p></div></div></div><p>So go ahead, Mr. President. Put your feet up if you'd like. History won't judge you by whether or not you scuffed the desk but by how you affected the lives of the more than 300 million Americans you govern.</p><div><div class="push-wrapper--mobile" data-card="image" data-reactroot=""><img type="lazy-image" data-runner-src="https://assets.rebelmouse.io/eyJhbGciOiJIUzI1NiIsInR5cCI6IkpXVCJ9.eyJpbWFnZSI6Imh0dHBzOi8vYXNzZXRzLnJibC5tcy8xOTQ3MzA0MC9vcmlnaW4uanBnIiwiZXhwaXJlc19hdCI6MTY0NjExOTA5NH0.5S_p1CkdUxd3z11qjBsCus-V4w9kXiNvBLNpgXSTfTs/img.jpg?width=980" id="ecdbe" class="rm-shortcode" data-rm-shortcode-id="f6a01a4f2993702411540875e8bdbf35" data-rm-shortcode-name="rebelmouse-image"><div class="image-caption"><p>Photo by Andrew Harrer - Pool/Getty Images.</p></div></div></div>