More
After a scary run-in with a fan who wouldn't take 'no' for an answer, Amy Schumer set some boundaries.
Over the weekend, Amy Schumer made a surprising, bold declaration: no more photos with fans.
Why? Well, here's how she explained it in an Instagram post, showing the overzealous fan's picture he snapped of himself with Schumer (she wound up being just a blur in the background):
"This guy in front of his family just ran up next to me scared the shit out of me. Put a camera in my face. I asked him to stop and he said " no it's America and we paid for you" this was in front of his daughter. I was saying stop and no. Great message to your kid. Yes legally you are allowed to take a picture of me. But I was asking you to stop and saying no. I will not take picture with people anymore and it's because of this dude in Greenville."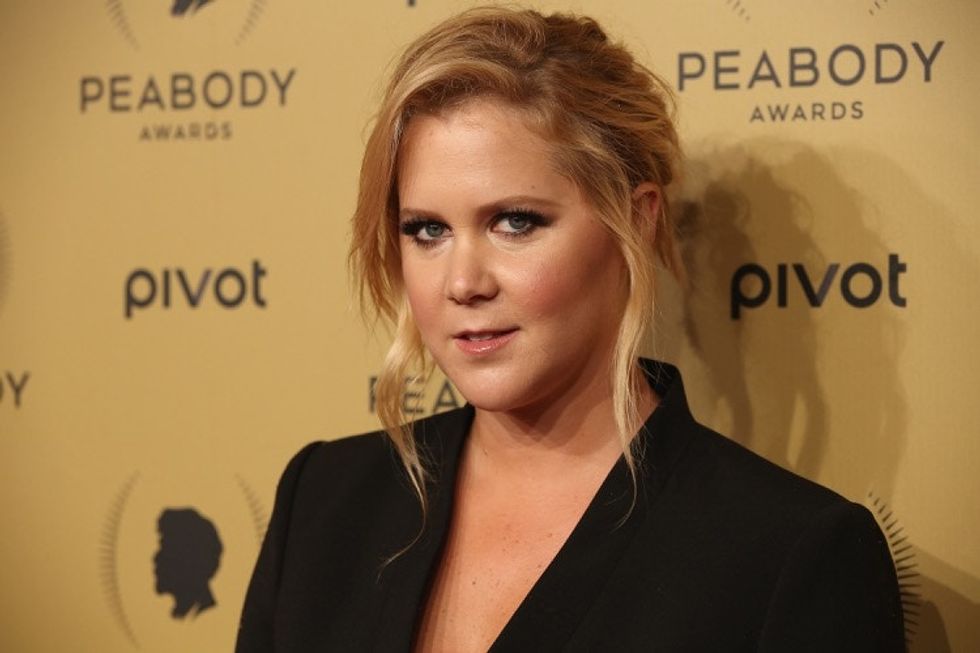 <p class="image-caption">Amy Schumer. Photo by Jemal Countess/Getty Images for Peabody Awards.<br></p><p><strong>"No, it's America, we paid for you?" Um, what?</strong></p><h2>Later, she walked her position back a bit, explaining that yes, she'll still take photos with fans who are nice and respectful of her space.</h2><p><img class="tweet-placeholder" data-content="Thanks for the kind words and support. I know there are bigger problems in the world. But this was not right pic.twitter.com/8fqoIm7sHC— Amy Schumer (@amyschumer) April 30, 2016" data-tweet="https://twitter.com/amyschumer/status/726506361253691392" src="/assets/tweet-placeholder.png"></p><h2>It might be controversial to say this, but celebrities do not "owe" their fans anything. They're people, just like any of us.</h2><p>I don't know what it's like being Amy Schumer. I can't really imagine what it's like having your every move photographed, being constantly bombarded for autographs, or just generally having your personal space taken away from you.</p><p>While, yes, as Schumer said in her original post, the man was legally allowed to take her photo, there's a difference between something being legal and something being right or being done respectfully. What happened in that situation was not right or respectful.</p><p> <strong>What happened in that situation was a violation of Schumer's personal boundaries with a lack of respect and consent.</strong></p><p><strong></strong></p><p><img type="lazy-image" data-runner-src="https://assets.rebelmouse.io/eyJhbGciOiJIUzI1NiIsInR5cCI6IkpXVCJ9.eyJpbWFnZSI6Imh0dHBzOi8vYXNzZXRzLnJibC5tcy8xOTUxODc1NS9vcmlnaW4uanBnIiwiZXhwaXJlc19hdCI6MTYzODg0NjEzOH0.-3UGrelYdOz9A7F8KEbn42rWh34d_Nq3BJ9wsStOSgU/img.jpg?width=980" id="80b8b" class="rm-shortcode" data-rm-shortcode-id="a761f317522e911f0f10043a0e1071ad" data-rm-shortcode-name="rebelmouse-image"></p><p class="image-caption">Schumer and Jimmy Fallon. Photo by Theo Wargo/NBC/Getty Images for "The Tonight Show Starring Jimmy Fallon."<br></p><h2>Thanks to technology, the entitlement we feel toward access to celebrities has been getting worse lately.</h2><p>Earlier this year, <a href="http://hollywoodlife.com/2016/04/08/demi-lovato-stalker-sarah-feud-madison-de-la-garza-pic/" target="_blank">Demi Lovato dealt with an "Instagram stalker"</a> famous for snapping pictures with celebrities and exaggerating how they encountered one another. In August 2014, someone <a href="https://en.wikipedia.org/wiki/ICloud_leaks_of_celebrity_photos" target="_blank">released the private, personal photos of more than 100 celebrities</a> — Jennifer Lawrence, Kate Upton, Kirsten Dunst, Kaley Cuoco, and others — online.</p><p><img type="lazy-image" data-runner-src="https://assets.rebelmouse.io/eyJhbGciOiJIUzI1NiIsInR5cCI6IkpXVCJ9.eyJpbWFnZSI6Imh0dHBzOi8vYXNzZXRzLnJibC5tcy8xOTUxODc1Ni9vcmlnaW4uanBnIiwiZXhwaXJlc19hdCI6MTYyOTY2NjYzNH0.adxJE3Pr3Yz1xo_1FRwPs-JLn8nhWni0rJeL6AEvwfE/img.jpg?width=980" id="23fcc" class="rm-shortcode" data-rm-shortcode-id="ad62cdae432ed0f15fb4a698d90e30ce" data-rm-shortcode-name="rebelmouse-image"></p><p class="image-caption">Demi Lovato. Photo by Kevork Djansezian/Getty Images.</p><p>On Twitter and Facebook, people demand attention from their favorite celebs, and it seems like the bar for "public figure" keeps getting increasingly lower. </p><p>Even so, whether someone has starred in blockbuster films or whether they're just your average everyday person, we don't have a "right" to anybody's time or anybody's body.</p><p><strong>Creating a culture of consent starts by respecting other people's boundaries in all situations, no matter how you're interacting with them or how you know them. </strong></p><p>Again, <a href="https://twitter.com/amyschumer/status/726506361253691392" target="_blank">Schumer has since said</a> that she'll "still take pictures with nice people when I choose to if it's a good time for that. But I don't owe you anything. So don't take [a photo] if I say no."</p><p>What's that called, folks? Basic human decency. It's pretty easy.</p><h2>Congratulations are in order for all of Schumer's success, but we must remember that success doesn't equal entitlement to someone's time, energy, or attention.</h2>