One day strolling around Brooklyn, Sandra Oh ("Grey's Anatomy") learned she landed the part of Eve on BBC America's "Killing Eve."
But of all the emotions an actor may experience learning they've snagged a lead role, Sandra Oh just felt ... confused.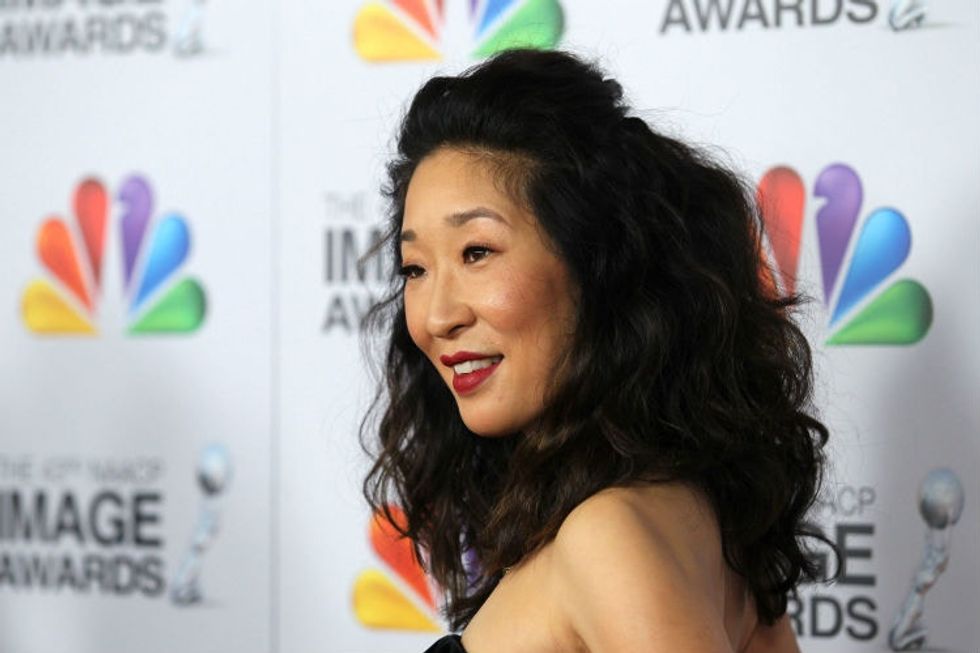 Photo by Frederick M. Brown/Getty Images for NAACP Image Awards.
<h2>Lead roles are rarely offered to racial minorities, she noted to <a href="http://www.vulture.com/2018/04/sandra-oh-killing-eve.html" target="_blank">Vulture</a>. It took her a moment for the news to sink in.</h2><p>"When I got the script for 'Killing Eve,' I remember I was walking around in Brooklyn and I was on my phone with my agent, Nancy," said Oh. "I was quickly scrolling down the script, and I can't really tell you what I was looking for. So I'm like, 'So Nancy, I don't understand. What's the part?' And Nancy goes, 'Sweetheart, it's Eve, it's Eve.'"</p><p>Oh, who is Korean-Canadian, said the moment was a wakeup call for her (emphasis added):</p><blockquote><strong>"I think about that moment a lot.</strong> Of just going, how deep have I internalized this? [So] many years of being seen [a certain way], it deeply, deeply, deeply affects us. It's like, how does racism define your work? <strong>Oh my goodness, I didn't even assume when being offered something that I would be one of the central storytellers</strong>. Why? And this is me talking, right? After being told to see things a certain way for decades, you realize, 'Oh my god! They brainwashed me!' I was brainwashed! So that was a revelation to me."</blockquote><p class="shortcode-media shortcode-media-rebelmouse-image"><img type="lazy-image" data-runner-src="https://assets.rebelmouse.io/eyJhbGciOiJIUzI1NiIsInR5cCI6IkpXVCJ9.eyJpbWFnZSI6Imh0dHBzOi8vYXNzZXRzLnJibC5tcy8xOTM5ODA4My9vcmlnaW4uanBnIiwiZXhwaXJlc19hdCI6MTY0MjUzNzM3OX0.pfDwESSi5zs_EWerjpcx9oGnsWKzqSIHg8spSO2ofQw/img.jpg?width=980" id="545be" class="rm-shortcode" data-rm-shortcode-id="e59abd5456b2b17bfe7dc64dce7c6286" data-rm-shortcode-name="rebelmouse-image"><small class="image-media media-caption" placeholder="add caption...">Oh and her "Killing Eve" co-star Jodie Comer at a press event in January. Photo by Frederick M. Brown/Getty Images.</small></p><h2>It makes sense that Oh felt "brainwashed." She's worked in an industry with limited opportunities for people like her.</h2><p>A report published in February by the Ralph J. Bunche Center for African-American Studies at UCLA found racial minorities are <a href="http://variety.com/2018/film/news/hollywood-diversity-falls-short-ucla-report-1202711370/" target="_blank">still underrepresented</a> across virtually all roles in TV and film production. While minorities make up 40% of the U.S., for instance, just 20.2% of cable scripted leads were people of color, the report found. And most of the roles were written for men. </p><p><strong>These disproportionate figures don't just affect actors of color trying to find work; they affect every minority watching from home who don't see themselves on screen</strong>. For Oh, her role in "Killing Eve" is another step in changing that status quo.</p><p>"We haven't even scratched the surface of how deeply we need to see ourselves represented," she said to <a href="http://www.vulture.com/2018/04/sandra-oh-killing-eve.html" target="_blank">Vulture</a>. "And how it's not just leaving the images to the outside voices. It's finding it within ourselves."</p>