Parenting
Mom documents positive parenting on TikTok and the heartwarming results in her kids
Positive discipline takes time and effort, but it's totally worth it.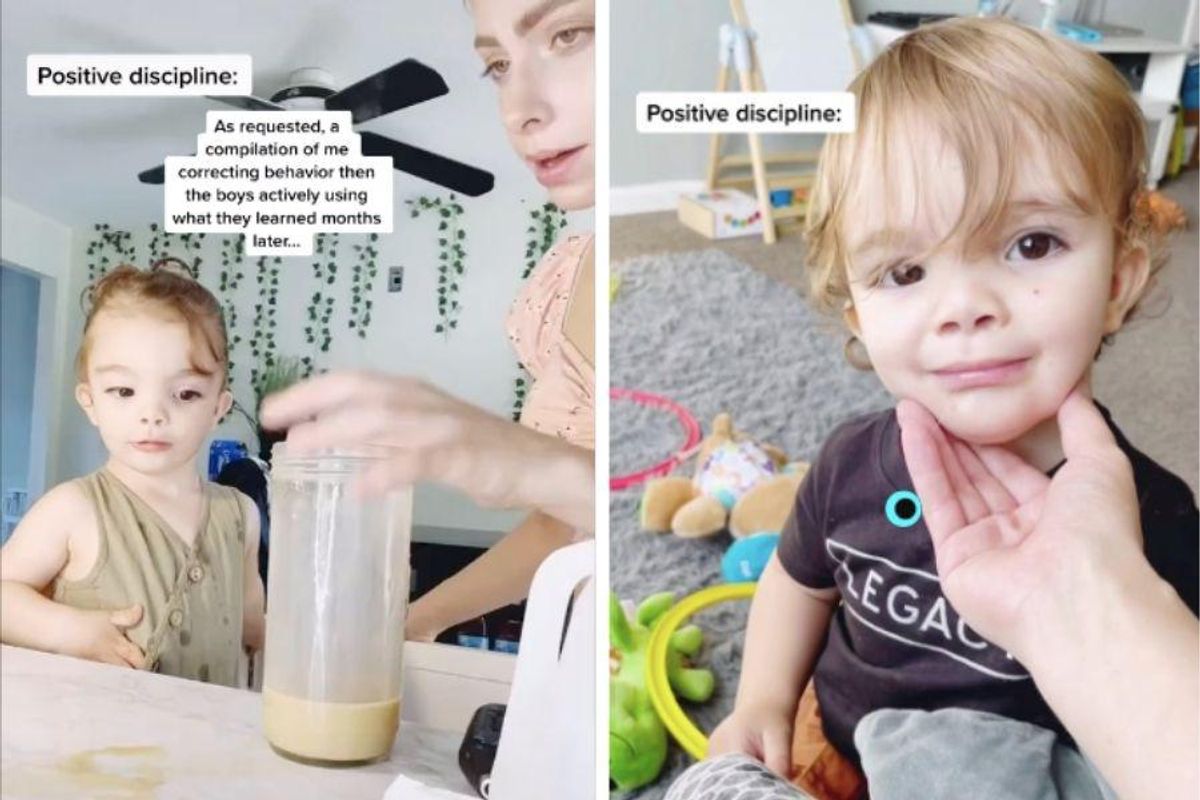 Parenting isn't easy. In fact, it's really freaking hard. Raising humans through the various stages of development, navigating their unique needs and personalities, helping them develop the tools and skills and qualities they will need to be contributing members of society, all while feeding, clothing, housing and making sure they're getting an education? It's a lot.
And unfortunately, many people weren't raised with good parenting examples to learn from. Abuse and neglect of varying degrees are incredibly common, so a lot of people find themselves floundering when it comes time to raise their own kids. So often, people want to do things differently than their parents did but don't know what to do instead.
Positive discipline has been around a long time, but many people don't really understand how it works. Some may see it described as "gentle parenting" or "soft parenting" and assume it's lackadaisical in some way. Some may think of it as weak or ineffectual. Really, nothing could be farther from the truth.
---
A mom on TikTok known as LauraLove has gained millions of followers sharing her positive parenting adventures with her two young sons, Jonah and Carter. It's not all sunshine and roses—she's clear about how much work and repetition gentle parenting takes, and she's honest about when she herself slips into reactive habits. A recent viral video shows some of the results of this parenting approach.
In the video, LauraLove shares how she responds to several different parenting scenarios, then shows how her kids handle them weeks or months later. As she states, gentle parenting doesn't always yield immediate results (because it's not based on fear) but being consistent and patient pays off over time.
Check it out:
@lauralove5514

Gentle parenting doesnt always yeild immediate reaulya because it is nog fear based BUT if you are consistent, you WILL see them actively use what they learn ♥️ Be patient! #fyp #foryou #toddlermom #parenting #gentleparenting #breakingthecycle #positivediscipline #respectfulparenting #viral
Of course, that compilation doesn't show the whole story. She also shared a video that went into more detail on the spilled coffee scenario. She was initially upset so she modeled staying quiet until she had calmed herself, which also helped her son understand that the spill was a problem without shaming him. The natural consequence was that he had to clean up the mess, but he also got to learn about why it wasn't a good idea to slide it and how it impacted the person who was drinking it.
@lauralove5514

Reply to @mairenicadhla As requested, here is the whole video & how I responded 😳🤣 #gentleparenting #foryou #fyp #PassTheBIC #viral #toddlermom #momlife #parenting #positivediscipline
And yes, she did say "that really yummy coffee that you made for me." Her kids make food all the time, as is pretty normal for young kids being raised in a Montessori educational model.
@lauralove5514

Okay but how sweet is this?!? 🥺😭 #UnsealTheMeal #fyp #foryou #montessori #gentleparenting #viral
(Don't worry, that knife is a toddler chopper, which cuts through fruits and vegetables but not through skin.)
Some of her most popular videos are when she gives her older son something from the fridge and sees what he does with it. His cooking skills are impressive. Just watch:
@lauralove5514

SO many request for another one of these! Luckily Carter told me in the morning he felt like cooking today so I surprised him after nap time with some onions 🤣🥰 #takeaNAIRbreak #foryou #viral #fyp #viral #montessori #cooking #recipe #toddlermom
("Where's my seasoninoningoning?" shall be my main kitchen mantra from here on out.)
Parenting is a long game, and positive discipline takes full advantage of that fact. Rather than seeing undesirable behavior as a character flaw to be squashed, gentle parenting looks for the underlying needs not being met, feelings not being expressed, or lessons not being understood and addresses those things. Positive parenting recognizes that children are simply learning and that harsh punishments will often lead to worse outcomes later on, even if they stop a behavior in the short term.
Thanks to LauraLove for showing what respectful parenting can look like and how effective it really can be.