Education
Entire class of high school graduates return to retired kindergarten teacher's house to thank her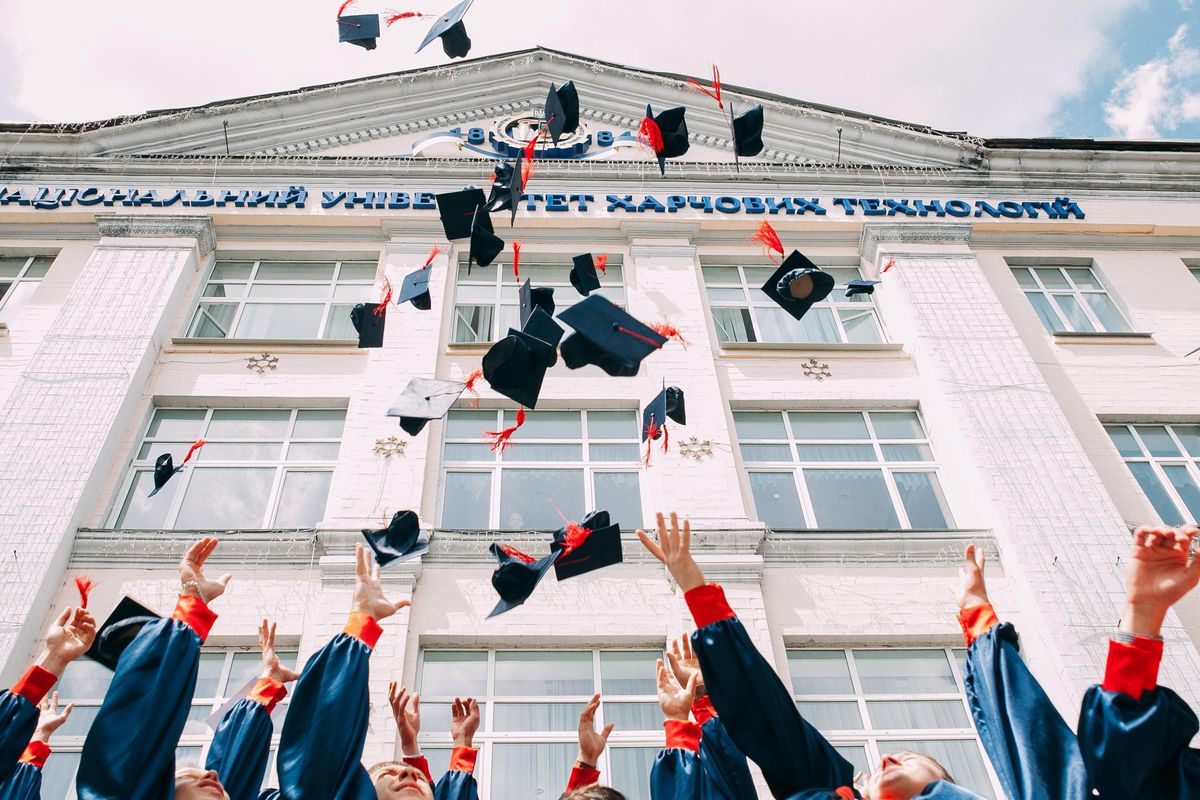 Kindergarten is one of the most formative experiences in a child's life. Not only do they learn there how to navigate the tricky world of friendships and the seeds of independence, they also start their education journey. All of that is made extra special if they have a teacher who really loves them. When you're a kindergarten teacher, you know that you have the power to make a serious impact, and that shouldn't be taken lightly. A retired kindergarten teacher is warming hearts on TikTok as people learn just how great that impact is.
In the video, shared by user Kim Hamilton (the daughter of said teacher), the woman, who is identified in the comments as Mrs. Pearson, is sitting on her porch when a girl in a cap and gown shows up at the gate. "Congratulations!" Mrs. Pearson calls out, waving. Soon, she realizes that the young girl isn't alone.
---
"What's happening?" she asks her daughter, who can be heard chuckling behind the camera.
"They're your kindergarteners," Hamilton replies, as kids in caps and gowns start filing through the gate.
"Did you know this was happening?!" Pearson asks, the shock and joy clearly evident on her face.
"Oh my gosh, I love you all! Look at you!" she exclaims as she runs over to the kids.
Hamilton explains to her that these kids, clearly high school graduates, are the last group of kindergarten students Pearson taught before retiring. As each one of them comes into the gate, the joy on Pearson's face grows exponentially. It's clear that these kids were her babies, and even though now they're all grown up and going off to college, they'll always have that special place in her heart.
"Oh my god, you're all just gorgeous!" she says, giving each one a hug.
The kids are just as happy to see their beloved Mrs. Pearson as she is to see them. They eagerly shuffle together to pose for a picture as she just stops and looks at them, taking it all in. Presumably, she hasn't seen them much in the approximately 12 years since she retired. Maybe they've seen each other around—as a kid, I loved running into my teachers outside of school. I still do. But the fact that these kids showed up to see her, to allow her to celebrate her integral role in their lives, that's really special. And I'm not the only one who thinks so.

Here are just a handful of the comments people left on Hamilton's video:
"Proof they never stop being our kids after they leave us."
"The love she showed and was shown, she must have been one heck of a teacher 💕"
"I started crying when your mom did."
"Love this! ❤ I teach kindergarten and only hope my students will remember me like this! She must have been extraordinary!"
"Literally teachers like HER are the reasons I still talk to my teachers from middle school, HS & college🥺 good teachers are so special"

Watch the video below and try not to cry.