Planet
People are planting WWI-style victory gardens—even those of us without green thumbs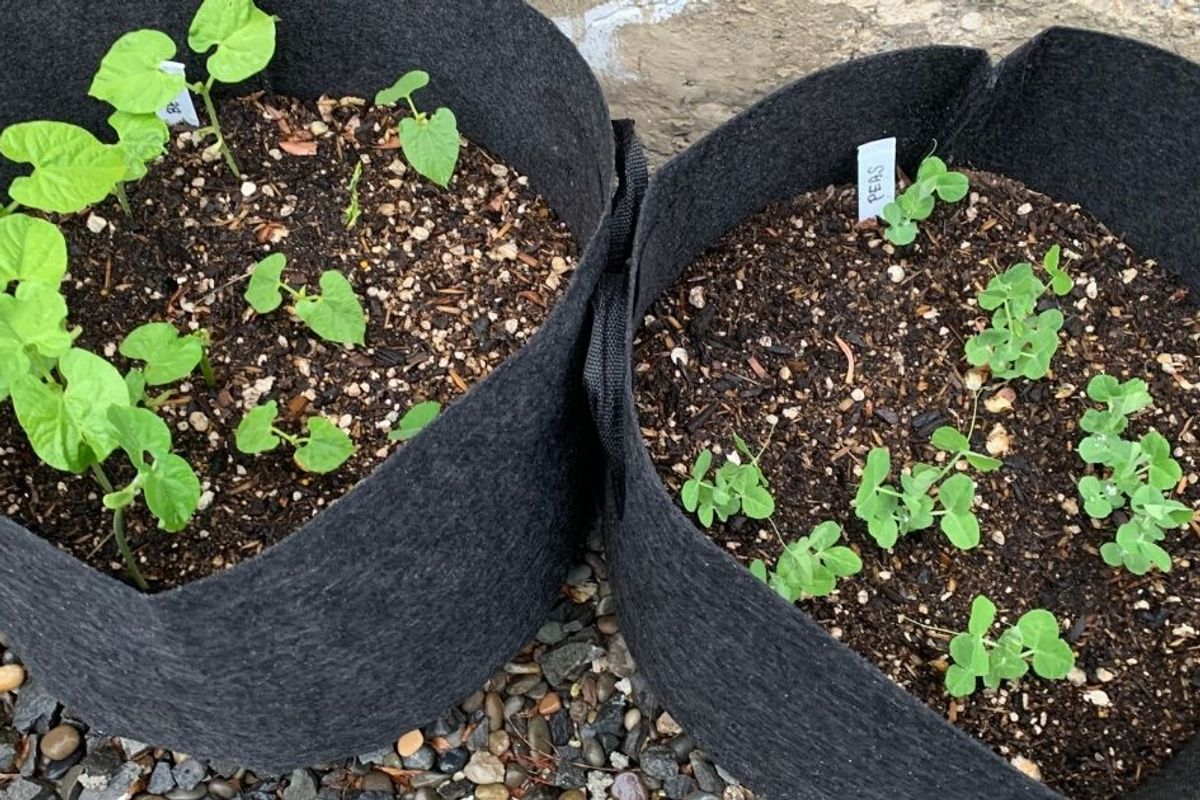 Annie Reneau
I've never been a gardener. I love the idea, but my history of killing plants isn't terribly inspiring. However, this year is different. I am doggedly determined to grow all the things because I will not allow 2020 to defeat me.
Is there a better symbol of hope than a garden? Planting a seed means you believe the future is imminent. Watching a sprout emerge from the soil and grow into a flourishing plant means life goes on. In addition, reaping the fruits and veggies of your efforts and giving thanks for the bounty that nature provides is perhaps the most basic, fundamental human act I can think of.

---
During World War I, Americans were encouraged to plant "victory gardens" to provide food during the war—and they undoubtedly came in handy during the pandemic that overlapped with the end of the war. (Side note: Holy cow, those people were tough.) While our food supply has held up so far in this pandemic, we don't know what will happen in the coming year or so before a vaccine becomes available. Growing some extra food seems as prudent as it is poetic.
Not only that, but gardening is good for you. Research from Princeton University has found that gardening at home had a powerful impact on a person's emotional well-being—just like biking, walking or dining out. The benefits crossed racial demographics as well as urban and rural locations. And vegetable gardening in particular had a stronger benefit than ornamental gardening, which provides mainly aesthetic value.
But what if you're not a natural gardener? What if you don't know where to start? What if you don't have any space to garden?
Even if you're short on land and experience, you can still plant your own little victory garden. If you have a patio or balcony, or any bit of outdoor space, you can use containers instead of outdoor garden beds. My family has space in our yard, but decided to use containers anyway because it's a lot easier than tilling the ground, preparing the soil, etc.
The previous owners of our house had left a few plastic planters, but to supplement them we bought a pack of these grow bags. They're basically fabric pots—they almost feel like felted wool—and they're more affordable than plastic or ceramic containers. They also designed for healthy aeration of the soil, which sounds like something fancy gardeners say. I have no idea what it means, but it sounds important.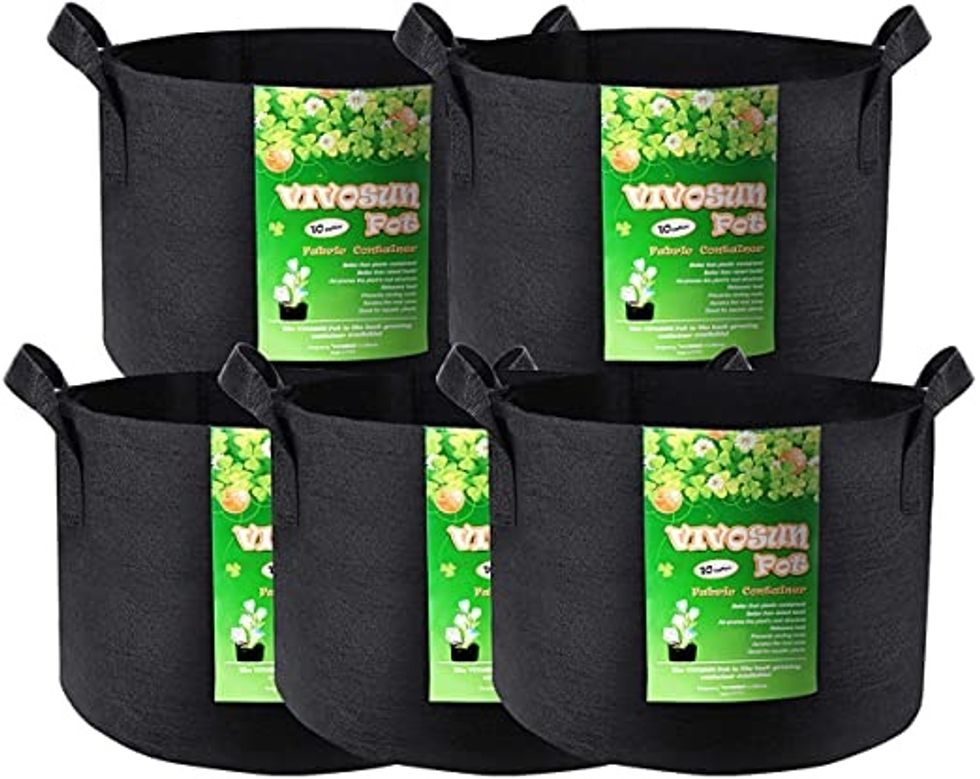 Amazon
You can even choose different sizes of grow bags to accommodate your space and what you want to plant.
One nice thing about container gardening is that you don't have to have a lot of tools. A simple set of small shoveling tools and some gardening glove will suffice. I learned quickly that digging your hands in the dirt without gloves might sound rustic and romantic, but it dries your hands and nails out something fierce.
And yet another advantage of container gardening is that you don't have to figure out how to get your ground soil ready for planting. According to my gardener-by-nature friends, everyone's soil is different, so there's different things you have to add to it and mix into it to get the right balance of minerals— blah blah blah. No thank you. I want to be able to put my seeds or my plant into the dirt and go. With container gardening, you just buy a bag of potting soil (available at any garden center—we got ours at Walmart), dump it in the pot and voila! Ready-to-plant garden.
Lastly, you have to decide what to plant. If you've not gardened before, start with things that are easy and quick to grow, like peas and beans. Look at my beans and peas! I'm doing it! I'm doing it!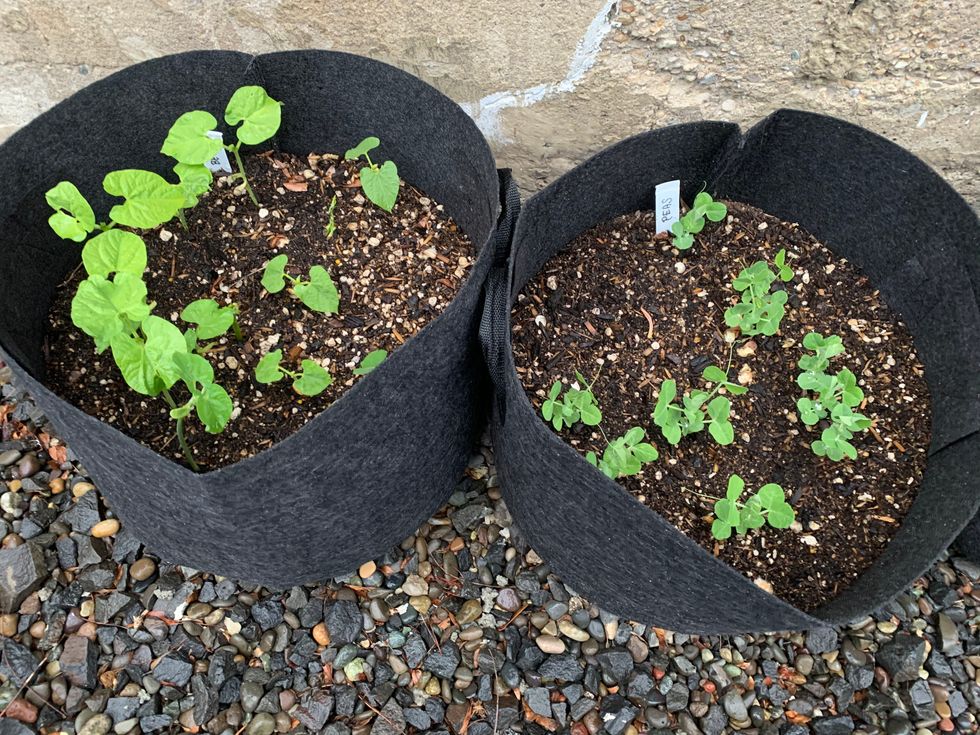 Annie Reneau
You also might consider starting with small plants instead of the seeds. They can take a while to germinate, depending on what you're growing and If you don't get an early start indoors, you might find growing from seed frustrating. That also depends on where you live. I live in the north, where we have a limited growing season.

Apparently, beginning gardening books are flying off the virtual shelves as more and more people are using social distancing time to plant a victory garden. But if video is more your speed, I highly recommend the YouTube channel Epic Gardening. Kevin Espiritu used to be like me—a know-nothing, wannabe gardener—and now he helps people learn how to grow stuff. He's delightful and so helpful:
Epic Gardening Channel Trailerwww.youtube.com
If nothing else, a garden gives you a way to help life flourish (hopefully) and a place to see progress when it seems like the world is slipping backwards. Good luck, novice gardeners!