Pop Culture
Daughter creates elaborate Harry Styles concert outfit for her dad, and he completely rocks it
This dad got Harry styled.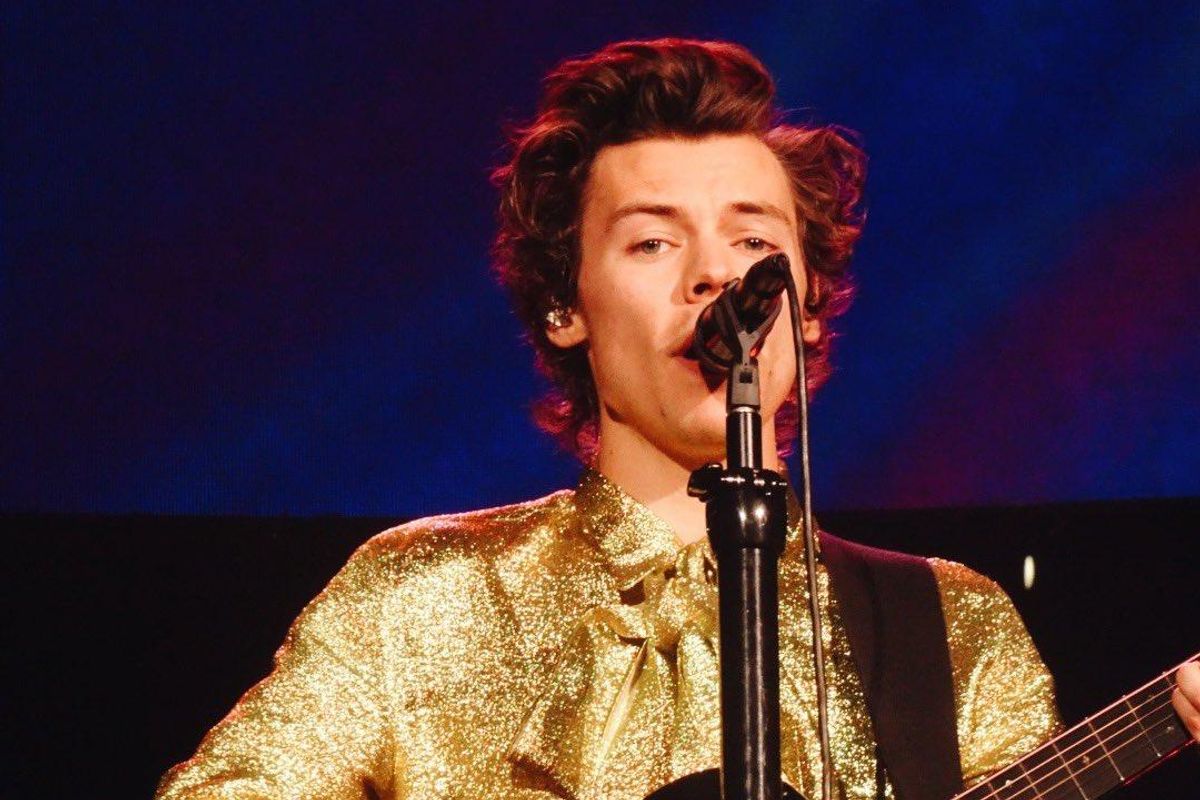 It's one thing to surprise your daughter with back-to-back Harry Styles concert tickets. It's quite another to dress up for the occasion. This dad did both.
According to Today, Nari Rampersad was told, "not asked," by his daughter Sarita that they would be sporting complementary outfits for the big double-night event. He might have not had much choice, but Nari willingly went all in.
Sixteen-year-old Sarita meticulously planned every last detail of their "Love On Tour" ensemble using Google docs and spreadsheets to organize what they would need. Luckily, she had been a fan of Styles since the ripe old age of 7 (during his One Direction days), and based their looks off a Pinterest vision board created back in 2018. There was no shortage of inspo.
By the way folks, this is why you should never delete a Pinterest board. You never know when they might come in handy.
---
Sarita posted videos from both nights onto her TikTok channel, and each received millions of views. Harry Styles concerts are well known for being a celebration of fun, bold fashion, but the pure wholesomeness was next level. To start things off, Sarita and Nari wore coordinated pink and blue bell-bottom pants and flowy open blouses—a signature Styles style. As Sarita told Today, this was in tribute to the pop idol's "Fine Line" album, chosen because "that's the album when I finally got my dad to start listening to Harry too."
Though Sarita was the fashion mastermind, Nari was very proud of the fact that he found two pairs of pants for himself, and in the women's section, no less.
"It fits so much better than the men's clothing!" he told Today. "But nothing had pockets. How do you live without pockets? We had to buy a tote bag to carry my wallet and phone!"
How indeed, Nari. How indeed.
Night two swapped the baby pastels for a bolder red and royal blue combo.
Dressing up wasn't the only way Nari went above and beyond. Sarita added that he had been studying lyrics "for months" so he wouldn't get the words wrong. In fact, that's why she chose her dad as her concert buddy—she knew he would "match" her energy.
"That's pretty cool, because lots of kids don't get that," she noted.
"Seeing her happy is just pretty much all I want," he shared with Today, adding that "I knew Harry would put on a good show, but I was living through her. Her excitement pushed mine to a different level."
Harry Styles might have been the headliner, but Sarita and her dad have stolen the show, and our hearts. Now they'll have a cherished memory forever. Not to mention Nari earned some serious fashion cred.