Culture
A clever family's cake cutting hack will completely change your birthdays from now on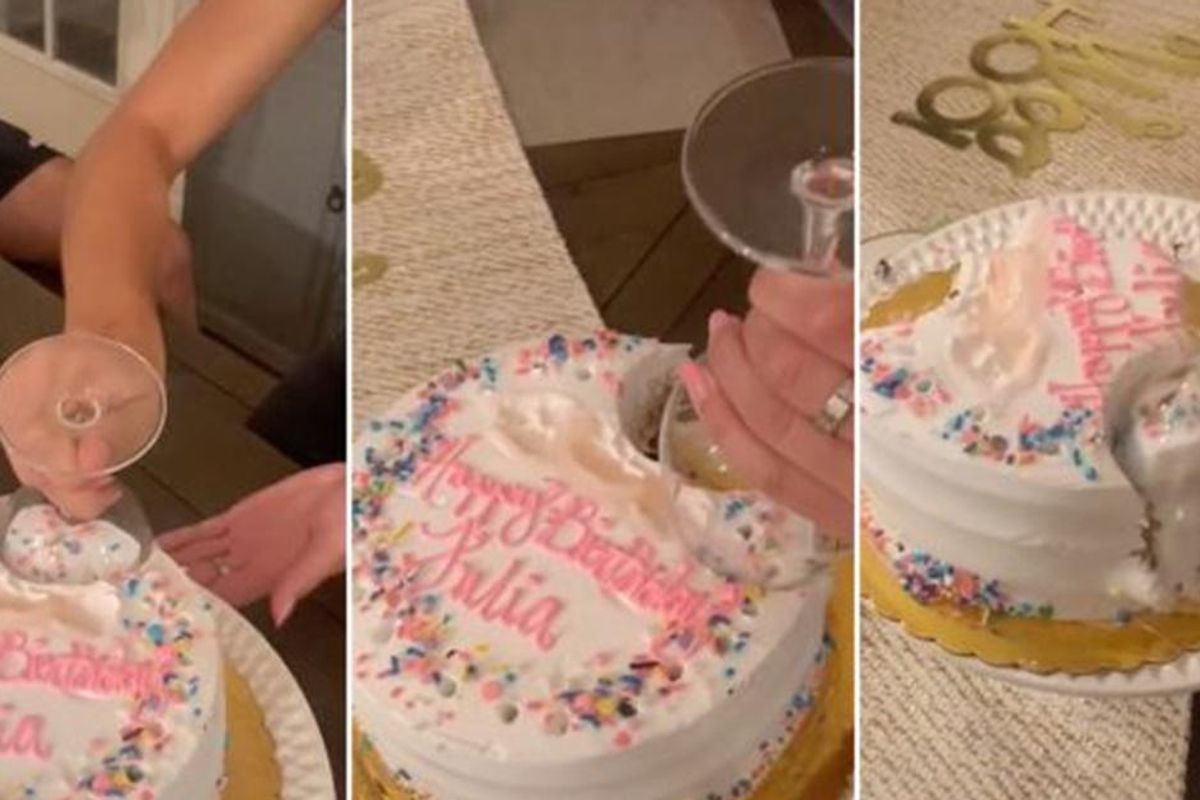 There are a few types of people who always show up around the dining room table when the birthday cake arrives. There's the dutiful person who is nice enough to volunteer to cut and serve the cake for everyone.
There's the person who begs for the piece with the most frosting. Then there's the person who wants as little frosting as possible.

There's also the party-goer who asks for the little sliver of cake and the guy who has no problem taking a slice as big as his head. Let's not forget the cake pusher whose job it is to make sure you take some extra slices home.
"Please take some home so I don't eat it," they beg, patting their tummy.
---
Making everyone happy during the ceremonial cake cutting is no easy task.
But now, a game-changing video on TikTok has completely changed the cake-cutting conversation. It eliminates the cake server, long knife, serving plates, spatula, and replaces it with joyous anarchy.

A TikTok video with over 460,000 likes shows a family celebrating a woman's 20th birthday, and after she blows out the candles, each person takes out a wine glass and scoops up a mound of cake.
It's an easy, streamlined way to make sure everyone gets what they want without having to bother anyone to cut and distribute the pieces. Everyone gets to grab the slice they like and in the amount they desire, without having to negotiate.
It's also a fun way to do things as a group. It would be savage to have a bunch of people scooping up cake with spoons, but with wine glasses, it's fancy.
The only drawback is that this technique really favors the pro-frosting constituency.
Duff Goldman, "Ace of Cakes" star and executive chef of the Baltimore-based Charm City Cakes shop, told Bustle the idea is genius. "Each person can come in with their own cup and get their own serving — it's a nice communal experience where each person can interact with the cake and each other," he said.

"This is a game-changer," one person said on TikTok.
"This is blowing my mind. Why have I never thought of this?" said another woman, who called it "genius."
"A cake hack that I can get behind," another added. "I will never eat cake another way."
The cake hack is a great idea, but one has to be sure that the cake is at room temperature. This could get downright dangerous if used on an ice cream cake or one with a hard filling. Also, you probably want to avoid using super-expensive Tiffany wine glasses that could easily shatter or eating out of the glass with metal utensils.
Ok, TikTokkers that hack was brilliant, your next challenge is to figure out how to eat pie with a wine glass.