Family
Ashton Kutcher and Mila Kunis admit they don't bathe themselves or their kids very often
An interesting approach to cleanliness...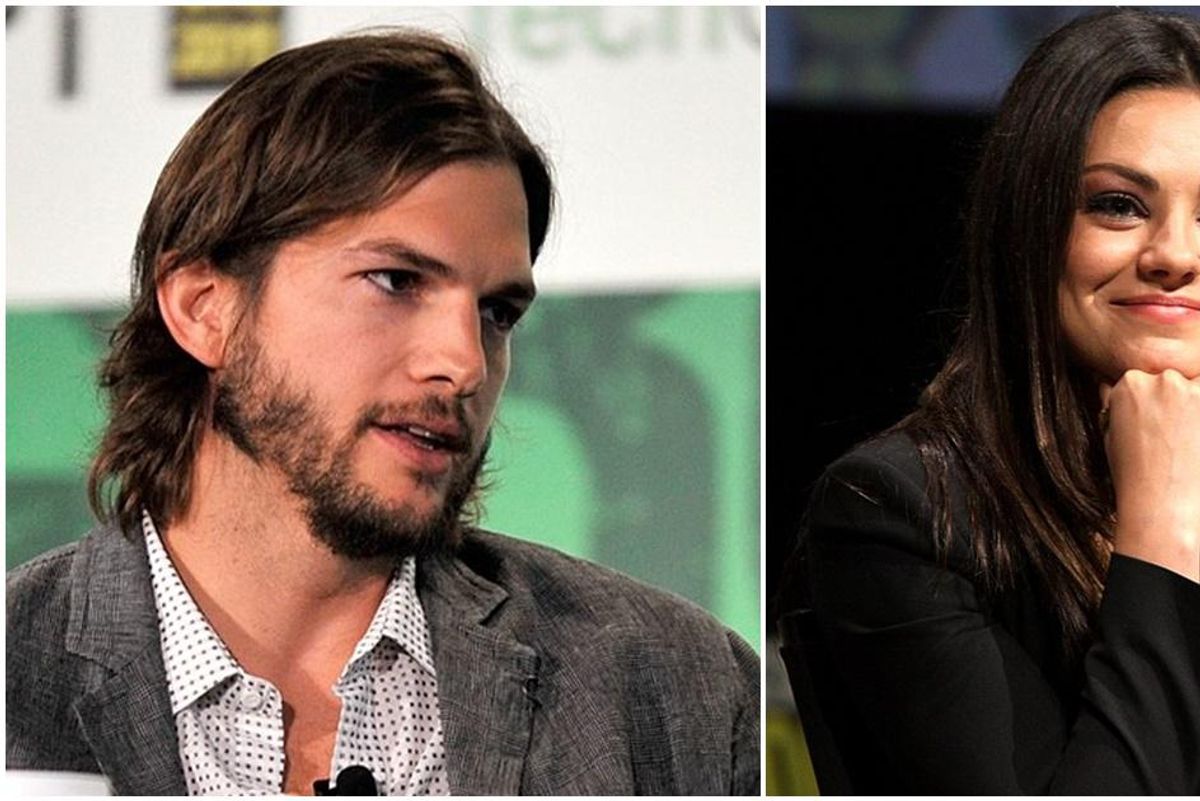 via Wikimedia Commons
The water bill at the Ashton Kutcher and Mila Kunis residence appears to be pretty low after recent revelations the couple made about their family's bathing habits.

In a recent appearance on Dax Shepard's "Armchair Expert" podcast, they admitted they're not that into bathing themselves or their two children, Dimitri Portwood, 4, and Wyatt Isabelle, 6.
---
The conversation started when Shepard explained his ongoing disagreement with co-host Monica Padman. The two have dissenting views over whether people should use soap. "You should not be getting rid of all the natural oil on your skin with a bar of soap every day," he said. "It's insane."
Kunis agreed with Shepard and was very candid about her bathing ritual. "I don't wash my body with soap every day," she shared. "But I wash pits and tits and holes and soles."

"I can't believe I'm in the minority here of washing my whole body in the shower," Padman replied. "Who taught you to not wash?"
"I didn't have hot water growing up as a child," Kunis recalled, "so I didn't shower very much anyway." Kunis was born in the then-Soviet controlled Ukrainian city of Chernivtsi in 1983. Her family migrated to America when she was seven.
Kutcher added that he regularly uses soap and water on just his "armpits and crotch" and "nothing else."
Kunis has passed her lax attitude towards bathing on to her children.
"When I had children," she said, "I also didn't wash them every day. I wasn't the parent that bathed my newborns—ever." Shepard agreed, saying that he and wife Kristen Bell only bathe their children as part of a nighttime routine and don't pay much attention to their cleanliness.
"That's how we feel about our children. We're like, 'Oof, something smells,'" Kunis added. Kutcher has a simple rule when it comes to his children and their cleanliness. "Here's the thing — if you can see the dirt on 'em, clean 'em," he says. "Otherwise, there's no point."
\u201cMila Kunis and Ashton Kutcher Say They Only Bathe Their Kids When 'You Can See the Dirt on Them'\u201d

— People (@People) 1627410000
While the Kutcher-Kunis clan's approach towards hygiene may not be typical of the average American family, they may not be wrong according to science. Research suggests that children benefit from being exposed to germs early in life.
"This line of thinking, called the 'hygiene hypothesis,' holds that when exposure to parasites, bacteria, and viruses is limited early in life, children face a greater chance of having allergies, asthma, and other autoimmune diseases during adulthood," WebMD says.
Basically, the more your body is exposed to the more it can fight off.
"Just as a baby's brain needs stimulation, input, and interaction to develop normally, the young immune system is strengthened by exposure to everyday germs so that it can learn, adapt, and regulate itself," notes Thom McDade, PhD, associate professor and director of the Laboratory for Human Biology Research at Northwestern University.
As for Kutcher and Kunis, they both share the same attitude when it comes to hygiene so nobody in the relationship has the right to complain if the other is a little funky. If it works for them, who are we to judge?
This article originally appeared on 7.28,.21