Democracy
Arnold Schwarzenegger says he'll pay to reopen polling centers across America so everyone can vote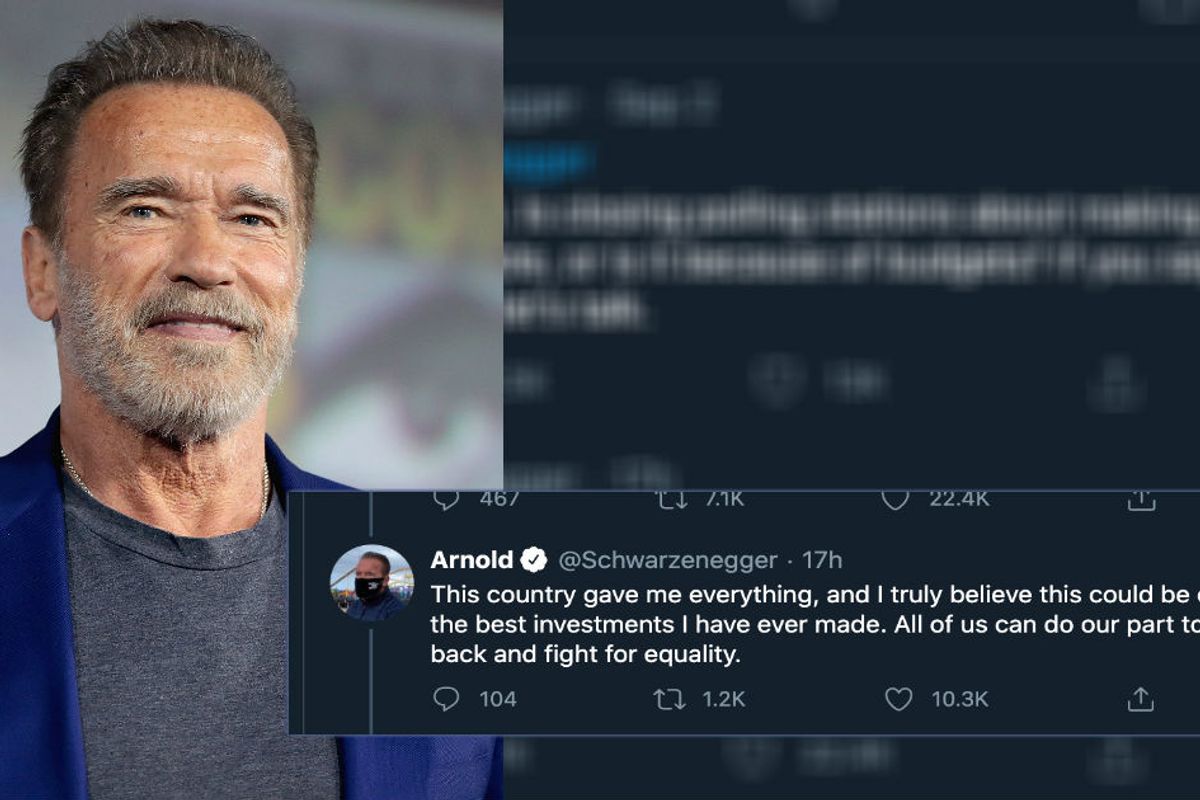 There are very few people who have had quite as memorable a life as Arnold Schwarzenegger. His adult life has played out in four acts, with each one arguably more consequential than the last.

And now Schwarzenegger wants to play a role in helping America, his adopted home, ensure that our 2020 election is safe, secure and available to everyone willing and able to vote.
Shortly after immigrating to America, Schwarzenegger rose up to become the most famous bodybuilder in history, turning what was largely a sideshow attraction into a legitimate sport. He then pivoted to an acting career, becoming Hollywood's highest paid star in a run that spanned three decades.
---
In the early 2000s, Schwarzenegger's life and career took a major u-turn when he decided to run for governor of California …. and won. Sure, Schwarzenegger had a mixed bag as governor, no matter what your political leanings are. And after his second term, he quietly returned to lesser roles in movies and navigated personal setbacks like the dissolution of his marriage. Everyone kind of expected Schwarzenegger to drift into the sunset as a curious footnote of the modern era.
But it's how Schwarzenegger has returned as a public advocate for the greater good that has truly cemented his legacy as an important global citizen: taking on climate change, promoting plant based diets and squaring off against bullies ranging from your average Twitter troll all the way up (or down) to President Trump himself.
In a Twitter thread that quickly went viral on Wednesday, Schwarzenegger said he was willing to invest his personal fortune in helping to re-open polling centers around America that have been closed because of budget cuts and safety concerns tied to Covid-19.
He went on to challenge those who say it's not voter suppression but simply a question of how we pay for it:

"I've been thinking about this a lot. I'm a fanatic about voting. Most people call closing polls voter suppression. Some say it is "budgetary." What if I made it easy & solved the budgetary issue? How much would it cost to reopen polling places?"

"This is a serious question. Is closing polling stations about making it harder for minorities to vote, or is it because of budgets? If you say it's because of your budget, let's talk."
And it's not just talk. Schwarzenegger made it clear, playing off one of his favorite lines, that he's already taken "action" to put real meaning behind his tweets:
"Today I sent a letter to nearly 6,000 elections officials and county commissioners in states formerly covered by Voting Rights Act Section 5 inviting them to apply for grants, funded by me, to reopen polling centers and improve voting access."
But it was the next tweet that really showed the personal meaning this has to someone like Schwarzenegger, an immigrant who has truly lived and thrived inside the American dream, the manifestation of everything our country promises to be:
"This country gave me everything, and I truly believe this could be one of the best investments I have ever made. All of us can do our part to give back and fight for equality."
And he promised to give the grants to any state that can demonstrate a need:
"The grants are completely non-partisan and will be offered to those who demonstrate the greatest need and ability to close gaps in voting access. The process will be run through @GovArnoldUSC."
It's still unclear if any states will take up Schwarzenegger's offer or if it's even technically legal in all 50 states. Regardless, this is the kind of action taken by someone who truly loves their country. Let people vote and let the votes be counted.
That's what democracy is all about, empowering citizens to decide what kind of representation they want in their government. America can be a conservative place, a liberal place, or somewhere in between. Most of all, America is supposed to be a free place, where liberty is the guiding principle. Arnold Schwarzenegger gets that and we all owe him a thanks for putting his privilege and power behind those principles.