More
A man asked if all poor Americans should get reparations. Trevor Noah's response is perfect.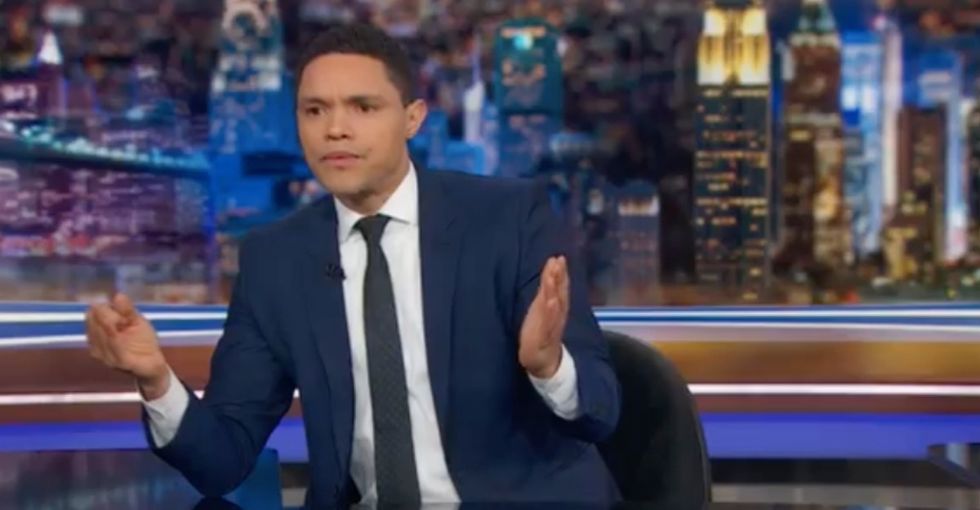 Trevor Noah has a brilliant way of breaking down complex or challenging ideas into easily digestible nuggets.
If you haven't seen Trevor Noah's "Between the Scenes" clips, you're missing out. During breaks in his late night talk show, Noah chats with the audience about all kinds of topics and then shares these candid conversations on Facebook. For Trevor Noah fans, these tidbits have become every bit as beloved as his comedy show—perhaps even more so, as they showcase Noah's thoughtful intelligence in an unscripted way.
Take, for instance, his recent "Between the Scenes" clip where he answered a question from the audience about reparations.
---
An audience member asked, "Do you think reparations should go to just one group or should it target people in the same kind of, like, socio-economic group?"
"That's an interesting question," Noah responded. "What do you mean by that?"
"Well, there are white people that have been disenfranchised lately," the man explained.
"Recently is the key," said Noah interjected.
"Well, the country deindustrialized, right?" replied the man. "So, a lot of people in manufacturing jobs and stuff, their areas were affected."
The audience member is referencing an argument that comes up a lot in conversations about reparations—that many white Americans are currently struggling economically because of the changes in the economy and industrialization, so shouldn't they also receive some kind of compensation from the government?
Noah explained what reparations actually means, and why it doesn't have anything to do with the current economic woes of middle America.
"To your question, I think you have to understand what the word 'reparations' means first," said Noah. "You are repairing something that's broken. You are paying for something you were supposed to pay for. I'm not saying that there aren't people living in America today who are suffering and are going through pain and strife because of what's happening when it comes to machines taking jobs, factories becoming industrialized, etc. But reparations is a specific conversation about a specific time in America. And that is Black people were slaves, you know what I mean?"
He touched on the common "What about the Irish?" argument: "I have even heard people say like, 'Oh but there were some of the Irish who were indentured.'  Slavery—look at the numbers, look at the time, look at the level of work. You could not work toward your freedom. For most Black people in America this was a time when you lived and died as a slave. And so that's what reparations is about."
"And so I hear what you're saying," Noah told the man who asked the question, "but I think that's a completely separate conversation that needs to be had about the now. Because if you are not careful what you then do is combine everybody's suffering into the same bowl and you make it seem all injustices have the same weighting, and they don't. Just like crimes, you know, theft isn't the same as murder. We don't try them the same way."
Noah empathized with people's economic strife, but explained how it can't be compared to the centuries of injustices heaped upon Black Americans.
"I feel for anybody who is suffering because I know what it's like to be poor," continued Noah. "I know what it's like to suffer. I didn't come from a wealthy family. We struggled when I was growing up. But I also understand that there are levels of that suffering, you know?"
Noah said he understands why the idea of white privilege is hard for some White Americans to grasp. "You go, 'White privilege,' and a person goes, 'I'm poor and I'm White. Where's the privilege?' White people are like, 'I wish I could activate my white privilege. I wish I could do it right now. White privilege! Give me something!' I get that. I get that, trust me, I get it. It is hard to accept that you have benefits because of the color of your skin if you cannot see the benefits that you have."
Instead of thinking in terms of privilege, Noah said he tells people to think of how a handicap works in golf. "In golf they acknowledge that you are in a position where you need so many advantages to be competitive in the game, right? So what they say is, 'You have a handicap of 15.' So that means you're going to be hitting from this tee and you get more chances to get the ball in because we understand the position you're in."
Then he brought it all together to show why the idea of reparation for Black Americans is worth consideration:
"If you're a Black person in America, from slavery, from day one, the number of injustices that have held Black people back in America amounts to an insurmountable…like, you look at Black people's freedom, you look at Black people's land. Just land alone. The amount of wealth you can acquire over time if you own land is exponential. Because you have the land. You have the fact that you can borrow based on the land. You have the fact that you can use the money that you have borrowed to grow more wealth. You can use it to grow your family's wealth. Just taking that way from Black people alone is crippling them. And so you combine that with slavery, and then you look at Jim Crow laws. You didn't let Black people in America live in the areas they wanted to live in. They couldn't get loans from the banks that they wanted to get loans from. And then on top of that when they started getting the loans from American banks, American banks were found to be giving them higher interest rates when in fact they were the same risk as many of the other races that they were given loans to."
He also pointed to the fact that reparations isn't an issue for white folks to be debating, but something for Black Americans to work out with the U.S. government.
"So when you combine all of those things, I think it's safe to say that Black Americans have a conversation they need to be having with the United States. Doesn't involve me. Doesn't involve white people. It's like, 'Yo, American government, meet the Black people.' That's it. Have that conversation."
Thanks, Trevor, for once again breaking down a controversial issue in a way that helps us all understand it better. (For a deeper dive into reparations, read Ta-Nehisi Coates' op-ed in The Atlantic, "The Case for Reparations.")
Watch Noah's "Between the Scenes" clip here: