Well Being
This woman wrote a startling breakup letter to her own foot before it was amputated
It's amazing how even the most harrowing of decisions can be transformed with a good sense of humor.
After suffering an ankle injury during a horseback riding accident at age 13, Jo Beckwith had exhausted all other options to escape from the lingering pain from the fracture, leaving her with no better choice than to amputate.
She could have buckled under the weight of such life-altering news (no one would blame her). Instead, Jo threw a farewell party the day before her surgery. Some of her friends showed up to write a goodbye letter, fun and lighthearted messages scribbled directly onto the ankle.
@footlessjo

The messages that came into #amputation with me! #funny #therapeutic #disability #amputee #fypシ
---
In her video, Jo reads out some of the messages her friends gave to her foot, things like "bye little piggies," and "have a nice trip." She was quick to make sure we "got the pun" of that last one.
Of course, Jo also contributed a few words to her soon-to-be-ex appendage, which reads very much like a teenage break-up letter. She thanked it for all the "good times" they had together, said "it's not me, it's you," and then signed off with "your blood supplier." I didn't even know this level of optimism was attainable.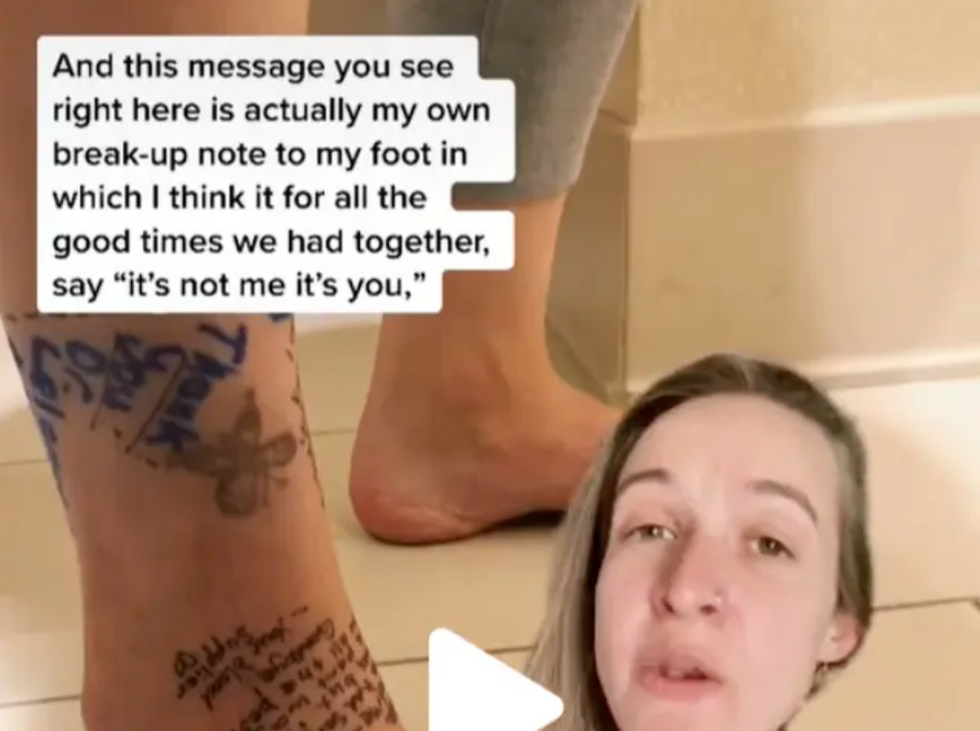 Woman shares breakup letter with her foot before amputation.Tiktok
Beckwith noted that doing this actually felt very therapeutic and it reminded her of all the support she'd have going into surgery the next day.
Those who watched the video praised Beckwith for her creativity. One person wrote "You handled this so well. I love that you came up with this! It actually makes sense how this could be therapeutic!"
Since then, Jo, aka @footlessjo, has become an advocate for the mental health of amputees on TikTok. She posts everything from prosthetic reviews to intimacy to fitness challenges, always in a playful, candid, joyful tone. It's a masterclass in resilience.