Sponsored
This Woman is Closing the Gap for Those in Poverty - And It's Working
"I am assisting my brother in our community."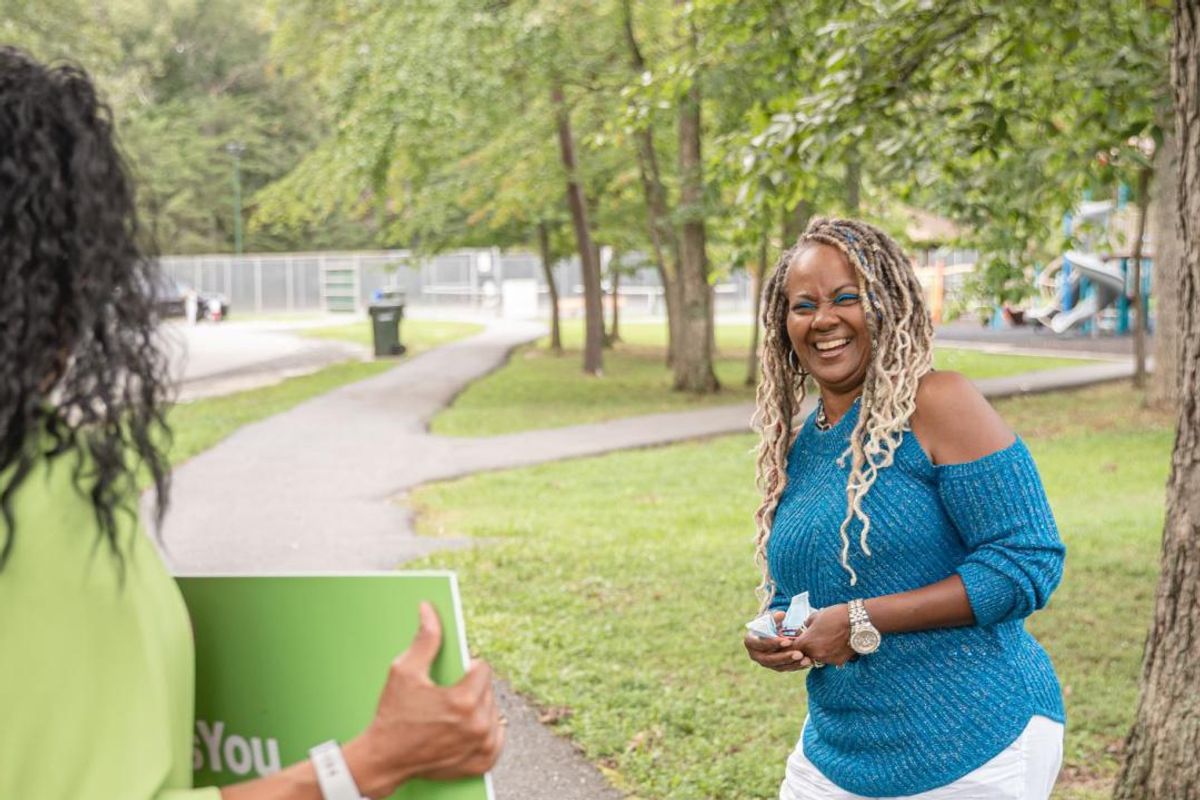 TD Bank
True
Tanya Whitaker's life mantra is a large part of why she's so driven to help those in need in her community of Clinton, Maryland. It boils down to a Gilbert Young painting called "He Ain't Heavy, He's My Brother."
"I knew I needed to do something to help break down systemic barriers and build bridges for not only the underprivileged, but the underserved," Tanya tells Upworthy. "I am assisting my brother in our community."
Tanya has been working to lift up underserved communities in almost every aspect of her life. She works in the career and technical education department for the District of Columbia's State Superintendent of Education, and helps students realize goals they didn't even know were possible. That work informed the development of her nonprofit, Skills Today Advance Tomorrow Development Center (STAT DC), which aims to "advance the economic mobility and social progress in low and moderate-income communities," she explains.
Even before starting STAT DC, Tanya felt compelled to help people have access to what they need, regardless of their circumstances. This became particularly clear to her during the pandemic, which left so many more people in need of food and/or shelter. "It has been my experience through this pandemic that all economic lines have been blurred," she says.
One thing that really stood out to her is how many children went hungry during the pandemic because schools were closed.
"America was faced with the fact that most school-aged children were getting most of their nutritional needs from the school," explains Tanya. "And without that outlet to tap into, parents were forced to get into food lines that they never thought would be part of their daily or weekly needs."
In response to the need she saw, Tanya created a sizable network of volunteers to feed the homeless in her community. Just like in her day job, she's the manager making it all happen, from organizing donations, deliveries and all the other working parts it takes to carry out such a gargantuan task on a regular basis. "I have such an awesome group of dedicated volunteers," says Tanya. "This could not be done to this magnitude without such a group." Even her 78-year-old father is involved.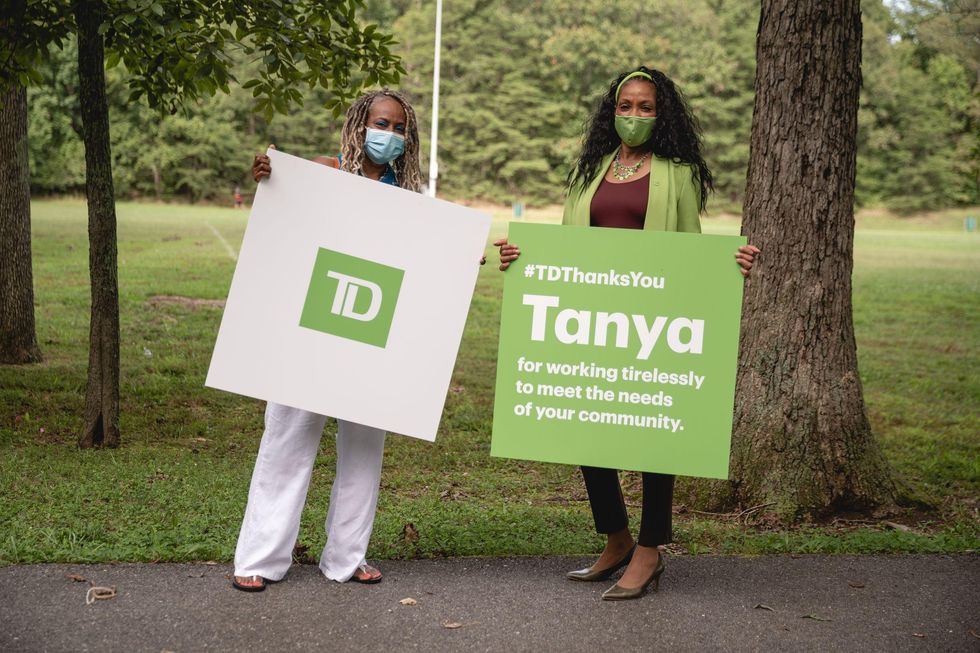 Tanya Whitaker (left)Photo courtesy of TD Bank
She often doesn't have enough funds to cover the costs of her food distribution program. Thanks to a donation from TD Bank from their #TDThanksYou campaign, however, she should be able to keep her work going through the holidays — when food insecurity and homelessness are most prevalent in the U.S. "This directly impacts the daily operation of the food distribution. What the public does not see is the day-to-day expenses that we incur to make this happen," says Tanya.
TD Thanks You is TD Bank's annual campaign that aims to bolster its customers, colleagues, and communities by giving back to them in meaningful ways. This year, the 2021 #TDThanksYou campaign is highlighting stories of people who are spreading positivity and optimism in their communities without asking for anything in return. Tanya's work certainly seems to fit the bill.
Tanya's team distributes food every Thursday, but that means organization and packing of food has to begin Tuesday. Food is assembled into sections, non-perishables, meat, dairy, frozen food and produce. Thursdays tend to be the busiest days because they typically get a surprise batch of food that needs to be sorted. After all the food is sectioned out, they start assembling it into bags and prepare those bags for distribution.
Tanya's been able to keep food distribution efforts of this magnitude going with the help of several businesses. And she made those connections by literally knocking on doors.
One relationship came about when she realized a nearby mall, and its parking lots, had been sitting unused. "I drove around the parking lot until I found a security office door. I knocked on what seemed to be an abandoned, empty room, and met my wonderful angel, Ms. Carolyn Martin, the property manager for the Landmark Mall's division for Howard Hughes Corporation."
Tanya explained her mission to feed the homeless, and the next day, Ms. Martin welcomed her to use one of the mall's parking lots free of charge.
"It is imperative that we, as socially responsible individuals, not wait on government programs or a 'knight in shining armor' to come to the rescue," says Tanya.
People like Tanya use compassion and fervor to fight food insecurity, homelessness and economic inequality every day. They're not waiting for a "knight" to come to the rescue; they just pick up the proverbial sword themselves.