True
When Molly Reeser was a student at Michigan State University, she took a job mucking horse stalls to help pay for classes. While she was there, she met a 10-year-old girl named Casey, who was being treated for cancer, and — because both were animal lovers — they became fast friends.
Two years later, Casey died of cancer.
"Everyone at the barn wanted to do something to honor her memory," Molly remembers. A lot of suggestions were thrown out, but Molly knew that there was a bigger, more enduring way to do it.
"I saw firsthand how horses helped Casey and her family escape from the difficult and terrifying times they were enduring. I knew that there must be other families who could benefit from horses in the way she and her family had."
Molly approached the barn owners and asked if they would be open to letting her hold a one-day event. She wanted to bring pediatric cancer patients to the farm, where they could enjoy the horses and peaceful setting. They agreed, and with the help of her closest friends and the "emergency" credit card her parents had given her, Molly created her first Camp Casey. She worked with the local hospital where Casey had been a patient and invited 20 patients, their siblings and their parents.
The event was a huge success — and it was originally meant to be just that: a one-day thing. But, Molly says, "I believe Casey had other plans."
One week after the event, Molly received a letter from a five-year-old boy who had brain cancer. He had been at Camp Casey and said it was "the best day of his life."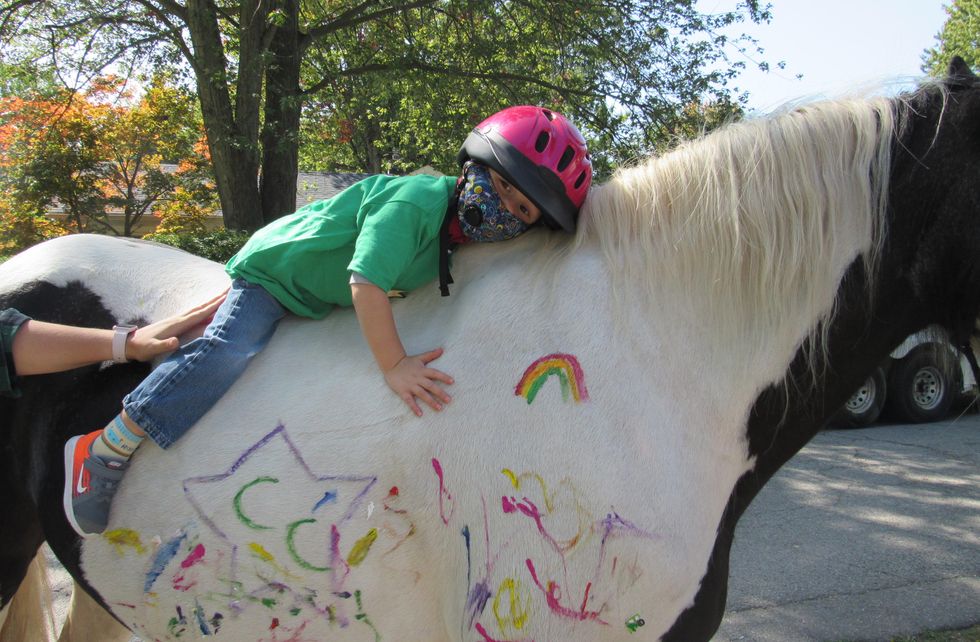 "[After that], I knew that we had to pull it off again," Molly says. And they did. Every month for the next few years, they threw a Camp Casey. And when Molly graduated, she did the most terrifying thing she had ever done and told her parents that she would be waitressing for a year to see if it might be possible to turn Camp Casey into an actual nonprofit organization. That year of waitressing turned into six, but in the end she was able to pull it off: by 2010, Camp Casey became a non-profit with a paid staff.

"I am grateful for all the ways I've experienced good luck in my life and, therefore, I believe I have a responsibility to give back. It brings me tremendous joy to see people, animals, or things coming together to create goodness in a world that can often be filled with hardships."
Camp Casey serves 1500 children under the age of 18 each year in Michigan. "The organization looks different than when it started," Molly says. "We now operate four cost-free programs that bring accessible horseback riding and recreational services to children with cancer, sickle cell disease, and other life-threatening illnesses."
In addition to the day camp, they have also found ways to make horses accessible to immunocompromised, homebound patients through their Horsey House Call program. "[It] deploys 30 times a summer to knock on the doors of vulnerable children and surprise them with a horse for the afternoon," she explains. "Our all-volunteer team and therapy horse stays for about 3 hours to provide rides, grooming lessons, games, crafts, pizza, music, and more."
Other programs offered include Cowboy Camp Outs, an all-inclusive weekend getaway for families, and Lone Star Getaways, which provides a cost-free stay at a privately-owned rental property.
Camp Casey is also collaborating with other nonprofits to increase their impact in the community. They're currently partnering with the Buffalo Soldiers Heritage Association, which spreads awareness of the first all-Black cavalry in the United States. Together, they're deploying some of the Buffalo Soldiers' horses to Horsey House Calls and inviting families to the Buffalo Soldiers stables.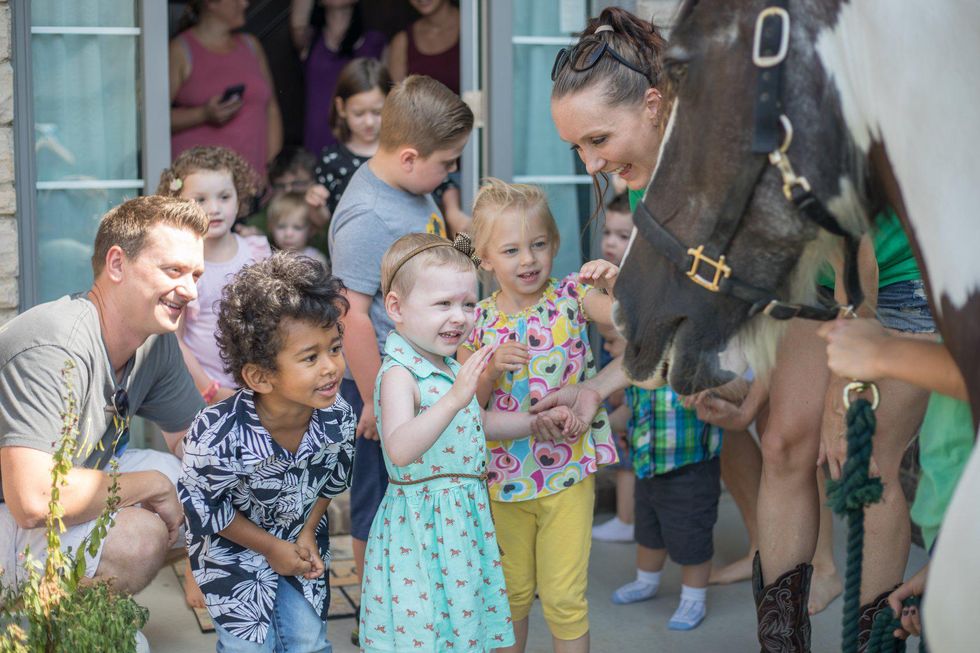 Molly is being named one of Tory Burch's Empowered Women of the year for her work with Camp Casey. The donation she receives as a nominee is being awarded to Camp Casey's programs run at the Buffalo Soldiers Heritage Association.

"The ultimate goal for Camp Casey is to be able to offer year-round programs," Molly says. "Michigan's harsh winters make it difficult to conduct our outdoor programs but, sadly, many of the children who need our services pass away before the weather permits us to serve them."
"We are actively working with the Buffalo Soldiers Heritage Association and the city of Detroit to eventually erect an indoor horseback riding arena that would allow for year-round programs for both nonprofit organizations."
popular
That's why Verizon is launching a gaming tournament.
Courtesy of Verizon
True
If someone were to say "video games" to you, what are the first words that come to mind? Whatever words you thought of (fun, exciting, etc.), we're willing to guess "healthy" or "mental health tool" didn't pop into your mind.
And yet… it turns out they are. Especially for Veterans.
How? Well, for one thing, video games — and virtual reality more generally — are also more accessible and less stigmatized to veterans than mental health treatment. In fact, some psychiatrists are using virtual reality systems for this reason to treat PTSD.
Secondly, video games allow people to socialize in new ways with people who share common interests and goals. And for Veterans, many of whom leave the military feeling isolated or lonely after they lose the daily camaraderie of their regiment, that socialization is critical to their mental health. It gives them a virtual group of friends to talk with, connect to, and relate to through shared goals and interests.
In addition, according to a 2018 study, since many video games simulate real-life situations they encountered during their service, it makes socialization easier since they can relate to and find common ground with other gamers while playing.
This can help ease symptoms of depression, anxiety, and even PTSD in Veterans, which affects 20% of the Veterans who have served since 9/11.
Watch here as Verizon dives into the stories of three Veteran gamers to learn how video games helped them build community, deal with trauma and have some fun.
Band of Gamers www.youtube.com
Video games have been especially beneficial to Veterans since the beginning of the pandemic when all of us — Veterans included — have been even more isolated than ever before.

And that's why Verizon launched a challenge last year, which saw $30,000 donated to four military charities.
And this year, they're going even bigger by launching a new World of Warships charity tournament in partnership with Wargaming and Wounded Warrior Project called "Verizon Warrior Series." During the tournament, gamers will be able to interact with the game's iconic ships in new and exciting ways, all while giving back.
Together with these nonprofits, the tournament will welcome teams all across the nation in order to raise money for military charities helping Veterans in need. There will be a $100,000 prize pool donated to these charities, as well as donation drives for injured Veterans at every match during the tournament to raise extra funds.
Verizon is also providing special discounts to Those Who Serve communities, including military and first responders, and they're offering a $75 in-game content military promo for World of Warships.
Tournament finals are scheduled for August 8, so be sure to tune in to the tournament and donate if you can in order to give back to Veterans in need.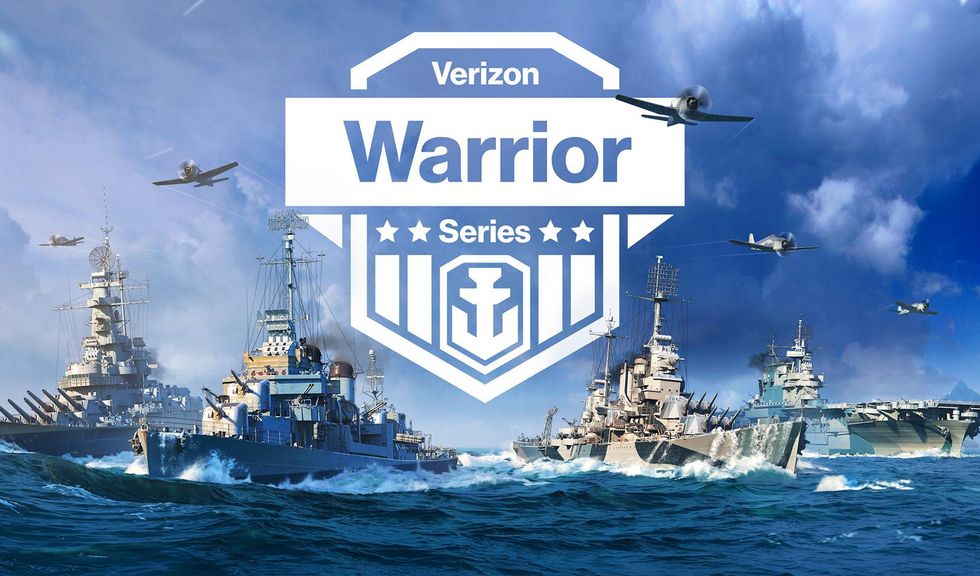 Courtesy of Verizon
Photo courtesy of Capital One
True
Growing up in Virginia, Dominique Meeks Gombe idolized her family physician — a young Black woman who inspired Meeks Gombe to pursue her passion for chemistry.
While Meeks Gombe began her career working in an environmental chemistry lab, after observing multiple inefficient processes in and around the lab, she took the initiative to teach herself to code in order to automate and streamline those issues.
That sparked her love for coding and imminent career shift. Now a software engineer at Capital One, Meeks Gombe wants to be a similar role model to her childhood mentor and encourage girls to pursue any career they desire.
"I'm so passionate about technology because that's where the world is going," Meeks Gombe said. "All of today's problems will be solved using technology. So it's very important for me, as a Black woman, to be at the proverbial table with my unique perspective."
Since 2019, she and her fellow Capital One associates have partnered with the Capital One Coders program and Girls For A Change to teach coding fundamentals to middle school girls.
The nonprofit's mission is aimed at empowering Black girls in Central Virginia. The organization focuses on designing, leading, funding and implementing social change projects that tackle issues girls face in their own neighborhoods.
Girls For a Change is one of many local nonprofits that receive support from the Capital One Impact Initiative, which strives to close gaps in equity while helping people gain better access to economic and social opportunities. The initial $200 million, five-year national commitment aims to support growth in underserved communities as well as advance socioeconomic mobility.
Through the Capital One Coders program, girls can gain early access to computer science education which can directly inspire their confidence levels and interest in computer science.
In fact, a report from Code.org says that Black and Hispanic students who take computer science classes before college are seven times more likely to major in computer science.
When the COVID-19 pandemic hit, Meeks Gombe helped to develop a virtual curriculum that included breakout rooms with custom games and quizzes. In her role as a lead teacher for Girls For A Change, Meeks Gombe's visibility as a Black technologist and leader is helping to create a lasting impact on her students.
"Just having girls see the variety of career opportunities led by people who look like them opens up that possibility. There's a connection made when girls see me in a role that they don't usually associate themselves with. I can't reach every girl, but I want them to know that they can do this," Meeks Gombe said.

Capital One Vice President of HR Technology, Maureen Jules-Perez echoed Meeks Gombe's perspective. For Jules-Perez, who served on the organization's board for a few years before becoming the new Board Chair of Girl's For a Change this year, the mission of the nonprofit parallels her motto of "Tech For Good" which uses tech to improve social, environmental, and economic outcomes. The organization's long-term programs give girls the option to see themselves as artists, entrepreneurs and technologists, among other career opportunities.

"I came from a similar background so I feel like I'm one of those girls," said Jules-Perez. "I know what it's like to have someone champion you, but also the opposite feeling of knowing someone who doesn't think you're worthy. I'm haunted by the thought that there's a Black girl or a person of color who doesn't feel seen or doesn't think the world wants them. Girls For A Change prepares Black girls for the world."
Beyond helping girls see their potential as future technologists, Girls For A Change's CEO Angela Patton is working hard on her action-oriented vision to help realize the unmet needs of all girls in Central Virginia.
Her focus is particularly on what she calls "at-promise" youth who have natural gifts and innate potential where their circumstances don't define their identities. For more than a decade, Patton has supported at-promise girls with incarcerated fathers through Dance With Dad, a rehabilitation program founded by a group of young girls who wanted to invite their jailed fathers into their lives on their own terms and define their futures. The girls, Patton explained, wrote to a police sheriff to allow them to hold a dance with their fathers in jail. More than a decade since the program began, not one of the fathers had been reincarcerated again.
"We're teaching girls to elevate their voices," said Patton. "We want them to experience the moment where they feel ownership and empowerment so that they can change their own lives."
Girls For A Change has partnered with Capital One since 2017 to connect girls with career and life opportunities for which they otherwise may not have access or insight.
Since the partnership began, Capital One has supported 15 different programs with Girls for A Change. Seven of these programs were Capital One Coders camps and nearly 80 Capital One Tech associates have supported Girls For A Change girls over the last few years through those programs.
"For some of the girls aging out of the Girls For A Change program, they had a chance to do mock interviews with Capital One associates and get feedback for entry-level positions," said Patton. "I love that I have resources to point my girls to so that they can have a chance at better outcomes."
All together, now: who runs the world?
GIRLS.
Get stories worth sharing delivered to your inbox