Sustainability
Shared values of sustainability and adventure come together in a beautiful way
Images provided by Pacifico
True
At last, summer is here. And for many people, that means it's time for heading to the beach and maybe even catching some waves. Surfing is a quintessential summertime activity for those who live in coastal communities—it's not only really fun and challenging, it's also a great way to celebrate Mother Nature's beauty. Even after a wipeout, the cool water mixed with warm sunshine offers a certain kind of euphoria. Or, you know, just hanging back on the sand is plenty fun too. Simply being outdoors near the ocean is its own reward.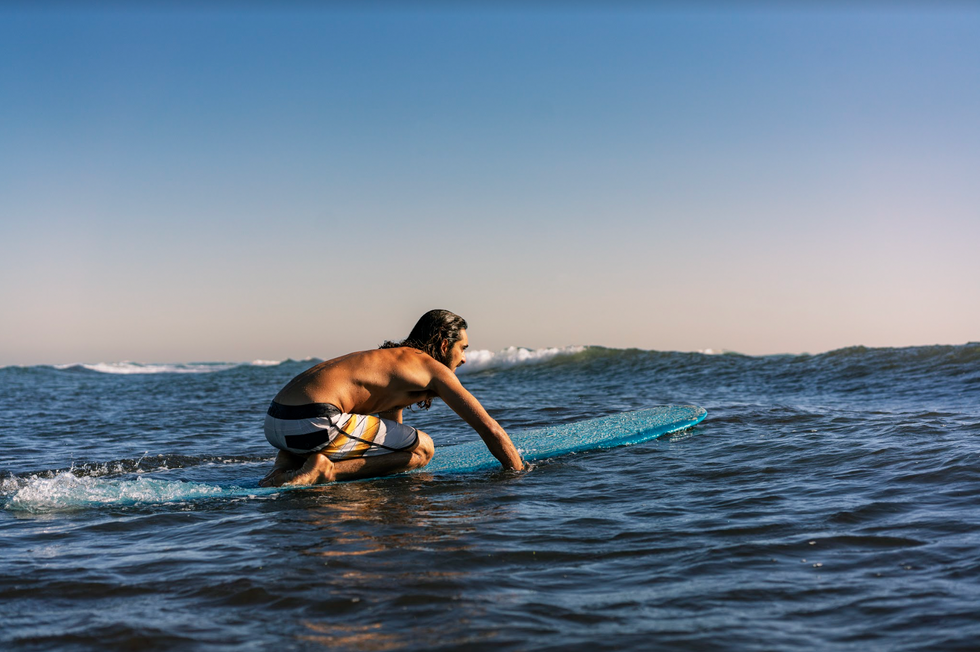 Let's protect the places where outdoor adventure happensAll photos provided by Pacifico
However, it's well known that our beautiful beaches are suffering the consequences of overcrowding, pollution and littering. What was once a way of playing in nature is now slowly destroying it. And of course, this affects beachgoers everywhere. The sad truth is—without taking action to preserve all the natural joys the earth provides, we will eventually lose them.
But there is hope. Two popular brands that both have roots in surf culture have teamed up to help make trips to the beach a more sustainable pastime. The best part? You don't have to know how to hang ten in order to participate.
Pacifico®, a pilsner-style lager originally brought to the U.S. by surfers, and Quiksilver, an iconic apparel company loved by both surfers and beach goers alike, have created a brand-new range of clothing and accessories with sustainability in mind.
Take a look below. These threads are great for all kinds of fun in the sun, without compromising the environment.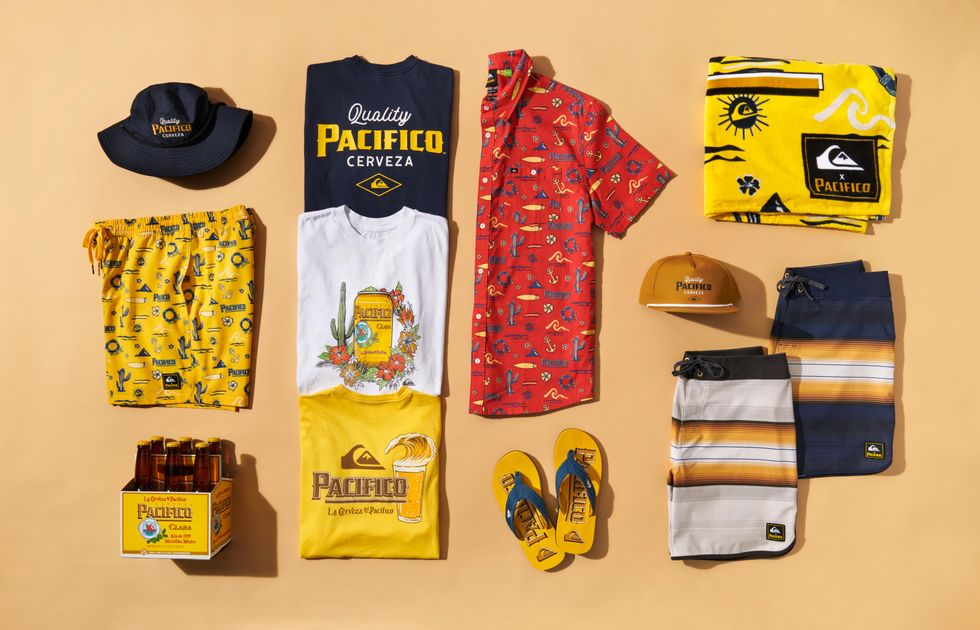 Ready to make some waves
The collection launches on July 5 and includes tees and woven shirts, boardshorts, hats, flip-flops and a special beach towel and tote bag. The unique collaboration features the vibrant, colorful designs that are the hallmark of Quiksilver combined with Pacifico elements, created to make a positive impact.
Each item has been thoughtfully curated to minimize an environmental footprint and protect the outdoors. The hats, for example, are made from NetPlus® by Bureo®, a raw material created from South American recycled fishing nets. Additionally, the board shorts are made from recycled plastic bottles, and tees are made with 100% organic cotton. Pretty rad stuff, to put it in surfer lingo.
The prices on these pieces are equally rad, ranging from $28 flip-flops to $60 boardshorts.
In keeping with the sustainable ethos and protecting the places we play, Pacifico and Quiksilver will celebrate the products' launch by hosting two beach cleanups. The first is on July 5 at Sunset Point in Malibu, California, from 4-5:30pm, and the second is on July 9th at Deerfield Beach in Florida from 8:30 – 10:30am.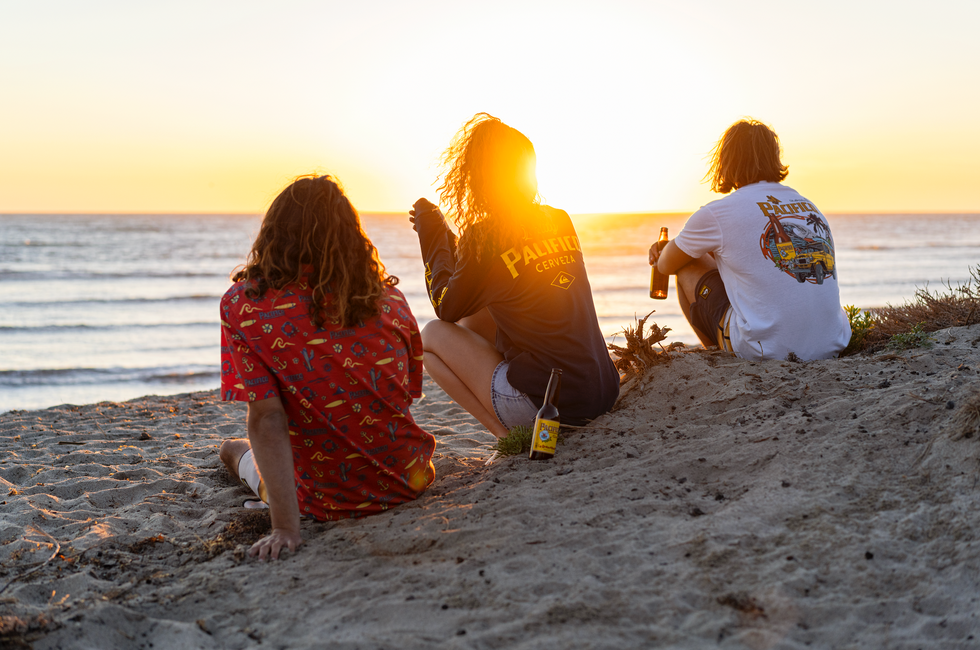 Cleaning up and looking good while doing it
Theses beach cleanups are open to anyone over the age of 21 who's ready to have some fun while taking care of nature's playground.
Those who can't make it to the beach (bummer, dude) don't have to miss out on all the fun. The new collection will be available on July 5th at www.quiksilver.com/mens-collab-pacifico. And even if you don't surf, never plan to surf, have no desire to even be near a surfboard, rest assured, the apparel is still cool. Plus sustainable choices are always good fashion.
Our planet provides us with an endless supply of beauty and adventure. But without more mindful actions from humanity, its natural wonders will eventually diminish. Fortunately Pacifico and Quiksilver are making it easier than ever for people to enjoy the great outdoors without jeopardizing it. That's a wave worth riding.
This article originally appeared on 09.06.17
Being married is like being half of a two-headed monster. It's impossible to avoid regular disagreements when you're bound to another person for the rest of your life. Even the perfect marriage (if there was such a thing) would have its daily frustrations. Funnily enough, most fights aren't caused by big decisions but the simple, day-to-day questions, such as "What do you want for dinner?"; "Are we free Friday night?"; and "What movie do you want to see?"
Here are some hilarious tweets that just about every married couple will understand.
Joy
Talk about being in the right place at the right time!
Talk about being in the right place at the right time! Sixteen-year-old Corion Evans was passing by the river when he saw a car drive off the road and into the river with three girls inside, and without hesitation, the teen stripped down to his shorts and jumped in to save them. Amber Spradley at WLOX in Mississippi originally reported on the story.
Evans said the car sunk so quickly that he could only see the top of the vehicle sticking out of the water when he went to rescue the other teens. He wasn't alone—his friend Karon "KJ" Bradley jumped in as well to help the girls get to safety. Recalling the brave rescue, Evans told WLOX, "I was just like, 'I can't let none of these folks die. They need to get out the water.' So, I just started getting them. I wasn't even thinking about nothing else."
\u201cHeroic 16 Year Old Mississippi Student Corion Evans saves 3 teenage girls and an officer after the girls drove their car into the River. Corion we salute your efforts and sacrifice! May your compassion & bravery serve as an example to others!\u201d

— Black With No Chaser (@Black With No Chaser) 1657004517
The fast-acting teen not only saved all three girls but in the chaos of the event, he heard someone else calling for help. It turned out to be a police officer who had swam out in response to the scene. After realizing the officer was now in trouble, Evans swam out to bring the officer to shore. How this teen had the stamina to rescue not one, but four people in the dark murky water of the Pascagoula River is beyond comprehension.
If you're from Mississippi then you know that some bodies of water in the state have some grumpy residents that don't take kindly to being disturbed. You're taking your chances on bumping into anything from a jumping carp to an alligator depending on what water you're in, but Evans didn't take the time to consider that he could wind up someone's snack. He was in full hero mode, and the rescued swimmers are thankful.
In his interview with WLOX, Evans explains that he has been swimming since the age of 3 but that early morning he had to put his skills to the test. He told the news station, "I was behind them trying to keep them above water and swim with them at the same time." Later in the interview the teen went on to say, "25 yards out, so it was a lot of swimming. My legs were so tired after. Anything could've been in that water, though. But I wasn't thinking about it."
Thanks to the teens' swimming skills and quick thinking, all four people rescued survived. They were taken to a local hospital and treated. Chief Brandon Ashley of Moss Point Police Department released a statement to WLOX saying, "The police department and I commend Mr. Evans's bravery and selflessness he displayed by risking his own safety to help people in danger. If Mr. Evans had not assisted, it could have possibly turned out tragically instead of all occupants rescued safely."
This kid deserves all of the summer snacks. Heck, he deserves a car and a full scholarship! Pulling four people to safety couldn't have been an easy feat. A summer job as a lifeguard should certainly be in order. It's in his blood. If you're wondering, yes, Evans' mom is extremely proud and the city of Moss Point honored him with a Certificate of Commendation for his actions.
Joy
The nicest guy in Hollywood strikes again.
Get stories worth sharing delivered to your inbox
Get stories worth sharing delivered to your inbox