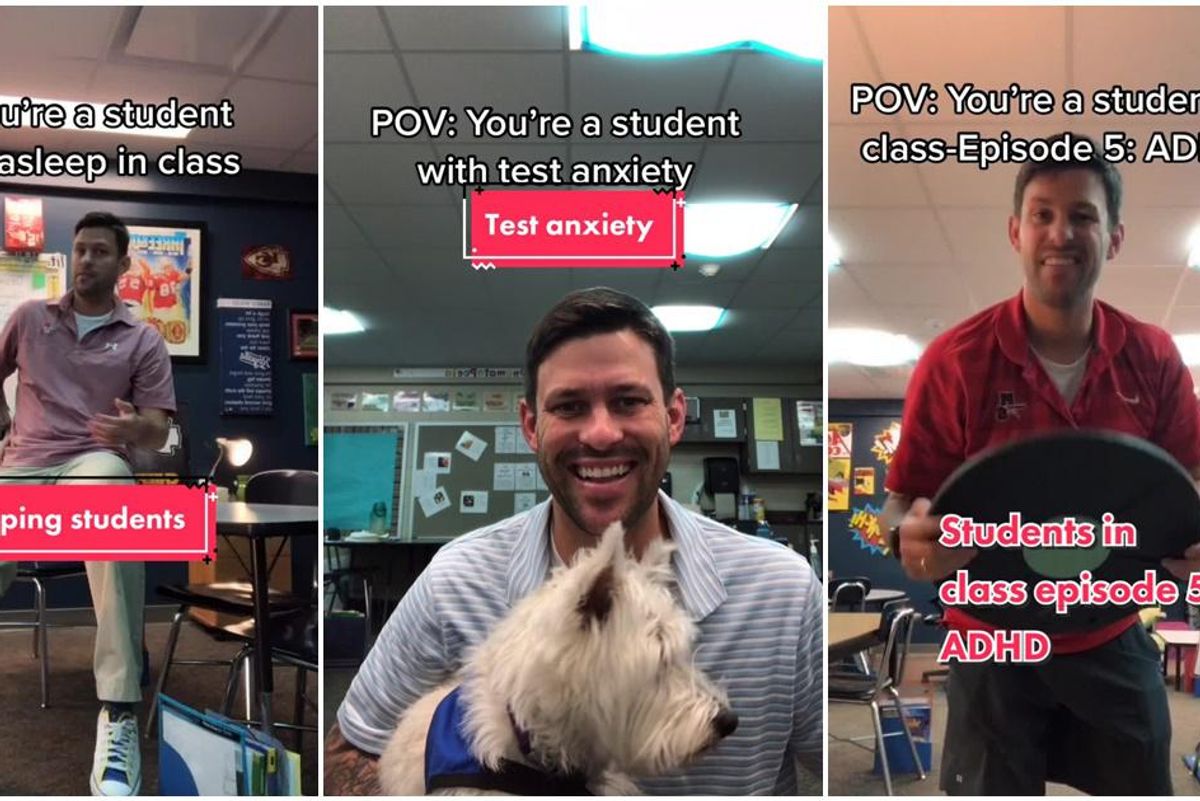 via @mrmonroeandnala / TikTok
Josh Monroe has become one of the most popular educators on social media because of his unique TikTok videos that demonstrate how he supports his students' emotional well-being. The fifth-grade teacher at Bryan Elementary School in Omaha, Nebraska first went mega-viral after posting a video demonstrating how he handles sleepy children in his classroom.

The video is unique because it's shot from the student's perspective. It was a response to another teacher who shared a video about how they rudely wake up tired students.
"I watched it and it just kind of rubbed me the wrong way," Monroe told Omaha.com. "So I created the same video but [showed] the way that I would react."
---
Monroe's videos show that being a teacher isn't just about teaching the three Rs. It's about supporting the student as a whole person.
"In a time when teachers are criticized for nearly everything that we do, I think it's important we put out the awesome things we do and ways we help students as a whole," he said. "Not in the academic sense and just focusing on test scores, but how we help students be ready to inherit society."
However, Mr. Monroe doesn't do it all by himself. He has help from his dog Nala who provides emotional support for his students as well. "She's my dog, but she's there for the kids. She's there for emotional support for kids who are having a rough time or a rough day," he said.
A lot of Monroe's videos show how problems in the classroom are often symptoms of something happening in the child's life at home. So he urges his students to express their emotions and to work with him to find ways to correct their behavior, instead of simply issuing punishments.
He credits his approach to teaching to his wife.
"She's kind of the reason I changed a lot of the ways I've viewed things over the years by the way she approaches people," he said. "The way she looks for the good in people and loves people — that's what caused me and my life to change."
Here are some of Mr. Monroe's most popular videos. They're a great resource for teachers and a reminder for all of us to put compassion first.
Here's how to handle a child who's experiencing anxiety.



Here are some strategies for helping kids with ADHD.
How do you deal with a hungry student? Feed them.
How do you deal with a disrespectful student?
What do you do when students are always late?
Even when he's off work, he's still thinking about his class.
The can opener story.
Nala enjoys her summer break.