Most Shared
When you're ready to get a pet, why not make adoption your first choice?
True
Ad Council + The Shelter Pet Project
There are tons of reasons to adopt when you're looking for a pet.
Before you make your decision, though, these adopted pets would like to weigh in.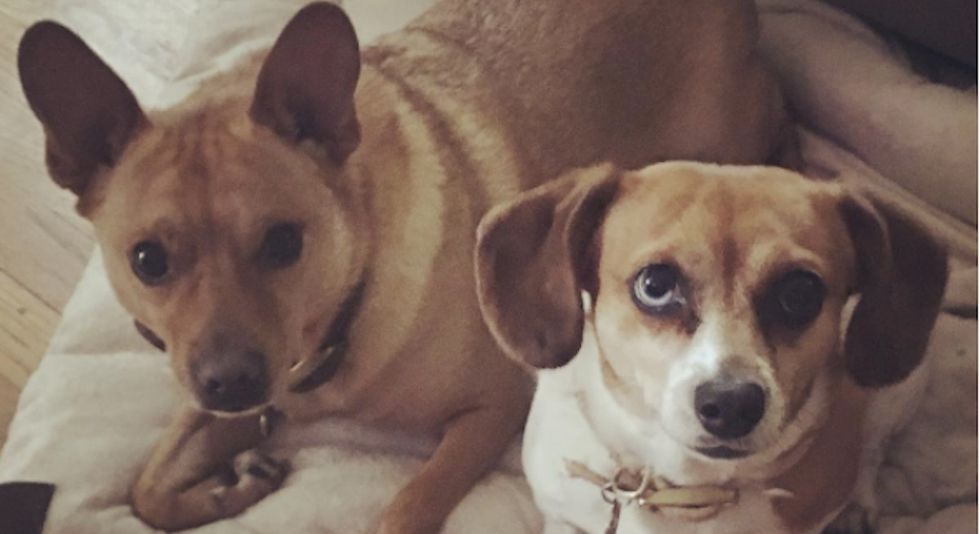 Image courtesy of Lucky and Doxie, via Angela Maria/Instagram.
<p><strong>Did you know that if <a href="https://theshelterpetproject.org/about-pet-adoption" target="_blank">just 10%</a> of the families who plan to get pets in the next year choose to adopt, all the dogs and cats currently entering shelters will have homes?</strong> You could help make a big difference!</p><p>And if that's not enough to convince you, <strong>why don't you hear what the adopted pet community has to say? </strong>Lots of pets are adopted through The <a href="https://theshelterpetproject.org/who-we-are" target="_blank">Shelter Pet Project</a>, which is a joint effort between <a href="http://www.humanesociety.org/" target="_blank">The Humane Society of the United States</a>, <a href="http://www.maddiesfund.org/index.htm" target="_blank">Maddie's Fund</a>, <a href="https://www.jwt.com/en/newyork" target="_blank">J. Walter Thompson New York</a>, and <a href="https://www.adcouncil.org/" target="_blank">The Ad Council</a> to make shelters and rescue groups the first place that potential pet-owners turn to when looking to add a friend to their family. </p><p>When the rescue pets heard what The Shelter Pet Project was doing, they wanted to help. They even made a video! Watch:</p><div><div data-card="html" data-reactroot=""><span style="display:block;position:relative;padding-top:56.25%;" class="rm-shortcode" data-rm-shortcode-id="a7aaf7fb8eab87ae391c371647e2eca3"><iframe type="lazy-iframe" data-runner-src="https://www.youtube.com/embed/j1wJtH51AiY?rel=0" width="100%" height="auto" frameborder="0" scrolling="no" style="position:absolute;top:0;left:0;width:100%;height:100%;"></iframe></span></div></div><h2>Yup, shelter pets are definitely social media-savvy.</h2><p class="shortcode-media shortcode-media-rebelmouse-image"><img type="lazy-image" data-runner-src="https://assets.rebelmouse.io/eyJhbGciOiJIUzI1NiIsInR5cCI6IkpXVCJ9.eyJpbWFnZSI6Imh0dHBzOi8vYXNzZXRzLnJibC5tcy8xOTUyNzE4Mi9vcmlnaW4uZ2lmIiwiZXhwaXJlc19hdCI6MTYxNzQxMTkxOX0.HoVRIyyLh2NUgNwiBWyuJObOJhZCKc-XZCi1WJFUyWw/img.gif?width=980" id="59c4a" class="rm-shortcode" data-rm-shortcode-id="473312b3023317b5f87398ea54073062" data-rm-shortcode-name="rebelmouse-image"><small class="image-media media-caption" placeholder="add caption...">GIF courtesy of <a href="https://www.instagram.com/p/BVUjGP8gXV_/?taken-by=davidminkin">Meatball via David Minkin/Instragram</a>.</small></p><h2>And ready to hang out with you, whether you want to stay in all day...</h2><p class="shortcode-media shortcode-media-rebelmouse-image"><img type="lazy-image" data-runner-src="https://assets.rebelmouse.io/eyJhbGciOiJIUzI1NiIsInR5cCI6IkpXVCJ9.eyJpbWFnZSI6Imh0dHBzOi8vYXNzZXRzLnJibC5tcy8xOTUyNzE4My9vcmlnaW4uanBnIiwiZXhwaXJlc19hdCI6MTU5MzkzMDIzN30.a1u3jp7ubt8k90UYJSEfEeNYRMDCPbcLfOH-S7ni8-U/img.jpg?width=980" id="b155e" class="rm-shortcode" data-rm-shortcode-id="2359ee0cd96365baa1e84e50e5c56532" data-rm-shortcode-name="rebelmouse-image"><small class="image-media media-caption" placeholder="add caption...">Image courtesy of <a href="https://www.instagram.com/p/BVU3C7KjuTh/?taken-by=littleharveymanz">Harvey/Instagram</a>.</small></p><h2>...and all night...</h2><p class="shortcode-media shortcode-media-rebelmouse-image"><img type="lazy-image" data-runner-src="https://assets.rebelmouse.io/eyJhbGciOiJIUzI1NiIsInR5cCI6IkpXVCJ9.eyJpbWFnZSI6Imh0dHBzOi8vYXNzZXRzLnJibC5tcy8xOTUyNzE4NC9vcmlnaW4uanBnIiwiZXhwaXJlc19hdCI6MTY0NDE4NjczOH0.Ur_YSeqX0AE74V0PdqF8hpqoUxnbOI-CfQWiTeUXgzc/img.jpg?width=980" id="e34ec" class="rm-shortcode" data-rm-shortcode-id="3b2bf43513febedb9df73b33c96f16b4" data-rm-shortcode-name="rebelmouse-image"><small class="image-media media-caption" placeholder="add caption...">Image courtesy of <a href="https://www.instagram.com/p/BVU3vLEjoXh/">Ruby via Barbara Davis/Instagram</a>.</small></p><h2>...or if you want to hit the town!</h2><p class="shortcode-media shortcode-media-rebelmouse-image"><img type="lazy-image" data-runner-src="https://assets.rebelmouse.io/eyJhbGciOiJIUzI1NiIsInR5cCI6IkpXVCJ9.eyJpbWFnZSI6Imh0dHBzOi8vYXNzZXRzLnJibC5tcy8xOTUyNzE4NS9vcmlnaW4uanBnIiwiZXhwaXJlc19hdCI6MTU5NDA0MjM5N30.k2xMKnn33W8IUVLqyrQMdxjxLiV6L0ngT4HZfUzOAW0/img.jpg?width=980" id="74672" class="rm-shortcode" data-rm-shortcode-id="03e34a53b46a69d075534a1496e498b2" data-rm-shortcode-name="rebelmouse-image"><small class="image-media media-caption" placeholder="add caption...">Image courtesy of <a href="https://www.instagram.com/p/BVU24g6AETA/">Andy the Pomeranian/Instagram</a>.</small></p><h2>Want a beach bud? Your rescue pup is by your side:</h2><p class="shortcode-media shortcode-media-rebelmouse-image"><img type="lazy-image" data-runner-src="https://assets.rebelmouse.io/eyJhbGciOiJIUzI1NiIsInR5cCI6IkpXVCJ9.eyJpbWFnZSI6Imh0dHBzOi8vYXNzZXRzLnJibC5tcy8xOTUyNzE4Ni9vcmlnaW4uanBnIiwiZXhwaXJlc19hdCI6MTYwOTUyMzQzN30.W2zFgcAIP1QDxdTZXeFIB_UhKvkgoitK-Q5MRNEADlk/img.jpg?width=980" id="32cb5" class="rm-shortcode" data-rm-shortcode-id="e73581b703a7eea58220ce2a31efc4e8" data-rm-shortcode-name="rebelmouse-image"><small class="image-media media-caption" placeholder="add caption...">Image courtesy of <a href="https://www.instagram.com/p/BUmoFVFhaD_/?taken-by=missfrenchie_jelly">Jelly the Frenchie/Instagram</a>.</small></p><h2>Or perhaps you'd rather be on the water?</h2><p class="shortcode-media shortcode-media-rebelmouse-image"><img type="lazy-image" data-runner-src="https://assets.rebelmouse.io/eyJhbGciOiJIUzI1NiIsInR5cCI6IkpXVCJ9.eyJpbWFnZSI6Imh0dHBzOi8vYXNzZXRzLnJibC5tcy8xOTUyNzE4Ny9vcmlnaW4uanBnIiwiZXhwaXJlc19hdCI6MTY0MDYwNDU0Nn0.xsacYwbFggd8xmaR2K4lmhDXAzeXr4V8H3ah8aW3uDs/img.jpg?width=980" id="7a827" class="rm-shortcode" data-rm-shortcode-id="ba97f402f2bda565a83d87dc33a66012" data-rm-shortcode-name="rebelmouse-image"><small class="image-media media-caption" placeholder="add caption...">Image courtesy of <a href="https://www.instagram.com/p/BVU48zEj48g/?taken-by=athenshomeworks">Bea and Emmylou via Leeann McCollum/Instagram</a>.</small></p><h2>Or you can stay on land and stretch out in the sun!</h2><p class="shortcode-media shortcode-media-rebelmouse-image"><img type="lazy-image" data-runner-src="https://assets.rebelmouse.io/eyJhbGciOiJIUzI1NiIsInR5cCI6IkpXVCJ9.eyJpbWFnZSI6Imh0dHBzOi8vYXNzZXRzLnJibC5tcy8xOTUyNzE4OC9vcmlnaW4uZ2lmIiwiZXhwaXJlc19hdCI6MTYyMzYwNTU1MH0.TbPouDXhMadDaxTvvCmhksFOMrLg8Da0WcIrspswZ_Y/img.gif?width=980" id="7c4a5" class="rm-shortcode" data-rm-shortcode-id="e587056e6a01e6c7a4695ce247406e70" data-rm-shortcode-name="rebelmouse-image"><small class="image-media media-caption" placeholder="add caption...">GIF courtesy of <a href="https://www.instagram.com/p/BVRoIEWFs2F/?taken-by=ewtmakeup">Barry via Emma White Turle/Instagram</a>.</small></p><h2>How about a gardening buddy?</h2><p class="shortcode-media shortcode-media-rebelmouse-image"><img type="lazy-image" data-runner-src="https://assets.rebelmouse.io/eyJhbGciOiJIUzI1NiIsInR5cCI6IkpXVCJ9.eyJpbWFnZSI6Imh0dHBzOi8vYXNzZXRzLnJibC5tcy8xOTUyNzE4OS9vcmlnaW4uanBnIiwiZXhwaXJlc19hdCI6MTY0NTA0NDM4MH0.ZvfwMtUwPUVmQYirK54v57Tr0RECkm6KNFM8iLrxsR0/img.jpg?width=980" id="80f64" class="rm-shortcode" data-rm-shortcode-id="07dd653909f181142ba81f6bb6d4f5fc" data-rm-shortcode-name="rebelmouse-image"><small class="image-media media-caption" placeholder="add caption...">Photo courtesy of <a href="https://www.instagram.com/p/BV0EoKCgmJF/?taken-by=bonnie_the.cat">Bonnie</a>.</small></p><h2>Or a dinner date:</h2><p class="shortcode-media shortcode-media-rebelmouse-image"><img type="lazy-image" data-runner-src="https://assets.rebelmouse.io/eyJhbGciOiJIUzI1NiIsInR5cCI6IkpXVCJ9.eyJpbWFnZSI6Imh0dHBzOi8vYXNzZXRzLnJibC5tcy8xOTUyNzE5MC9vcmlnaW4uanBnIiwiZXhwaXJlc19hdCI6MTY0MjU4OTgzMn0.U6-MaWbZLeJ2GV-Y1E86XctlnWrbGLXFIJZz_3aXirc/img.jpg?width=980" id="763de" class="rm-shortcode" data-rm-shortcode-id="8454b405ffa858c921e0f4dc30fe7de1" data-rm-shortcode-name="rebelmouse-image"><small class="image-media media-caption" placeholder="add caption...">Photo courtesy of <a href="https://www.instagram.com/p/BV0K3i-lfh5/">Holly/Kellyanne Lark</a>.</small></p><h2>You'll always have a buddy to keep you from getting bored:</h2><p class="shortcode-media shortcode-media-rebelmouse-image"><img type="lazy-image" data-runner-src="https://assets.rebelmouse.io/eyJhbGciOiJIUzI1NiIsInR5cCI6IkpXVCJ9.eyJpbWFnZSI6Imh0dHBzOi8vYXNzZXRzLnJibC5tcy8xOTUyNzE5MS9vcmlnaW4uanBnIiwiZXhwaXJlc19hdCI6MTYwNDczNDE4M30.OEY5B_QSBgJzg4nHHLpRG_4VSuIsXFF03vIRBnk3iN4/img.jpg?width=980" id="27df3" class="rm-shortcode" data-rm-shortcode-id="c1a5092b82fc32300627b015147d2210" data-rm-shortcode-name="rebelmouse-image"><small class="image-media media-caption" placeholder="add caption...">Image courtesy of <a href="https://www.instagram.com/p/BVU5IgkD-4d/">Butters McGillicuddy/Instagram</a>.</small></p><p class="shortcode-media shortcode-media-rebelmouse-image"><img type="lazy-image" data-runner-src="https://assets.rebelmouse.io/eyJhbGciOiJIUzI1NiIsInR5cCI6IkpXVCJ9.eyJpbWFnZSI6Imh0dHBzOi8vYXNzZXRzLnJibC5tcy8xOTUyNzE5Mi9vcmlnaW4uZ2lmIiwiZXhwaXJlc19hdCI6MTYwMjQ5NTk0Nn0.UUUzc0g_WzFRmLKrAi39jebvarjuneM27aUlXWGnlgg/img.gif?width=980" id="b61be" class="rm-shortcode" data-rm-shortcode-id="c9542fe93b05b71ee887147b33b1b531" data-rm-shortcode-name="rebelmouse-image"><small class="image-media media-caption" placeholder="add caption...">GIF courtesy of <a href="https://www.instagram.com/p/BVQyJHnA4KS/">Ella/Instagram</a>.</small></p><h2>...or to make a gloomy day a little brighter.</h2><p class="shortcode-media shortcode-media-rebelmouse-image"><img type="lazy-image" data-runner-src="https://assets.rebelmouse.io/eyJhbGciOiJIUzI1NiIsInR5cCI6IkpXVCJ9.eyJpbWFnZSI6Imh0dHBzOi8vYXNzZXRzLnJibC5tcy8xOTUyNzE5My9vcmlnaW4uanBnIiwiZXhwaXJlc19hdCI6MTYxOTk5OTA5Nn0.Dx0SIWwLO9s9q1P-JEDbSGSxR903Hgd-vTm7UZ_45S8/img.jpg?width=980" id="cbc62" class="rm-shortcode" data-rm-shortcode-id="dd8b964e8303e87152a70b51d6a16585" data-rm-shortcode-name="rebelmouse-image"><small class="image-media media-caption" placeholder="add caption...">Photo courtesy of <a href="https://www.instagram.com/p/BVytWLQl_Rw/?taken-by=henryandtheskywalkers">Henry</a>.</small></p><h2>Even if you already have pets, why not consider adding an adopted pet to the family? Many adopted pets are eager to make friends!</h2><p class="shortcode-media shortcode-media-rebelmouse-image"><img type="lazy-image" data-runner-src="https://assets.rebelmouse.io/eyJhbGciOiJIUzI1NiIsInR5cCI6IkpXVCJ9.eyJpbWFnZSI6Imh0dHBzOi8vYXNzZXRzLnJibC5tcy8xOTUyNzE5NC9vcmlnaW4uanBnIiwiZXhwaXJlc19hdCI6MTYzMDIzMTc5OX0.WAcWWWLcnmx4qM8giKUihDSDRENMBLgoKARWdbPf9ww/img.jpg?width=980" id="1cd7b" class="rm-shortcode" data-rm-shortcode-id="5edf8a2dd9bdc55d521222da6d2c64aa" data-rm-shortcode-name="rebelmouse-image"><small class="image-media media-caption" placeholder="add caption...">Image courtesy of <a href="https://www.instagram.com/p/BVU3LONAMhA/">Chowder, Buddy, and Jackson via Elise/Instagram</a>.</small></p><p>"Most pets end up homeless through no fault of their own ... meaning shelters and rescue groups are full of wonderful, family-ready pets," writes Kenny Lamberti, acting vice president of the companion animals department at The Humane Society of the United States in an email. </p><p><strong>Rescue pets are every bit as cuddly, lovable, and ready to fit into your home as any animal out there</strong>.  And, says Lamberti, "whether you want a dog, cat, rabbit, parakeet or hamster, shelters often have the best selection of animals anywhere."</p><p>See for yourself: Use <a href="https://theshelterpetproject.org/search" target="_blank">The Shelter Pet Project's site</a> to find adoptable dogs and cats or shelters near you and see who's out there looking for a new home. (And even if you're not ready to adopt, lots of shelters need fosters and volunteers, so there are plenty of ways to help out.)</p><p class="shortcode-media shortcode-media-rebelmouse-image"><img type="lazy-image" data-runner-src="https://assets.rebelmouse.io/eyJhbGciOiJIUzI1NiIsInR5cCI6IkpXVCJ9.eyJpbWFnZSI6Imh0dHBzOi8vYXNzZXRzLnJibC5tcy8xOTUyNzE5NS9vcmlnaW4uanBnIiwiZXhwaXJlc19hdCI6MTYxNzMyODI4MH0.RMdz6DY9CaWXdGaDCpVnxJXbk9KMjwQQk4YECk7pTy4/img.jpg?width=980" id="585de" class="rm-shortcode" data-rm-shortcode-id="9ca1817525c4cceed3f18f60fcf1ab66" data-rm-shortcode-name="rebelmouse-image"><small class="image-media media-caption" placeholder="add caption...">Image courtesy of <a href="https://www.instagram.com/p/BVU3QlQBx2N/">Cali and Oscar/Instagram</a>.</small></p><p><strong>Pretty soon, you could be snuggling with an adopted pet of your own!</strong></p>