On Feb. 12, 2018, the portraits of Barack and Michelle Obama were revealed at the Smithsonian's National Portrait Gallery in Washington, D.C.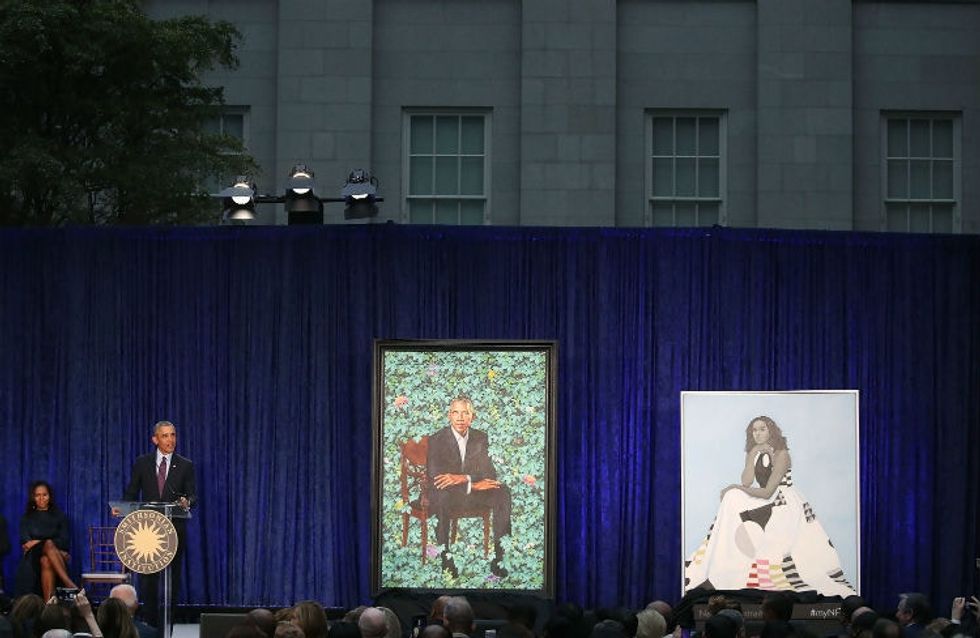 Photo by Mark Wilson/Getty Images.
It truly was a historic moment. The artists behind both of the Obamas' portraits are black. There hasn't been a black artist previously been commissioned for a presidential portrait for the National Portrait Gallery.
<h2>Baltimore-based <a href="http://www.amysherald.com/" target="_blank">Amy Sherald</a> — a rising star in the art world, whose work challenges stereotypes about black Americans and black identity — painted the former first lady.</h2><p class="shortcode-media shortcode-media-rebelmouse-image"><img type="lazy-image" data-runner-src="https://assets.rebelmouse.io/eyJhbGciOiJIUzI1NiIsInR5cCI6IkpXVCJ9.eyJpbWFnZSI6Imh0dHBzOi8vYXNzZXRzLnJibC5tcy8xOTUzMzg4NC9vcmlnaW4uanBnIiwiZXhwaXJlc19hdCI6MTYwMzg1MDQzMn0.81FbYaStZbDf1q0twWXjJJ_fC3NorZUSbUYT-h3gcSE/img.jpg?width=980" id="eda70" class="rm-shortcode" data-rm-shortcode-id="29a86226787a4c4ac2b5b159a4858bf4" data-rm-shortcode-name="rebelmouse-image"><small class="image-media media-caption" placeholder="add caption...">Photo by Mark Wilson/Getty Images.</small></p><p>After having lived in the White House for eight years, it's easy to assume the Obamas are used to these types of history-making days. But as a touching post on Michelle Obama's <a href="https://www.instagram.com/p/BfGxoaUgZ1i/?hl=en" target="_blank">Instagram</a> suggested, the moment was still a bit surreal for the first black woman to call the White House home.</p><h2>"As a young girl, even in my wildest dreams, I never could have imagined this moment," Michelle Obama began her heartfelt post.</h2><div><div data-card="html" data-reactroot=""><blockquote class="instagram-media" data-instgrm-permalink="https://www.instagram.com/p/BfGxoaUgZ1i/" data-instgrm-version="8" style=" background:#FFF; border:0; border-radius:3px; box-shadow:0 0 1px 0 rgba(0,0,0,0.5),0 1px 10px 0 rgba(0,0,0,0.15); margin: 1px; max-width:658px; padding:0; width:99.375%; width:-webkit-calc(100% - 2px); width:calc(100% - 2px);"><div style="padding:8px;"> <div style=" background:#F8F8F8; line-height:0; margin-top:40px; padding:50% 0; text-align:center; width:100%;"> </div><p style=" color:#c9c8cd; font-family:Arial,sans-serif; font-size:14px; line-height:17px; margin-bottom:0; margin-top:8px; overflow:hidden; padding:8px 0 7px; text-align:center; text-overflow:ellipsis; white-space:nowrap;"><a href="https://www.instagram.com/p/BfGxoaUgZ1i/" style=" color:#c9c8cd; font-family:Arial,sans-serif; font-size:14px; font-style:normal; font-weight:normal; line-height:17px; text-decoration:none;" target="_blank">A post shared by Michelle Obama (@michelleobama)</a> on <time datetime="2018-02-12T17:58:36+00:00" style=" font-family:Arial,sans-serif; font-size:14px; line-height:17px;">Feb 12, 2018 at 9:58am PST</time></p></div></blockquote> <script async="" defer src="//www.instagram.com/embed.js"></script></div></div><p>She continued in the caption:</p><blockquote>"Nobody in my family has ever had a portrait — there are no portraits of the Robinsons or the Shields from the South Side of Chicago. This is all a little bit overwhelming, especially when I think about all of the young people who will visit the National Portrait Gallery and see this, including so many young girls and young girls of color who don't often see their images displayed in beautiful and iconic ways."</blockquote><p>"Beautiful and iconic" is right. Handpicked by the Obamas, Sherald and Wiley's paintings reflected the aesthetics of their previous works, bucking the more conventional surroundings and styles seen in other presidential portraits at the Smithsonian.</p><p class="shortcode-media shortcode-media-rebelmouse-image"><img type="lazy-image" data-runner-src="https://assets.rebelmouse.io/eyJhbGciOiJIUzI1NiIsInR5cCI6IkpXVCJ9.eyJpbWFnZSI6Imh0dHBzOi8vYXNzZXRzLnJibC5tcy8xOTUzMzg4NS9vcmlnaW4uanBnIiwiZXhwaXJlc19hdCI6MTY0MzAyOTY3OX0.eNEXOhNQZ8J1-kEh3huvqqApjhetuOOhGbPk5S9MA80/img.jpg?width=980" id="d656f" class="rm-shortcode" data-rm-shortcode-id="7629b72a31070602e1b7dcb6719cc121" data-rm-shortcode-name="rebelmouse-image"><small class="image-media media-caption" placeholder="add caption...">The portraits of George and Laura Bush. Photo by Saul Loeb/AFP/Getty Images.</small></p><p class="shortcode-media shortcode-media-rebelmouse-image"><img type="lazy-image" data-runner-src="https://assets.rebelmouse.io/eyJhbGciOiJIUzI1NiIsInR5cCI6IkpXVCJ9.eyJpbWFnZSI6Imh0dHBzOi8vYXNzZXRzLnJibC5tcy8xOTUzMzg4Ni9vcmlnaW4uanBnIiwiZXhwaXJlc19hdCI6MTY1NDIxMDkxMX0.Cx34iMW5ZsFQRyVlcRrNwQwWOdX2BjzrlE93fuBYbf0/img.jpg?width=980" id="42233" class="rm-shortcode" data-rm-shortcode-id="53b582346fe9edd581eb414043057dcc" data-rm-shortcode-name="rebelmouse-image"><small class="image-media media-caption" placeholder="add caption...">The portraits of Bill and Hillary Clinton. Photo by Mark Wilson/Getty Images.</small></p><p>Other first ladies' portraits were powerful and moving in their own rights, to be sure. "For me, having the honor of having a portrait in the Smithsonian is just beyond words," Hillary Clinton had explained during <a href="https://www.c-span.org/video/?192180-1/unveiling-clintons-portraits" target="_blank">her own portrait's reveal</a>. Laura Bush said she was "<a href="https://www.c-span.org/video/?282981-1/unveiling-presidential-portraits" target="_blank">especially happy</a> to invite an artist from [her] mother's childhood home of El Paso, Texas, to paint [her portrait]," speaking about <a href="http://npg.si.edu/object/npg_NPG.2008.38" target="_blank">its creator</a>, Aleksander Titovets.</p><p>But the Obamas truly were unlike any other first family in U.S. history. And their portraits don't shy away from that reality — they embrace it beautifully.</p><p><strong>"I am so proud to help make that kind of history,"</strong> Michelle Obama concluded in her touching post before expressing gratitude for Sherald. "Thank you, Amy — it was a joy to work with you and get to know you."</p><p><em>Learn more about presidential portraits at the <a href="http://npg.si.edu/portraits/collection-highlights/presidential-portraits?objectID=dbp-1424166684336-1424166684336-1" target="_blank">National Portrait Gallery</a>.</em></p>