Most Shared
Kehinde Wiley is an inspirational figure in the world of art and a perfect choice.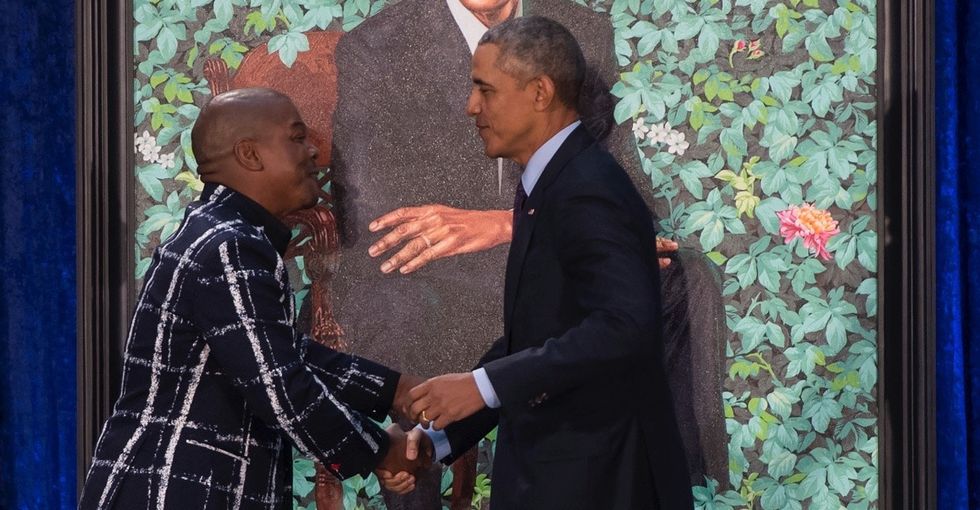 @BarackObama @MichelleObama @NPG George Washington is the most well-represented president in our collection. The m… https://t.co/ZU7eAYMn8y

— Smithsonian (@Smithsonian)1518188397.0
On Feb. 12, Barack and Michelle Obama's likenesses were added to the collection.
The Smithsonian's National Portrait Gallery unveiled the portrait of former President Barack Obama, immortalizing the 44th president for future generations. The oil painting, created by New York-based visual artist Kehinde Wiley, shows Obama perched atop a chair against a backdrop of rich ivy. On the verge of tears at times during his speech, Wiley remarked on his "obsession with chance" and how that put him in the room with America's first black president.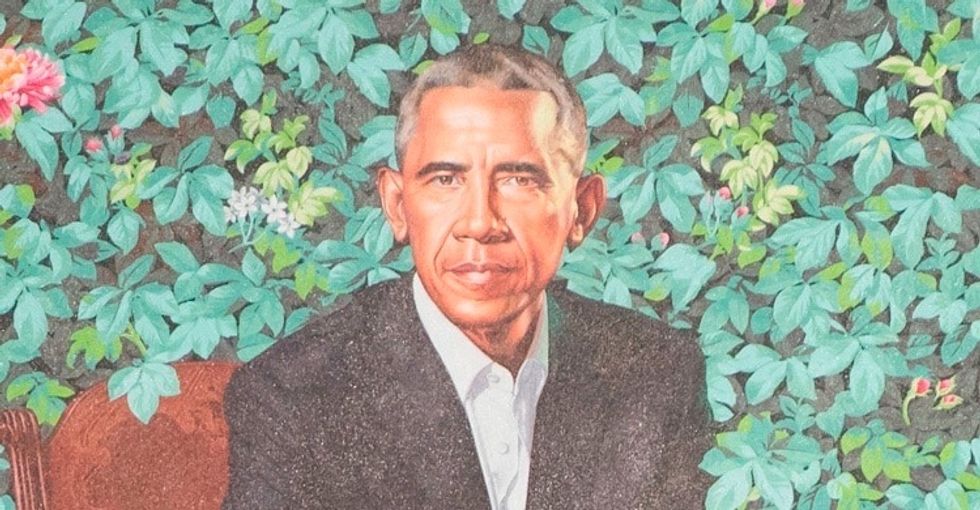 Kehinde Wiley's portrait of Barack Obama. Photo by Mark Wilson/Getty Images.
---
Another portrait, of former first lady Michelle Obama, was painted by Baltimore artist Amy Sherald. During the unveiling ceremony, Sherald described her work, which tends to take a somewhat minimalist approach to subjects and their surroundings, saying, "The paintings I create aspire to have ... a message of humanity." Wiley and Sherald, selected by the Obamas, made National Portrait Gallery history as the first black artists to paint a presidential couple.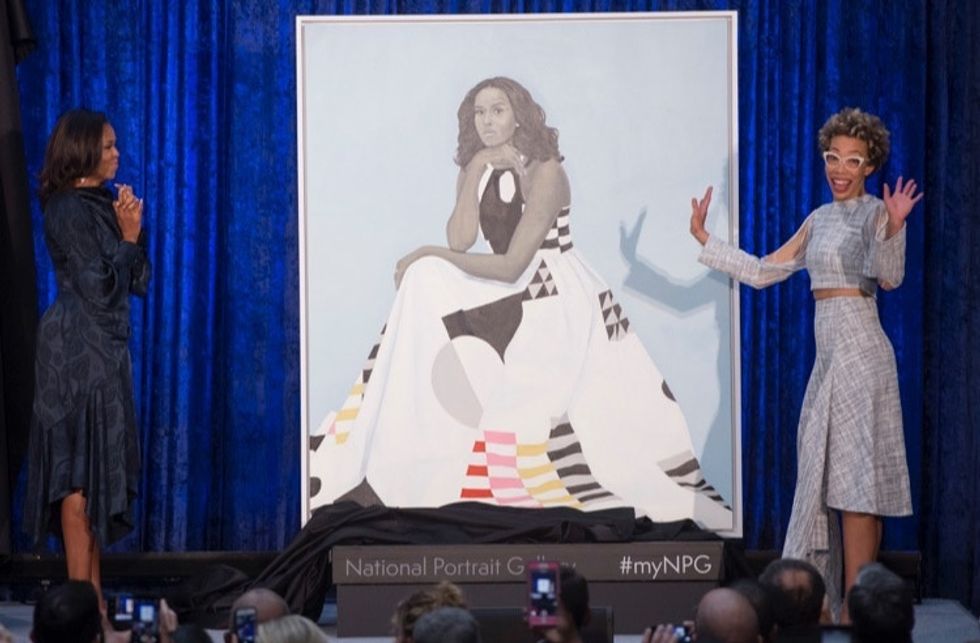 Michelle Obama and artist Amy Sherald unveil the former first lady's portrait. Photo by Saul LoebAFP/Getty Images.
There's a lot of meaning built into Barack Obama's portrait, hidden away in the background.
Among the ivy are dashes of blue, pink, purple, and gold. Wiley explained that the blue lilies were meant to represent Kenya, where Obama's father was from; jasmine flowers represented Hawaii, his birthplace; and the bright chrysanthemums, Chicago's official flower, represented his adopted Midwestern home. Tying the flowers together the ivy vines might symbolize how it all — his status as the son of an immigrant with a varied geological and racial background — blends together in a symbol of America at its best.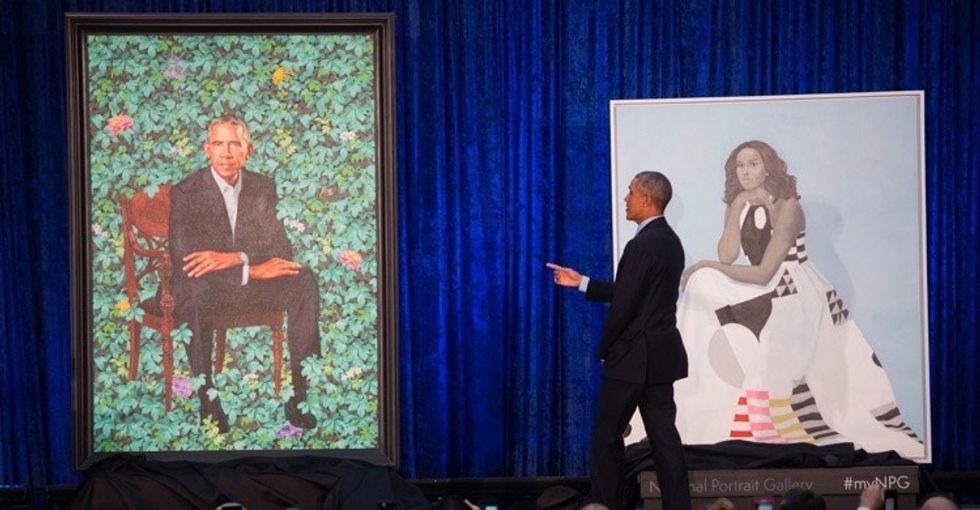 Barack Obama looks at the portraits. Photo by Saul Loeb/AFP/Getty Images.
It's that ability to blend old and new that makes Wiley such a remarkable, innovative artist.
During his speech at the Obama portrait unveiling, Wiley reflected on the fact that, growing up, he didn't often see people like him represented on canvas and how that inspired him to try to provide a bit of a correction in the art world. His work typically combines modern black models, some famous and some just people he found interesting, and elements of older paintings. The finished products tend to be distinct from both modern and historical works, making him the perfect person to paint a president who surely stands out in history and appearance.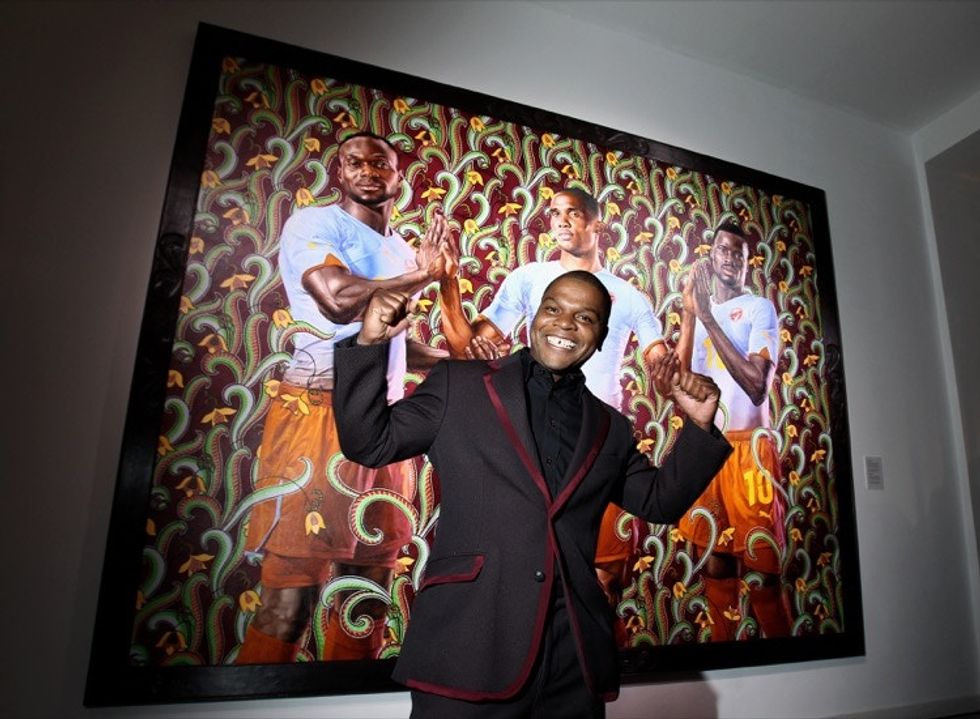 Kehinde Wiley in front of one of his paintings in 2010 in Berlin, Germany. Photo by Andreas Rentz/Getty Images for PUMA.
A quick glance at some of his past work shows what makes Wiley one of the most fascinating living artists in America — if not the world.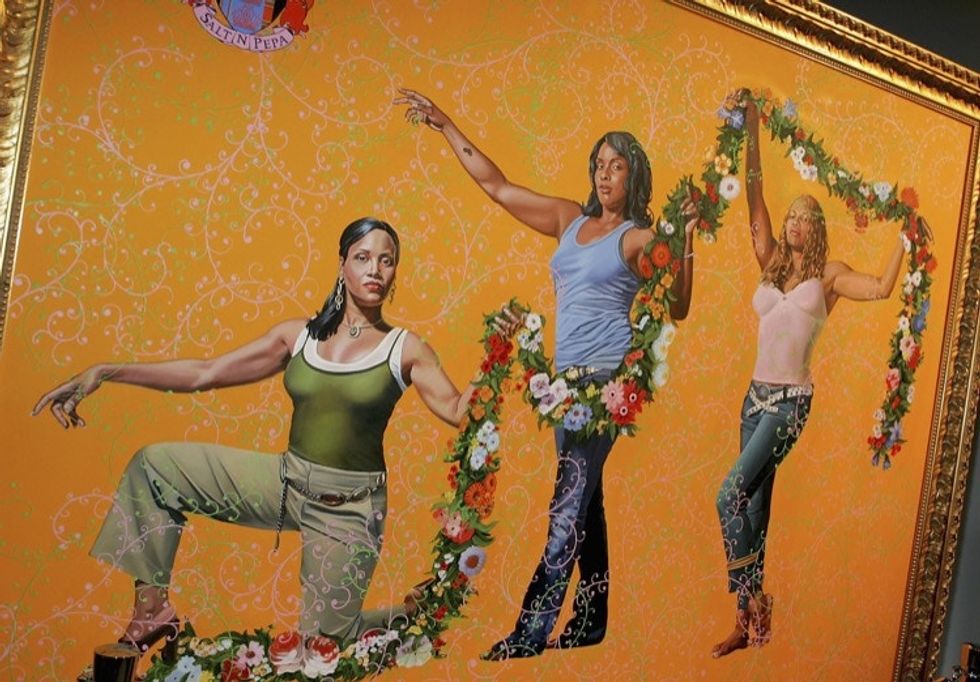 Wiley's 2005 portrait of hip-hop trio Salt-N-Pepa. Photo by Paul Hawthorne/Getty Images.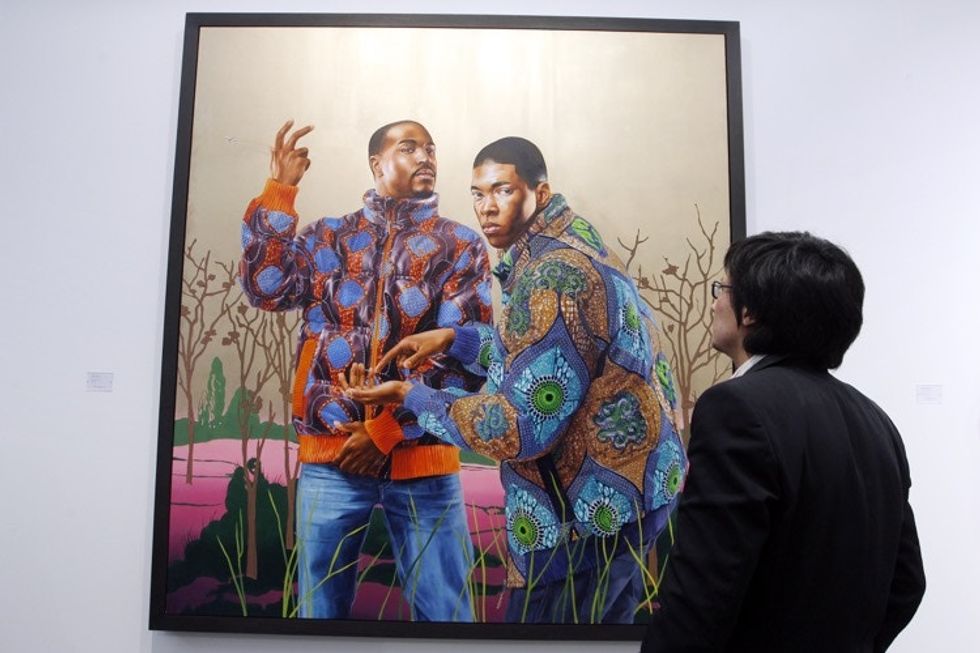 Wiley's "Le paiement du tribut" at the International Contemporary Art Fair in 2011. Photo by Francois Guillot/AFP/Getty Images.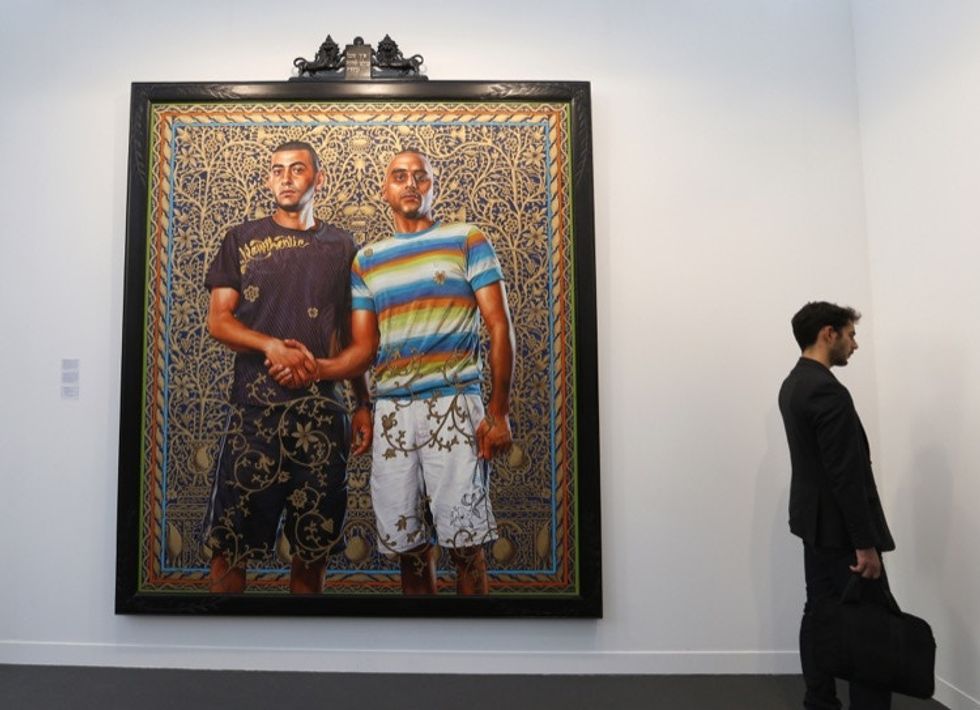 Wiley's "Abed al Ashe and Chaled el Awari" at the 2013 FIAC International Contemporary Art Fair in Paris. Photo by Francois Guillot/AFP/Getty Images.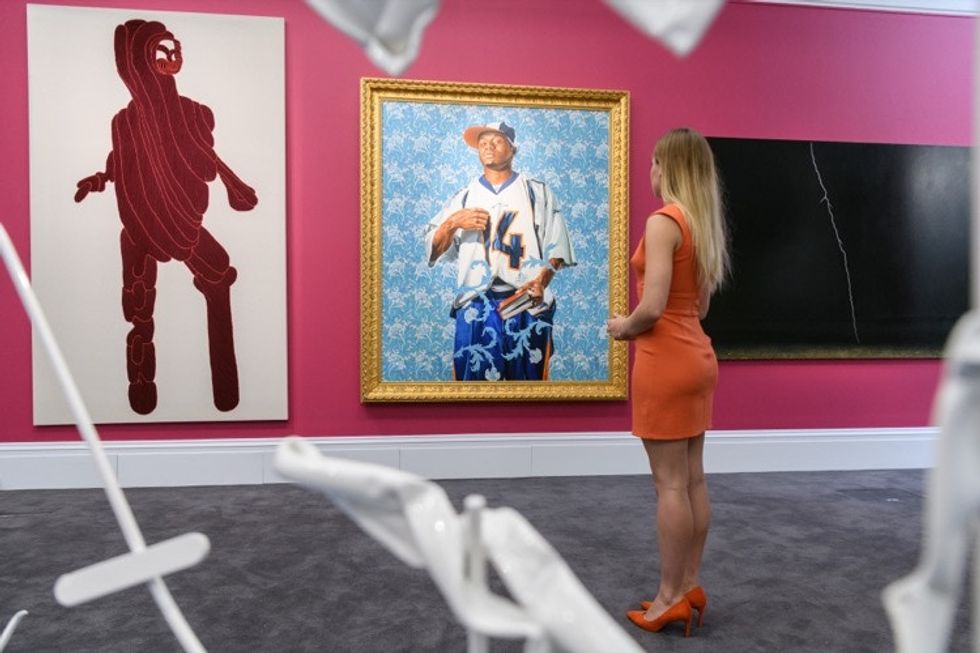 Wiley's "Saint Francis" portrait sold at auction in September 2017. Photo by Leon Neal/Getty Images.
Wiley's work, including his Obama portrait, could help inspire a whole generation of artists not used to seeing themselves properly represented.
Just as Obama's election had the power to encourage young black Americans to get involved in government and consider running for office, Wiley's body of work sends the same message to kids in the art world — a message that they don't have to be ashamed of who they are and they can succeed by embracing it.