More
In 2003, the group faced major backlash for mild criticism of President Bush.
During the late '90s through the mid-2000s, the Dixie Chicks were busy winning Grammys and selling records by the millions.
They were absolutely huge. With hits like "Goodbye Earl," "Wide Open Spaces," and "Long Time Gone," things were going pretty well for the Texas trio.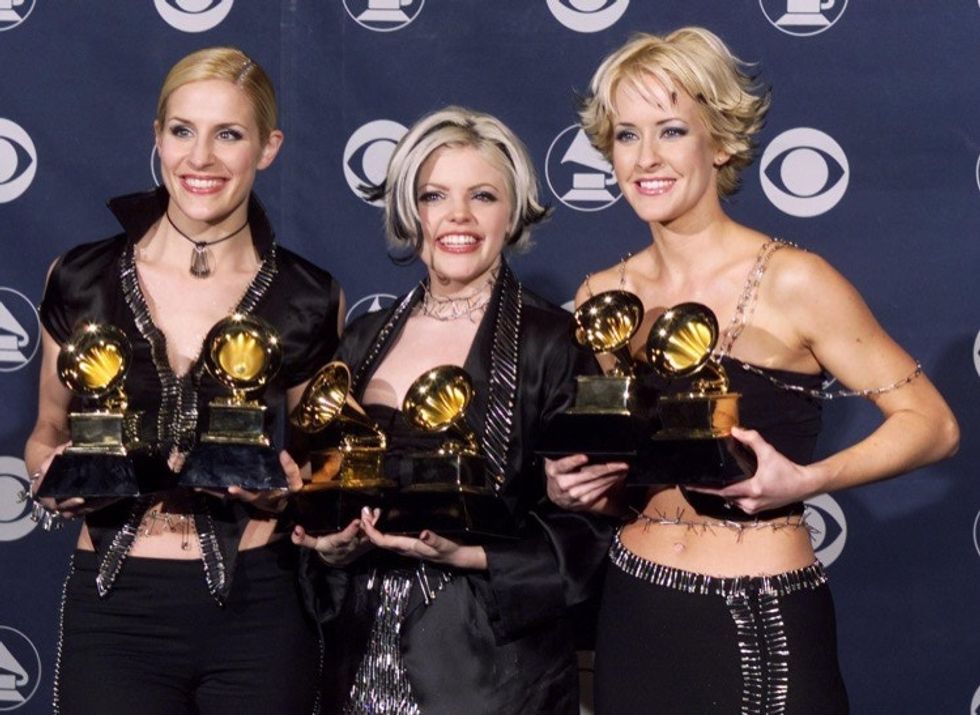 </div></div></div><h2>That is until March 10, 2003, when lead singer Natalie Maines criticized then-President Bush during a concert in London.</h2><p>"We don't want this war, this violence, and we're ashamed that the president of the United States is from Texas," Maines said, referencing the war in Iraq that would begin just nine days later.</p><p>The backlash began almost immediately. Three days later, <a href="http://www.cnn.com/2003/SHOWBIZ/Music/03/14/dixie.chicks.apology/" target="_blank">Maines tried explaining the group's position</a>, but it was too late. Radio stations across the country <a href="http://www.cnn.com/2003/SHOWBIZ/Music/03/14/dixie.chicks.reut/" target="_blank">banned the group's music</a>, fans threw Dixie Chicks records into bonfires, and concerts were cancelled after protests.</p><div><div class="push-wrapper--mobile" data-card="image" data-reactroot=""><img type="lazy-image" data-runner-src="https://assets.rebelmouse.io/eyJhbGciOiJIUzI1NiIsInR5cCI6IkpXVCJ9.eyJpbWFnZSI6Imh0dHBzOi8vYXNzZXRzLnJibC5tcy8xOTQ3OTkxOS9vcmlnaW4uanBnIiwiZXhwaXJlc19hdCI6MTYxNzQ1OTA0Mn0.jizOGHsJXoNXxF_hMofltRr6KfPYgpRWujmCj94-alQ/img.jpg?width=980" id="5cb96" class="rm-shortcode" data-rm-shortcode-id="b3ae149f20ddc7b4a4f633f664e0865f" data-rm-shortcode-name="rebelmouse-image"><div class="image-caption"><p>A local country radio personality tossed darts at a poster of the Dixie Chicks in Shreveport, Louisiana. Photo by Mario Villafuerte/Getty Images.</p></div></div></div><h2>The outrage centered on the idea that it was un-American and unpatriotic to criticize the president.</h2><p>It's amazing how much things can change in 13 years, huh?</p><p>In August 2016, Republican presidential candidate Donald Trump <a href="http://www.cnn.com/2016/08/11/politics/donald-trump-hugh-hewitt-obama-founder-isis/" target="_blank">accused President Obama of "founding" the terrorist group ISIS</a>. He's also <a href="http://www.cnn.com/2015/07/08/politics/donald-trump-illegal-immigrant-workers/" target="_blank">questioned whether Obama was born in the U.S.</a> (<a href="https://www.whitehouse.gov/sites/default/files/rss_viewer/birth-certificate-long-form.pdf" target="_blank">He was</a>). </p><p>He's not alone, either. Musician Ted Nugent called for the "<a href="http://mediamatters.org/blog/2014/10/14/nras-ted-nugent-calls-for-the-evil-carcasses-of/201154" target="_blank">evil carcasses</a>" of Obama and other Democrats over their push for gun safety measures. Actress Stacey Dash went on TV to state her belief that President Obama "<a href="https://www.youtube.com/watch?v=E36TsgfENog" target="_blank">doesn't give a sh*t about terrorism</a>." <strong>What were once considered unpatriotic slams against a sitting president are now the mainstream, pushed by celebrities, pundits, and politicians themselves.</strong></p><p>By comparison, Maines saying "We're ashamed the president of the United States is from Texas" is extremely mild.</p><h2>So what happened, and why did the Dixie Chicks get so much backlash?</h2><p>That's what Maines wants to know:</p><iframe width="100%" height="150" scrolling="no" class="rm-shortcode twitter-embed-763586472113037312" id="twitter-embed-763586472113037312" type="lazy-iframe" data-runner-src="/res/community/twitter_embed/?iframe_id=twitter-embed-763586472113037312&amp;created_ts=1470888176.0&amp;screen_name=1NatalieMaines&amp;text=I+get+banned+for+not+liking+Bush+and+now+Trump+can+practically+put+a+hit+out+on+Hillary+and+he%27s+still+all+over+country+radio%21+Hypocrites%21&amp;id=763586472113037312&amp;name=Natalie+Maines" frameborder="0" data-rm-shortcode-id="YWRVTA1559347387"></iframe><p><strong>Her point about publicly voicing criticism is fair, too.</strong></p><p>There's a big difference between criticizing a specific policy or action (as Maines was doing by criticizing the war in Iraq) and pushing conspiracy theories about where the president was born, or making vague (and sometimes not-so-vague) threats against the lives of people in power, or resorting to name-calling ("Crooked Hillary," "Pocahontas," etc.).</p><div><div class="push-wrapper--mobile" data-card="image" data-reactroot=""><img type="lazy-image" data-runner-src="https://assets.rebelmouse.io/eyJhbGciOiJIUzI1NiIsInR5cCI6IkpXVCJ9.eyJpbWFnZSI6Imh0dHBzOi8vYXNzZXRzLnJibC5tcy8xOTQ3OTkyMC9vcmlnaW4uanBnIiwiZXhwaXJlc19hdCI6MTY0MTg2NTI3N30.sHl30zKrqHZAVgo4x4OjoCHYOKMy4SZyOQVv0_oINdA/img.jpg?width=980" id="e5b1d" class="rm-shortcode" data-rm-shortcode-id="cfbcffa0dd8ec2b3fcf0372a92c3b16d" data-rm-shortcode-name="rebelmouse-image"><div class="image-caption"><p>Photo by Frank Micelotta/Getty Images.</p></div></div></div><h2>Maybe — just maybe — if people with political disagreements took a page from the Dixie Chicks, the world would be a more civil place.</h2><p>Whether you're a Democrat or Republican, Trump voter or Clinton supporter, we need to remember that there's a fine line between polite disagreement and unbridled rage.</p><p>In November 2015, <a href="http://tasteofcountry.com/dixie-chicks-tour-dates-2016/" target="_blank">the Dixie Chicks announced their first tour in more than a decade</a>. They're living proof that time really does heal all wounds.</p>