Women are crushing it at the ballot box this year. Full stop.
There have been a lot of buzz and punditry about the surge of women running for office in 2018. But with each passing primary leading up to the midterms, we're getting a clearer picture if "the year of women" will truly shift congressional gender makeups across the country or if it's just an overblown talking point.

Voters in pivotal June 5 primaries across eight states — including delegate-rich California — continued turning the hypothetical hype into an electoral reality.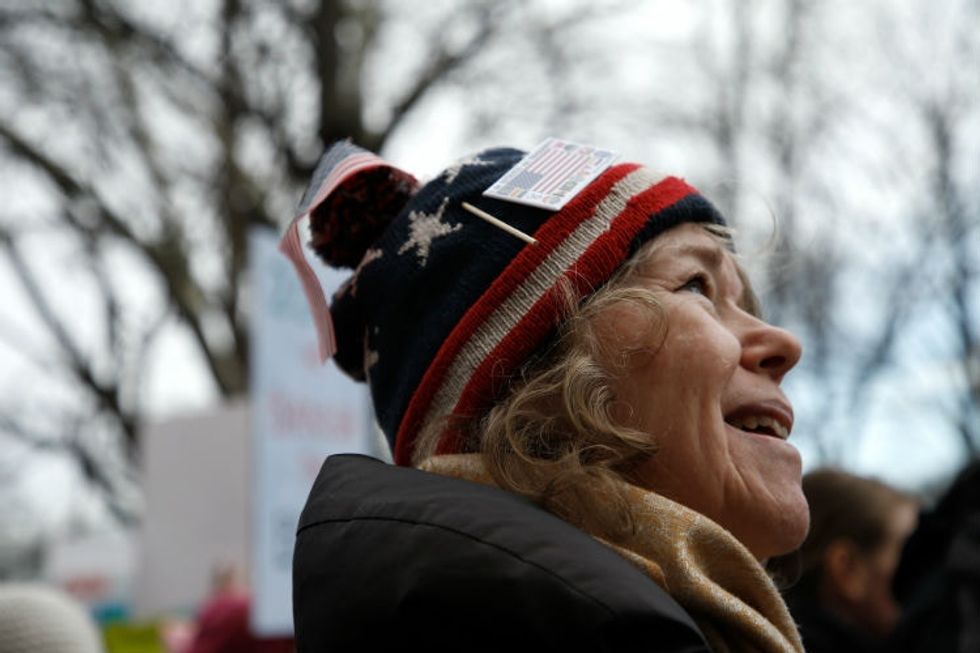 Photo by John Lamparski/Getty Images.
<p>In California alone, <a href="https://www.bloomberg.com/graphics/2018-women-congress-tracker/" target="_blank">30 women</a> will head to general election match-ups in November, including Sen. Dianne Feinstein. Notable first-time candidate and former Navy pilot <a href="https://twitter.com/MikieSherrill" target="_blank">Mikie Sherrill</a> won the Democratic nomination to represent her district in New Jersey. And in New Mexico, voters chose female candidates to head to midterm contests <a href="https://www.bloomberg.com/graphics/2018-women-congress-tracker/" target="_blank">in two of the state's three</a> House races this fall. </p><h2>One telling chart shows just how well female candidates have performed throughout 2018. </h2><p>The <a href="https://twitter.com/Redistrict/status/1003727517684043781" target="_blank">graphic</a>, shared on Twitter by Dave Wasserman, highlights the fact that women — and particularly Democratic women — are over-performing. </p><p>Big time.</p><iframe width="100%" height="150" scrolling="no" id="twitter-embed-1003727517684043781" src="/res/community/twitter_embed/?iframe_id=twitter-embed-1003727517684043781&amp;created_ts=1528142263.0&amp;screen_name=Redistrict&amp;text=Story+of+%2718+primaries+so+far%3A+female+candidates+are+overperforming+by+an+average+of+15%25+in+Dem+primaries%2C+vs.+1.7%25%E2%80%A6+https%3A%2F%2Ft.co%2FPoxdlBJCYX&amp;id=1003727517684043781&amp;name=Dave+Wasserman" frameborder="0" class="rm-shortcode" data-rm-shortcode-id="S7LZ0X1559350454"></iframe><p>In the chart, every bar is an individual primary race where a woman ran (with Democratic contests in blue and Republican contests in red). The bars rising above the Y-axis represent a woman defeating her opponent, and the percentage by which she did so. </p><p>As evidenced by the large block of blue victories toward the right, <strong>women are over-performing by an average of 15% in their Democratic primaries thus far.</strong> In the Republican primaries, it's 1.7%.  </p><h2>It's easy to connect the dots between broader cultural and political events and a sharp rise in female candidates since the 2016 election. </h2><p>In 2017, <a href="http://www.upworthy.com/7-real-actions-you-can-take-after-the-womens-march-and-1-you-shouldnt">the Women's March</a> evolved from a single day of action into a political force for progressive candidates, and <a href="http://www.upworthy.com/me-too-creator-answers-10-questions-and-perfectly-explains-what-the-movement-is-all-about">the #MeToo movement</a> empowered survivors of sexual abuse to speak up and organize. Legislative attacks <a href="https://www.theguardian.com/us-news/2018/jan/18/how-has-donald-trumps-first-year-affected-women" target="_blank">on women's rights</a> — as well as the <a href="https://www.nytimes.com/2018/03/24/us/politics/trump-transgender-military.html" target="_blank">LGBTQ community</a>, <a href="https://www.teenvogue.com/story/donald-trump-policies-hurt-black-americans" target="_blank">people of color</a>, and other marginalized groups — have helped form a broad coalition representing the resistance. And women are largely <a href="https://www.theguardian.com/commentisfree/2017/jul/23/trump-resistance-one-adjective-female-womens-march" target="_blank">leading the way</a>.</p><p>In the 65 Democratic primaries where no incumbent was running and at least one man and one woman were on the ballot, women won a whopping 45 contests, Wasserman wrote for <a href="http://cookpolitical.com/analysis/house/house-overview/drive-elect-women-defining-2018s-democratic-primaries" target="_blank">The Cook Political Report</a> in May. Men defeated their female challengers in just 18. (Two such elections are headed to runoffs; women were the top vote-receivers in both.) </p><p class="shortcode-media shortcode-media-rebelmouse-image"><img type="lazy-image" data-runner-src="https://assets.rebelmouse.io/eyJhbGciOiJIUzI1NiIsInR5cCI6IkpXVCJ9.eyJpbWFnZSI6Imh0dHBzOi8vYXNzZXRzLnJibC5tcy8xOTM0NjQyMC9vcmlnaW4uanBnIiwiZXhwaXJlc19hdCI6MTU4OTcxODU5NH0.aNDgrovq2Je86SPqHVvAIof80OzyQm9JfqrQr3seJtk/img.jpg?width=980" id="23bf8" class="rm-shortcode" data-rm-shortcode-id="21c7da5d605945f94a5c1ef53a9eb06e" data-rm-shortcode-name="rebelmouse-image"><small class="image-media media-caption" placeholder="add caption...">California Sen. Dianne Feinstein. Photo by Joe Raedle/Getty Images.</small></p><h2>Women of diverse backgrounds and experiences are making impressive strides. </h2><p>In Alabama, a <a href="https://www.upworthy.com/a-historic-number-of-black-women-candidates-run-for-alabama-office">historically high number</a> of black women are running for office. Transgender women in places like <a href="https://www.npr.org/2017/11/07/562679573/election-of-transgender-lawmaker-in-virginia-makes-history" target="_blank">Virginia</a> and <a href="https://www.mprnews.org/story/2017/11/08/minneapolis-elects-transgender-candidates-to-city-council" target="_blank">Minnesota</a> have shattered glass ceilings. On June 5, 27-year-old lesbian Julia Fahl <a href="https://newjerseyglobe.com/uncategorized/fahl-defeats-27-year-lambertville-mayor/" target="_blank">upset her male primary challenger</a> to win the mayorship race of Lambertville, New Jersey (incumbent David DelVecchio has held the office as long as Fahl's been alive).</p><p>In May, Stacey Abrams became <a href="https://www.upworthy.com/meet-the-progressive-women-who-won-big-in-last-night-s-primaries">the first black woman in Georgia</a> to be nominated by a major party for governor. If she wins in November, she would be the country's first black female governor.</p><p>Is this what a sea change looks like? </p><p class="shortcode-media shortcode-media-rebelmouse-image"><img type="lazy-image" data-runner-src="https://assets.rebelmouse.io/eyJhbGciOiJIUzI1NiIsInR5cCI6IkpXVCJ9.eyJpbWFnZSI6Imh0dHBzOi8vYXNzZXRzLnJibC5tcy8xOTM0NjQyMS9vcmlnaW4uanBnIiwiZXhwaXJlc19hdCI6MTU5MDAwMTE5N30.SucW8zPfAtAkfVnzJQY5jhZmSFwpxTRO1p6SyPW8PdE/img.jpg?width=980" id="50e44" class="rm-shortcode" data-rm-shortcode-id="6ae246f0b78a86ae408c663bbe2cb1ba" data-rm-shortcode-name="rebelmouse-image"><small class="image-media media-caption" placeholder="add caption...">Photo by Jessica McGowan/Getty Images.</small></p><h2>To be sure, there's still work to be done — before and after November 2018. </h2><p>Women — and particularly women of color, LGBTQ women, and disabled women — are still <a href="http://www.pewresearch.org/fact-tank/2017/03/20/despite-gains-women-remain-underrepresented-among-u-s-political-and-business-leaders/" target="_blank">underrepresented</a> in Congress. These primaries and the upcoming midterms won't counter the lopsided gender paradigm that's made state Houses and D.C. itself such (white, straight, abled) boys' clubs for centuries. </p><p>But it could change things for the better in big ways. And it starts at the ballot box. </p><p><em>Are you ready for the upcoming elections in your community? <a href="https://www.usa.gov/register-to-vote" target="_blank">Make sure you're registered to vote</a>.</em></p>