How much do you love kimchi?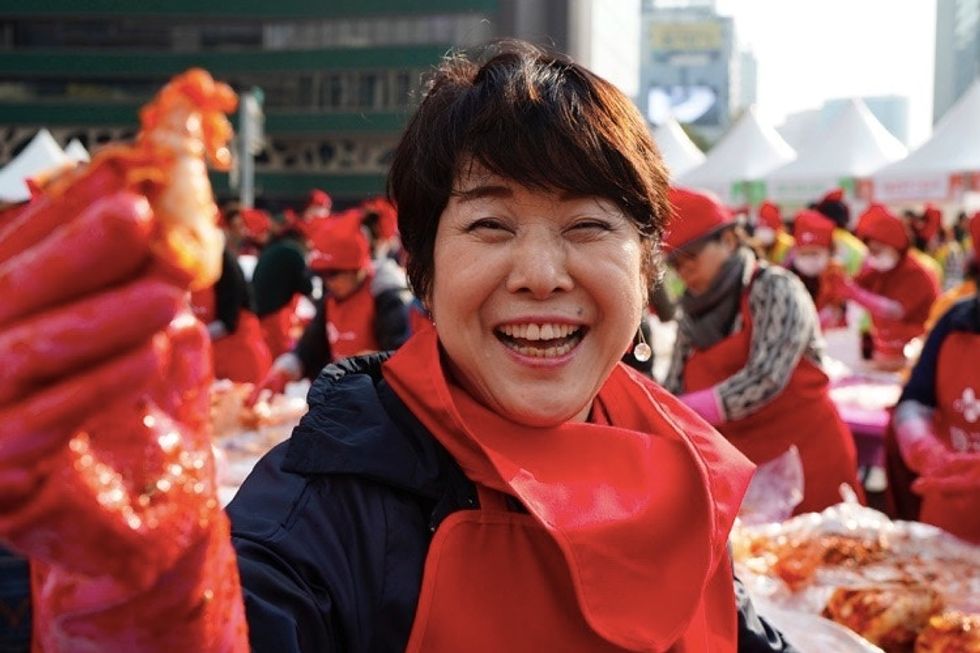 Probably not as much as this woman. All photos by Woohae Cho/Getty Images.
If you grew up eating Korean food or have been to any fusion restaurant or food truck in the last couple years, you're probably already familiar with the delicious, spicy goodness that is kimchi.
<p>On Friday, Nov. 3, people donned red smocks and pinked gloves and dove into the age-old art of making the delicious dish as part of the <a href="http://english.visitkorea.or.kr/enu/ATR/SI_EN_3_1_1_1.jsp?cid=1963142" target="_blank">Seoul Kimchi Festival</a>.</p><h2>The first day's attendance topped more than 2,300 people, who together produced a whopping 120,000 pounds of kimchi.</h2><p class="shortcode-media shortcode-media-rebelmouse-image"><img type="lazy-image" data-runner-src="https://assets.rebelmouse.io/eyJhbGciOiJIUzI1NiIsInR5cCI6IkpXVCJ9.eyJpbWFnZSI6Imh0dHBzOi8vYXNzZXRzLnJibC5tcy8xOTUzMzE1OS9vcmlnaW4uanBnIiwiZXhwaXJlc19hdCI6MTU5OTQwMjUxMn0.fXSZ3Yl1l7gdz1B2WaNg3YEOQQ20uGRPJL5Kh5OgIjQ/img.jpg?width=980" id="e1f03" class="rm-shortcode" data-rm-shortcode-id="e530a73922c991c31c0144e86977c8ef" data-rm-shortcode-name="rebelmouse-image"><small class="image-media media-caption" placeholder="add caption...">That's a lot of kimchi!</small></p><p>The festival started in 2014, and besides giving people a chance to get their hands dirty, it features parties, playgrounds, a kimchi museum, and plenty of opportunities to chow down on the stuff.</p><p class="shortcode-media shortcode-media-rebelmouse-image"><img type="lazy-image" data-runner-src="https://assets.rebelmouse.io/eyJhbGciOiJIUzI1NiIsInR5cCI6IkpXVCJ9.eyJpbWFnZSI6Imh0dHBzOi8vYXNzZXRzLnJibC5tcy8xOTUzMzE2MC9vcmlnaW4uanBnIiwiZXhwaXJlc19hdCI6MTYzNjM5NDgzMX0.78dWcT06IqPdpWDMZJ546-20CDfvqFtmV3FITFIQKWs/img.jpg?width=980" id="9d1b3" class="rm-shortcode" data-rm-shortcode-id="03487b6929e37830849e326133b40100" data-rm-shortcode-name="rebelmouse-image"><small class="image-media media-caption" placeholder="add caption...">If you're not hungry already...</small></p><p class="shortcode-media shortcode-media-rebelmouse-image"><img type="lazy-image" data-runner-src="https://assets.rebelmouse.io/eyJhbGciOiJIUzI1NiIsInR5cCI6IkpXVCJ9.eyJpbWFnZSI6Imh0dHBzOi8vYXNzZXRzLnJibC5tcy8xOTUzMzE2MS9vcmlnaW4uanBnIiwiZXhwaXJlc19hdCI6MTYxOTMwMTE1Mn0.XpZBQJj4vDpOsS-h9rPDw8xo6zG6HmUp__nLRdWU7ME/img.jpg?width=980" id="72bd2" class="rm-shortcode" data-rm-shortcode-id="8a9b7de665704b67bd3d42913610a77d" data-rm-shortcode-name="rebelmouse-image"><small class="image-media media-caption" placeholder="add caption...">...I guarantee you will be now.</small></p><h2>The festival gives Koreans a chance to get their hands dirty and reconnect with some age-old traditions. </h2><p class="shortcode-media shortcode-media-rebelmouse-image"><img type="lazy-image" data-runner-src="https://assets.rebelmouse.io/eyJhbGciOiJIUzI1NiIsInR5cCI6IkpXVCJ9.eyJpbWFnZSI6Imh0dHBzOi8vYXNzZXRzLnJibC5tcy8xOTUzMzE2Mi9vcmlnaW4uanBnIiwiZXhwaXJlc19hdCI6MTYxMDY3NzIwMH0.ayUAO_xONkSifZTlGJ7Awl0qk0sKQv-5hxoHNif9YTw/img.jpg?width=980" id="a0550" class="rm-shortcode" data-rm-shortcode-id="d8f84d29b0248efd1c16b48b712a1910" data-rm-shortcode-name="rebelmouse-image"><small class="image-media media-caption" placeholder="add caption...">You seriously don't understand. I'm writing this during lunchtime.</small></p><p>In the past, making kimchi was a big community event, done after the harvest and just before the first winter snowfall to make sure everyone had enough to eat through the winter. But as people have moved out of the country and into cities, this community tradition had fallen away. The modern festival was started to help people reconnect.</p><p>"We don't really get much chance to make kimchi usually, so through this opportunity, I have come to understand how much effort our mothers and grandmothers put into making kimchi," Jeung Ji-hun, an 18-year-old student, <a href="https://www.reuters.com/article/us-southkorea-festival-kimchi/mission-intangible-warm-hearted-koreans-serve-up-super-spicy-kimchi-for-a-cause-idUSKBN1D310Z" target="_blank">told Reuters</a>.</p><p class="shortcode-media shortcode-media-rebelmouse-image"><img type="lazy-image" data-runner-src="https://assets.rebelmouse.io/eyJhbGciOiJIUzI1NiIsInR5cCI6IkpXVCJ9.eyJpbWFnZSI6Imh0dHBzOi8vYXNzZXRzLnJibC5tcy8xOTUzMzE2My9vcmlnaW4uanBnIiwiZXhwaXJlc19hdCI6MTYzODc2MDEyN30.Hazob71RGzcYKU5d99GaEukHwGhE7GxIY33rNM38qZ0/img.jpg?width=980" id="402cb" class="rm-shortcode" data-rm-shortcode-id="e75288f7ecc33aa3eec7955e391223a2" data-rm-shortcode-name="rebelmouse-image"><small class="image-media media-caption" placeholder="add caption...">There's a Korean place, like, two blocks away. As soon as I send this to my editor.</small></p><p>To make kimchi, Napa cabbage leaves are salted and then slathered with a spicy paste made from garlic, ginger, seafood, and chili flakes. It can be eaten right away or left to ferment for a few days. Either way, the end result is a crunchy, spicy punch of savory umami flavors.</p><p class="shortcode-media shortcode-media-rebelmouse-image"><img type="lazy-image" data-runner-src="https://assets.rebelmouse.io/eyJhbGciOiJIUzI1NiIsInR5cCI6IkpXVCJ9.eyJpbWFnZSI6Imh0dHBzOi8vYXNzZXRzLnJibC5tcy8xOTUzMzE2NC9vcmlnaW4uanBnIiwiZXhwaXJlc19hdCI6MTY0OTAwOTk2OH0.RcuTgBWcpRtObMFnX71gI0Y0rFWG1WcDfvLK4YsVXfs/img.jpg?width=980" id="9aa72" class="rm-shortcode" data-rm-shortcode-id="5c5db76cbffc60f84e959826b1c7b7aa" data-rm-shortcode-name="rebelmouse-image"><small class="image-media media-caption" placeholder="add caption...">Yeah, that's approximately how much I'm going to need.</small></p><p class="shortcode-media shortcode-media-rebelmouse-image"><img type="lazy-image" data-runner-src="https://assets.rebelmouse.io/eyJhbGciOiJIUzI1NiIsInR5cCI6IkpXVCJ9.eyJpbWFnZSI6Imh0dHBzOi8vYXNzZXRzLnJibC5tcy8xOTUzMzE2NS9vcmlnaW4uanBnIiwiZXhwaXJlc19hdCI6MTYwNjk1NTg3MX0.UxynI1g6gOivQYiE_AUJVDXZF23aKuhv-fE6GjEQ2II/img.jpg?width=980" id="12d6f" class="rm-shortcode" data-rm-shortcode-id="06945e59065fffb1f66157baf7067031" data-rm-shortcode-name="rebelmouse-image"><small class="image-media media-caption" placeholder="add caption...">How else are you going to know it's good if you don't take a little taste?</small></p><p>That's just one recipe, though. Koreans have been chowing down on various recipes for hundreds, if not thousands, of years. It's even been recognized as an <a href="https://ich.unesco.org/en/RL/kimjang-making-and-sharing-kimchi-in-the-republic-of-korea-00881" target="_blank">important cultural heritage by the United Nations</a>.</p><p class="shortcode-media shortcode-media-rebelmouse-image"><img type="lazy-image" data-runner-src="https://assets.rebelmouse.io/eyJhbGciOiJIUzI1NiIsInR5cCI6IkpXVCJ9.eyJpbWFnZSI6Imh0dHBzOi8vYXNzZXRzLnJibC5tcy8xOTUzMzE2Ni9vcmlnaW4uanBnIiwiZXhwaXJlc19hdCI6MTYyMzAzNTMxMX0.ScCEhjRkAquR-ZoZPKuI4wcTgloYoAZsa_v2wB2O_Ao/img.jpg?width=980" id="58e04" class="rm-shortcode" data-rm-shortcode-id="85af568f573e4ec1a09e28c21819781b" data-rm-shortcode-name="rebelmouse-image"><small class="image-media media-caption" placeholder="add caption...">Kimchi selfie!</small></p><h2>Fitting for that traditional community spirit, the kimchi made at the festival will be packed up and given to needy households throughout Seoul. </h2><p>Organizers are hoping to end up sharing a total of 120 tons over the course of the three-day event.</p><p>"This kimchi, along with our warm hearts, will be shared with our neighbors in need of help," festival director Shin Myung-ki told Reuters.</p><p class="shortcode-media shortcode-media-rebelmouse-image"><img type="lazy-image" data-runner-src="https://assets.rebelmouse.io/eyJhbGciOiJIUzI1NiIsInR5cCI6IkpXVCJ9.eyJpbWFnZSI6Imh0dHBzOi8vYXNzZXRzLnJibC5tcy8xOTUzMzE2Ny9vcmlnaW4uanBnIiwiZXhwaXJlc19hdCI6MTYyNjE2NTk1Mn0.xVVpO4Tr3WiYOvt3S4OueAEUwNvulKCy7D4_Eq0F3m8/img.jpg?width=980" id="bd005" class="rm-shortcode" data-rm-shortcode-id="27c5c600f6218d9690c901b48c3b1306" data-rm-shortcode-name="rebelmouse-image"><small class="image-media media-caption" placeholder="add caption...">OK, lunchtime!</small></p>