Standing in a buzzing movie theater lobby, 21-year-old Ashley Kessler flips her phone around excitedly so I can see the screen.

There are pics on pics on pics capturing the two times she's already seen the film "Love, Simon" at advanced screenings. Her smiley, scruffy dad standing by her side proudly points out a photo of actor Nick Robinson, who stars in the lead role, at an event for the film's premiere. Clearly, they're big fans.

Tonight — March 16, the movie's official opening day — marks Kessler's third trip to experience Hollywood history in the making. "It's really, really good," she says of the film, grinning.

Dozens of young people just like Kessler are crowded around us, anxiously waiting to see Simon Spier's love story play out on the big screen. And I'm finally seeing with my own two eyes what all the fuss is about.

The gay hype, I've decided, is justified.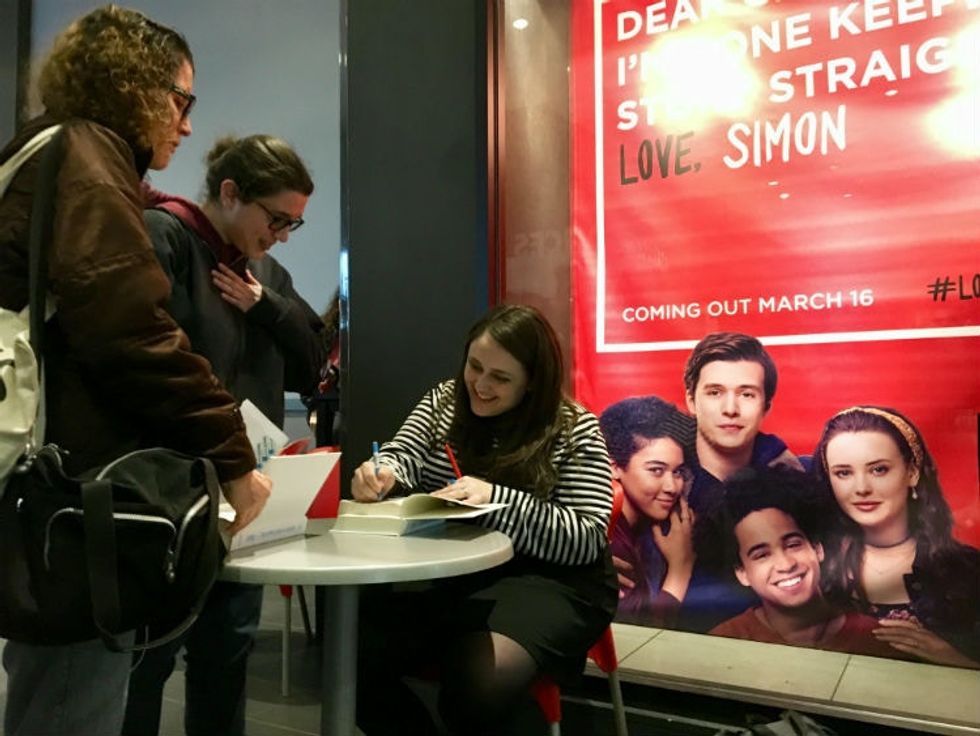 Author Becky Albertalli signs copies of "Simon vs. the Homo Sapiens Agenda" in New York the night "Love, Simon" is released in theaters. Photo by Robbie Couch/Upworthy.
<p>"Love, Simon" — which follows a closeted high schooler who falls hard for a classmate he's met anonymously online — <a href="http://ew.com/movies/2018/03/16/love-simon-inside-the-making-of-groundbreaking-comedy/" target="_blank">marks the first time</a> a major studio teen rom-com has featured a gay lead. Other LGBTQ-themed movies have come before it, of course. But those films were either aimed at adults or created with smaller budgets for niche audiences (and oftentimes both). </p><h2>"Love, Simon" has broken the mold.</h2><p>"I can hardly wrap my head around it," says Becky Albertalli, author of the 2015 young adult novel "<a href="https://www.amazon.com/Simon-vs-Homo-Sapiens-Agenda/dp/006234868X" target="_blank">Simon vs. the Homo Sapiens Agenda</a>," which inspired the film. "Nobody — especially not me — ever thought this book was going to blow up. Nobody ever thought this book would be a movie." </p><p>But Albertalli's work of fiction became a trailblazing best-seller. And now its dedicated fans — like the ones here, in New York City's Chelsea neighborhood on the movie's official opening day — are eagerly filling theater seats to eat up buttery popcorn and Hollywood's version of Simon's tale.</p><p>The movie is hilarious and heartfelt in all the right places. But the truly remarkable ingredient in Simon's success is that, for the first time, young LGBTQ people in virtually every corner of the country have access to a same-sex love story made specifically <em>for them</em>. </p><p>"It would have been incredible to have a movie like this when I was that age," says 30-year-old Ruben Gloria, who's "as gay as it gets" and holding a signed copy of Albertalli's book in the theater lobby. </p><p>"A lot of my friends identity as LGBT," says Kessler. "And they are so happy to see [a character] that's like them."</p><p class="shortcode-media shortcode-media-rebelmouse-image"><img type="lazy-image" data-runner-src="https://assets.rebelmouse.io/eyJhbGciOiJIUzI1NiIsInR5cCI6IkpXVCJ9.eyJpbWFnZSI6Imh0dHBzOi8vYXNzZXRzLnJibC5tcy8xOTM0NTg3OS9vcmlnaW4uanBnIiwiZXhwaXJlc19hdCI6MTYxNTE5OTg5Mn0.Iy4EDBE1A70MbNVULIc682y82IdOHG_x8WiqOQsNUPg/img.jpg?width=980" id="7ed44" class="rm-shortcode" data-rm-shortcode-id="6da8f8b2277b0dffeedbb57f374bbc61" data-rm-shortcode-name="rebelmouse-image"><small class="image-media media-caption" placeholder="add caption...">Photo by Ben Rothstein/20th Century Fox Film Corporation.</small></p><h2>But the movie's wide-release, while certainly worth celebrating, also highlights his relatively sanitized circumstances. </h2><p>Albertalli's lead character is a white, cisgender teen who comes from a doting family nestled in the suburbs. Would his story have gotten a big-budget treatment had Simon been black? What if he'd been femme? Transgender? </p><p>Findings from a 2017 report by GLAAD — which discovered LGBTQ characters (and especially characters of color) are <a href="https://www.vice.com/en_us/article/ne3kdk/lgbtq-representation-on-tv-still-sucks" target="_blank">still underrepresented</a> — suggests "Love, Simon" may have been a tougher sell to Hollywood executives if any of those variables had been the case.</p><p>Even Albertalli makes sure to point out further inclusivity is needed in the stories we create for young LGBTQ people from all walks of life. "There needs to be more and more different types of stories coming from the communities that they're about," she notes, hoping "Simon" — whose story she first envisioned in 2013 — will help open doors for others down the road.</p><h2>Still. The closet door Simon burst through is a big one.</h2><p>20th Century Fox hasn't downplayed his gayness, as movie studios often do with LGBTQ films. It's actually <a href="http://www.latimes.com/entertainment/movies/la-et-mn-love-simon-marketing-20180316-story.html" target="_blank">emphasizing</a> the movie's queer elements through a hyper-localized marketing blitz spanning several cities across the country. </p><p>Most American teens can see "Love, Simon" at their local theater. The same wasn't true for other recent, queer coming-of-age films released on smaller stages, like 2016's "Moonlight" or 2017's "Call Me By Your Name." That especially matters in regions like the South and Midwest where, according to Albertalli, more kids may need reminding that it's OK to be gay. </p><p>One of the film's producers, Wyck Godfrey, told <a href="http://ew.com/movies/2018/03/16/love-simon-inside-the-making-of-groundbreaking-comedy/" target="_blank">Entertainment Weekly</a> that the studio tested the film in America's heartland months ago to be sure its LGBTQ themes would still resonate with theatergoers nationwide. They did. </p><p>"We got to [the climax], and the entire theater broke out into applause," Godfrey said of an advanced screening in Kansas. The film's director, Greg Berlanti, <a href="http://ew.com/movies/2018/03/16/love-simon-inside-the-making-of-groundbreaking-comedy/" target="_blank">teared up</a> over the theater's positive response.</p><p class="shortcode-media shortcode-media-rebelmouse-image"><img type="lazy-image" data-runner-src="https://assets.rebelmouse.io/eyJhbGciOiJIUzI1NiIsInR5cCI6IkpXVCJ9.eyJpbWFnZSI6Imh0dHBzOi8vYXNzZXRzLnJibC5tcy8xOTM0NTg4MC9vcmlnaW4uanBnIiwiZXhwaXJlc19hdCI6MTYxNzg3MzIwMH0.bviGvEz3Z6E9nhwUO_baGC3t9mXGn8ZS0s9fy59S3L8/img.jpg?width=980" id="5d060" class="rm-shortcode" data-rm-shortcode-id="62135a1297d4aefbd5f4c889bccb7df7" data-rm-shortcode-name="rebelmouse-image"><small class="image-media media-caption" placeholder="add caption...">Photo by Ben Rothstein/20th Century Fox Film Corporation.</small></p><p>Some have argued, however, kids these days may not need stories like Simon's as much as liberal adults believe they do. How groundbreaking is this film, really?</p><p>It's 2018, after all. An expanding, streaming TV landscape flaunts <a href="https://www.theverge.com/2017/11/9/16628754/glaad-study-tv-lgbtq-characters-diversity" target="_blank">many more</a> LGBTQ characters and queer storylines than 10 or 20 years ago. Young adult literature has begun <a href="https://www.buzzfeed.com/jemimaskelley/diverse-ya?utm_term=.lvB9KANJw#.niWxlWKdN" target="_blank">responding to demands</a> that it further diversify its authors, stories, and characters.</p><p>"[Teens] don't need this movie," wrote <a href="http://time.com/5190982/love-simon-groundbreaking-gay-movie/" target="_blank">Time magazine</a>'s Daniel D'Addario, who argues the film would have made bigger waves in pre-gay marriage America. "Will they look up from Netflix to notice that it has premiered?"</p><p>The full and emotionally charged theater I'm sitting in on premiere night suggests they will.</p><p class="shortcode-media shortcode-media-rebelmouse-image"><img type="lazy-image" data-runner-src="https://assets.rebelmouse.io/eyJhbGciOiJIUzI1NiIsInR5cCI6IkpXVCJ9.eyJpbWFnZSI6Imh0dHBzOi8vYXNzZXRzLnJibC5tcy8xOTM0NTg4MS9vcmlnaW4uanBnIiwiZXhwaXJlc19hdCI6MTYzMTU0NTQzOX0.rgk94Hu5wIrFMflHceWh7lTRmZSKaJFOMYXy_CfiOz0/img.jpg?width=980" id="f9abf" class="rm-shortcode" data-rm-shortcode-id="90660a03c20e815fa89d3833b67f4ba0" data-rm-shortcode-name="rebelmouse-image"><small class="image-media media-caption" placeholder="add caption...">"Love, Simon" fans pack a theater for an event in January held in Atlanta, Georgia. Photo by Moses Robinson/Getty Images for 20th Century Fox.</small></p><p>I hear gasps, laughs, "awws," and teary sniffles peppered throughout the movie. The audience — much like they did seven states away in Kansas, months ago — cheers loudly as a final revelation is realized in the closing minutes. When the theater lights come on, eyes are watery and hearts are full.</p><h2>Of course young people still need a story like Simon's.</h2><p>Albertalli wishes she could share her email inbox — home to many messages from readers who've been touched by her book — with those who believe otherwise. "The reaction these teens are having to this film," she says, "they're not being blasé about it."</p><p>In this theater on opening night, those emails have sprung into real life. Surrounded by delighted young people eager to see a version of themselves on screen, Albertalli understands what a difference Simon has made. </p><p>Everyone deserves a love story, as Simon tells moviegoers. And until everyone has one, stories like his still matter. </p>