Well Being
The spring break teen who wouldn't let the coronavirus 'stop me from partying' has sobered up and apologized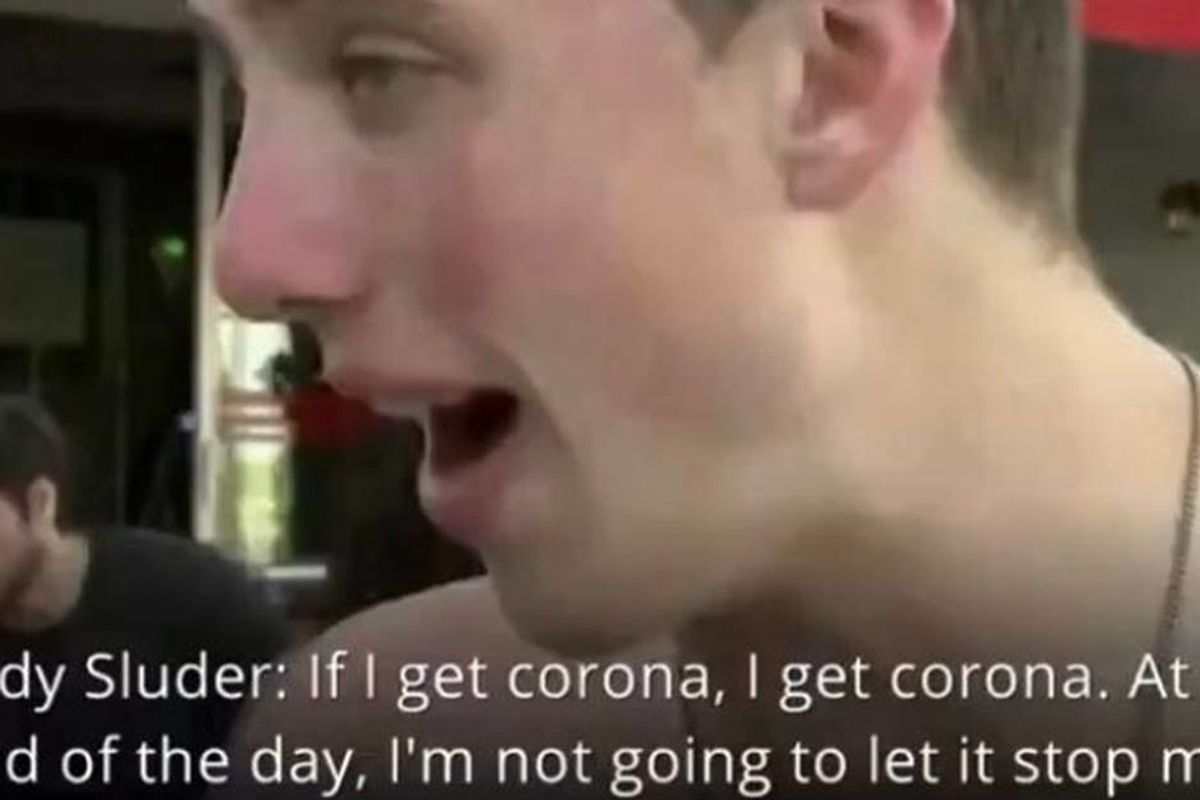 via CBS / Twitter
Brady Sluder, the SoundCloud rapper who proudly partied his butt off for spring break in Florida last week, seemed right out of central casting.

Ever defiant with his backwards hat and midday cheap beer buzz, he told a reporter the coronavirus wasn't going to get between him and a good time.

"Whatever happens, happens. If I get corona, I get corona," Sluder with total sincerity. "At the end of the day, I'm not going to let it stop me from partying."
---
After all, this party was a long time coming so he was going to fight for his right to be there when it happened.
"I've been waiting, we've been waiting for Miami spring break for a while," he added. "About two months we've had this trip planned, two, three months, and we're just out here having a good time."
Sluder unintentionally became the spokesperson for the thousands of twenty-somethings and teens that partied on the beach in south Florida while most of the country was either winding down their activities or on total lockdown.
The partiers became the source of national scorn and embarrassment for not adhering to the nationwide call to practice social distancing.
If Sluder's decision to put partying before his health only affected him, then there'd be no real reason to get too mad at the kid. But that's not how the coronavirus works. Sluder and the rest of the spring breakers were at risk of contracting the disease and then unknowingly spreading it back home.
After being shamed by most of the planet, Sluder has come out and apologized.
"Don't be arrogant and think you're invincible like myself," the spring breaker wrote on Instagram. "I wasn't aware of the severity of my actions and comments."

He spoke to the danger that can happen when young people refuse to practice social distancing.

"Like many others, I have elderly people who I adore more than anything in the world and other family members who are at risk, and I understand how concerning this disease is for us all," he said.
"Our generation may feel invincible, like I did when I commented," he added. "But we have a responsibility to listen and follow the recommendations in our communities."
Sluder's post begs an important question: Why do young people think they're invincible?
The answer is their brains aren't completely developed. This is especially true for men.
Young people's brains are still in a process of neuronal myelination, which is a fancy way of saying that the frontal lobe isn't completely connected to the rest of the brain. This process is usually complete in women by the age of 25, but men go through it until they are 30.
So guys like Sluder are able to party in a danger zone with zero worries because their brains are underdeveloped. Dumping a bunch of alcohol into the mix doesn't help things much either.
"Essentially, your frontal lobes tell you that it's a bad idea to drink alcohol and drive or to ignore the consequences of taking heroin," Gary L. Wenk Ph.D. wrote in Psychology Today.
"When your frontal lobes finally complete their process of myelination, they begin to work properly and you stop doing dangerous things," he continued. "Most importantly, you stop feeling immortal."