Heroes
Simone Biles discusses being 'very much pro-choice' in powerful new exchange with her fans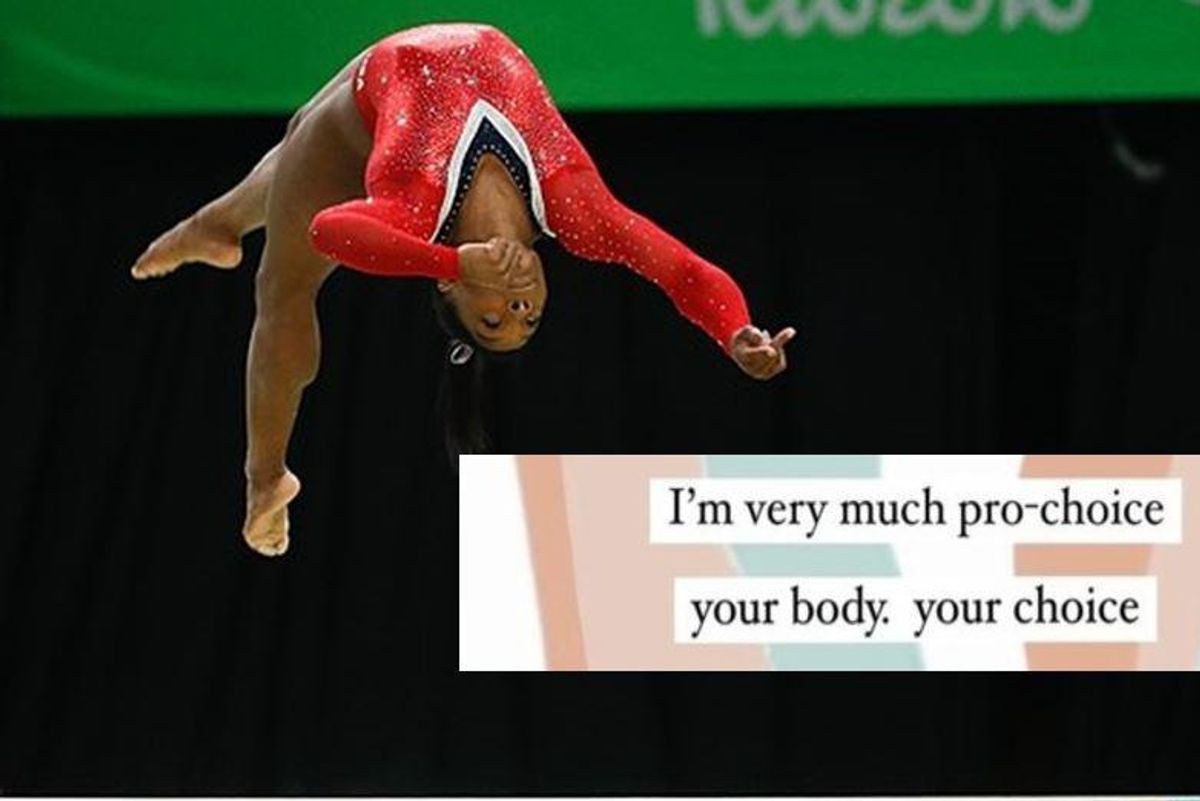 via Wikimedia Commons
Gymnast Simone Biles attributes a lot of her success to the fact that she was adopted by her grandfather, Ron, and his wife, Nellie, in 2000. "My road to success began the day my grandfather and his wife officially adopted my sister and me," the five-time world champion and four-time Olympic gold medalist wrote in a piece for CNN.
"Although I was young when my foster care ordeal began, I remember how it felt to be passed off and over-looked," she wrote. "Like nobody knew me or wanted to know me. Like my talents didn't count, and my voice didn't matter. Finding a family made me feel like I mattered."
Biles and three of her siblings were placed in the Ohio foster care system when she was just three years old because her parents had substance abuse problems.
---
"Being separated from my biological mom, being placed in foster care before I officially got adopted by my grandparents, it just set me up for a better route at life, and I feel like I wouldn't be where I am unless that turning point happened," she said on Facebook Watch.
However, just because she is an advocate for children in the foster care system, doesn't mean that she isn't pro-choice as well.

The gymnast stirred up controversy on Monday night when she asked her Instagram followers to submit "unpopular opinions" so she could weigh in with her thoughts. When one wrote, "abortion is wrong," Biles responded saying she is "very much pro-choice."
"I already know this is going to start the biggest argument and may even lose followers BUT. I'm very much pro-choice. Your body. Your choice," she wrote.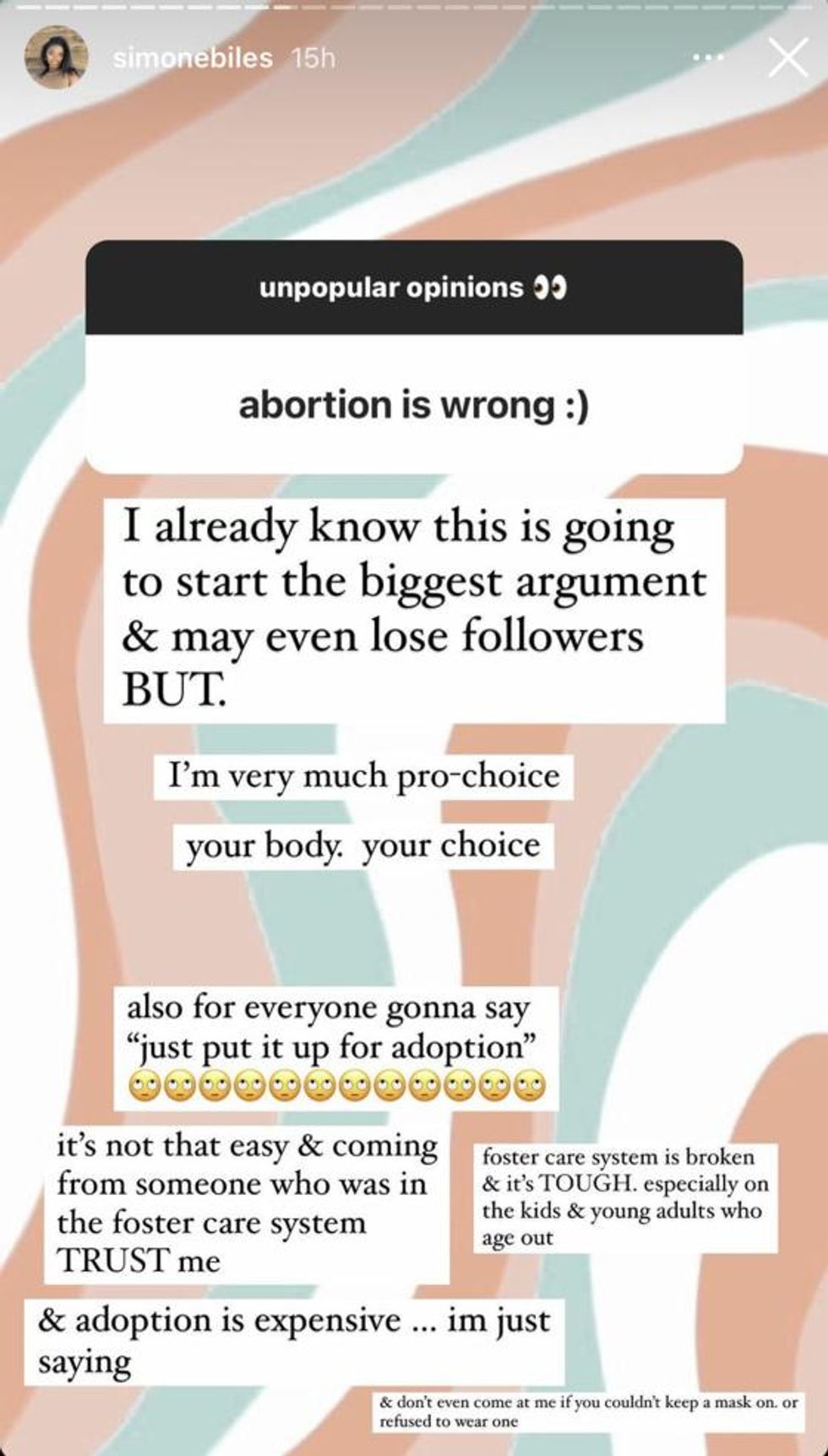 via Simone Biles / Instagram Stories
Biles knew that her opinions would be controversial, especially because she was adopted.
"Also for everyone [who's] gonna say 'just put it up for adoption,' " she started, adding eye-rolling emojis, "it's not that easy and coming from someone who was in the foster care system TRUST me."
"Foster care system is broken and it's TOUGH. Especially on the kids and young adults who age out. And adoption is expensive … I'm just saying," she added.
Abortion is a controversial topic so it wasn't a surprise that Biles received a lot of negative responses to her stance. But some people had the audacity to conclude that Biles thinks people should have abortions instead of giving their babies up for adoption.
I have forever & will continue to support foster kids. AS I WAS ONE. I've been an advocate for foster kids and the… https://t.co/MQP3Cs5W2U

— Simone Biles (@Simone Biles) 1628593352.0
"DO NOT misconstrue my words. That is not at all what I implied. I did NOT say I support to abort rather than to put them through the foster care system. What I did imply is that you should not control someone else's body/decision," she said.

"I have forever and will continue to support foster kids. AS I WAS ONE," Biles continued. "I've been an advocate for foster kids and the system but you wouldn't know that because you don't follow me, you just like to open your mouth."
Controversial topics like abortion can make people so angry they have a hard time understanding a nuanced opinion. Being pro-choice doesn't mean that someone is anti-adoption or against the foster care system. It simply means that they believe people — especially women — should be able to make their own reproductive decisions.
Adoption is a choice. Abortion is a choice. Biles believes that the pregnant person is the one who should be making that decision.