Culture
Powerful new testimony shows how George Floyd died, putting all the harmful rumors to rest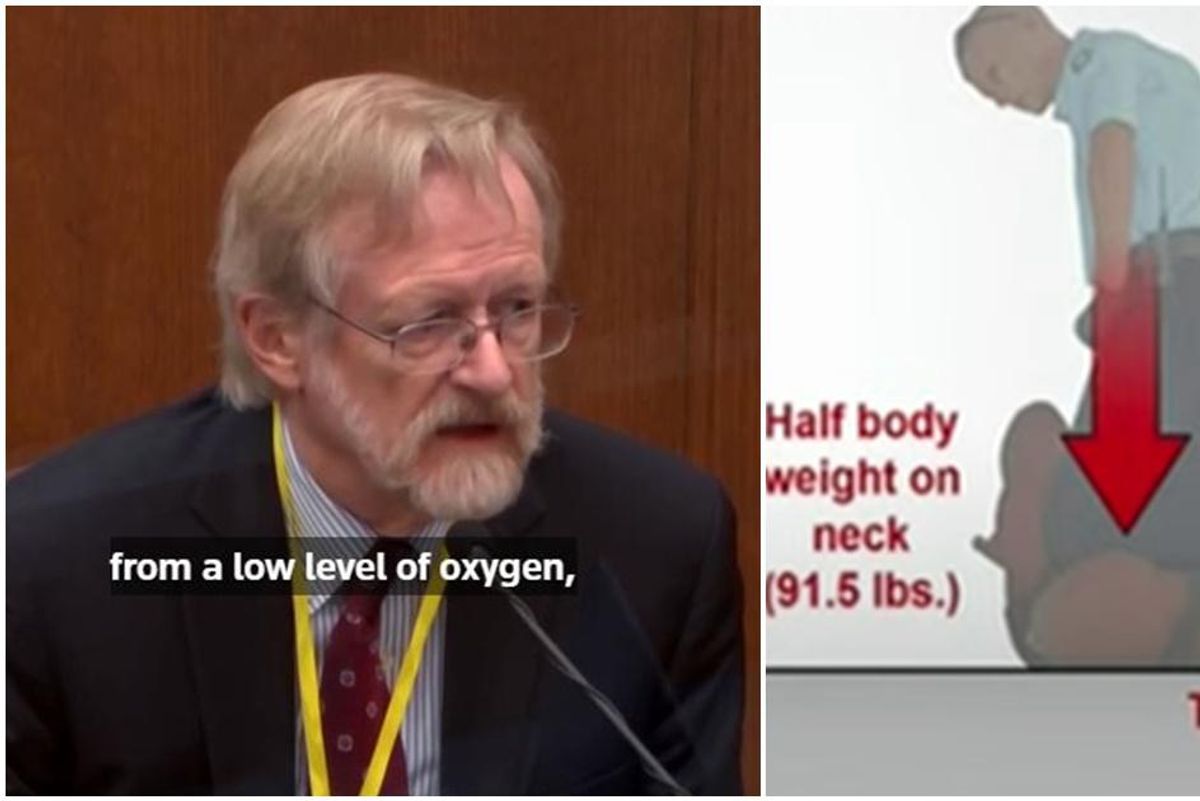 via State of Minnesota
Powerful testimony in the trial of former Minneapolis police officer Derek Chauvin for the death of George Floyd makes it clear that he died from a "low level of oxygen."

Chauvin's defenders have alleged Floyd's death could have been caused by heart disease or drug use. They've also claimed that Floyd must have been able to breathe because he audibly called out for his mother while Chauvin's knee was on his neck.
However, Dr. Martin Tobin, a pulmonologist who has studied the human respiratory for over 46 years, strongly refuted those claims from the stand.
---
"Mr. Floyd died from a low level of oxygen," Dr. Tobin, author of the 1,500-page textbook "Principles and Practice of Mechanical Ventilation," said in Hennepin County Court in downtown Minneapolis Thursday.
Dr. Martin Tobin: "Mr. Floyd died from a low level of oxygen. And this caused damage to his brain that we see, and… https://t.co/87eiUvxTLv

— Aaron Rupar (@Aaron Rupar) 1617895158.0
"It was almost to the effect as if a surgeon had gone in and removed a lung," Dr. Tobin said. "There was virtually very little opportunity for him to be able to get any air to move into the left side of his chest."

Tobin said the way police restrained Floyd meant he could not take in enough oxygen, which led his heart to stop beating. "The cause of the low level of oxygen was shallow breathing," Tobin said.
Floyd's breathing was lethally shallow due to a combination of three forces. Floyd was laid prone on the street, an officer was kneeling on his neck, and his hands were cuffed behind his back.
The doctor presented a visual during the trial that estimated Chauvin placed 91.5 pounds, or half his body weight, on Floyd's neck.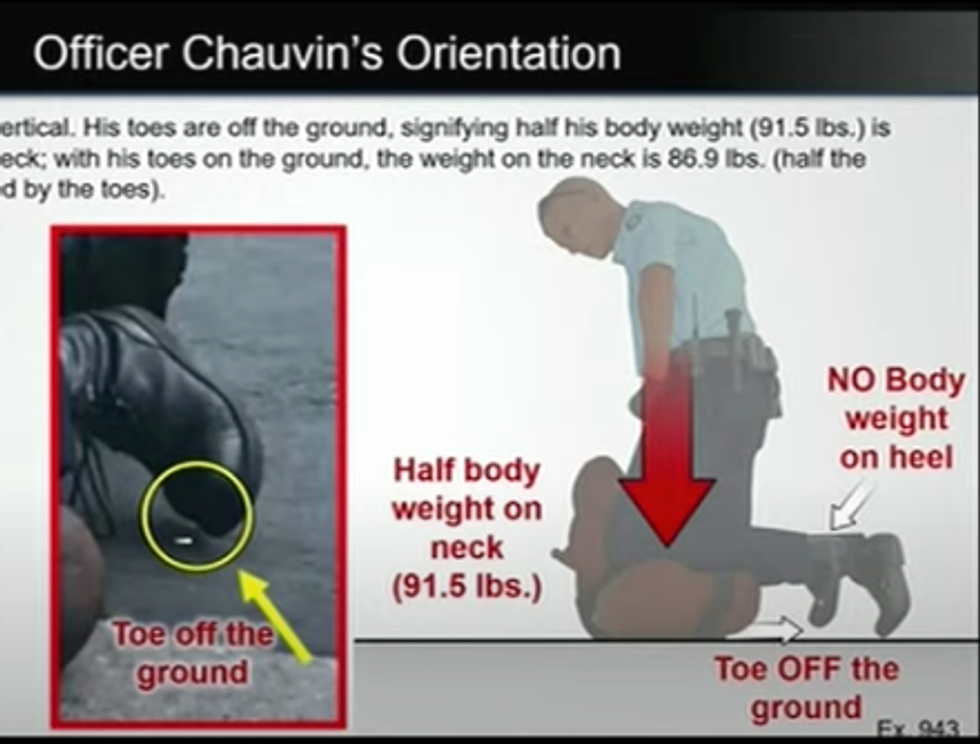 State of Minneota
The doctor presented another visual in court identifying a small detail most would dismiss as inconsequential, but stood out to the pulmonologist.

"The finger on the street, and on the right image you see his knuckle against the tire—to most people, this doesn't look significant, but to a physiologist, this is extraordinarily significant," Tobin said. "This tells you that he has used up his resources and he is now literally trying to breathe with his fingers and knuckles."
"He's using his fingers and his knuckles against the street to try to crank up the right side of his chest," Tobin said. "This is his only way to try and get air to get into the right lung."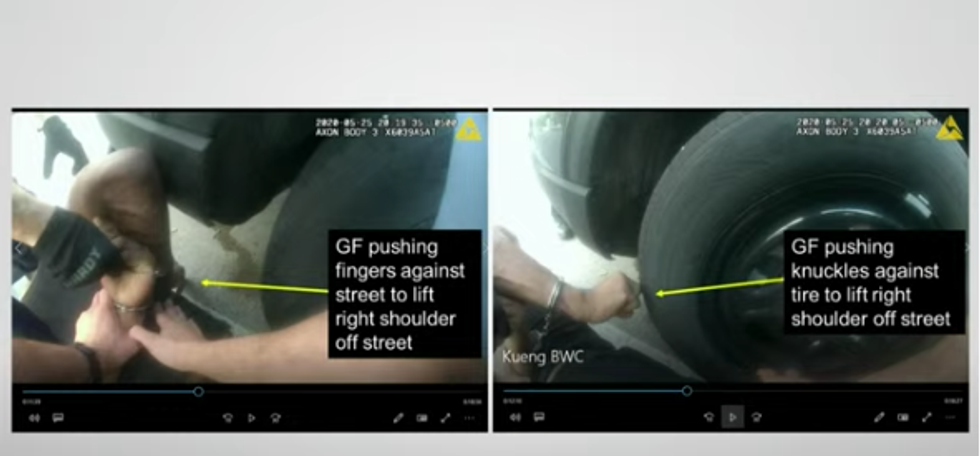 State of Minnesota
Tobin also dismissed the notion that Floyd could breathe because he was able to cry out for his mother while Chauvin's knee was on his neck. He explained that even if someone's airway is reduced by 85%, the vocal cords can still function.

"It tells you how dangerous it is to think, 'Well, if he can speak, he is doing OK,'" Tobin said.
In the video of Floyd's arrest, Chauvin can be heard saying, "It takes a heck of a lot of oxygen to say things."
"It's a true statement, but it gives you an enormous false sense of security," Tobin said. "Certainly at the moment you're speaking you are breathing, but it doesn't tell you if you're going to be breathing five seconds later."
Tobin also dismissed claims that Floyd's death was attributed to his use of fentanyl and heart disease. The drug use would have decreased his heart rate which would have been increased by his heart condition. But neither was the case.

People who overdose on fentanyl usually have a respiratory rate of around ten. "Instead, we find that his respiratory rate is normal at 22," Tobin said.
"Basically it tells you that there isn't fentanyl on board that is affecting his respiratory centers. It's not having an effect on his respiratory centers," Tobin said.
While no one is certain what the verdict will be in the Chauvin case, today's testimony means it's likely to hinge on the former police officer's behavior, not Floyd's underlying health conditions or behavior.
Floyd's death came at a cultural flashpoint when millions of Americans came to realize how Black people have been brutalized by police in America. If the jury found that Floyd was responsible for his own death, it could have had a chilling effect on the ongoing fight against social injustice.
Dr. Tobin's testimony squarely places the onus on abuse of state power by the police, not on the behavior of a Black man.
Chauvin has been charged with second and third-degree murder, as well as second-degree manslaughter in Floyd's death. If convicted, he faces up to 65 years in prison.