Democracy
Obama's latest tweets consoled a grieving nation in a way that Trump never could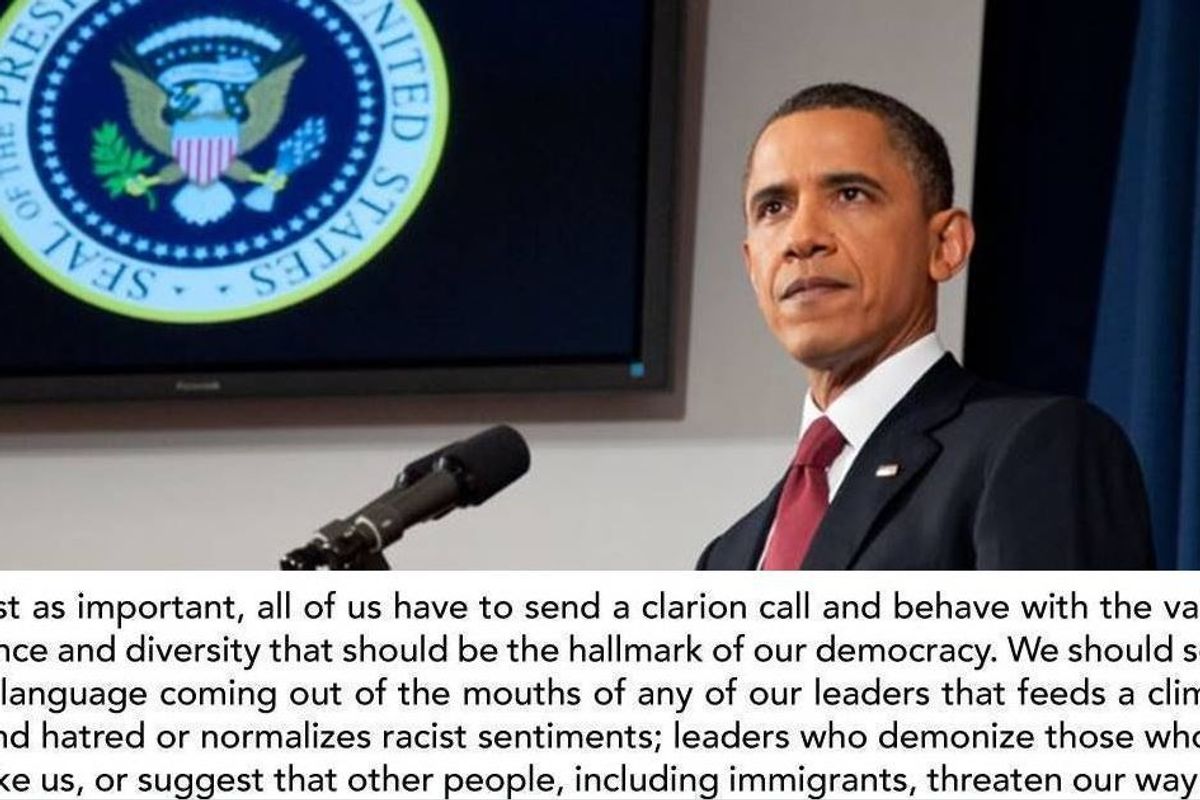 Last May at a rally in Florida, President Trump asked the crowd how to deal with immigrants illegally crossing the U.S. border.
"How do you stop these people?" he asked.
"Shoot them!" one man shouted.
The crowd responded with a wicked laugh and Trump didn't even bother to denounce the man in the audience. Instead, he replied with humor. "That's only in the Panhandle you can get away with that stuff," he said. "Only in the Panhandle."
Trump has said that unauthorized migrants "pour into and infest" the United States. "You look at what is marching up, that is an invasion!" he declared at one rally. "That is an invasion!"

On Saturday morning, a 21-year-old man murdered 21 people in the border town of El Paso, Texas at a Walmart. Before the shooting rampage, he wrote a manifesto decrying an "invasion" of immigrants. He also stated that his anti-immigrant sentiments "predate Trump."
---
While Trump clearly did not pull the trigger, as the President of the United States, he's the most powerful man on the planet, and his dehumanizing language about immigrants encourages racist extremists.
"The people who carry out these attacks are already violent and hateful people," Nathan P. Kalmoe, an Assistant Professor at Louisiana State University who has studied hate speech, told the New York Times.
"But top political leaders and partisan media figures encourage extremism when they endorse white supremacist ideas and play with violent language," he continued. "Having the most powerful person on Earth echo their hateful views may even give extremists a sense of impunity."
In the aftermath of the two gruesome mass shootings over the weekend, former president Barack Obama took to Twitter to console a grieving nation in a way that President Trump never could. Obama also called out Trump, without using his name, for helping to create a climate of fear and hatred:
We should soundly reject language coming out of the mouths of any of our leaders that feeds a climate of fear and hatred or normalizes racist sentiments; leaders who demonize those who don't look like us, or suggest that other people, including immigrants, threaten our way of life, or refer to other people as sub-human, or imply that American belongs to just once certain type of people.
Obama then connected the type of rhetoric Trump uses to some of the greatest tragedies in human history.
Such language isn't new — it's been at the root of most human tragedy throughout history, here in America and around the world. It is at the root of slavery and Jim Crow, the Holocaust, the genocide in Rwanda and ethnic cleansing in the Balkans.
He then called for Americans of all political stripes to stand up against Trump's hateful and dangerous rhetoric.
And it's time for the overwhelming majority of Americans of goodwill, of every race and faith and political party, to say as much — clearly and unequivocally.
Here's the entire statement.