Family
Mom refuses to clean the bathroom after her husband tells their sons to pee standing up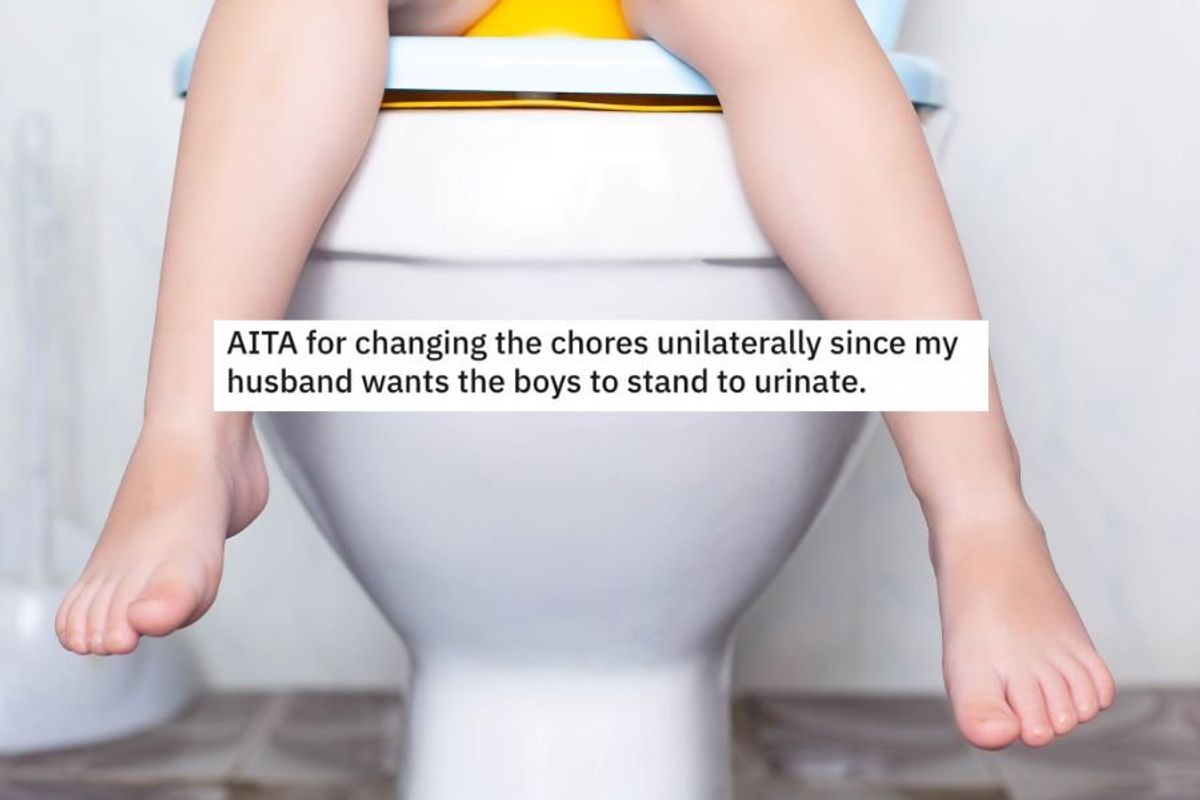 Canva
There are only a few reasons why a man would cling so hard to maintain the right to stand while peeing, and they're all far from logical. After all, sitting while urinating is not only less messy, it could prevent certain health issues.
One reason could just come down to sheer laziness. Standing while peeing is a habit so deeply ingrained one simply can't be bothered to try new things. Or it's quicker and easier, though that also seems debatable.
But the other, more prevailing cause is that peeing while standing up is so closely linked with the notion of masculinity. Because…it's how the
cowboys
did it in the Wild West, I guess?
---
Saying (or writing) these things out loud, it's easy to see how ridiculous these arguments are, especially when other people are left to clean up afterward. Urine is bound to go at least a little astray, even with the best of aimers. Put children into the equation, and you're basically dealing with Jackson Pollock.

This is why one mom is taking a stand against the pee stand. Over on Reddit's Am I The A**hole forum, she shared how her kids previously had zero issues peeing while sitting down.
"After we potty trained our sons I kept making sure that they were sitting to pee," her post explained. "They are young and don't really care. They can use a urinal when we are out somewhere."
Everything was fine until the woman's brother-in-law came to visit and took issue with the arrangement. He started "bugging" his brother about his nephews sitting to pee. So her husband pulled an about-face and began telling the boys that when they only pee, they should stand.
"The boys don't have great aim but they make up for it with a short attention span," the poster quipped. Though she usually stuck to using her own bathroom, after a few days she ventured into the kid's bathroom and, to no one's surprise, "it was gross."
This prompted the mom to initiate a new cleaning routine. Her post concluded, "When my husband got home I told him that he picked up a new chore. He now has to clean the toilets, floors, and walls in the bathrooms the boys are using. He said that it wasn't his turn. I said it was his idea for the boys to stand to pee so he had to deal with the consequences."
The verdict was fairly unanimous: This woman was NOT the a-hole. In fact, lots of other women felt the same kind of frustration and met it with similar retaliation.
"I will never understand why it's socially acceptable for boys and grown a** men to spray bathrooms like tom cats because they choose to stand to urinate," one person wrote. "It's unnecessary and unsanitary. Either aim better, clean up after yourself, or sit."
"I told my husband that I didn't sign up for cleaning his piss off the toilet and floor for the next 50 years," added another. "He has been sitting ever since. Somehow he's still a man after over a year of sitting to pee!"
Luckily, peeing while sitting down is starting to be viewed as something beneficial rather than emasculating, as more men worldwide adopt the practice. Perhaps even more would be on board if they were responsible for clean-up.