Democracy
Parkland parents respond to Marjorie Taylor Greene's mass shooting conspiracy theories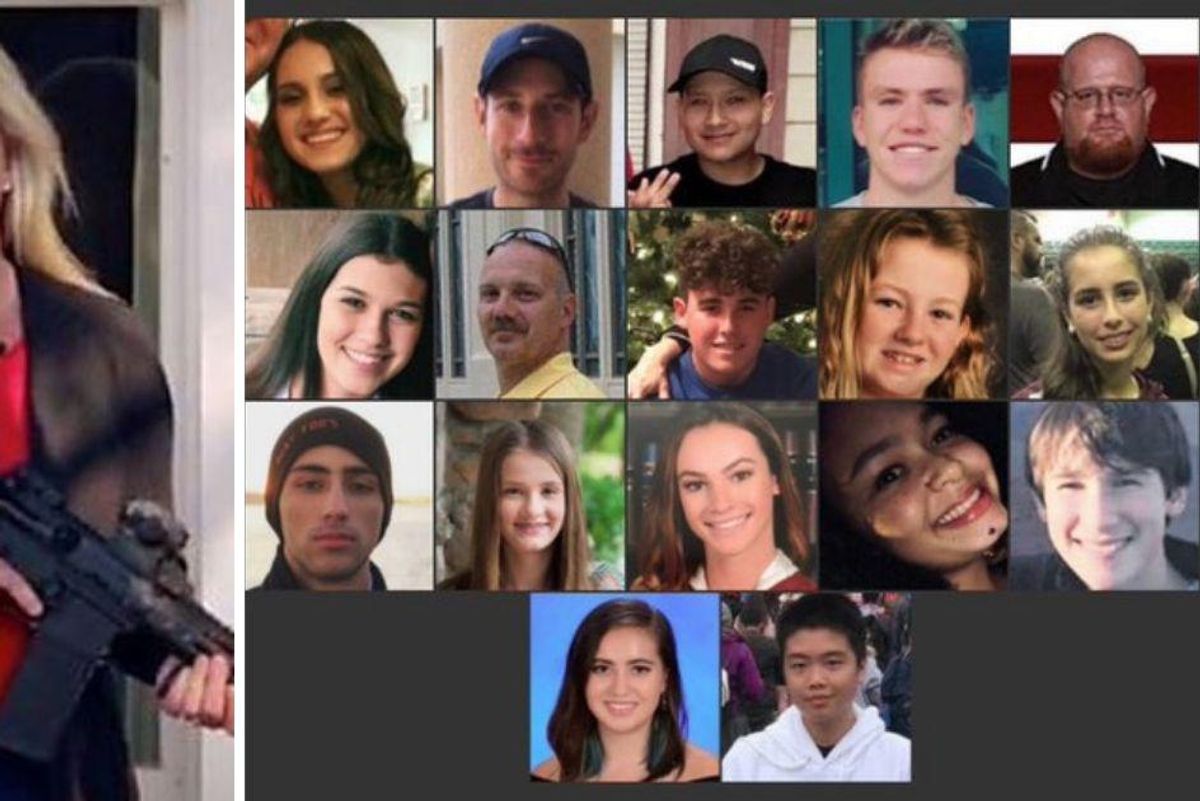 The thought of losing a child is too much for most parents to think about. The thought of watching your child being killed on camera is unfathomable.
Linda Beigel Schulman and her husband Michael watched security camera footage of the school shooting at Marjory Stoneman Douglass High School in Parkland, Florida, on February 14, 2018. They witnessed their 35-year-old son Scott Beigel, a teacher at the school, usher students into a classroom, away from the gunman. Then they saw the gunman fire at their son six times, saw the blood, saw him collapse to the ground.
Two other teachers and 14 students were shot and killed by the gunman, Nikolas Cruz, that day. Scores of students and teachers survived the terror and horror of fleeing for their lives and watching their friends and colleagues get murdered in front of them. The trauma for survivors and their loved ones was—and is—real.
So what kind of person would spread lies about what happened, criticize survivors for their response, pour salt in those wounds?
Apparently, a sitting member of Congress.
---
Marjorie Taylor Greene, a freshman GOP representative from Georgia, has a history of touting conspiracy theories, especially surrounding mass shootings. She's on video suggesting that the Las Vegas shooting was a planned event to strip Second Amendment rights:
And Media Matters for America has reported on since-deleted Facebook posts that show Greene supporting the conspiracy theory that Sandy Hook and Parkland school shootings were "false flags"—a term conspiracy theorists use when they think the government or some other powerful group stages an event like a mass shooting with crisis actors as means of control.

The Schulmans have something to say about that. Speaking to Olivia Nuzzi at New York magazine, Linda Schulman said:
"Congresswoman Marjorie Taylor Greene, the shooting where my son was murdered protecting his students was not a 'false flag.' It was not staged. It really happened. Do not trivialize my son Scott's sacrifice to save his students for your own political gain. As Joseph Welch said to Sen. Joseph McCarthy Senate Permanent Subcommittee on Investigations in 1954: 'Until this moment, Senator, I think I never really gauged your cruelty or your recklessness. Have you no sense of decency?' Congresswoman Greene, I ask you the same question. Are you that cruel? HAVE YOU NO SENSE OF DECENCY??"
Schulman asked Nuzzi, "What do we need to do? Show her the video? Do I need to take her over to Scott's mausoleum? Does she need to see how he was shot six times from three feet away?"
Another Parkland parent, Fred Guttenberg, whose 14-year-old daughter Jaime was killed in the shooting, told Politico, "She is going to confront her lies. She is a fraud. She has no place being the halls of Congress. I do intend to bring her evidence of my daughter's murder." Guttenberg has called for Greene's removal from Congress.
Greene is also shown in newly resurfaced video harassing Parkland survivor David Hogg, who has been a vocal activist for gun reform since the shooting and is a co-founder of March for our Lives. This is a grown woman following a teenager who had survived a school shooting, telling him she carries a firearm, peppering him with questions and comments that could easily trigger trauma, and then calling him a coward who is being paid off. Absolutely ridiculous.

Yet another video has surfaced of Greene doing the same thing another time to another group of young gun sense advocates, also including David Hogg, who end up chanting "Enough is enough" to drown out her incessant yammering.
What's perhaps most chilling about these videos is that she appears to have zero empathy and zero acknowledgment of what these kids went through. It's all about the guns. Debating gun laws with people who haven't been through the trauma of a mass shooting is one thing, but following and harassing kids who watched or heard their friends and teachers get shot in front of them at school? That's some next-level inhumanity on display.
Speaking of which, Greene has also indicated support for executing prominent Democrats, including Hillary Clinton, Presidet Obama, and House Speaker Nancy Pelosi, on social media. So that's neat.
How has Greene responded to all of this? A combo of silence and with claiming that the media is out to get her. She explained away the Facebook posts by saying that she's had lots of different people run her social media accounts, which frankly is a cop-out. She did not offer comment on New York magazine piece. At a town hall in her district this week, she refused to hear questions from the press, and in fact, had reporters escorted from the meeting by the sheriff simply for trying to ask a question about it. (She had told the press ahead of time that they were not allowed to ask questions or talk to anyone at the town hall, which is, of course, not how any of this works. It's called the First Amendment.)
And what of the response in Congress? One member, Rep. Jimmy Gomez (D-CA) has introduced a resolution to have her removed, as she poses "a clear and present danger to Congress and our democray."

Meanwhile, the GOP has seated her on the House Education and Labor Committee.
Our country has a decision to make. Are we going to accept conspiracy theorists who harass traumatized teens and families and advocate killing other members of our government in the halls of Congress? Is there really no line that can't be crossed by people we put in power?