More
Literally nothing is cuter than these two cats who became best friends against all odds.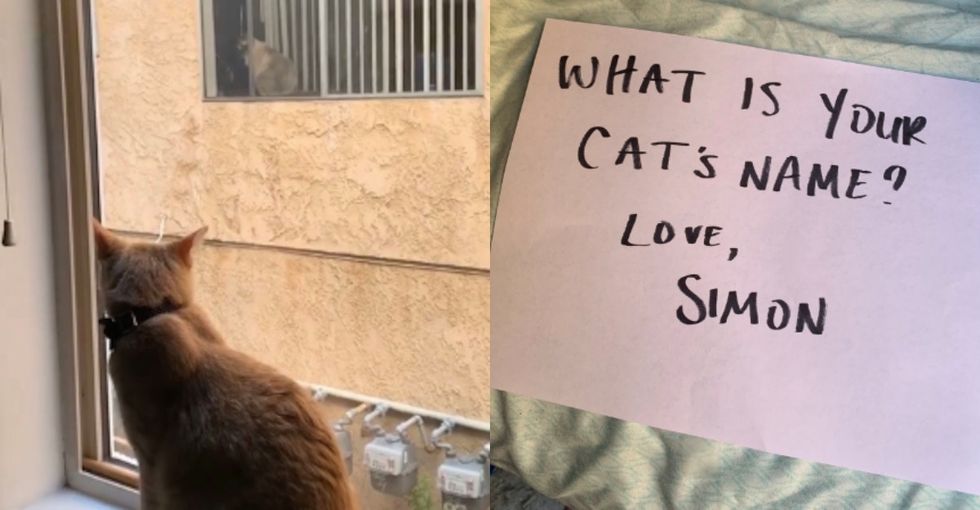 In late April, a woman who goes by the name "Mac" on Twitter posted a picture of her cat, Simon, looking forlornly out the window. What was out there that could captivate Simon for so long?
Was it a bird flying by? Was it the call to be outside?  Or was it the realization that Mac is living in my personal nightmare of having her window face directly into another window ensuring at least one embarrassing situation of rom/com proportions?
No, well kinda: It was the other cat that lives in the window across the way.
---
Simon was in love and he didn't know the cat's name or have any way to get across for a meow-and-greet (sorry).
Here's the picture:
My cat Simon is in LOVE with my neighbor's cat and waits all day for him. Will keep y'all updated https://t.co/Jh1Hrg2WYz

— mac 🦋 (@mac 🦋) 1555977772.0
First of all: The "Love, Simon" is iconic because that was the best movie of 2018.
Second of all, this cat looks truly friend-sick (which is kind of like being love-sick except when you meet someone who you're like 'wow they would be so cool to hang out with' and just obsess over it for a few hours. Totally normal) and that breaks my heart.
Third, this beautiful collage of pictures has revealed that the other cat's name is "Theo" and he's not great at grammar, which is very important.
The first interaction: https://t.co/2IMJevqefo

— mac 🦋 (@mac 🦋) 1555977929.0
Theo even showed up for Simon's birthday. How did they know? Why isn't this kind of stuff covered in "Cats: The Musical" starring Taylor Swift?'
Simon's birthday party: https://t.co/Wm3GG0JzdH

— mac 🦋 (@mac 🦋) 1555978001.0
Soon, Simon and Theo's parents were leaving the windows open so the cats could talk and, predictably, the whole thing went viral.
I'm not going to pull 500 tweets to prove this to you -- too many pictures of cats to be seen -- but I was there for it and my timeline was filled with people (rightfully) breaking down because two cats were at the beginning of the kind of beautiful friendship we all wanted in our early 20s.
My neighbor and I both opened our windows so they can talk. We're losing our minds https://t.co/bZFpygyDx1

— mac 🦋 (@mac 🦋) 1555978807.0
Because this is 2019, suddenly Theo had a twitter account and was posting pics of himself chilling in a bow tie...just like his friend had on his birthday. Anyone else getting "Single White Female" vibes off of this? (Oh, Simon has a twitter, too.)
I got a bow tie like @lovesimoncat https://t.co/cf5ndJ4S79

— Theothecat (@Theothecat) 1556655648.0
Of course, now that the cats — animals without opposable thumbs or the ability to speak in human — were set up with social media, the only other thing they could do was meet each other for the delight of the internet-loving public who demanded either an in-person friendship or at least one of the parties to quickly move away (so that we could text our friends "sometimes I still think about that cat whose best friend moved and it's really an amazing allegory for connection in our hectic, modern lives").
Simon was anxious for the meeting:
1 hour! Waiting by the front door 👀 https://t.co/ywqz6OKRMg

— Simon (@Simon) 1556229334.0
But it turned out pretty well! Everyone had a great time! (I honestly don't know what that means because I don't have cats and am just sitting here in my living room trying to google "cats meet+good outcome!)
Simon is being a little aggressive with his flirting #simonandtheo https://t.co/HJ9NctmsPS

— mac 🦋 (@mac 🦋) 1556234103.0
Update: Simon is following Theo around like a puppy, Theo is a little nervous as cats can be in new environments 😭😭😭 https://t.co/NtgVpspTK7

— mac 🦋 (@mac 🦋) 1556235521.0
Simon: can I follow u to the bathroom Theo: weird flex but ok https://t.co/sGczOFaloV

— mac 🦋 (@mac 🦋) 1556236873.0
And Simon was so hyped by the time the meeting was over, that the only way he could come back down the ground was by watching Taylor Swift's new single.
Watching @taylorswift13 's new video. She's so cool #MEOutNow https://t.co/tJsBFJQPLF

— Simon (@Simon) 1556263390.0
Same. Here's hoping a lifetime of friendship for these two!