Democracy
Kamala Harris grilled Joe Biden on race and it may have changed the entire 2020 campaign.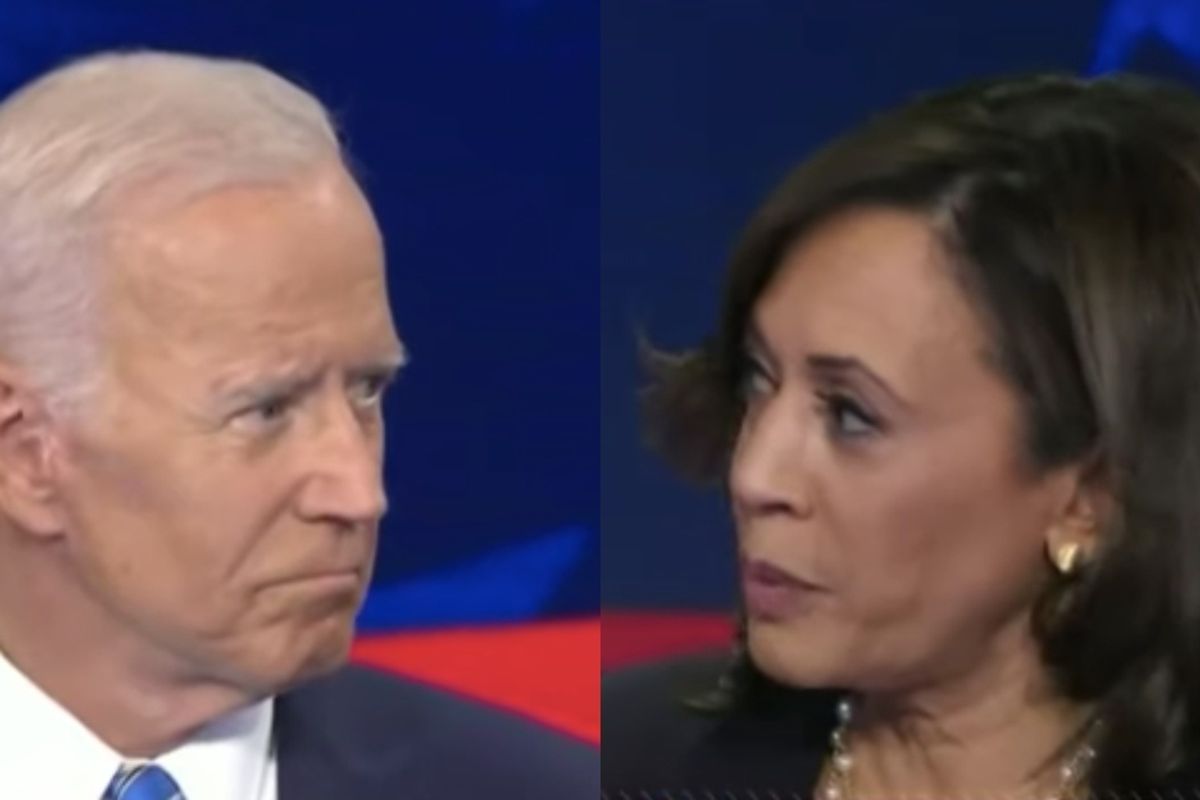 In the lead-up to the last presidential election, thousands upon thousands of people begged Joe Biden to run. And after Donald Trump was elected, even more people demanded that Biden, who was then seen as America's kooky but competent uncle/grandpa, take a stab at the presidency. After all, a guy who was the right-hand man to (arguably) one of America's most respected presidents had to be the best choice, right?
Well, things are a little different in 2019. Even though Biden's been polling well, his campaign has been plagued with controversy — he's been accused of sexual harassment and has ignited ire due to his positive statements about working with segregationist— and at last night's debate, he took another hit when Kamala Harris rightfully confronted him about past statements and stances.
Kamala Harris Confronts Joe Biden On Race | TIMEwww.youtube.com
---
Harris, a former prosecutor from California, the second black woman to ever be elected to the senate, and the only black woman vying for the presidency, turned her focus to Biden after telling the audience that she "would like to speak on the subject of race." Then, she said she was going to direct her next comments "at Vice President Joe Biden."
"I do not believe you are a racist, and I agree with you when you commit yourself to the importance of finding common ground," Harris said before revealing Biden's past work in opposing integration. This, she said, was "personal."
"It was hurtful to hear you talk about the reputations of two United States senators who built their reputations and career on the segregation of race in this country. And it was not only that, but you also worked with them to oppose busing," Harris added.
"And, you know, there was a little girl in California who was part of the second class to integrate her public schools, and she was bused to school every day. And that little girl was me," Harris revealed before stating that the subject of race can't be "an intellectual debate among democrats. We have to take it seriously. We have to act swiftly."
Biden responded by saying that Harris has mischaracterized him, noting his past as a public defender (and "not a prosecutor") and Vice President to Barack Obama before stating that everything he'd done in his career was in service to civil rights. Perhaps, in other cases, this would have been enough to get him back on even footing, but Harris, who continues to prove she's a formidable opponent and a strong candidate, shot back with a question about integration.
"Do you agree today that you were wrong to oppose busing in America then? Do you agree?" she asked.
"I did not oppose busing in America. What I opposed is busing ordered by the Department of Education. That's what I opposed. I did not oppose ——" Biden said.
"Well, there was a failure of states to integrate public schools in America. I was part of the second class to integrate Berkeley, California public schools almost two decades after Brown v. Board of Education," Harris shot back.
Biden and Harris face off on second night of debates | ABC Newswww.youtube.com
Biden's response that Harris' experience was a failure of local government landed flat, with Harris saying that the federal government must step in when states fail to support and protect civil rights.

"That's why we have the Voting Rights Act and the Civil Rights Act. That's why we need to pass the Equality Act. That's why we need to pass the E.R.A., because there are moments in history where states fail to preserve the civil rights of all people," she said.
Though Biden tried to fight back, it was clear that no prepared answer would work. And while many might still see his performance at the debate as solid — especially in comparison to freshly-minted viral sensation Marianne Williamson — his responses are a reminder that we must hold those who seek power accountable for their actions.
Will Harris win the nomination? That's still to be seen. But last night's performance sent the message that she's not going down without interrogating the decisions her opponents have made.