Family
Friends wear matching bikinis to make an important point about body shaming.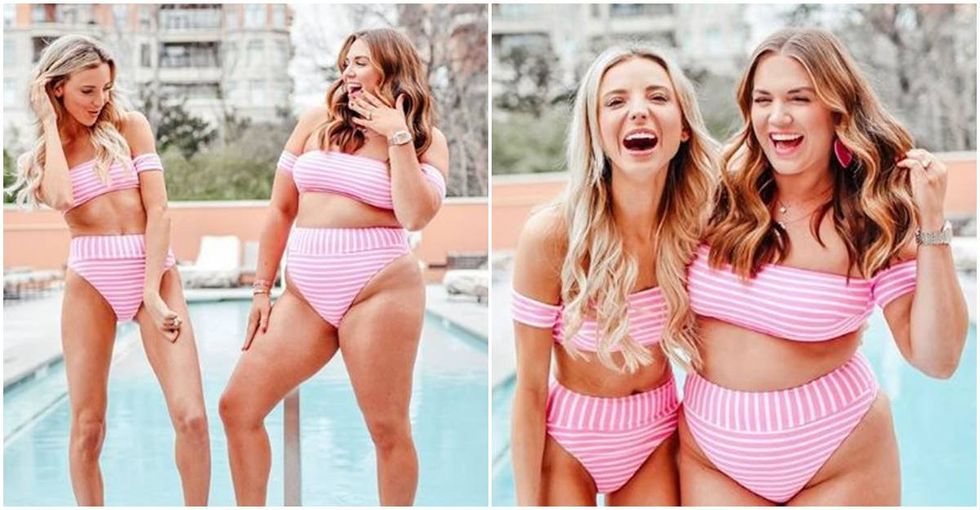 A recent study from the University of New South Wales and Macquarie University found that spending 30 minutes a day on Instagram can make young women negatively fixate on their weight and appearance.
Instagram is even more damaging than unrealistic images found in advertisements or on television because the models appear to be living their everyday lives.
These images are easier to relate to which makes young women more like to compare themselves to the models, celebrities, and influencers on Instagram.
---
While looking at unrealistic imagery on Instagram can be damaging, being the target of body shamers for posting on the social media platform can be even more dangerous.
To make a point about how body shaming on Instagram not only affects people of size, but thinner people as well, two friends, Dani Austin and Sarah Tripp, have posed in identical bikinis to call attention to the issue.
Dani
Sarah
Social media influencer Dani Austin often often receives negative comments for being too thin. So her friend Sarah Tripp posted about the insults she receives.
"Because of her naturally thin figure she tells me she often sees comments like 'she's anorexic', 'looks like she needs to eat', 'look at those chicken legs", etc. how sad is that?!" she wrote.
Influencer Sarah Tripp often receives negative, fatphobic comments, so Austin discussed them on her post.
"Because of her beautiful curvy figure, Sarah tells me that she receives so many mean comments that she's 'overweight', 'unhealthy', or 'a bad role model,'" she wrote. "
"It's so rude and so ridiculous!" Austin continued. "I honestly can't think of anyone who's a better role model than Sarah. Her only goal is to help us ladies feel confident, SASSY, and love our bodies no matter the size!"
Austin concluded her posts with a positive message for anyone who has had to deal with body shaming on social media:
I'm sure we've all been hurt by something that was said about us or maybe we have a little voice inside our heads telling us we aren't pretty, smart, or successful enough. Sarah and I believe that we are ALL so much more than what you see on the outside and the truth is, we don't need the approval of others to find our self worth. The ultimate form of girl power is self-confidence. And even though that's always a work in progress for most, it's one of my top goals. Let's all remember to love ourselves because empowered women empower women. Body shaming is never okay - let's remember that love and kindness are never wasted!