Joy
Dog gets a neighborhood send off for his last walk after terminal cancer diagnosis
"They came out in full force, with signs and treats and many pets for this very good boy."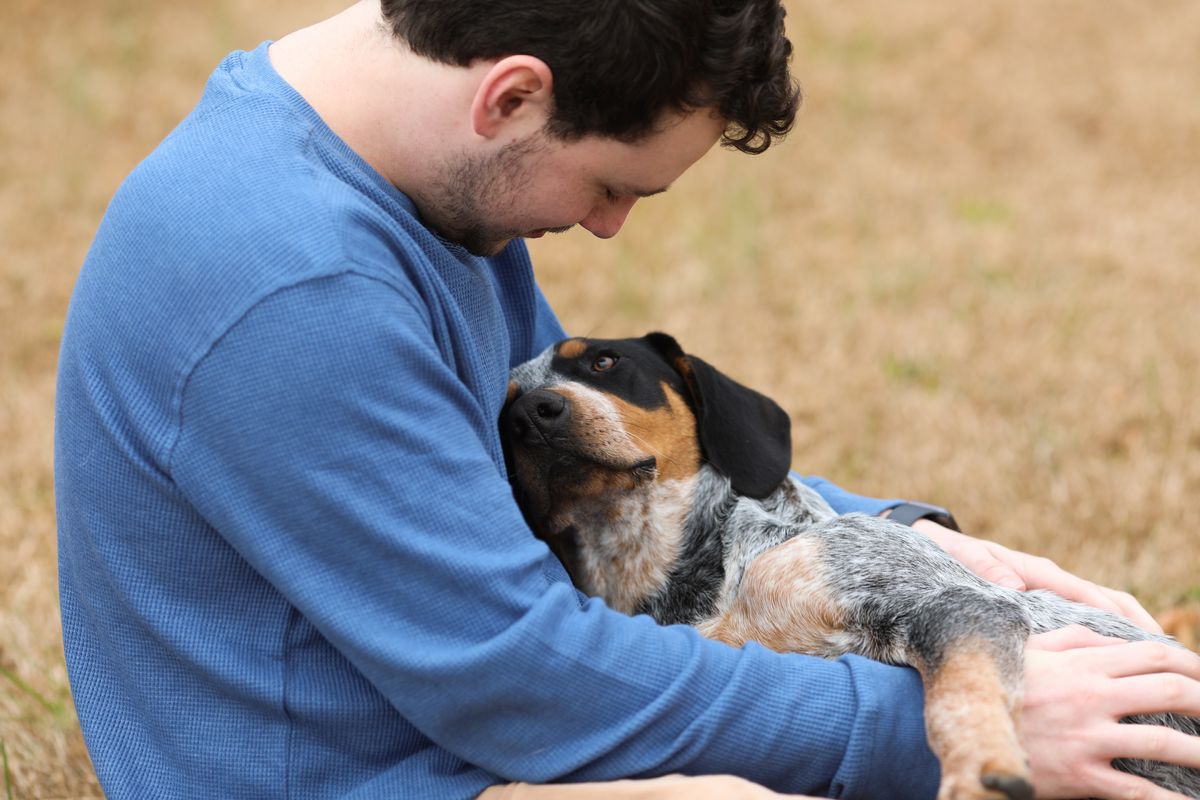 Humans and dogs go together like peanut butter and jelly and any other pair cliché you can think of. We see those cute furry faces and fall in love, excusing their mischievous behaviors because they used their most powerful weapon—puppy eyes. Humans are acutely aware that the time they have with their dogs is short since a dog's lifespan is usually 15 years or less depending on breed and size.
As they get older, we do what we can to make them more comfortable and start giving them extra treats here and there as a way to make sure they feel special while they're here. But it's not just the owners that get attached to family pets. If your dog is friendly, they may be well acquainted with the mailman, the coffee shop baristas or the entire neighborhood, which may make saying goodbye a little more complicated.
A dog named Mellow has been making friends around his neighborhood for several years with his human companion, and recently a note appeared in everyone's mailboxes with a very important announcement.
---
Mellow was diagnosed with terminal cancer and would be put down soon. The letter was written from the perspective of the dog and included a map of his walking route.
"I have definitely slowed down throughout the years and unfortunately that is why you are receiving this letter. I was recently diagnosed with lymphoma and will be leaving for doggie heaven in June," the note reads. "I'm not sure exactly when I will go, but each day over the past few weeks has been a struggle for me to get around the neighborhood like I am used to."
Mellow goes on to say, "Therefore, while I still can, I will be marching around the neighborhood on Saturday June 3rd from 7-8PM and would love to say goodbye to you face-to-face if you are available."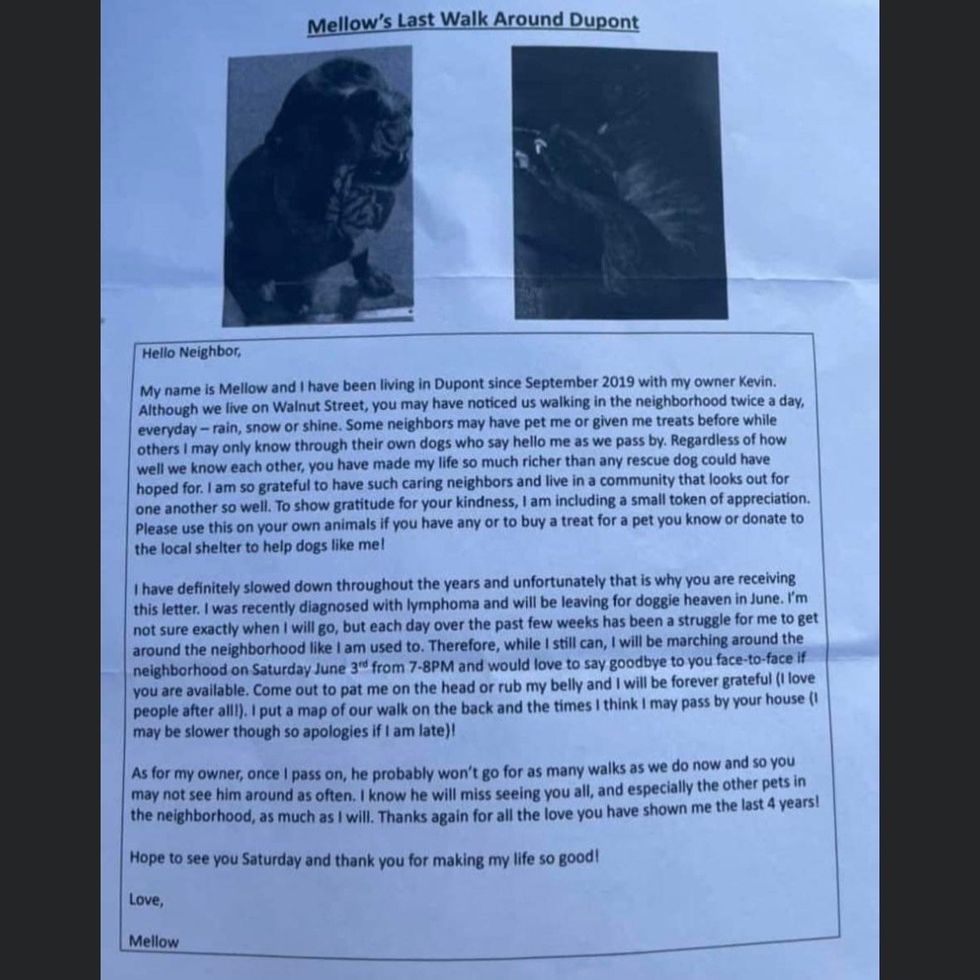 The neighborhood gave Mellow a final walk full of joy after his cancer diagnosis.
Kevin, Mellow's human, put a special treat in the letters and provided an estimate of when the pair would arrive at certain houses. The neighborhood didn't disappoint. They all came out to give him treats and head pats and to say their goodbyes to the neighborhood's goodest boy. Kids made signs and drawings for Mellow, and others stopped for pictures with the sweet dog.
In the letter, Mellow mentioned that he would also miss seeing the other dogs in the neighborhood that like to come out and play with him. On his last walk, the old boy looked full of excitement as all the attention was focused on him before he headed home for a more restful few weeks.
"What a beautiful love story. May every dog know that kind of love. As for his owner...my heart breaks with you, but with joy for the great love you shared. May that joy be a comfort to you always" one commenter wrote.
"Oh boy my heart is breaking and I've never met you but you sure are lucky to find an amazing dad that loves you this much, I can tell you to say goodbye will be hard enough but your dad is willing to hear so many friends say goodbye as well, not an easy day my friend
," another person said.
Mellow has now not only touched hearts around his neighborhood, but also across the internet. Take your rest, sweet Mellow. You've been a good boy.