Heroes
Beto O'Rourke is organizing thousands of welfare check-ins for elderly Texans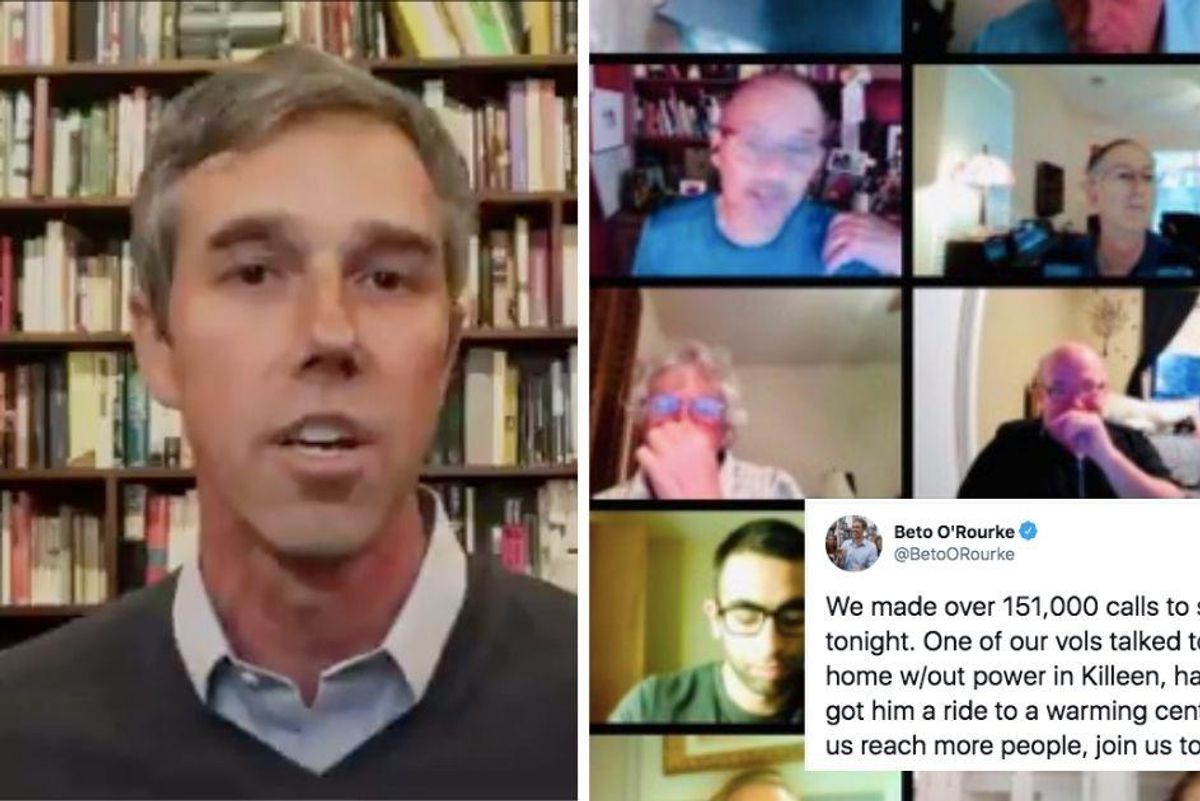 Writer James Lane Allen once wrote, "Adversity doesn't build character, it reveals it." If that's the case, we're seeing the true character of political leaders in the state of Texas right now.
While Senator Ted Cruz gallivanted off to Cancun as people in his state froze in their homes, boiled water for drinking, and stood in line for hours to get food, former Texas representative Beto O'Rourke gathered volunteers and organized a grassroots effort to help elderly Texans stuck in their homes to connect them with resources.
O'Rourke wrote on Twitter that a virtual "welfare check" phone banking event held on Wednesday, February 17 had reached 151,000 seniors.
---
"One of our vols talked to a man stranded at home w/out power in Killeen, hadn't eaten in 2 days, got him a ride to a warming center and a hot meal," O'Rourke wrote.
O'Rourke has been sharing county-specific shelter, food bank, and aid information on social media, pointing people to the places where they can seek help in their area. He's also holding another phone bank welfare check event on Thursday from 1:00pm to 9:00pm, which anyone in the country can sign up to be trained and help with.
The situation in Texas is dire. Millions have been without power for days, millions more are under water boil orders, stores are running out of food, and people are chipping icicles off the insides of their homes. While there's nothing anyone can do about the weather, there is plenty that can be done on the ground to get people connected with the help that is available.
Politicians can bicker all they want about who's to blame for this crisis, but it's pretty obvious that the problem is the state's approach to independent energy competition with little government oversight or regulation. Texas is known for distancing itself from the federal government and limiting its own state government, which means people have to rely on each other in a crisis. Isn't that what small-government ideology is all about? The power of local communities and organizations to provide what people need? Wouldn't it logically make sense, then, that politicians who scoff at government aid and regulation would be the first on the ground providing that community-oriented assistance, since that's the societal structure they want to see?

How ironic is it then that the politician doing that assistance is Beto O'Rourke, while Texas's actual elected official, Ted Cruz, hops on a plane to Cancun?
O'Rourke pointed out the irony of the Texas government being run by people who don't believe in government and explained how fighting regulation led directly to the crisis Texas is currently experiencing. "We are nearing a failed state in Texas," he told Chris Hayes on MSNBC.
It's worth pointing out that O'Rourke isn't even in an official leadership position right now. A lifelong resident of El Paso, O'Rourke served four terms in the House of Representatives and gave Ted Cruz a run for his money in the Texas Senate race in 2018. He also made an ultimately unsuccessful bid for the presidency in 2020. But at the moment, he's just a private citizen, and he's doing far more leading by example and taking far more action than Texas's actual elected representatives.

A crisis shows us who is fit to lead and who is not. Good for Beto O'Rourke for stepping up and exemplifying what leadership should look like and for helping out his fellow Texans when they need it the most.