Well Being
AOC raised $2 million in less than 24 hours to provide aid to struggling Texans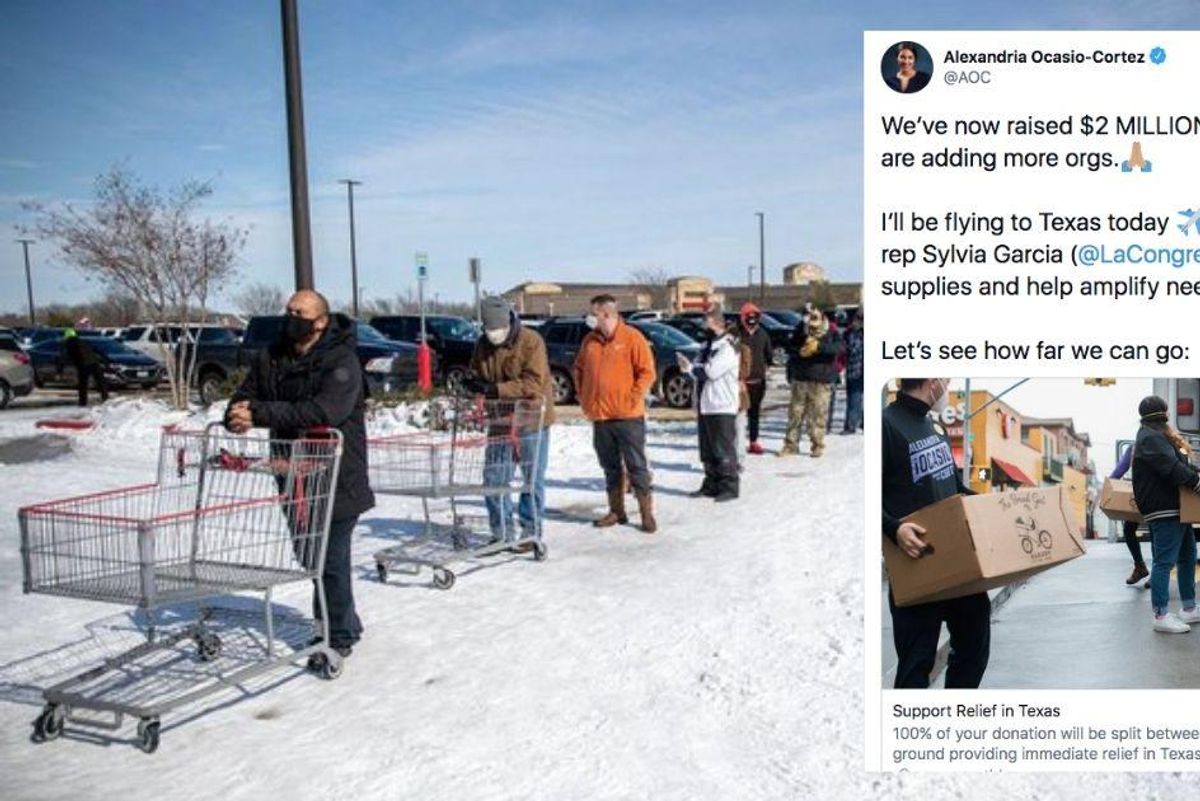 As millions of Texans have suffered through a disastrous winter weather crisis this week, people around the country have rallied to offer support in any way they can. Northerners who are accustomed to winter power outages have offered advice for staying warm, volunteers around the country have participated in welfare check phone calls to seniors around the state, and Americans of all political persuasions are donating money to aid organizations on the ground trying to get people's basic needs met.
Representative Alexandria Ocasio-Cortez stepped up with her team to assist in that effort yesterday, and ended up raising a whopping $2 million in less than 24 hours. The money will be distributed evenly between the following aid organizations: Feeding Texas, The Bridge Homeless Recovery Center, North Texas Food Bank, ECHO (Ending Community Homelessness Coalition), Food Bank of the Rio Grande Valley, Corazon Ministries, Central Texas Food Bank, Family Eldercare, and Houston Food Bank.
AOC has also announced that she will be flying to Texas to meet with Houston Representative Sylvia Garcia and highlight what's happening there and "amplify needs and solutions."
---
Meanwhile, the Biden administration immediately approved requests from the state for FEMA assistance, and did so without any jabs about being a red state or criticizing Texas leadership. The White House has reached out to more than a dozen mayors of cities throughout Texas to see what they need the most, and federal assistance already sent has included generators, fuel, blankets, and water.
This is what that elusive idea of "unity" actually looks like. By definition, to unite means to come together around a common purpose. It doesn't mean to always agree, it doesn't mean to compromise on injustice, and it doesn't even mean to always meet in the middle. Unity means seeing the needs and working on meeting them in ways that do the most good for the most people. It means setting aside petty political bickering and taking care of what needs to be taken care of. It means seeing people as Americans first, not blue or red, liberal or conservative, Democrat or Republican.
There are many people in Texas who have viciously attacked AOC for her politics who will now be directly helped by the fundraising she organized for them. There are many in Texas who badmouth the federal government and think Biden is a demonic baby eater who will be directly helped by the aid being sent by his administration. It doesn't matter. The people of Texas are Americans who are suffering, and the whole country is reaching out to help them. That's unity, no matter how many partisan barbs people throw around at one another.
Mister Rogers said to "look for the helpers" in a crisis, and helpers right now are coming from all sides of the political spectrum. While there are legitimate debates to be had about Texas political policy leading this disaster, right now Americans are suffering and need immediate assistance. Let's unite around that need, offer genuine gratitude to everyone who's lending a hand, and recognize real unity when we see it play out.

Then let's apply that same idea of unity to the multiple disasters we're facing as a nation, from the COVID-19 pandemic to the economic crisis to the looming environmental impacts of climate change. We can disagree on how best to meet those challenges, but we can't deny that they exist or pretend that the needs are not dire and immediate. We're watching the whole country unite around Texas—there's no real reason we can't apply the same energy to the country as a whole.