More
11 fascinating facts—and one myth—about the American flag that you probably didn't know
Did you know this famous symbol of freedom came from a B- school project?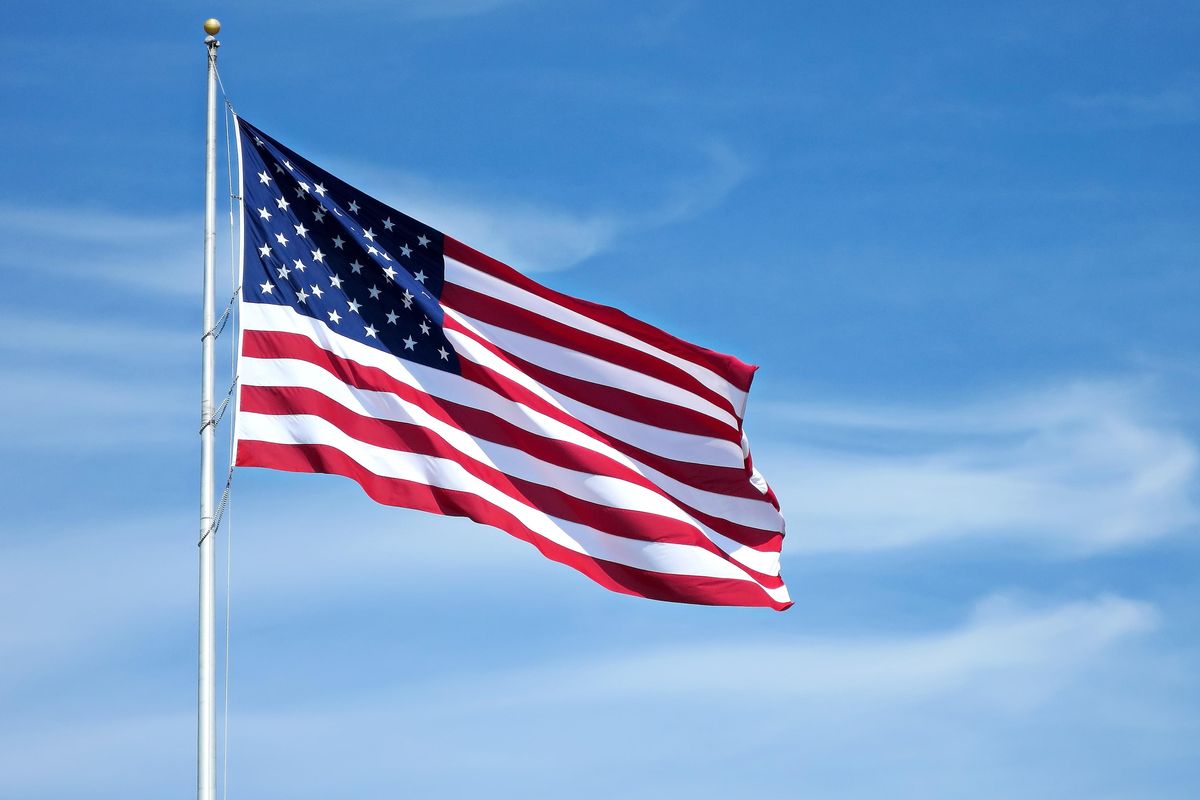 The Stars and Stripes, Old Glory, the Star-Spangled Banner — whatever you call it, the United States flag is one of the most recognizable symbols on Earth.
As famous as it is, there's still a lot you might not know about our shining symbol of freedom. For instance, did you know that on some flags, the stars used to point in different directions? Or that there used to be more than 13 stripes? How about a gut-check on all those star-spangled swimsuits you see popping up in stores around the Fourth of July?
We'll explore these topics and more in this fun list of 12 facts about the U.S. flag that you might not know about.
---
1. Betsy Ross, the woman often credited with sewing the first American flag, probably didn't — or at the very least, there's no proof that she did.
Legend has it that in 1776, a seamstress named Betsy Ross was approached in her shop by George Washington himself and was asked to help develop a flag for this soon-to-be-nation. Supposedly, she rejected the designs Washington presented to her and made a number of suggestions that would end up in the final version of the first American flag.
It's a great story that humanizes Washington as a man humble enough to take feedback and gives Ross a boost as being uncharacteristically assertive for a woman in 18th-century America.
But the bad news is that this probably never happened. It was nearly 100 years before anybody spoke of Betsy Ross or her role in designing the flag. Most of what we know of this story came from her grandson, William Canby.
Unfortunately, though historians have long tried to verify any of the facts involved in Canby's story, there's nothing to suggest that Washington set out to commission a flag in 1776. In fact, it wasn't until 1777 that Congress even passed a resolution ordering a flag to be made. Sure, it's possible that Camby's account of his grandmother's story happened, but it's more likely that this is simply an unverifiable piece of American lore.
2. It wasn't until 1912 that the government standardized the proportions of the flag and the arrangement of its stars.
While most countries's flags are rectangular, there are a few exceptions. In 1912, President Taft issued an executive order creating a uniform look for the flag — as prior to that, there were some interesting designs, with multiple flags sometimes in use simultaneously.
The executive order mandated that stars on the flag point upward, all in the same direction, and be placed in six horizontal rows of eight.
3. We all know the flag has 13 stripes, but for 23 years, it had 15.
Up until 1795, the flag had one stripe and one star for each of the 13 states. After Vermont and Kentucky were added to the union in 1791 and 1792, respectively, the flag was due for its first major redesign in the country's history. Not only were two stars added to the blue field to represent the new states (a tradition that continues to this day), but designers also added two stripes.
The 15-star, 15-stripe flag existed from 1795 until 1818, when five more states were added. Designers realized that adding more stripes would quickly become unwieldy, so they dropped the stripe count back to 13.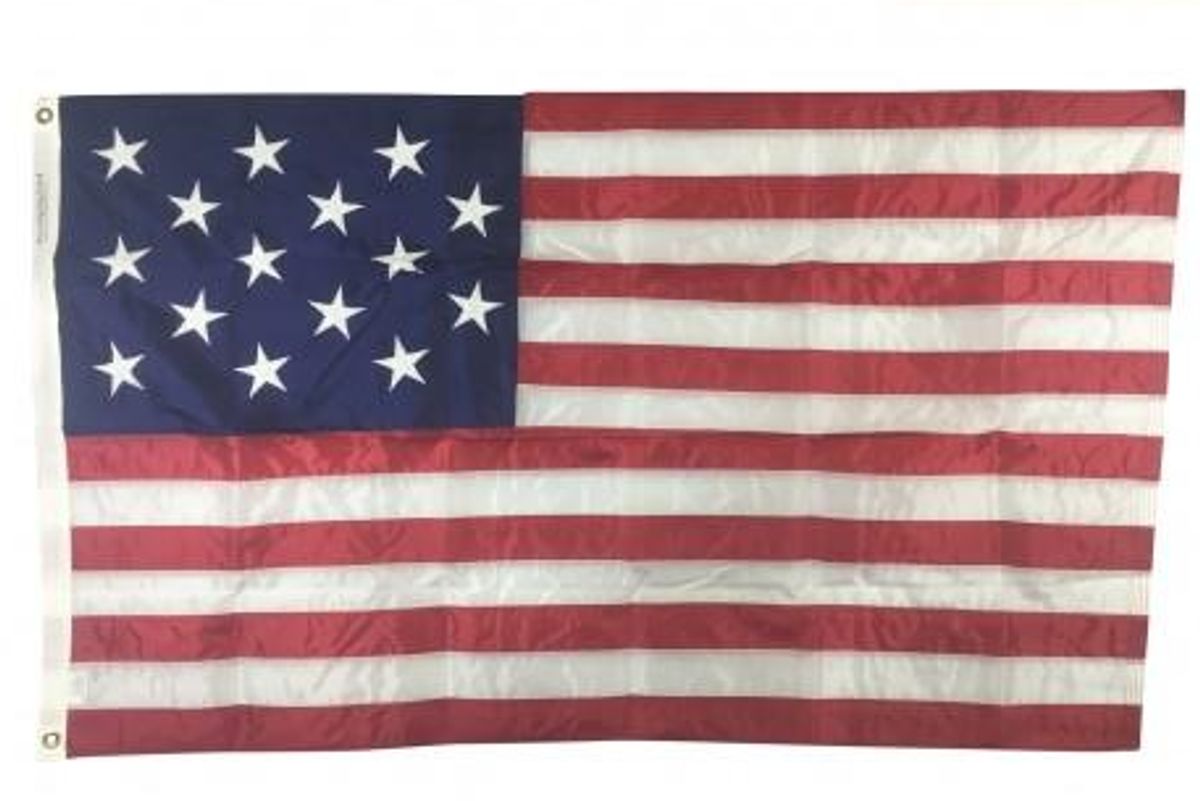 After Kentucky and Vermont joined the union 2 stripes and stars were added to the flag.
4. We still honor the 15-star, 15-stripe flag today, as it's the specific flag that inspired Francis Scott Key to write "The Star-Spangled Banner."
The outcast of all American flags lives on through the power of song. Key wrote "Defence of Fort M'Henry," a poem about his experience watching from the Baltimore harbor as an American fort took fire from British troops during the War of 1812. In 1916, more than 100 years after its first publication, Key's poem became our national anthem.
5. Yes, the Flag Code is the law. No, there's no penalty for breaking it.
The U.S. Flag Code was signed into law by President Roosevelt on June 22, 1942. While it's filed under Title 18 of the U.S. Code ("Crimes and Criminal Procedure"), the Flag Code exists as more of an etiquette guide than anything else.
So if you leave your flag up past sundown, that's technically illegal — but no one's going to arrest you for it.
6. When it comes to showing respect for the flag, there are 11 specific instructions to follow.

There's a whole section of the U.S. Flag Code on how to show respect for the flag. Since this is a topic that gets discussed quite a bit lately, it's worth a quick review of some of the highlights:
Unless you're trying to signal distress "in instances of extreme danger to life or property," you shouldn't display it with the union (the field of blue with white stars) facing downward.
The flag should never touch the floor and should never be carried horizontally or flat, but "always aloft and free."
You're not supposed to wear the flag nor print its image on "anything that is designed for temporary use" (napkins, for example). Don't use it in advertisements, either.
"No part of the flag should ever be used as a costume or athletic uniform."
7. You're supposed to fly the flag on Christmas.
The Code says that "the flag should be displayed on all days," but puts special emphasis on the following holidays: New Year's Day, Inauguration Day, Lincoln's Birthday, Washington's Birthday, Easter, Mother's Day, Armed Forces Day, Memorial Day (the flag should be displayed at half-staff until noon), Flag Day, Independence Day, Labor Day, Constitution Day, Columbus Day, Navy Day, Veterans Day, Thanksgiving, and Christmas.
The Code adds that states should display the U.S. flag on the anniversary of their admission to the union, on state holidays, and on any day observed by presidential proclamation.
8. If the U.S. ever adds a 51st state, the flag won't be updated until the following Independence Day.
The flag won't be getting any major redesigns in the near future, save for the addition of a star here and there. The Code reads:
"On the admission of a new State into the Union one star shall be added to the union of the flag; and such addition shall take effect on the fourth day of July then next succeeding such admission."
9. Flag Day dates back to the 1880s but wasn't made an official U.S. holiday until 1949.
It's thought that schoolteacher Bernard J. Cigrand was the first person to celebrate Flag Day, commemorating the 108th anniversary of the 1777 Flag Resolution (which outlined the flag's basic design) on June 14, 1885. The tradition caught on among schools and, eventually, states.
In 1916, President Wilson established Flag Day through proclamation. In 1949, Congress passed and President Truman signed a bill making the holiday official.
10. The design for the current 50-star flag came from a high school student's U.S. history project — which initially got a B-.
In 1958, Bob Heft was a junior in high school. In a 2009 interview with StoryCorps, Heft recounted what happened when he turned in a history project featuring a 50-star flag. Heft's teacher gave him a B-, noting that he had the wrong number of stars on the flag (at the time, there were only 48 states).
When Heft expressed disappointment, his teacher said, "If you don't like the grade, get it accepted in Washington, then come back and see me."
After Alaska and Hawaii became states, the U.S. adopted Heft's flag. He got a call from President Eisenhower and, more importantly, an updated grade on his project.
11. The Pledge of Allegiance was, in part, created as a gimmick to sell U.S. flags to schools.
The pledge's history is fascinating and filled with controversy. Many know that it wasn't until 1954 that the words "under God" were added to the pledge in response to the Red Scare, but what's less discussed is the origin and purpose of the pledge itself.
Socialist minister Francis Bellamy penned the original pledge for an 1892 issue of The Youth's Companion as a way to mark the 400th anniversary of Columbus' journey. The magazine offered U.S. flags to subscribers, and Bellamy and the magazine lobbied public schools to adopt his pledge as a show of patriotism. It was successful, too, selling tens of thousands of new subscriptions and flags. In hindsight, it's a bit ironic that this lasting ode to America began as a socialist's capitalist experiment.
12. No one is sure why we chose red, white, and blue as the color of our flag, but an explanation was made retroactively.
In 1782, Secretary of Congress Charles Thomson explained the significance of the colors red, white, and blue during the design of the official seal of the U.S.:
"The colours of the pales are those used in the flag of the United States of America; White signifies purity and innocence, Red, hardiness and valour, and Blue, the colour of the Chief signifies vigilance, perseverance, and justice."
Ever since, we've just gone with that.