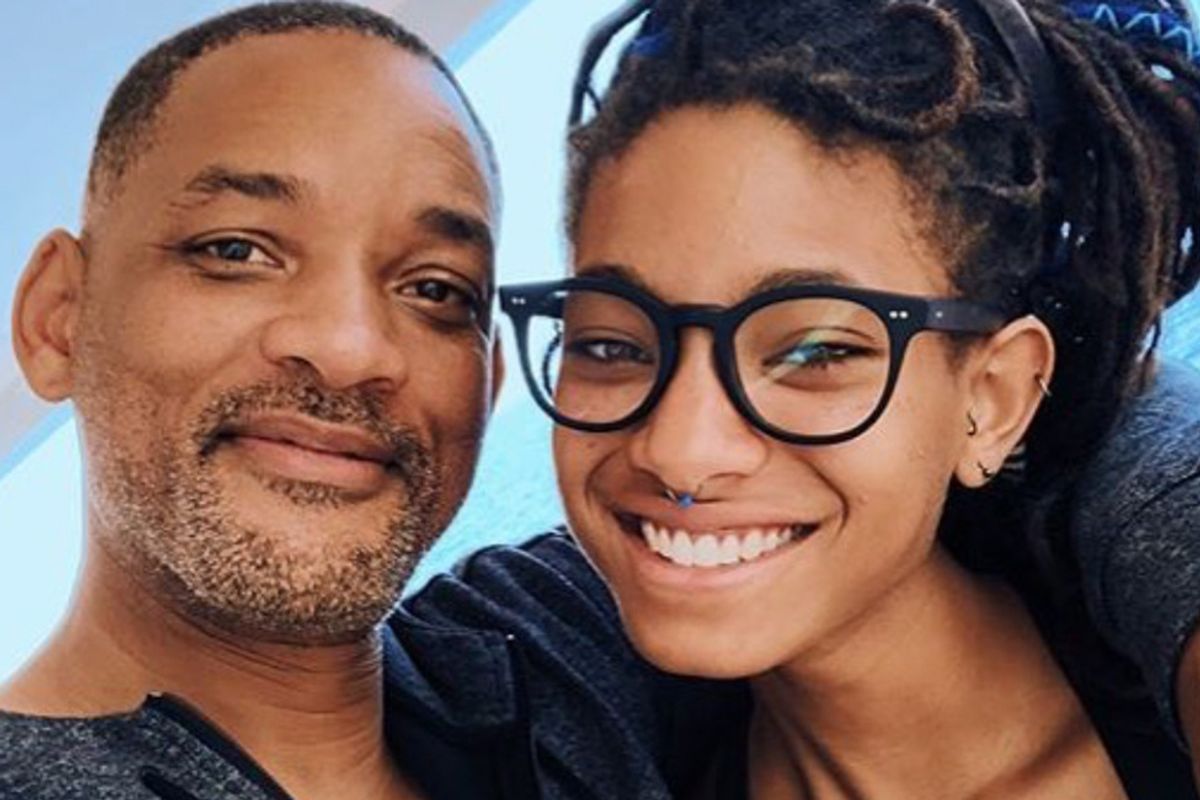 Instagram / Willow Smith
As Will Smith himself once said, "Parents just don't understand." And that definitely extends to a dad understanding his daughter's period. Jada Pinkett Smith revealed on her show, Red Table Talk, that her husband, Will Smith, is a "joker" and sometimes needs other family members to point out when he goes too far. When it comes to making jokes about the period of Willow, their 19-year-old daughter, she shuts it down immediately.
The actress interviewed T.I. about his controversial comments on his daughter's hymen. T.I. stated that his comments were a "joke," and Pinkett Smith jumped in, saying she kind of understands why a dad might make misinformed comments about his daughter. Her own husband has had his own moments of cluelessness.
---
"There's certain things about raising a man that I can't know. I would tell [Will], 'Love your daughter, let me teach her,' because there's certain sensitivities that you might not understand and have just because of your relationship in the world is different than a woman's relationship," she said.
Pinkett Smith said that both she and Willow have had to teach Will a thing or two. "I understood that because I'm in this house with Will and he be saying the craziest stuff. He don't understand the level. And thank God he has me and he's got Willow … we educate that joker before he leaves this house. You know what I mean? He's one of those that likes to tell stories and sometimes goes too far."
You know how sometimes guys make lame jokes about your period? It turns out, even someone as famous as Will Smith does that, too. "Willow has gone at her dad several times for very insensitive comments, whether it's around menstruation or, you know, 'You must be PMS-ing,'" Pinkett Smith said. "And she's like, 'That right there, we're not gonna do that.' Every day, it's a work in progress."
Pinkett Smith also brought up her own parenting experiences, trying to help T.I. understand what flies and what doesn't when it comes to raising a daughter. Sometimes a conversation needs to happen. "I live with a man that loves his daughter, and the conversations that I've had to have with him in regards to what is protecting her, what is educating her, what is actually allowing her to self-actualize as her own individual self ― versus control," Pinkett Smith said.
Sometimes saying that you find a "joke" offensive is the best way to shut it down. Often, the person making the joke doesn't see what's wrong with it and needs to have it pointed out to them so they can stop. And that's something that spreads across all walks of life. Whether you got jiggy wit it in the '90s, or if you wrote "Getting Jiggy Wit It," sometimes you need to be called out.