Family
Women are cheering on a mom who left her husband after he refused to clean the house for 6 days
Her video highlights a big problem women face.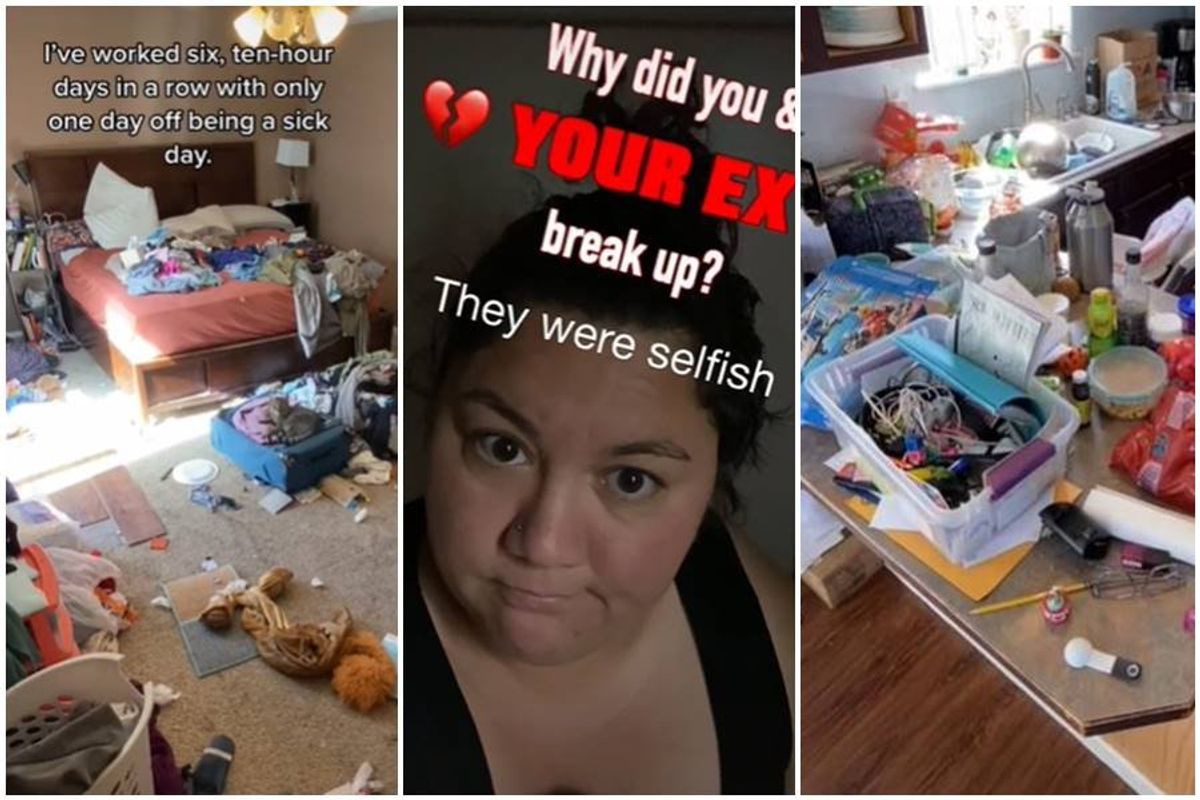 via @5kids5catssomedogstoo/TikTok
A viral TikTok video highlights an extreme version of inequality that many wives and mothers in heterosexual relationships face. However, the mom in this story hit her limit and won't deal with it anymore.

Lynalice Bandy, who goes by @5kids5catssomedogstoo on TikTok, posted a video that showed her home looking like a disaster after she worked six 10-hour days straight while her husband did nothing to help.
Her time-lapse video shows every room in the house completely trashed, with toys, food and laundry scattered everywhere. "Shampoo on the carpets in the girls' room, nail polish all over Nugget covers, hair, and carpet. Scissors were used to cut hair, the down comforter, the mattress cover, and two Nugget covers," wrote the mom.
---
"I've worked six, ten-hour days in a row with only one day off being a sick day," she captioned the video. "I'd like to pretend I'm not the only person who cleans here, but as you can see…These rooms don't get much attention when I'm not here."
She says her husband's excuse was that he was focused on doing his schoolwork and couldn't pay attention to the kids. "Now, that school is out for a break, he doesn't have that excuse anymore," Bandy says, noting that all of his attention has been focused on "the four vehicles in our driveway that he wants to work on continuously."
In a follow-up video, Bandy announced that she left her husband after the debacle. The original video received over 17,000 comments, many of which were from supportive women.
"You deserve much better, and he deserves to be alone. Much love to you from someone that left that life behind almost 20 yrs ago. You'll get here, too," Angela LaRoche wrote.
"Ma'am, you are nothing short of amazing! Hang in there!" Japanese with Jenny wrote.
"That home is beautiful because of YOU," Hillary added. "You put in so much work, and it is not unseen by me and so many others. But, you DO deserve better. Proud of you."
Even though Bandy's experience with her husband is an extreme case of a couple whose domestic duties are way out of balance, it points to a problem that plagues many households. Even though it's 2023 and families are becoming more equal, women still do significantly more housework than men.
A study utilizing data from the Bureau of Labor Statistics' American Time Use Survey found that women 15 years and older spend 5.7 hours daily doing housework and looking after kids and elders. Men in the same age group do an average of 3.6 hours of daily domestic work.
That's a 37% difference in time spent on household responsibilities.
Further, women who work an average of 35 hours a week spend 4.9 hours a day on household chores and child care, while men who work the same amount spend an average of 3.8 hours.
The comments show that there are a lot of women out there who are frustrated with their husbands for not doing their fair share. Hopefully, this video will encourage more people to speak out about domestic inequality and for more men to step up and do their part.
This article originally appeared on 4.25.23