Sponsored
What will you create on your social media break? Share it at #MyVisionMySight.
True
If you've always lived in a world with social media, it can be tough to truly understand how it affects your life. One of the best ways to grasp its impact is to take a break to see what life is like without being tethered to your phone and distracted by a constant stream of notifications.

Knowing when to disconnect is becoming increasingly important as younger people are becoming aware of the adverse effects screen time can have on their eyes. According to Eyesafe Nielsen, adults are now spending 13-plus hours a day on their digital devices, a 35% increase from 2019.1. Many of us now spend more time staring at screens on a given day than we do sleeping which can impact our eye health.
Normally, you blink around 15 times per minute, however, focusing your eyes on computer screens or other digital displays have been shown to reduce your blink rate by up to 60%.2 Reduced blinking can destabilize your eyes' tear film, causing dry, tired eyes and blurred vision.3
ACUVUEhas been encouraging people to take time off social media and use their newfound time to see their vision, whether that's becoming a makeup influencer, focusing on athletics or embracing their unique talents.
Upworthy caught up with influencer, YouTube star and contact lens wearer Amber Alexander to talk about how she balances her social media use. Recently, she took a social media break while visiting her sister.
"I was able to slow down time and take in each moment," she told Upworthy. "Being on social media 24/7 always puts me in a very overwhelmed and anxious state of mind, so it was so refreshing to put my phone down and see life from a clearer perspective. Every moment felt more meaningful."
"As soon as I put my phone away, I was able to really connect with my family and cherish our time together. I saw how my peace of mind improved when I took a break from social media," she continued.
Alexander understands how social media can have a huge effect on her self-esteem and productivity.
"Scrolling through social media often leads people to compare their own lives, achievements, and physical appearance to people they see online," she told Upworthy. "It is unrealistic and discouraging to see so many attractive, successful people online 24/7. Also, being on social media takes up so much time from our day that could be used socializing with real people, going outside, and working towards meaningful goals."
ACUVUE is challenging young people to take social media breaks to pursue their purposes, visions, missions, and dreams through its Where Vision Meets Sight campaign. But the campaign from ACUVUE is about a lot more than just personal development. They'd like you to inspire others by sharing what you've done during your social media break by using #MyVisionMySight.
Get inspired and learn more on ACUVUE's Where Vision Meets Sight page.
1COVID-19: Screen Time spikes to over 13 hours per day according to Eyesafe Nielsen estimates, published 3/28/20, https://eyesafe.com/covid-19-screen-time-spike-to-....

Joy
Samantha Frye, the newest owner of Rosalie's restaurant, is proving there's more than one way to invest in your future.
Canva
Eighteen year old Samantha Frye has traded college life for entrepreneurship, and she has no regrets.
Frye began working at Rosalie's Restaurant in Strasburg, Ohio at 16 as a dishwasher, working up the ranks as a kitchen prep, server, then line cook. All while working a second job, sometimes third job.
After graduating high school, Frye started college at Ohio State with plans of studying business or environmental engineering. But when she came back to work a shift at Rosalie's for winter break, an opportunity arose—the owners had planned to sell the
restaurant.
"I was thinking that maybe [buying] was something I wanted to do," she told News 5 Cleveland. "I had savings because I was saving for college, so I had quite a bit of money saved away. And I was like, I could possibly do this."
Frye acted on that gut feeling, and used her college funds to buy Rosalie's. Now she spends every day at her new business, either in the kitchen, on the floor or in the office meeting with sales reps.
This Ohio diner is under new ownership: an 18-year-old who started out as a dishwasher and is carrying on a legacy of the past. https://t.co/7VShD0O6n0

— USA TODAY (@USATODAY) May 13, 2023
Though Fyre's mother, Brandi Beitzel, confessed to USA Today that she wasn't initially "on board" with her daughter abandoning college plans, over time she became very "proud" of her for forging her own path, and applauded her "drive and ambition."
That sentiment is echoed both by Rosalie's regulars and staff, who are amazing at the young woman's drive and confidence.
"I just really think she's a great example of a young lady that is following her dreams and doing what she loves," said Leanna Gardner, an employee.
It's no secret that there are significantly less students attending college—down by about a million since the start of the pandemic. And while there are no doubt potential long term collective consequences to that, with exorbitantly high student loan rates, it's easy to see why young adults would avoid massive debt for careers that don't require a college degree.
Luckily, there are more efforts to make college an affordable option being made nationwide, like offering a free two years worth of college to graduating students.

And as Frye is proving by example—not going to college is certainly not a death sentence for one's future. There are many ways to plant seeds for success. Honestly, college or no college, no matter which path is taken, there will likely be more uncertainty than there are guarantees. Perhaps the best bet then is trust those pings of intuition.
"You don't need college to make a decent living, and I think that's what a lot of people think nowadays," Frye attests. "Follow your instinct, honestly. If it feels right, just do it."
Discover the Power of Superfoods for Your Skin with Gleamin
Editor's Note: Upworthy earns a fee for products featured in this article. All products featured meet Upworthy's standards for ethics and quality.

Superfoods have been stealing the spotlight in the health and wellness scene for quite some time now. But did you know their magic isn't just confined to your smoothie bowls or salads? They're making a grand entrance into the beauty industry, with their nutrient-dense powers promising radiant, glowing skin from the outside in.
Enter Gleamin, a pioneering beauty company that's truly ahead of the curve. Gleamin has harnessed the superpowers of these nutritional powerhouses, creating a line of beauty products that make your skin look good and do good. Their vegan, cruelty-free products are packed full of these potent superfoods, promising to enhance natural beauty and empower life.
Gleamin's mission is simple but profound: they aim to nourish your skin the way it deserves. With formulas built with sustainable, ethically sourced superfoods safe for all skin types, Gleamin is more than just a skincare brand. They're a global, trusted company with a vision to offer customers and their community natural, sustainable, and effective skincare solutions. The core of Gleamin's vision is to create a new sense of freedom, a radiant life from the inside out. Discover the power of superfoods for your skin with Gleamin, where real superfood beauty isn't just skin-deep.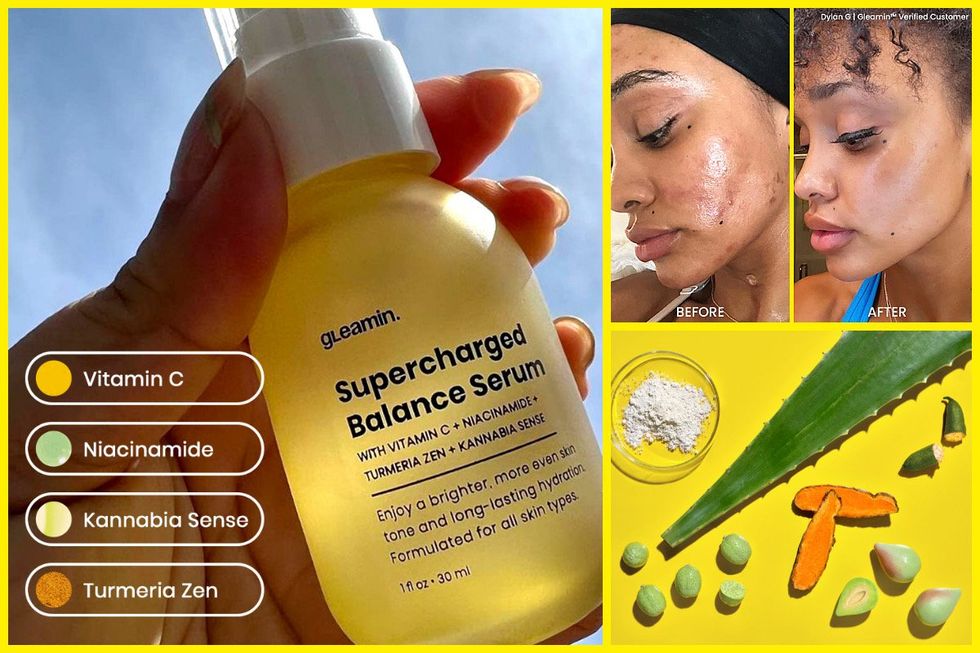 Superfoods are a nutritional powerhouse for your body and a boon for your skin. Think of them as your skin's best friend, delivering a rich dose of antioxidants, vitamins, and minerals that help combat environmental damage, improve skin texture, and boost natural glow. They work to soothe inflammation, combat breakouts, and even help with anti-aging. Simply put, superfoods are nature's solution to skin health.
This is where Gleamin steps in, bridging the gap between your skin and these nutrient-dense miracles. Gleamin crafts its formulas with the finest, sustainably sourced superfoods, each chosen for their unique skin-loving properties. The result? Skincare that nourishes, protects, and beautifies, reflecting the transformative power of nature itself. And the best part is, Gleamin's products are suitable for all skin types. From the driest to the oiliest, everyone can experience the superfood magic.
Now let's zoom in on two of Gleamin's star products - The Shine Bright Bundle and the Vitamin C Clay Mask. The Shine Bright Bundle is your ultimate skincare routine, naturally brightening, nourishing, and hydrating your skin. On the other hand, the Vitamin C Clay Mask, packed with vitamin C, turmeric, aloe vera, and more, is a 10-minute ticket to radiance, fading stubborn dark spots and improving uneven texture. Both of these products encapsulate Gleamin's commitment to superfood-infused beauty.

Are you ready to let your skin shine like never before? Enter the Shine Bright Bundle by Gleamin. This all-encompassing skincare routine is designed to brighten, nourish, hydrate, fade dark spots, and strengthen your skin's barrier, all while delivering a radiant, natural glow.
What sets the Shine Bright Bundle apart? It's the carefully curated superfood ingredients. The kit includes the Vitamin C Clay Mask, a must-have for fading dark spots and smoothing uneven texture. Then, you have the Supercharged Balance Serum, acting like a daily multivitamin for your skin. It nourishes the skin barrier, balances pH, and combats hyperpigmentation. Finally, the Superfood Enriched Daily Moisturizer restores hydration and reduces signs of aging and sun damage. To top it all off, the Muslin Face Cloth ensures gentle yet effective exfoliation.
Incorporating the Shine Bright Bundle into your skincare routine is as easy as 1, 2, 3. Apply the mask and let it dry for 10 minutes before removing it with the Muslin Cotton Washcloth. Then, gently apply a pea-sized amount of the serum, patting it onto the skin. Finally, warm the moisturizer between your fingers and massage it onto your face, neck, and décolleté.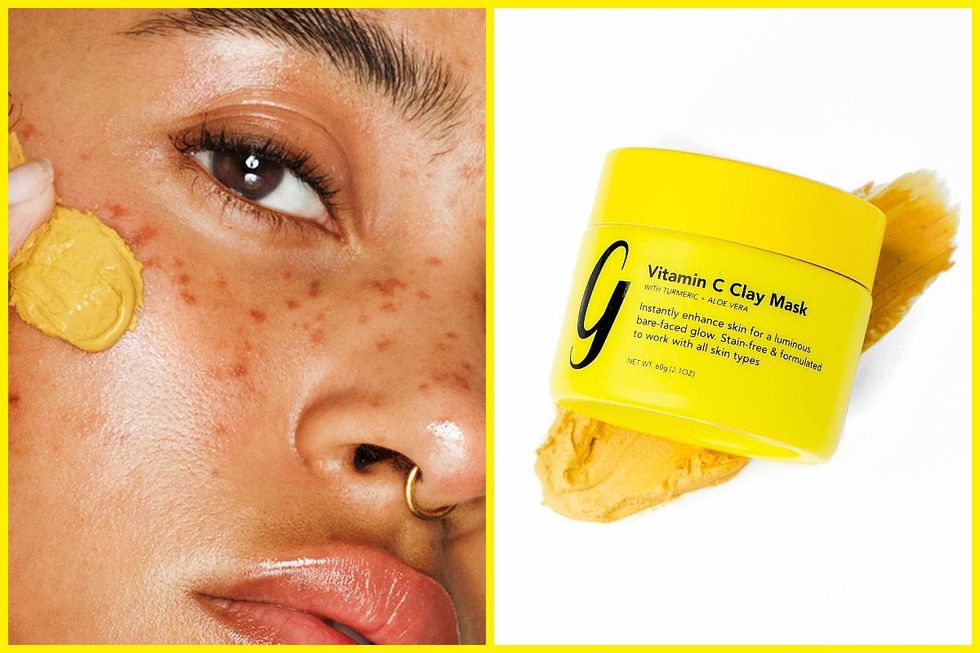 Next, Gleamin's Vitamin C Clay Mask is a natural treatment powerhouse that works its magic in just 10 minutes. It's brimming with a super-dose of vitamin C, turmeric, aloe vera, desert lime, and kakadu plum. These superfood ingredients join forces to detoxify pores, and fade hyperpigmentation, blemishes, and acne scarring, leaving your skin utterly radiant.
This mask does more than just work wonders on your skin; it breaks the mold with its unique selling points. The blend of superfood ingredients is specially formulated to tackle stubborn dark spots and improve uneven skin texture. With this mask, you're getting a fragrance-free, certified vegan, and cruelty-free product, along with a free applicator brush for seamless application. Plus, it's dermatologist-recommended, making it a safe and effective option for all skin types.
Incorporating the Vitamin C Clay Mask into your skincare routine is a breeze. After cleansing, apply the mask evenly to your face using the provided brush. Wait 10 minutes for the mask to dry completely, then rinse gently with warm water and pat dry with a soft, clean towel. Use this mask 2-3 times per week for best results. Whether you opt for a full face application, t-zone, or spot treatment, this mask is a sure way to amp up your skincare game.
At the heart of Gleamin is a staunch commitment to ethical sourcing and sustainable practices. Each ingredient in their formulations is carefully chosen, ensuring that they are potent, ethically sourced, and kind to our planet. As you pamper your skin with Gleamin's superfood-infused products, you can rest assured that you're supporting a company that values the environment and practices sustainability.
Gleamin is more than just a beauty company; it's a trusted, global community. They aim to provide natural, sustainable, honest formulas that address various skin concerns. With over half a million happy customers worldwide and a reputation for delivering real results, Gleamin is redefining the beauty industry, one superfood at a time. Whether you're dealing with stubborn dark spots, uneven skin texture, or simply looking for a radiant glow, Gleamin is here for you. From the inside out, this is beauty that truly gleams.
Dive into the world of superfoods for your skin with Gleamin. Their organic, ethically-sourced beauty products prove that nature has the most powerful solutions for our skin concerns.
So if you're ready to transform your skincare routine, head over to Gleamin's website to explore their range of products and discover your new favorites. Remember, your skin deserves the best. So, why not give it the best with Gleamin?
Health
People who fail are more likely to die in six years.
Get stories worth sharing delivered to your inbox
Pop Culture
Sierra Gonsalves turned her separation into a game by spending months leaving subtle clues about her upcoming split. It was a fun way to help her cope.
Democracy
Major General Paul Eaton was the commander in charge of training Iraqi troops during Operation Iraqi Freedom. He knows his weapons.
A common criticism gun rights activists levy toward gun legislation advocates is that many people who push for stricter gun laws don't know a lot about guns themselves. That's not wholly accurate—there are plenty of gun enthusiasts who support reasonable gun laws—but it's true that many people who are horrified by our nation's gun culture are not well-versed on the specifications of our nation's 393 million guns.

Not every American is an active part of American "gun culture." Some of us have never shot a firearm, for fun or otherwise. Some of us really are ignorant about guns themselves.
That can't be said for anyone in the military, however. And it definitely can't be said for a former Major General of the U.S. Army.
That's why an explanation of the difference between an AR-15 and military-style firearms from retired Major General Paul Eaton has gone viral. Major General Eaton was the commander in charge of training Iraqi soldiers during Operation Iraqi Freedom, so he definitely knows what he's talking about when it comes to weaponry.
He wrote:
"As the former Commanding General of the Infantry Center at Fort Benning and Chief of Infantry, I know a bit about weapons. Let me state unequivocally — For all intents and purposes, the AR-15 and rifles like it are weapons of war. A thread:
\u201cThose opposed to assault weapon bans continue to play games with AR-15 semantics, pretending there\u2019s some meaningful differences between it and the M4 carbine that the military carries. There really aren\u2019t. 2/\u201d

— Major General (ret) Paul Eaton (@Major General (ret) Paul Eaton) 1654209731
Those opposed to assault weapon bans continue to play games with AR-15 semantics, pretending there's some meaningful differences between it and the M4 carbine that the military carries. There really aren't.
The military began a transition from the M16 to the M4, an improved M16, some years ago. The AR-15 is essentially the civilian version of the M16. The M4 is really close to the M16, and the AR-15.
So what's the difference between the military's M4 and the original AR-15? Barrel length and the ability to shoot three round bursts. M4s can shoot in three round bursts. AR-15s can only shoot a single shot.
But even now, you can buy AR-15s in variable barrel lengths with Weaver or Picatinny rails for better sights and aiming assists like lasers. Like the military, but w/o the bayonet.
But our troops usually use single shot, not burst fire. You're able to fire a much more accurate (deadly) shot, that way. Note: you can buy our Advanced Combat Optical Gunsight on Amazon. So troops usually select the same fire option available on AR-15.
That is why the AR-15 is ACCURATELY CALLED a 'weapon of war.' It is a very deadly weapon with the same basic functionality that our troops use to kill the enemy. Don't take the bait when anti-gun-safety folks argue about it. They know it's true. Now you do too."
Eaton is not the only former military leader who has spoken out in support of gun legislation. In 2019, a group of 13 influential retired military leaders wrote a letter to Congress, pushing it to pass the Bipartisan Background Check Act.
"Each of us has, at some point in our lives, made the choice to risk our lives for our fellow citizens and place ourselves in harm's way," they wrote. "We were trained, we were coached, and we were prepared for the dangers that we chose to face. This is not the case for most Americans, yet they continue to face danger on the sidewalk, in their homes, at school, and at work. It is in the same spirit that led us to serve in the armed forces that we ask you, our elected leaders, to help protect the American people from gun violence here at home. We urge you to support this legislation."
Police leaders have also voiced strong support for gun legislation, which makes sense considering how much harder and more dangerous our free-for-all gun culture makes their jobs. The International Association of Chiefs of Police, the largest professional association of police leaders in the world, has a position paper that outlines the gun safety laws it supports, including firearm offender registration, waiting periods, closing the gun show loophole, banning semiautomatic assault weapons, armor-piercing ammunition, bulletproof body armor and more. The IACP states that these are "common sense policies that would assist in reducing gun violence, while upholding the second amendment."
Yep, the largest police leader association supports banning semiautomatic assault weapons like the AR-15. Here's what it has to say about that:
"First passed in 1994, the assault weapons ban required domestic gun manufacturers to stop production of semi-automatic assault weapons and ammunition magazines holding more than ten rounds except for military or police use. While the ban was in place, it was remarkably effective in reducing the number of crimes involving assault weapons. In the period of the ban, (1994-2004) the proportion of assault weapons traced to crimes fell by a dramatic 66 percent."
If those who oppose gun legislation don't want to listen to people who don't know enough about guns to speak authoritatively on them, that's fine. Perhaps they should listen to these military and police leaders who not only know guns inside and out, but who also have the firsthand experience on both sides of the barrel to speak authoritatively on what can help minimize America's gun violence.
This article originally appeared on 06.04.22
Get stories worth sharing delivered to your inbox