Photo courtesy of Kenneth and Jill Gonsalves
True
It can be expensive to have a pet. It's possible to spend between $250 to $700 a year on food for a dog and around $120-$500 on food for a cat. But of course, most of us don't think twice about the expense: having a pet is worth it because of the company animals provide.
But for some, this expense is hard to keep up, no matter how much you adore your fur baby. And that's why Kenneth and Jill Gonsalves decided to help.
Kenneth had seen a man scraping together change in a store to buy pet food, so he offered to buy the man some extra pet food. Still, later that night he couldn't stop thinking about the experience — he worried the man wasn't just struggling to pay for pet food, but food for himself, too.
So he went home and told his wife — and immediately, they both knew they needed to do something. So, in December 2020, they converted a farm stand into a take-what-you-need, leave-what-you-can Pet Food pantry.
"A lot of people would have watched that man count out change to buy pet food. Some may have helped him out like my husband did," Jill says. "A few may have thought about it afterward. But, only someone like Kenny would turn that experience into what we have today."
"If it weren't for his generous spirit and his penchant for a plan, the pantry would never have been born," she adds.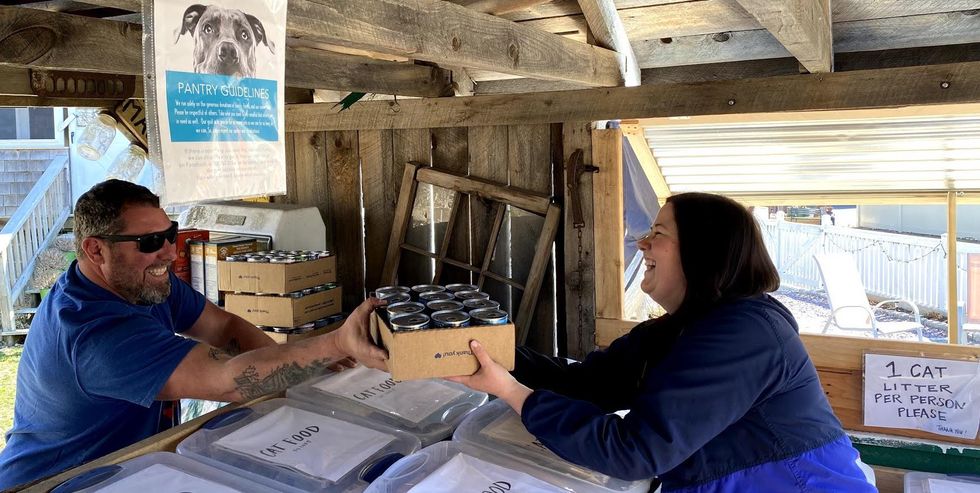 Photo courtesy of Kenneth and Jill Gonsalves
At first, the couple started the pet food pantry with a couple hundred dollars of pet food they bought themselves. And to make sure people knew about the pantry, they set up a Facebook page for the pantry, then went to other Facebook groups, such as a "Buy Nothing group," and shared what they were doing.
"When we started, we weren't even sure people would use us," Jill says. "At best, we were hoping to be able to provide enough to help people get through the holidays."
But, thanks to their page and word of mouth, news spread about what they were doing, and the donations of more pet food started flooding in, too. Before long, they were coming home to stacks of food — and within a couple of months, the pantry was full.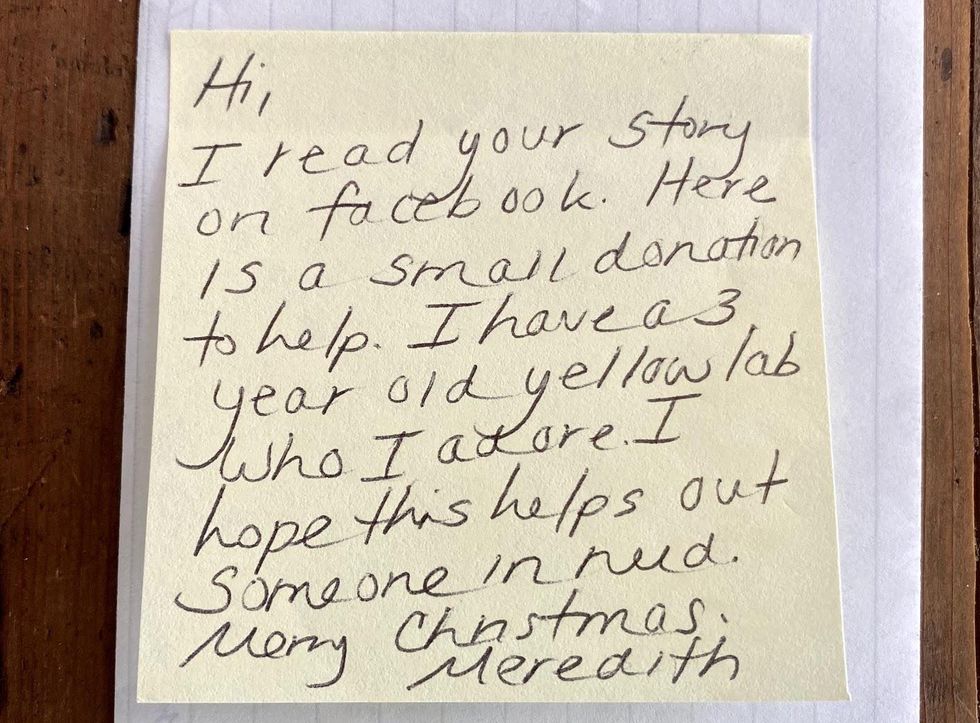 Photo courtesy of Kenneth and Jill Gonsalves
"The pounds of food we have gone through is well, well, well into the thousands," Jill says. "The orders from our Amazon Wish List alone include several hundred pounds of dry food, a couple of hundred cases of canned food, and thousands of treats and toys. But, that does not even take into account the hundreds of drop-offs, online orders, and monetary donations we have received."
They also got many 'Thank you notes' from the people they helped.
"I would like to thank you for helping us feed our fur babies," one note read. "My husband and I recently lost our jobs, and my husband [will] hopefully [find] a new one. We are just waiting for a call."
Another read: "I just need to say thank you from the bottom of my heart. I haven't worked in over a month with a two-year-old at home. Dad brings in about $300/week. From the pandemic to Christmas, it has been tough. But with the help of beautiful people like you, my fur baby can now eat a little bit longer, and my heart is happy."
Jill says that she thinks the fact that the pet pantry is a farm stand helps people feel better.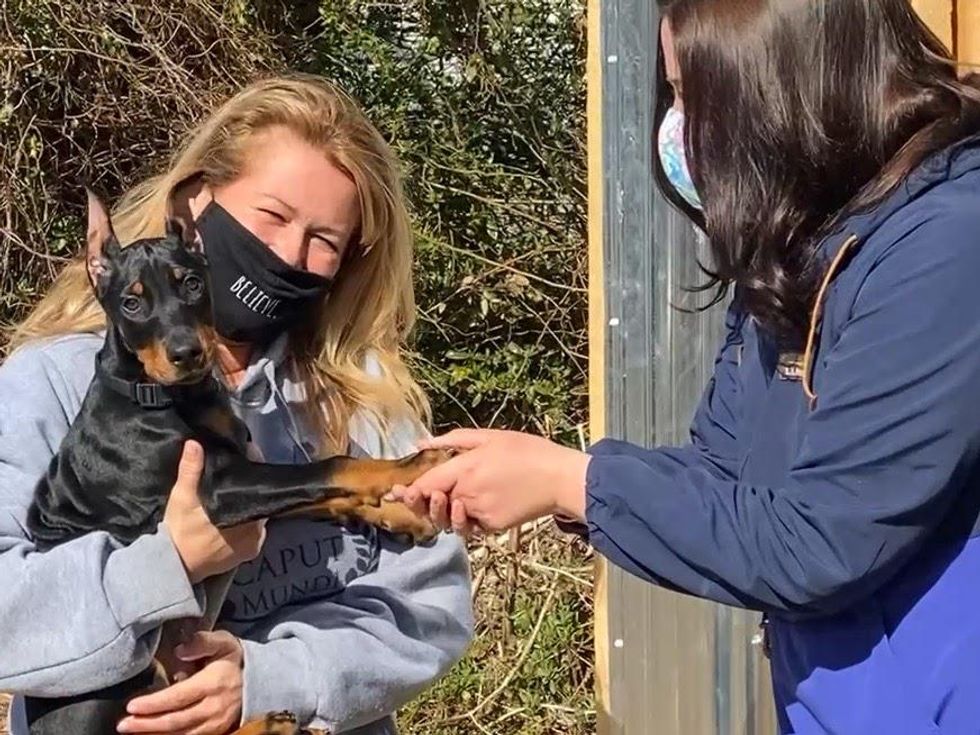 Photo courtesy of Kenneth and Jill Gonsalves
"When we first started this, someone who visited us mentioned how it made them feel good to be able to browse without feeling like they were being watched," she says. "So, it's been important to us to maintain that integrity."
Jill and Kenneth aren't sure how many people they've helped so far, but they know that their pet food pantry is doing what they hoped it would. "The pet owners who visit us, much like donations, come in ebbs and flows," Jill says. "We have some regulars who have been with us since the beginning. We also have some people that come a few times, and we never see again."
"Our hope is that they used us while they were in a tough spot, but they don't need us anymore. In a funny way, the greatest thing would be if no one needed us anymore."
Today, the Acushnet Pet Pantry is still going strong, but its stock is running low. If you want to help out, visit their
Facebook page
for updates and to find ways to donate.
From Your Site Articles
Related Articles Around the Web
Photo courtesy of Macy's
True
Macy's and Girls Inc. believe that all girls deserve to be safe, supported, and valued. However, racial disparities continue to exist for young people when it comes to education levels, employment, and opportunities for growth. Add to that the gender divide, and it's clear to see why it's important for girls of color to have access to mentors who can equip them with the tools needed to navigate gender, economic, and social barriers.
Anissa Rivera is one of those mentors. Rivera is a recent Program Manager at the Long Island affiliate of Girls Inc., a nonprofit focusing on the holistic development of girls ages 5-18. The goal of the organization is to provide a safe space for girls to develop long-lasting mentoring relationships and build the skills, knowledge, and attitudes to thrive now and as adults.
Rivera spent years of her career working within the themes of self and community empowerment with young people — encouraging them to tap into their full potential. Her passion for youth development and female empowerment eventually led her to Girls Inc., where she served as an agent of positive change helping to inspire all girls to be strong, smart, and bold.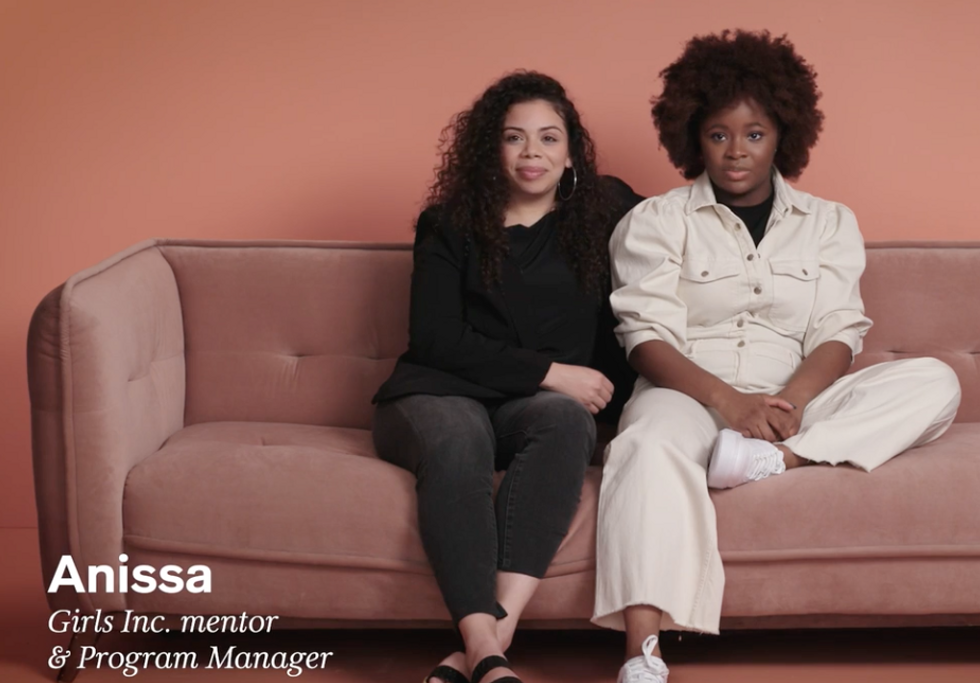 Photo courtesy of Macy's
Inspiring young women from all backgrounds is why Macy's has continued to partner with Girls Inc. for the second year in a row. The partnership will support mentoring programming that offers girls career readiness, college preparation, financial literacy, and more. Last year, Macy's raised over $1.3M for Girls Inc. in support of this program along with their Science, Technology, Engineering, and Math (STEM) programming for more than 26,000 girls. Studies show that girls who participated are more likely than their peers to enjoy math and science, score higher on standardized math tests, and be more equipped for college and campus life.

Thanks to mentors like Rivera, girls across the country have the tools they need to excel in school and the confidence to change the world. With your help, we can give even more girls the opportunity to rise up. Throughout September 2021, customers can round up their in-store purchases or donate online to support Girls Inc. at Macys.com/MacysGives.
Who runs the world? Girls!
Courtesy of Jamel Holmes
True
As a kid, Jamel Holmes knew he wanted to be a teacher. He would spend rainy days giving spelling tests and playing math games with other children in his apartment building in New York's South Bronx.
But throughout elementary school, Holmes never had a teacher who looked like him. It wasn't until seventh grade that he had his first Black male teacher—Mr. Emdin. In some ways, he was lucky. Nearly 80% of teachers in the U.S. are white, and many Americans go their entire educations without having even one non-white teacher.
Teachers of color make a difference, which is why education nonprofit DonorsChoose has teamed up with The Allstate Foundation to support them. According to research from Johns Hopkins University and American University, having at least one Black teacher in grades three through five reduces the likelihood of Black students dropping out of high school by up to 39% and increases the likelihood that students from low-income households will aspire to attend college. An analysis published in Education Next also found that Black teachers tend to have higher expectations of Black students, which contributes to greater success.
Diversity in teaching helps white students, too. Educational laboratory REL Northwest found that white students with non-white teachers develop better problem-solving and critical thinking skills, expand their range of creativity and social and emotional skills, and increase their sense of civic engagement.
A joint initiative from DonorsChoose and The Allstate Foundation offers individuals and groups opportunities to help bridge racial gaps in the classroom. For one, The Allstate Foundation will match all donations to teachers of color who are using DonorsChoose to crowdfund projects for the first time. DonorsChoose has also partnered with The Allstate Foundation to launch a Racial Justice and Representation category on the site, making it easy for donors to help fund classroom projects focused on increasing diversity in curricula and creating a more inclusive environment. From buying books written by diverse authors to providing materials for anti-racism education, donors can directly support teachers working toward racial equity.
"Achievement soars when students see their identities reflected in both their teachers and learning material," said Charles Best, founder of DonorsChoose. "Research also shows that too many students of color and students from low-income households enter classrooms without enough books, technology and supplies. By creating this new category on DonorsChoose, we want to support these students and give voice to their teachers, tapping their frontline wisdom."
In addition to matching donations to teachers of color using DonorsChoose for the first time, The Allstate Foundation will also match every donation to projects in the Racial Justice and Representation category, up to a total of $1.5 million. You can see those projects here.
Jamel Holmes did grow up to become a teacher. He earned a master's degree and now teaches special education for sixth graders at East Bronx Academy for the Future, the same school he attended. Holmes uses DonorsChoose to help his students get what they need both inside and outside school. He has crowdfunded technology tools for his classroom as well as personal care items for his students. He drives through the Bronx to give school supplies, clothing, laundry essentials and food to kids whose families are in need, and even takes students to get free haircuts. He wants to be a role model students can turn to.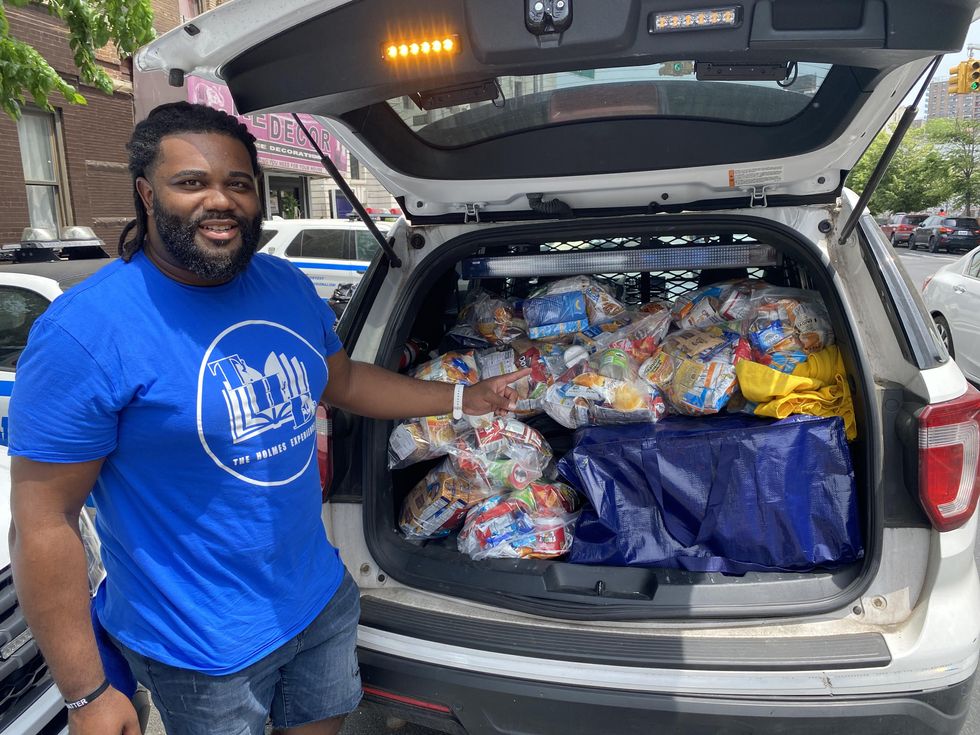 Courtesy of Jamel Holmes
"As I think about Black male teachers ... there are not many of us," Holmes says. "We bring more than just the academics, the curriculum, pedagogy … [we bring] real life experience in which we can relate to our students well beyond the classroom."
Schools are charged with providing a safe, nurturing and equitable environment for students and teachers. Supporting educators who are trying to create that environment by helping fund their racial equity projects is a good place to start.
Get stories worth sharing delivered to your inbox