More
Show up with a whole heart, even in your text messages.
If you've been so lucky as to date while texting has existed, you might have met (or become) a GHOST.
Once upon a few dates, I became a ghost. We had fun, the dates were great, and I had no complaints. But I just wasn't feeling it. It feels weird to just not feel it for a perfectly nice, worthy human, but it happens. And so begins a modern ghost story.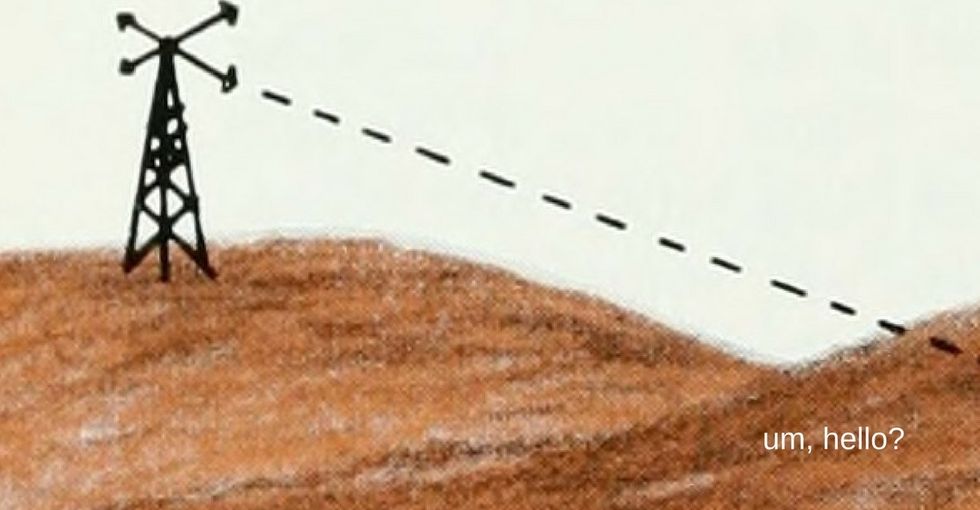 <p class="image-caption">Image via <a href="https://www.flickr.com/photos/internetarchivebookimages/14753164721/in/photolist-otFPSZ-ocvfYz-otLqNW-ocuenb-octNtp-otXenq-ovJqzk-ocu4LP-ovJwf8-octyUE-orWvi1-orWB1J-otWMAq-octQiL-otX4V9-octzxL-orWDLJ-octSk2-orWVfj-octsr9-ovJjLg-otGA5X-otWWo5-otGucK-octJQT-otGzhe-otWJZd-otWMGs-otWviW-ocuB1R-ocv7gz-ocu2KV-otY3bP-octNyz-otLQDm-ocu9B9-otL5gd-ocuXUe-octLic-otXj7A-otGCLZ-octvmt-ocuMnT-ocu67d-ocv6tT-ovJuJ2-ocufXq-orWFS7-otX1BA-orWK6S" target="_blank">Internet Archive Book Images</a><a href="https://www.flickr.com/photos/internetarchivebookimages/14753164721/in/photolist-otFPSZ-ocvfYz-otLqNW-ocuenb-octNtp-otXenq-ovJqzk-ocu4LP-ovJwf8-octyUE-orWvi1-orWB1J-otWMAq-octQiL-otX4V9-octzxL-orWDLJ-octSk2-orWVfj-octsr9-ovJjLg-otGA5X-otWWo5-otGucK-octJQT-otGzhe-otWJZd-otWMGs-otWviW-ocuB1R-ocv7gz-ocu2KV-otY3bP-octNyz-otLQDm-ocu9B9-otL5gd-ocuXUe-octLic-otXj7A-otGCLZ-octvmt-ocuMnT-ocu67d-ocv6tT-ovJuJ2-ocufXq-orWFS7-otX1BA-orWK6S" target="_blank">/Flickr (altered)</a>.</p><p>I did NOT know what to do, say, or think to this person ... so what I did next was turn into a ghost. <strong>I removed myself from the human world (of his text messages).</strong></p><p><div id="upworthyFreeStarVideoAdContainer"><div id="freestar-video-parent"><div id="freestar-video-child"></div></div></div></p><p><strong>Ghosting</strong>, as defined in a <a href="http://www.nytimes.com/2015/06/26/fashion/exes-explain-ghosting-the-ultimate-silent-treatment.html" target="_blank">New York Times article</a>, is "ending a romantic relationship by cutting off all contact and ignoring the former partner's attempts to reach out."</p><p><img type="lazy-image" data-runner-src="https://assets.rebelmouse.io/eyJhbGciOiJIUzI1NiIsInR5cCI6IkpXVCJ9.eyJpbWFnZSI6Imh0dHBzOi8vYXNzZXRzLnJibC5tcy8xOTUyMjE4My9vcmlnaW4uanBnIiwiZXhwaXJlc19hdCI6MTYzMjc0NjM1OH0.JzXtHNwCk6BAPKTKhis349PXzmQV9W0uUB89wHzT28s/img.jpg?width=980" id="b02d7" class="rm-shortcode" data-rm-shortcode-id="51a0d4f2fd815d7d1b249eaefdf28ade" data-rm-shortcode-name="rebelmouse-image"></p><p class="image-caption">Image via <a href="https://www.flickr.com/photos/internetarchivebookimages/14756039552/in/photolist-otWyt3-otYQWx-orWZyu-otXaPo-otGcHc-orWLGh-otYDDT-orX2vL-otWQaU-orWSvG-otXfqY-ocuCdF-otYtAg-otGz7p-ovJjaB-octTmj-otXi2j-octuoW-ocuemR-ovJ6aD-octtNY-octNxd-ovJxAz-orWM9Q-octUWL-octpqG-octQQs-otWvF9-otLFwy-ovJLCX-otXdJm-ocuQoT-otWECs-ocu3C7-ocuefY-otLdp7-otWvrw-ovJkZt-ovHWwB-orWcYS-otYTeZ-otWEUE-octCes-otXfxS-otYi68-ocurzX-ovJhia-otYeyt-otKYVd-otWStw" target="_blank">Internet Archive Book Images/Flickr (altered)</a>.</p><p>When I turned into a ghost, I just stopped responding to every message this perfectly nice, worthy human sent to me. Eww. I feel icky talking about it now, and I felt icky doing it then. Eventually, I figured out a way to bring myself back to life and end my own ghost story. We'll get to that later.</p><h2>First, there are two main types of ghosts:</h2><p><strong>1. The "short-term relationship I guess I don't owe you anything and I don't wanna be awkward" ghost</strong></p><p>That was me. I hadn't had any major moments with this person. I just wanted to poetically fade away, like Patrick Swayze in the aptly named movie "Ghost."</p><p><img type="lazy-image" data-runner-src="https://assets.rebelmouse.io/eyJhbGciOiJIUzI1NiIsInR5cCI6IkpXVCJ9.eyJpbWFnZSI6Imh0dHBzOi8vYXNzZXRzLnJibC5tcy8xOTUyMjE4NC9vcmlnaW4uZ2lmIiwiZXhwaXJlc19hdCI6MTYxNzQ4Njg4NH0.yuFC4z41rrOy_XQvV7NguntH85e3jQHIfYVLGb1ezLU/img.gif?width=980" id="044dd" class="rm-shortcode" data-rm-shortcode-id="392ed2cc2d513c847d3dd2b640c06a06" data-rm-shortcode-name="rebelmouse-image"></p><p class="image-caption">Replace that caption with "You're a human and so am I" and me running away, and we're there. Not proud. GIF from "Ghost."</p><p><strong>2. The "we could be on the verge of an actual relationship but I am suddenly not OK with it and —" ghost</strong></p><p>You'll never know what could have happened because this ghost will ghost you and you'll never hear what happens after that "and."</p><p>Say you and a potential significant other share magical moments — so many moments that it seems like, to quote the great American cinematic masterpiece "High School Musical," "this could be the start of something new."</p><p><img type="lazy-image" data-runner-src="https://assets.rebelmouse.io/eyJhbGciOiJIUzI1NiIsInR5cCI6IkpXVCJ9.eyJpbWFnZSI6Imh0dHBzOi8vYXNzZXRzLnJibC5tcy8xOTUyMjE4NS9vcmlnaW4uZ2lmIiwiZXhwaXJlc19hdCI6MTYzOTI2NTM1NX0.iKpKcROI09ItZOgheS28HfdjMEWhDpqDhUUb0VWgq6Y/img.gif?width=980" id="45f67" class="rm-shortcode" data-rm-shortcode-id="822602ef1b07b1158b6a2472c0c8d9e0" data-rm-shortcode-name="rebelmouse-image"></p><p class="image-caption">GIF from Disney's "High School Musical."</p><p>And then, just when Troy and Gabriella's karaoke duet almost made it to the key change, the plug was pulled. All contact? Gone. Ghosted. <strong>And then you realize that it was not the start of something new but rather the start of you wondering if the person who ghosted you is dead.</strong></p><p><img type="lazy-image" data-runner-src="https://assets.rebelmouse.io/eyJhbGciOiJIUzI1NiIsInR5cCI6IkpXVCJ9.eyJpbWFnZSI6Imh0dHBzOi8vYXNzZXRzLnJibC5tcy8xOTUyMjE4Ni9vcmlnaW4uanBnIiwiZXhwaXJlc19hdCI6MTY2MjIzMzk1OH0.CGqz4LVZjo-ftK14pJ_2eYWkB-WibX2nGqkwLJTe7Q4/img.jpg?width=980" id="f3bbd" class="rm-shortcode" data-rm-shortcode-id="5b1189ef7c004a67ebc918458e701164" data-rm-shortcode-name="rebelmouse-image"></p><p class="image-caption">Image via <a href="https://www.flickr.com/photos/internetarchivebookimages/14569443198/in/photolist-ocscSw-rq4Qv2-ouLmTU-oyd7dT-qtexdp-owmvX2-owsmzp-otVGio-x6HsoB-odBR3R-ocAusS-odgenc-tmLgc9-otFkAD-ouYrpr-rrQGrX-ocuqAq-octiax-odfz7d-rpTyGe-owiBVm-ouL3jb-ouAgK6-ocsE3t-sGmCys-odbPk2-osyyfb-otDAi8-od7bpq-ocELqf-orWftS-tD2JZ8-ocWca2-otrxyj-odidRE-ou77GM-owuNsT-otDUu1-oeQriK-owjBgp-odkJfK-tDfYce-otF1Xg-ouwPwF-ocCpj8-ou7XDK-ouRZKj-ou5eDd-odY7Sg-odcbGt" target="_blank">Internet Archive Book Images/Flickr (altered)</a>.</p><p>They're not dead. (Usually.) Probably, they're a ghost. And you are probably sad. I prescribe hugs.</p><p>These are the two most common, and egregious, ghosts that could be haunting a romance near you, although I'm sure there are other versions too.</p><p><strong>But we need to do something about this! Technology has invented a whole new way, and a few new mediums, for human beings to hurt each other.</strong></p><p>Who you gonna call?</p><p>Ghostbusters.</p><p><img type="lazy-image" data-runner-src="https://assets.rebelmouse.io/eyJhbGciOiJIUzI1NiIsInR5cCI6IkpXVCJ9.eyJpbWFnZSI6Imh0dHBzOi8vYXNzZXRzLnJibC5tcy8xOTUyMjE4Ny9vcmlnaW4uanBnIiwiZXhwaXJlc19hdCI6MTY0OTE0NDMyOX0.wpMZQvd-frOoTn9ixSwcm3fOltUi9EV6ZsoQ5Bg5_aQ/img.jpg?width=980" id="15d35" class="rm-shortcode" data-rm-shortcode-id="83b5e42abab2100f7f5db8b33de2de9f" data-rm-shortcode-name="rebelmouse-image"><br></p><p class="image-caption">Image via <a href="https://www.flickr.com/photos/internetarchivebookimages/14732962366/in/photolist-orUhqw-otWECs-otRZUX-ovLneP-ouBa4H-oygCBT-otF3sF-ocvwD2-ow5ZmF-otHN3H-orVjPC-sG8WwN-oeQbps-raHPkV-akaFuR-nG7QXe-otJEN3-ocvnLn-nHUhn4-6UyKrK-oeYSuu-ouwbdH-aiEnz3-npCebv-ouYhB3-odtJGR-otQfUh-ocuuyA-otL3HU-odjpNr-orVNU5-ocAvbA-owqKyx-octWSh-owquXC-oeTGSf-ocBHXU-ovFQ5H-otUCWA-owekn6-ocwRKg-otFddH-octCgb-ocuqB6-odi7f3-oudcHo-otW8Z6-otMpJ9-otKdqb-ouHZ4D" target="_blank">Internet Archive Book Images/Flickr (altered)</a>.</p><h2>In my own personal ghost-busting journey, I chose <a href="http://www.courageworks.com/" target="_blank">Brené Brown</a> — vulnerability researcher, awkwardness whisperer, and friend of Oprah — to guide me. </h2><p>Brown is an actual professional who studies awkwardness, vulnerability, and how to be a wholehearted, kind person in a detached, technology-driven world that doesn't make real human kindness easy. Her TEDx Talk "<a href="http://www.ted.com/talks/brene_brown_on_vulnerability" target="_blank">The Power of Vulnerability</a>" went viral.</p><p><strong>In her book, "<a href="https://www.amazon.com/dp/1592407331/?tag=ecosia-20" target="_blank">Daring Greatly</a>," she wrote, "Connection is why we're here; it is what gives purpose and meaning to our lives." </strong>To me, this sounds like the beginning of a solution to both ghosting and being ghosted.</p><p> If connection is why we're here, it's counterintuitive to disconnect (literally and figuratively) from other humans so abruptly. Connection gives us purpose as humans.</p><p><img type="lazy-image" data-runner-src="https://assets.rebelmouse.io/eyJhbGciOiJIUzI1NiIsInR5cCI6IkpXVCJ9.eyJpbWFnZSI6Imh0dHBzOi8vYXNzZXRzLnJibC5tcy8xOTUyMjE4OC9vcmlnaW4uanBnIiwiZXhwaXJlc19hdCI6MTYyMzE2OTY1Nn0.7lVzpynPXYfxyW2OKCnkzZHB4r7fmdcAx35DlbtXQdE/img.jpg?width=980" id="247e8" class="rm-shortcode" data-rm-shortcode-id="50664303e636771566f1d2ea5f45bc89" data-rm-shortcode-name="rebelmouse-image"></p><p class="image-caption">Image via <a href="https://www.flickr.com/photos/internetarchivebookimages/14776235133/in/photolist-ovJdhV-otFXsP-otLaJY-ocuMLZ-octnMv-ovJ27t-octP7h-otYc8g-ocv1Nk-otWAgG-otLe29-otY8TR-otY4Ut-ocubVs-ocvbF6-otG18t-octWfW-octvcm-octCbR-ocuULF-ocuabA-ovJaXp-ocug2U-ovJtXn-ocurUV-otLia9-orWmnW-otLegC-ovJdnp-otWWVN-otWJEW-otWAmG-ocuFAH-otWBFf-ovJ4FX-ocuHm6-otGkEz-octdjJ-otYuyZ-octkZU-octdyS-octydR-octymr-otWzDu-otLbjA-otLjyS-octwWT-ovJ4UH-otYruT-ovJ31c" target="_blank">Internet Archive Book Images/Flickr</a>.</p><h2>But, how to do we transition from ghosts to connected humans?</h2><p>Brown's research uncovered a clue.</p><p>She says that to get some more of that sweet sweet purpose-giving connection, we have to cultivate "<strong>whole heartedness</strong>."</p><p>Wholeheartedness, Brown writes, "at its very core is vulnerability and worthiness; facing uncertainty, exposure, and emotional risks, and knowing that I am enough."</p><p>What's a wholehearted way to stop ghosting? In the case of <em>being</em> ghosted, there's not much you can do. You can be proud you lived the full spectrum of human emotion, that you took a risk, and you can take care of your heart for a bit.</p><p><img type="lazy-image" data-runner-src="https://assets.rebelmouse.io/eyJhbGciOiJIUzI1NiIsInR5cCI6IkpXVCJ9.eyJpbWFnZSI6Imh0dHBzOi8vYXNzZXRzLnJibC5tcy8xOTUyMjE4OS9vcmlnaW4uanBnIiwiZXhwaXJlc19hdCI6MTYyNTc3Mzg0N30.mBLnzRgLv6PC562KDGaHKxcyS661vBTmDrg6YRu9oto/img.jpg?width=980" id="f7de5" class="rm-shortcode" data-rm-shortcode-id="f1bde09b6d24c7bb5fdbcc29d095ea6b" data-rm-shortcode-name="rebelmouse-image"></p><p class="image-caption">Image via <a href="https://www.flickr.com/photos/internetarchivebookimages/14765238315/in/photolist-ocuvLd-ocTAFQ-tmG5Ke-oeUiWd-wP4aGY-owA9GP-ovdmBx-t4mSPE-otZ3Ex-odbuJx-otYoCN-ouT1Ma-ouKGWp-ousWu1-ocJzbF-oeWzrg-r943vX-orYmV5-otFLwF-owcsVE-ocrpZv-otHMPu-ouLmA1-ocBejc-ovRBpH-ouADdX-otJ1Yn-octNyz-orXA1L-ovS5rD-tCXFot-ox2FYg-odhfYW-oeYBaJ-otKY8S-otZZda-osFS67-oumGrQ-otPZw2-ou2qPh-oeWMvL-osM5J3-otXET8-odc8ny-x6CPyc-ocs5k7-ocBBK4-owkL4Q-tAY8Jw-rn3Ag1" target="_blank">Internet Archive Book Images/Flickr (altered)</a>.</p><h2>I'm more concerned with stopping ghosting where it starts though — with the person about to become a ghost. </h2><p>And I'm not just gonna say "be kind, vulnerable, feel worthy, face uncertainty, expose yourself to stuff, and take a risk because you are enough" because that's a perfect example of "easier said than done."</p><p><strong>Instead, using Brown's foundation, I'll suggest a few specifics.</strong></p><p>If you're tempted to ghost:</p><p>1. Face uncertainty. Open your text.</p><p>2. Be truthful. Traveling? Being flaky? Say what you've been doing.</p><p>3. Be vulnerable. Say way you <em>feel</em>. Heartbroken? Weird? Say it.</p><p>4. Know you're enough.</p><p>5. Expose yourself to the truth and press send!</p><p><strong>Here are some real-life examples:</strong></p><p><img type="lazy-image" data-runner-src="https://assets.rebelmouse.io/eyJhbGciOiJIUzI1NiIsInR5cCI6IkpXVCJ9.eyJpbWFnZSI6Imh0dHBzOi8vYXNzZXRzLnJibC5tcy8xOTUyMjE5MC9vcmlnaW4uanBnIiwiZXhwaXJlc19hdCI6MTYyMzg5MTcxNX0.LTSEsWbtLnrK_RxJXQ-IteXB2DY8vS3x16xVzBUrxgQ/img.jpg?width=980" id="38fd7" class="rm-shortcode" data-rm-shortcode-id="a36fe784ce9481aa53c19217d95e1438" data-rm-shortcode-name="rebelmouse-image"></p><p><img type="lazy-image" data-runner-src="https://assets.rebelmouse.io/eyJhbGciOiJIUzI1NiIsInR5cCI6IkpXVCJ9.eyJpbWFnZSI6Imh0dHBzOi8vYXNzZXRzLnJibC5tcy8xOTUyMjE5MS9vcmlnaW4uanBnIiwiZXhwaXJlc19hdCI6MTYyNTEyMTM4OH0.xaeU8Mx_SvaUajbkuif1PB-iXDCqTIbd-W0lI0DJwjM/img.jpg?width=980" id="b7930" class="rm-shortcode" data-rm-shortcode-id="f3b79f33614c8e85b3505482c520b5c8" data-rm-shortcode-name="rebelmouse-image"></p><h2>Brown wrote, "Shame derives its power from being unspeakable."</h2><p>Ghosting brings up shame for all parties — largely due to the whole <em>not speaking</em> thing. And, often, ghosting happens because we want to avoid awkward confrontation.</p><p><strong>Imagine a slightly more awkward, but significantly less shame-filled, world. That's something I'd like to see. </strong></p>