Sponsored
Gina, Nathalie and Helga share their reactions to being diagnosed with MS and how they stay informed and positive in the face of ever-changing symptoms.
Courtesy of Sanofi
True
It's been 155 years since neurologist Jean-Martin Charcot gave the first lecture on a mysterious progressive illness he called "multiple sclerosis." Since then, we've learned a lot. We know MS causes the immune system to attack healthy tissue, including damaging the brain and spinal cord. Resulting symptoms can be debilitating and include fatigue, blurred vision, memory problems and weakness. Huge advancements in our understanding of MS and its underlying causes, as well as treatment advances, have been made in the past few decades, but MS remains a complex and unpredictable reality for the 2.8 million+ people diagnosed around the world.
Ironically, the only real constant for people living with MS is change. There's no set pattern or standard progression of the disease, so each person's experience is unique. Some people with MS have mild symptoms that worsen slowly but sometimes improve, while others can have severe symptoms that drastically alter their daily lives.
All people with MS share some things in common, however, such as the need to stay informed on the ever-evolving research, find various lines of support and try to remain hopeful as they continue living with the disease.
To better understand what navigating life with MS really looks like, three women shared their MS stories with us. Their journeys demonstrate how MS can look different for different people and interestingly, how the language used to talk about the disease can greatly impact how people understand their realities.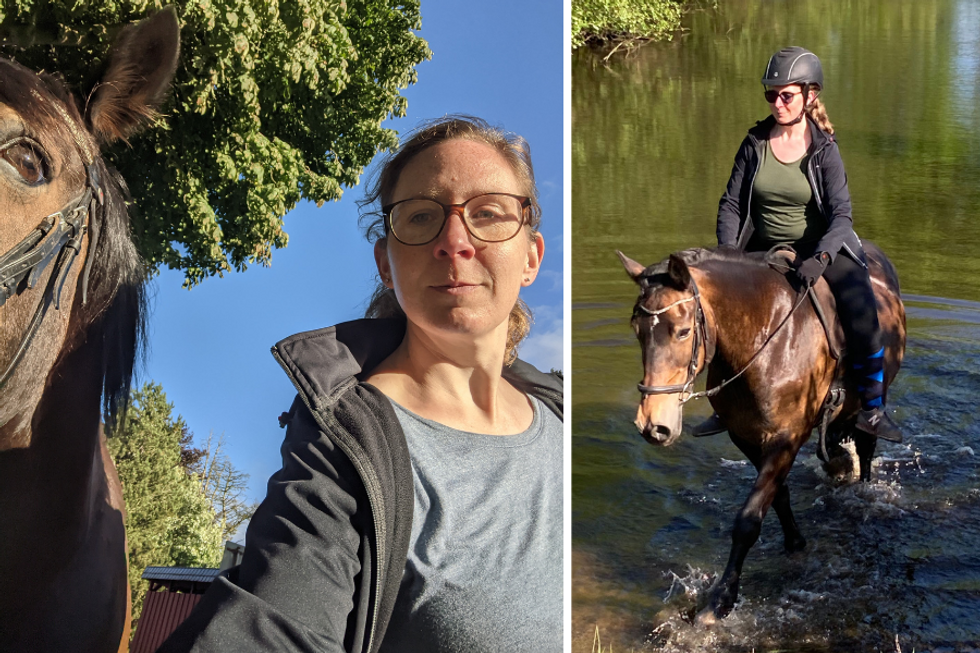 Gina loves riding her horse, Benita.Courtesy of Sanofi
Gina—Hamburg, Germany (diagnosed with relapsing multiple sclerosis in 2017)
When her youngest son was 4 months old, Gina started having problems with her eye. She'd soon learn she was experiencing optic neuritis—her first symptom of MS.
"Immediately after the diagnosis, I looked up facts on MS because I didn't know anything about it," Gina says. "And as soon as I knew what could really happen with this disease, I actually got scared."
As her family's primary income provider, she worried about how MS would impact her ability to work as a writer and editor. Her family was afraid she was going to end up in a wheelchair. However, for now, Gina's MS is managed well enough that she still works full-time and is able to be active.
"When I tell somebody that I have MS, they often don't believe me the first time because I don't fulfill any stereotypes," she says.
Overwhelmed by negative perspectives on living with MS, Gina sought support in the online MS community, which she found to be much more positive.
"I think it's important to use as many positive words as you can when talking about MS." It's important to be realistic while also conveying hope, she says. "MS is an insidious disease that can cause many bad symptoms…that can be frightening, and you can't gloss over it, either."
To give back to the online community that helped her so much, Gina started a blog to share her story and help others trying to learn about their diagnosis.
Though she deals with fatigue and cognitive dysfunction sometimes, Gina stays active swimming, biking, riding horses and playing with her sons, who are now 11 and 6.
Cognitive dysfunction is common in MS, with over half of people affected. It can impact memory, attention, planning, and word-finding. As with many aspects of MS, some people experience mild changes, while others face more challenges.
Gina says that while there's still a lot of education about MS needed, she feels positive about the future of MS because there's so much research being done.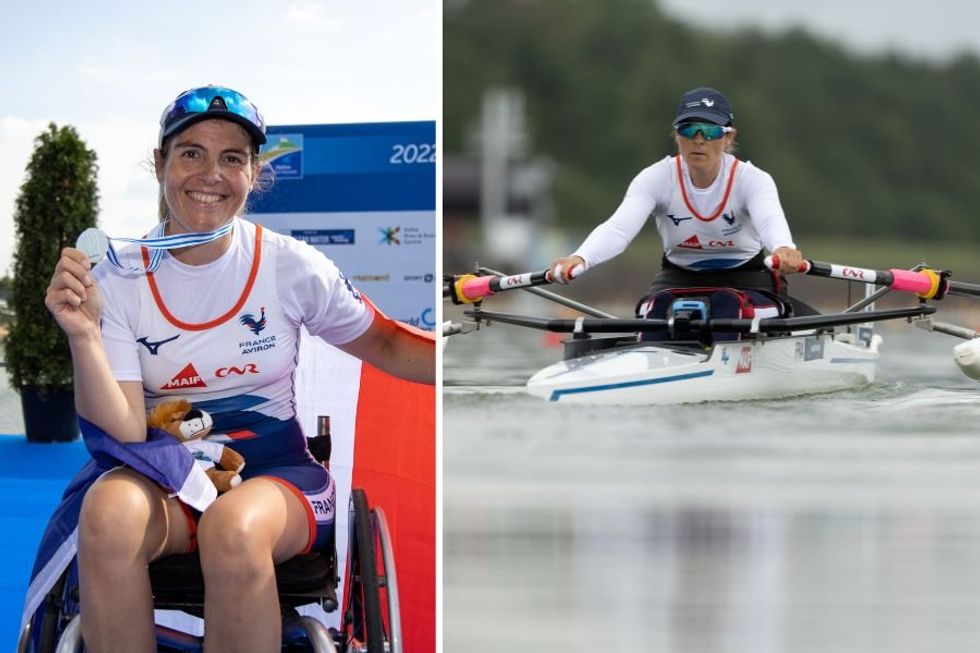 Nathalie is an award-winning rower with multiple international titles.Courtesy of Sanofi
Nathalie — Pennes Mirabeau, France (diagnosed with relapsing-remitting multiple sclerosis in 2002)
Nathalie was a teenager and a competitive athlete when she noticed her first symptoms of MS, but it would take four years of "limbo" before she was diagnosed.
"Ultimately, the diagnosis was more of a relief, than a shock," she says. "Because when you have signs and you don't know why, it's worse than knowing, in the end, what you have."
However, learning more about the disease—and the realities of disease progression—scared her.
"That glimpse of the future was direct and traumatic," she says. Her neurologist explained that the disease evolves differently for everyone, and her situation might end up being serious or very mild. So, she decided to stop comparing herself to others with MS.
She said to herself, "We'll see what happens, and you'll manage it bit by bit."
By 2005, Nathalie's MS had progressed to the point of needing a wheelchair. However, that has not dampened her competitive spirit.
Nathalie began her international rowing career in 2009 and has won multiple world titles, including two Paralympic medals—silver in London and bronze in Tokyo. Now, at 42, she still trains 11 times a week. Fatigue can be a problem, and sometimes hard workouts leave her with muscle stiffness and shaking, but she credits her ongoing sports career for helping her feel in tune with her body's signals.
"Over the years, I've learned to listen to my body, letting my body guide when I need to stop and take breaks," she says.
Nathalie explains that she used to only look backwards because of the initial shock of her diagnosis. In time, she stopped thinking about what she couldn't do anymore and focused on her future. She now lives in the following mindset: "Even when doors close, don't miss out on those that open." Instead of focusing on what she can't do, she focuses on the opportunities she still has. Right now, this includes her training for the 2024 Paralympic Games in Paris, where she will compete for another rowing medal.
"I only go forward," she says. "Well, I try, anyway…It's easy to say, it's not always easy to do. But that's what I try to do."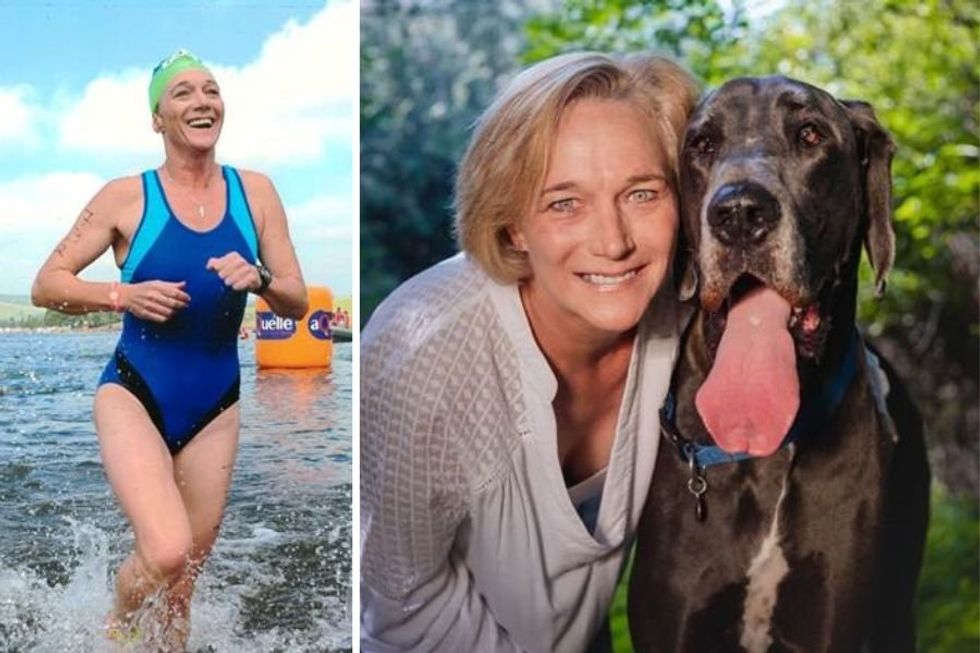 Helga's Great Dane has become a helpful and beloved companion.Courtesy of Sanofi
Helga—Johannesburg, South Africa (diagnosed with relapsing multiple sclerosis in 2010)
When Helga first started having balance issues and numbness in her feet, she chalked it up to her training as a runner. But when the numbness moved to her face, she knew something was wrong. She never guessed it was MS.
"When I was diagnosed, I felt completely overwhelmed and clueless," Helga says. "I felt that I had nowhere near enough information. I did not know anything about the disease…I had no idea that it was going to be a process of continually monitoring and adjusting your lifestyle."
In the beginning, Helga's symptoms developed slowly, and she didn't appear ill to others. She was even able to run for a few years after her diagnosis, but she couldn't do marathons anymore, and she began to fall frequently due to balance issues and right-foot dragging. Then her cognition issues became more problematic, especially in her job as a trainer in a printing company.
"My executive function, decision-making and short-term memory were affected to the point that I was eventually medically unfit for work," she says. She stopped working in 2017.
However, she didn't stop living life. Even though she could no longer run, she continued to swim competitively. She got a Great Dane puppy and trained him as a service dog to help her walk. She also serves as vice chair of the patient support organization Multiple Sclerosis South Africa, and she advises others who have been diagnosed to join a patient advocacy group as soon as possible to get reliable information and meet others with MS.
Helga says she is "hopeful" about the future of MS. "I must say that I am so grateful that we have all the new medications available, because my life would not be the same if it wasn't for that," she adds.
Part of how she manages her MS is by looking at the positives.
"If I could tell the world one thing about MS, it would be that MS is an incurable disease of the nervous system, but it's also the greatest teacher of valuing your health, family, friends, and managing change in your life," she says. "My life is diversified in a way that I never, ever thought it would, and MS has been honestly the greatest teacher."
Each MS journey is unique – with each person impacted experiencing different struggles, successes, and feelings as they manage this unpredictable disease. But the common thread is clear – there is a critical need for information, support, and hope. We are proud to participate in World MS Day and share these incredible stories of living life while living with MS. To learn more about MS, go to https://www.sanofi.com/why-words-really-matter-when-it-comes-to-multiple-sclerosis.
MAT-GLB-2301642-v1.0-05/2023
This article was sponsored by Sanofi. Participants were compensated when applicable.
Family
"I told him that we have the opportunity to make things right."
Family
They're just sitting there while my kids sleep.
When it comes to babysitting, you can hit the jackpot with someone who not only enjoys hanging out with your kiddos but also cleans out of boredom. The only babysitter I've had that experience with is my mom, but I do hear they do exist. While walking into a spotless house after a much-needed night out would be amazing, it's not really part of a standard babysitting package.
Typically, whoever babysits for you is solely there to focus on the well-being of your children. They feed them snacks, play games with them, and follow their bedtime routine to the letter. Then they hang out on your couch reminding Netflix that they're still watching and wait for you to return. Sure, they clean up dishes from dinner and whatever toys were pulled out during their time with your kids, but they don't typically clean your house.
But in a private parenting group I belong to, a long debate was started when a mom asked a group of 260k of her closest friends if it would be appropriate for a parent to ask a babysitter to clean their home.
The anonymous mom explained that her college-aged daughter had recently started babysitting for a family, but on the second day, her duties suddenly changed. There was a list of chores waiting for the babysitter that included cleaning the family's dishes and cleaning up messes that were there before the sitter arrived.
This revelation set off a firestorm of comments with many agreeing that anything outside of cleaning up after the children while they're in your care is a separate job. But not everyone was on the same page and it was clear that this was a topic that was going to cause some intense debate. Since summer months are here, there's no wonder this topic is coming up and views are split.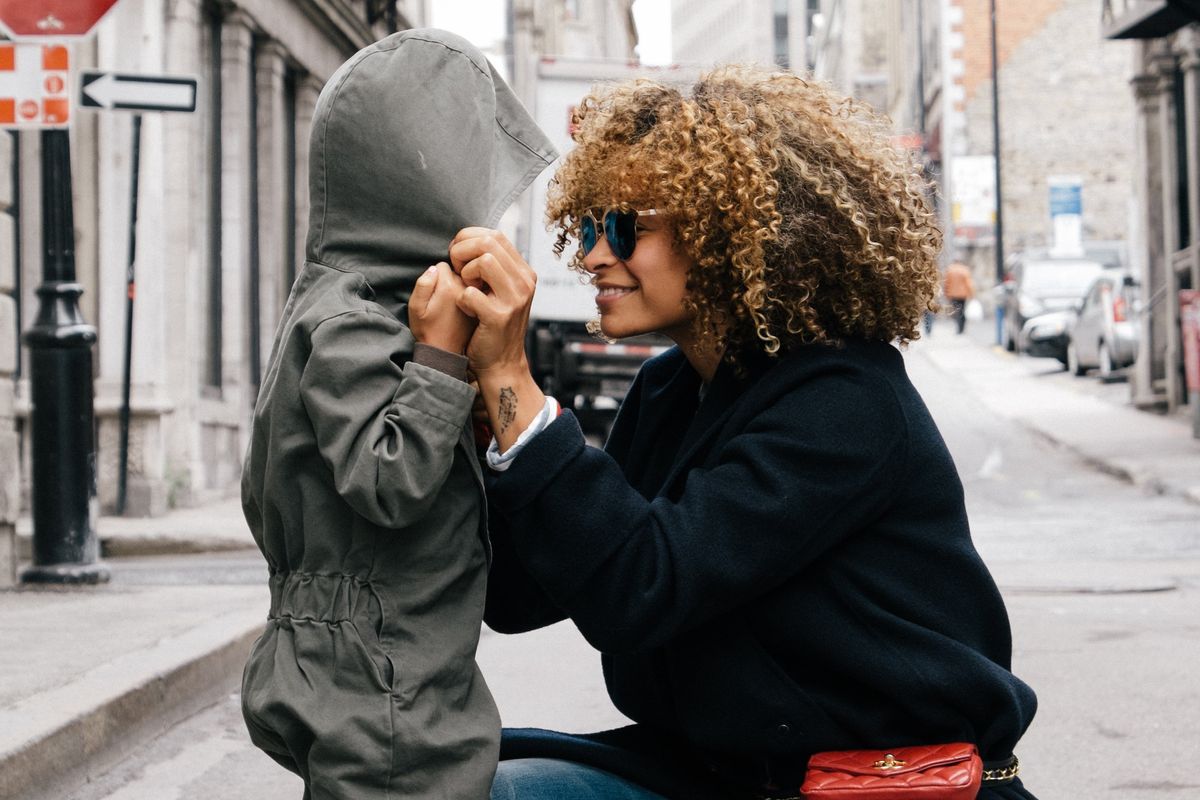 Should babysitters be expected to clean, one mom asks.
Photo by
Sai De Silva
on
Unsplash
Scary Mommy recently published an article posing a similar question, only this was coming from a parent who wanted her babysitter to clean while her children slept. Elizabeth Narins explains that she and her husband are stretched thin and have an active toddler she jokingly calls a "toy tornado."
"Given the amount of housework that clearly needs to be done, paying someone to sit on our toy-covered couch during naps or after bedtime just seems... inefficient," Narins wrote before posing the question. "Is it completely out of line for me to ask her to declutter when my kids are in bed?"
Whether it's the expert interviewed for the Scary Mommy article or the parents in the private group, there does seem to be one common theme among the discourse: Any additional chores should be clarified in the original job description, and if it wasn't, then it should be directly brought up in a conversation with the babysitter.
Many parents in the comments believed that a housekeeper should be hired in addition to the babysitter, while others thought the babysitter should be offered more money for the additional work. But there were several people who thought it was just common courtesy for a babysitter to clean the house while the kids were asleep.
It may seem that you're paying a babysitter to do nothing while your children sleep, but you're paying them to be there in the event of an emergency. No matter which side of the debate you're on, it seems proper communication about expectations will save everyone a headache in the future.
Do you think cleaning should be expected from a babysitter?
Pop Culture
We all love a romantic love story, but it's just as fulfilling to witness these platonic love stories play out.
Get stories worth sharing delivered to your inbox
Joy
"Nobody is looking at you weird because all the families are there for the same reason."
Get stories worth sharing delivered to your inbox