Heroes
Even our most progressive institutions can do better.
Photo by Jemal Countess/Getty Images for Tony Awards Productions
Rachel Chavkin became the 10th woman to win a Tony award for directing when she won for her work on Hadestown, a retelling of the Greek myth of Orpheus. Chavkin was the only woman nominated this year, mostly because she was the only woman to direct a Broadway play this year. And if she had her druthers, that wouldn't have been the case.

During her acceptance speech, Chavkin called on Broadway to do better when it comes to diversity. "My folks raised me with the understanding that life is a team sport. And so is walking out of hell. That's what is at the heart of show: It's about whether you can keep faith when you are made to feel alone. And it reminds us that that is how power structures try to maintain control: by making you feel like you're walking alone in the darkness, even when your partner is right there at your back," Chavkin said during her speech. "And this is why I wish I wasn't the only woman directing a musical on Broadway this season."

---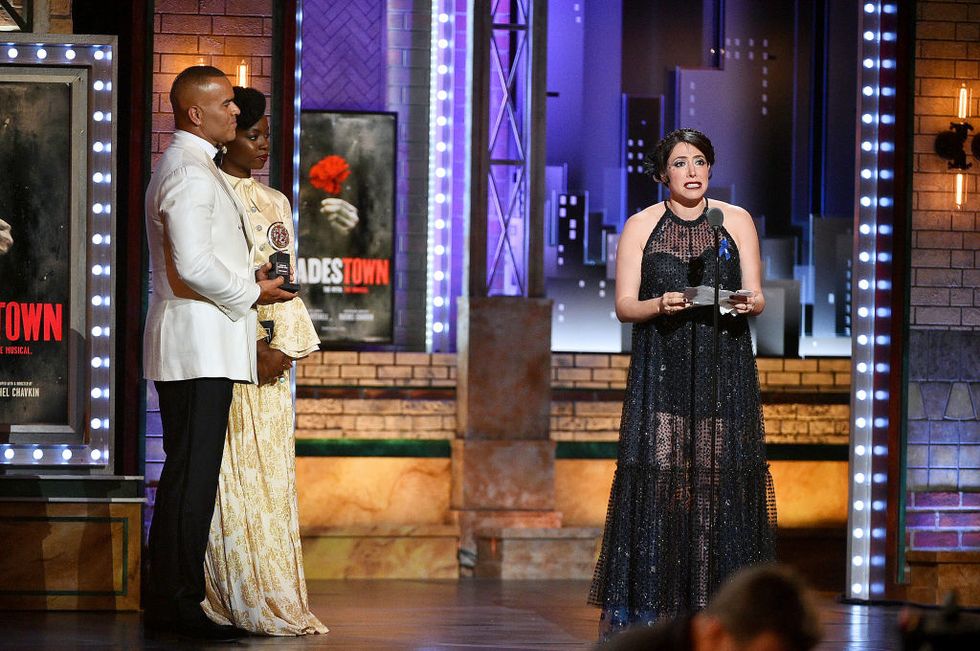 73rd Annual Tony Awards - Show Getty Images for Tony Awards Pro
Chavkin said that there's no shortage of diverse talent, there's just a shortage of diverse talent getting opportunities. "There are so many women who are ready to go. There are so many artists of color who are ready to go. And we need to see that racial diversity and gender diversity reflected in our critical establishment too. This is not a pipeline issue. It is a failure of imagination by a field whose job is to imagine the way the world could be. So let's do it," she said.
Aft the awards ceremony, Chavkin clarified what she meant during her speech. "It's not a call for altruism, it's just a call for hiring the people," she said. Part of the issue is that there are so many people who are willing to pay lip service to the need for inclusion, yet they balk at the opportunity to enact change by actually hiring women and people of color. There's a big difference between saying, "women should be directors!" and actually hiring a female director.
Chavkin also continued to call out the fact that many people don't put their money where their mouth is when it comes to supporting diversity - and that they should. "Our field is filled with progressive people, and yet our field is not exemplary in terms of living its politics," Chavkin said. "Before we think about fixing problems elsewhere, there has to be a lot of attention paid to our own backyard."

It's one thing to champion the idea of a woman directing a Broadway play. It's another thing entirely to actually let her do it. We need to start seeing more people give opportunities to women and people of color instead of sitting around and talking about it.