Playing youth sports is one of the best things about being a kid.
It's about making new friends, getting sweaty, and living your best life learning a game or activity you love. It's low-stakes fun that can build confidence, teach sportsmanship, and encourage teamwork.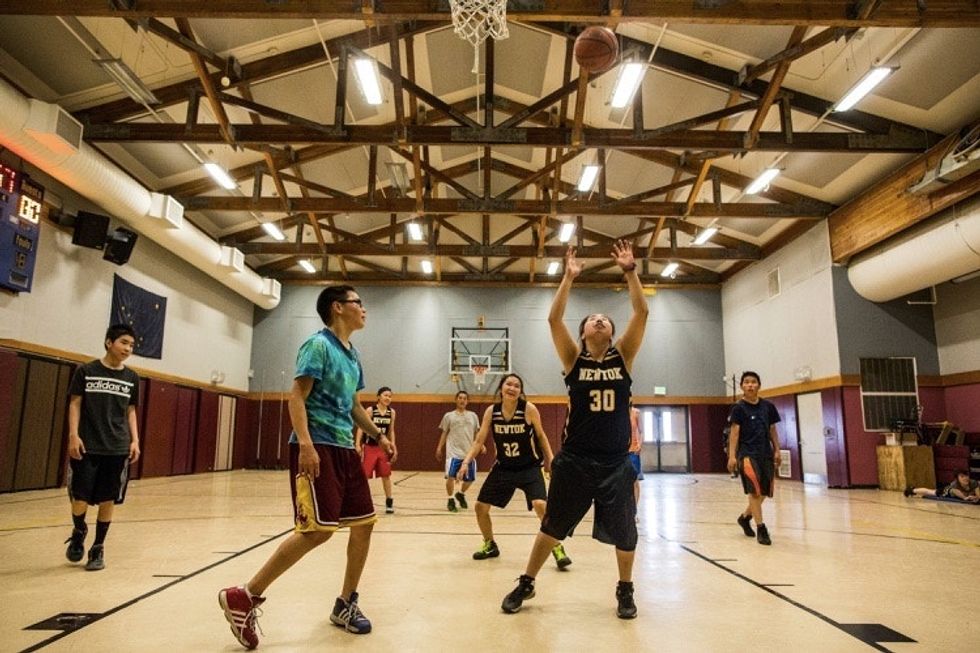 High school girls play against middle school boys in a game of basketball in Newtok, Alaska. Photo by Andrew Burton/Getty Images.
<h2>But there's something that can take the fun out of youth sports: pushy parents. </h2><p>Every parent wants their kid to do well and enjoy themselves, but the line between being a fan and being a fanatic is easy for anyone to cross. </p><p>In this video from I<a href="http://ilovetowatchyouplay.com/" target="_blank"> Love To Watch You Play</a>, real youth athletes shared how they feel when their parents are hard on them or try to coach from the stands.</p><div><div data-card="html" data-reactroot=""><span style="display:block;position:relative;padding-top:56.25%;" class="rm-shortcode" data-rm-shortcode-id="0fc9ca0867586fa733031300e5babef7"><iframe type="lazy-iframe" data-runner-src="https://www.youtube.com/embed/u2LR4c3JsmU?rel=0" width="100%" height="auto" frameborder="0" scrolling="no" style="position:absolute;top:0;left:0;width:100%;height:100%;"></iframe></span></div></div><p><strong>They may tense up...</strong></p><p class="shortcode-media shortcode-media-rebelmouse-image"><img type="lazy-image" data-runner-src="https://assets.rebelmouse.io/eyJhbGciOiJIUzI1NiIsInR5cCI6IkpXVCJ9.eyJpbWFnZSI6Imh0dHBzOi8vYXNzZXRzLnJibC5tcy8xOTUyNzE1Ny9vcmlnaW4uZ2lmIiwiZXhwaXJlc19hdCI6MTYzNzYwOTUwNX0.WZjR1pOR2Z4msYFZ3ay0S2LVG-job3QPU9ZoE8oqQ6c/img.gif?width=980" id="77345" class="rm-shortcode" data-rm-shortcode-id="eb802eeab7d17c2d89c518a85f8be5b9" data-rm-shortcode-name="rebelmouse-image"><small class="image-media media-caption" placeholder="add caption...">All GIFs via ilovetowatchyouplay.com/YouTube.</small></p><p><strong>... or get embarrassed ...</strong></p><p class="shortcode-media shortcode-media-rebelmouse-image"><img type="lazy-image" data-runner-src="https://assets.rebelmouse.io/eyJhbGciOiJIUzI1NiIsInR5cCI6IkpXVCJ9.eyJpbWFnZSI6Imh0dHBzOi8vYXNzZXRzLnJibC5tcy8xOTUyNzE1OC9vcmlnaW4uZ2lmIiwiZXhwaXJlc19hdCI6MTY0MTI0ODg0OH0.HcRTYXJ8AfuLcA2MSRm7zUjFCkZaLfYr-sNHGWwH0ug/img.gif?width=980" id="31808" class="rm-shortcode" data-rm-shortcode-id="e6c12a46f08ed3fd73bcfaf404502461" data-rm-shortcode-name="rebelmouse-image"><small class="image-media media-caption" placeholder="add caption..."></small></p><p><strong>and feel the kind of stress no kid should. </strong></p><p class="shortcode-media shortcode-media-rebelmouse-image"><img type="lazy-image" data-runner-src="https://assets.rebelmouse.io/eyJhbGciOiJIUzI1NiIsInR5cCI6IkpXVCJ9.eyJpbWFnZSI6Imh0dHBzOi8vYXNzZXRzLnJibC5tcy8xOTUyNzE1OS9vcmlnaW4uZ2lmIiwiZXhwaXJlc19hdCI6MTYxMzkyODc2N30.e9qhlEz2argWSFnLAqXhq9u0PBlpc4y8w9-axOp9t24/img.gif?width=980" id="c9ddc" class="rm-shortcode" data-rm-shortcode-id="13aae5ef3db76ca02b48599f9113dbd5" data-rm-shortcode-name="rebelmouse-image"><small class="image-media media-caption" placeholder="add caption..."></small></p><p>While the enthusiasm often comes from a loving place, parents pushing their kids to be better, faster, and stronger could make their kids lose interest entirely. In fact, <a href="https://www.washingtonpost.com/news/parenting/wp/2016/06/01/why-70-percent-of-kids-quit-sports-by-age-13/?utm_term=.3a66c5946e5e" target="_blank">70% of kids quit sports by age 13</a> because it's not enjoyable or fun anymore, The Washington Post reports. </p><p>"We have to ensure in our society that we don't forget that we're still working with young kids," <a href="http://www.democratandchronicle.com/story/sports/high-school/2014/06/14/high-school-coaches-overbearing-parents/10535527/" target="_blank">Anthony Lipani, a former high school football coach told the Democrat &amp; Chronicle</a>. "I think lines are blurred at times because of the competition."</p><h2>Here are some ideas from young athletes for what to say and do instead.</h2><p>There's no shame in being excited and enthusiastic, but nonverbal affirmations can go a long way too. </p><p class="shortcode-media shortcode-media-rebelmouse-image"><img type="lazy-image" data-runner-src="https://assets.rebelmouse.io/eyJhbGciOiJIUzI1NiIsInR5cCI6IkpXVCJ9.eyJpbWFnZSI6Imh0dHBzOi8vYXNzZXRzLnJibC5tcy8xOTUyNzE2MC9vcmlnaW4uZ2lmIiwiZXhwaXJlc19hdCI6MTY0MjY4NTAyNH0.YrtMehcHW7MgR2LFQQHHXSKvluuRYFE0nRzyhkTUEcU/img.gif?width=980" id="d3f39" class="rm-shortcode" data-rm-shortcode-id="435e71f63012a5738740556efd721db4" data-rm-shortcode-name="rebelmouse-image"><small class="image-media media-caption" placeholder="add caption..."></small></p><p>The same goes for after the game, win or lose. Show them you care and love them no matter what. </p><p class="shortcode-media shortcode-media-rebelmouse-image"><img type="lazy-image" data-runner-src="https://assets.rebelmouse.io/eyJhbGciOiJIUzI1NiIsInR5cCI6IkpXVCJ9.eyJpbWFnZSI6Imh0dHBzOi8vYXNzZXRzLnJibC5tcy8xOTUyNzE2MS9vcmlnaW4uZ2lmIiwiZXhwaXJlc19hdCI6MTYwMjgzOTA1NX0.XEM4YRDPBwVgAELiCDa4fKQ2cCEpV66CjGtIAmjyTls/img.gif?width=980" id="a2b94" class="rm-shortcode" data-rm-shortcode-id="024a73d73c62707c6aa0245796a09d9e" data-rm-shortcode-name="rebelmouse-image"><small class="image-media media-caption" placeholder="add caption..."></small></p><p>There's nothing wrong with encouragement, but remember, it's supposed to be a hobby, not their profession. If you feel yourself getting stressed, take a beat and remember what a joy it is to watch your child do something they love. </p><p class="shortcode-media shortcode-media-rebelmouse-image"><img type="lazy-image" data-runner-src="https://assets.rebelmouse.io/eyJhbGciOiJIUzI1NiIsInR5cCI6IkpXVCJ9.eyJpbWFnZSI6Imh0dHBzOi8vYXNzZXRzLnJibC5tcy8xOTUyNzE2Mi9vcmlnaW4uZ2lmIiwiZXhwaXJlc19hdCI6MTYxMjgyNDgzMX0.pgV12tEyu0TXJhhzHxKeWTBG07unp4S0O8QFbPQCPo0/img.gif?width=980" id="e9c2f" class="rm-shortcode" data-rm-shortcode-id="36a049891bbb9b68ef99bf1c1be4ba56" data-rm-shortcode-name="rebelmouse-image"><small class="image-media media-caption" placeholder="add caption..."></small></p><h2>Because at the end of the day, it really is only a game. </h2>