California is beginning a massive cleanup and recovery after a month of devastating wildfires.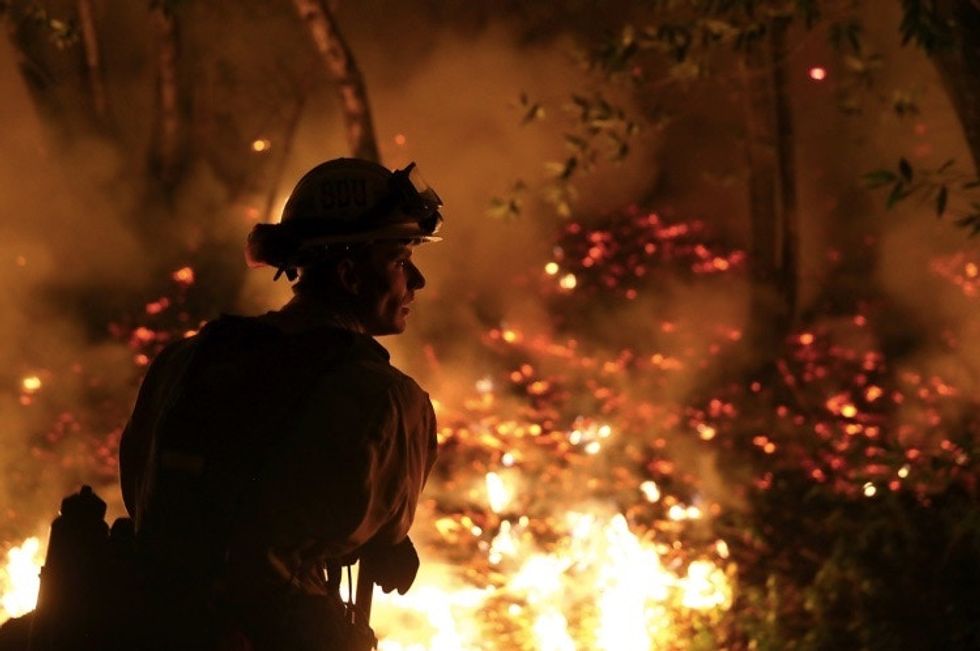 Firefighter Trevor Smith battles the Tubbs Fire near Calistoga, California, in October. Photo by Justin Sullivan/Getty Images.
With 250 square miles ablaze, October 2017 was a particularly bad month for wildfires in Northern California. At least 8,400 homes have been lost, and many of the nearby businesses — including vineyards and wineries — have been damaged as well.
<p class="shortcode-media shortcode-media-rebelmouse-image"><img type="lazy-image" data-runner-src="https://assets.rebelmouse.io/eyJhbGciOiJIUzI1NiIsInR5cCI6IkpXVCJ9.eyJpbWFnZSI6Imh0dHBzOi8vYXNzZXRzLnJibC5tcy8xOTUzMTg2NS9vcmlnaW4uanBnIiwiZXhwaXJlc19hdCI6MTYyMDg4OTIzMH0.91wbDpSUk_6eq-8bkYyeoOWvT2GLXNPTlR_BebCqUas/img.jpg?width=980" id="83359" class="rm-shortcode" data-rm-shortcode-id="a0239ead51f6c8ae44ea8f6ecaab4458" data-rm-shortcode-name="rebelmouse-image"><small class="image-media media-caption" placeholder="add caption...">Charred wine barrels at Paradise Ridge Winery. Photo by Justin Sullivan/Getty Images.</small></p><p>The property damage is well over $1 billion, and at last count, <a href="http://www.motherjones.com/environment/2017/10/california-fires-damage-total/" target="_blank">42 people lost their lives</a>.</p><p>But though the fires were undeniably devastating, neighbors and volunteers were quick to help out. People opened up their homes to evacuees, donated supplies and cash, and even helped <a href="https://www.buzzfeed.com/briannasacks/these-stories-about-people-saving-animals-in-the-california?utm_term=.fjKQYxjN6#.msv2ra1yb" target="_blank">save and recuperate pets and animals</a> left behind by or separated from their owners. </p><p class="shortcode-media shortcode-media-rebelmouse-image"><img type="lazy-image" data-runner-src="https://assets.rebelmouse.io/eyJhbGciOiJIUzI1NiIsInR5cCI6IkpXVCJ9.eyJpbWFnZSI6Imh0dHBzOi8vYXNzZXRzLnJibC5tcy8xOTUzMTg2Ni9vcmlnaW4uanBnIiwiZXhwaXJlc19hdCI6MTYwMDcxOTQ4Nn0.5sENUjTn-k4_tMeNBMkDjZAGhz0Dktj-Df8DgD7-ZlE/img.jpg?width=980" id="db3d7" class="rm-shortcode" data-rm-shortcode-id="5f104e77c8bd684d88c6fc304d2a8d59" data-rm-shortcode-name="rebelmouse-image"><small class="image-media media-caption" placeholder="add caption...">A "lost cat" poster on a telephone pole. Photo by Elijah Nouvelage/Getty Images.</small></p><p>As of late October, the majority of the fires have been contained, which means the towns and cities affected by the fire will now need to begin to rebuild.</p><h2>Getty photographer Justin Sullivan visited one community that had been hit by the fire. This is what he saw:</h2><p>Coffey Park, a neighborhood in Santa Rosa, California, was <a href="http://www.latimes.com/projects/la-me-northern-california-fires-structures/" target="_blank">one of the most densely populated areas affected</a> by the Tubbs Fire in the early morning of Oct. 9.</p><p class="shortcode-media shortcode-media-rebelmouse-image"><img type="lazy-image" data-runner-src="https://assets.rebelmouse.io/eyJhbGciOiJIUzI1NiIsInR5cCI6IkpXVCJ9.eyJpbWFnZSI6Imh0dHBzOi8vYXNzZXRzLnJibC5tcy8xOTUzMTg2Ny9vcmlnaW4uanBnIiwiZXhwaXJlc19hdCI6MTY0NjA2OTAwOX0.cDZ5_Lumre5UvRD8HkFKHGMNW7vnMV0U6C3WyWVRx2c/img.jpg?width=980" id="ae625" class="rm-shortcode" data-rm-shortcode-id="18eb001f139586cb05549203c7f42c3f" data-rm-shortcode-name="rebelmouse-image"><small class="image-media media-caption" placeholder="add caption...">Residents sift through the remains of their Coffey Park home. Photo by Justin Sullivan/Getty Images.</small></p><h2>Entire swaths of houses have been reduced to their foundations. Chimneys stand alone like monuments.</h2><p class="shortcode-media shortcode-media-rebelmouse-image"><img type="lazy-image" data-runner-src="https://assets.rebelmouse.io/eyJhbGciOiJIUzI1NiIsInR5cCI6IkpXVCJ9.eyJpbWFnZSI6Imh0dHBzOi8vYXNzZXRzLnJibC5tcy8xOTUzMTg2OC9vcmlnaW4uanBnIiwiZXhwaXJlc19hdCI6MTY0MTkwNjAxNn0.Z_nAcII7Mj6TiRFNSrRFA23dxUgiuuEelfzGh8EDEqA/img.jpg?width=980" id="f7a40" class="rm-shortcode" data-rm-shortcode-id="0e0ef42ba1ff94956175420faf8d3d16" data-rm-shortcode-name="rebelmouse-image"><small class="image-media media-caption" placeholder="add caption...">Freestanding chimneys in a burned-down neighborhood. Photo by Justin Sullivan/Getty Images.</small></p><p>A skateboarder inadvertently created <a href="http://www.sfgate.com/local/article/Coffey-Park-Santa-Rosa-Tubbs-Fire-skateboard-video-12303218.php" target="_blank">a shocking comparison video</a> of the neighborhood before and after the fire.</p><h2>The brick facade is all that remains of one particular home. Someone has scrawled its street address on the skeleton of an old tree out front.</h2><p class="shortcode-media shortcode-media-rebelmouse-image"><img type="lazy-image" data-runner-src="https://assets.rebelmouse.io/eyJhbGciOiJIUzI1NiIsInR5cCI6IkpXVCJ9.eyJpbWFnZSI6Imh0dHBzOi8vYXNzZXRzLnJibC5tcy8xOTUzMTg2OS9vcmlnaW4uanBnIiwiZXhwaXJlc19hdCI6MTYwODU1NTI3OX0.mro2FSyQ0vrEZm31qUFcHOvDzZ3Mmdiyg839WdejV9g/img.jpg?width=980" id="48e53" class="rm-shortcode" data-rm-shortcode-id="481de1bdd1a4a64023273b569c94dfb1" data-rm-shortcode-name="rebelmouse-image"><small class="image-media media-caption" placeholder="add caption...">The brick facade of a home destroyed by the Tubbs Fire. Photo by Justin Sullivan/Getty Images.</small></p><h2>Residents like Renee Hernandez and her son Ben are coming back to sift through the remains of their homes. </h2><p class="shortcode-media shortcode-media-rebelmouse-image"><img type="lazy-image" data-runner-src="https://assets.rebelmouse.io/eyJhbGciOiJIUzI1NiIsInR5cCI6IkpXVCJ9.eyJpbWFnZSI6Imh0dHBzOi8vYXNzZXRzLnJibC5tcy8xOTUzMTg3MC9vcmlnaW4uanBnIiwiZXhwaXJlc19hdCI6MTYwNzQzODYxOX0.BMRlxs_VzyC026-FUE-KfaCPRPpFRC9JPe5-bCokO4M/img.jpg?width=980" id="2c9e5" class="rm-shortcode" data-rm-shortcode-id="dfd67465685bd06f12c8d72f72d77c02" data-rm-shortcode-name="rebelmouse-image"><small class="image-media media-caption" placeholder="add caption...">Renee Hernandez (left) watches her son Ben (right) digging through the debris. Photo by Justin Sullivan/Getty Images.</small></p><h2>Though the devastation may appear to be complete, small miracles like this figurine emerge from the ashes.</h2><p class="shortcode-media shortcode-media-rebelmouse-image"><img type="lazy-image" data-runner-src="https://assets.rebelmouse.io/eyJhbGciOiJIUzI1NiIsInR5cCI6IkpXVCJ9.eyJpbWFnZSI6Imh0dHBzOi8vYXNzZXRzLnJibC5tcy8xOTUzMTg3MS9vcmlnaW4uanBnIiwiZXhwaXJlc19hdCI6MTYzNzAyMTA0NH0.7TVclsS1BXIbXw9ynkBSxiD4gJ5cjdGmj55c-P2mODw/img.jpg?width=980" id="71957" class="rm-shortcode" data-rm-shortcode-id="cdf9ed4e126b8f4842b71b3639840a63" data-rm-shortcode-name="rebelmouse-image"><small class="image-media media-caption" placeholder="add caption...">A figurine of a woman among the rubble. Photo by Justin Sullivan/Getty Images.</small></p><h2>With the fires contained, people are now looking toward recovery and rebuilding.</h2><p class="shortcode-media shortcode-media-rebelmouse-image"><img type="lazy-image" data-runner-src="https://assets.rebelmouse.io/eyJhbGciOiJIUzI1NiIsInR5cCI6IkpXVCJ9.eyJpbWFnZSI6Imh0dHBzOi8vYXNzZXRzLnJibC5tcy8xOTUzMTg3Mi9vcmlnaW4uanBnIiwiZXhwaXJlc19hdCI6MTYyNTQyNDUxNn0.W4HK_GHiFWhEKZn5H6y35sTjb5SsqRr2ZR6ACE3Dv8I/img.jpg?width=980" id="c02f1" class="rm-shortcode" data-rm-shortcode-id="dfd3c64b0050966bbc1ed4b46cde82a7" data-rm-shortcode-name="rebelmouse-image"><small class="image-media media-caption" placeholder="add caption...">An insurance adjuster walks through the neighborhood. Photo by Justin Sullivan/Getty Images.</small></p><p>It's going to be a big undertaking. Before the logistical nightmare of rebuilding can even begin, entire neighborhoods will need a <a href="http://www.sfchronicle.com/bayarea/article/Next-challenge-in-Wine-Country-fires-colossal-12297951.php" target="_blank">thorough cleaning</a> due to toxic chemicals from melted plastics and pesticide — even ammo from a <a href="http://sanfrancisco.cbslocal.com/video/3742958-tubbs-fire-guts-santa-rosa-businesses/" target="_blank">ruined gun store</a> need to be cleaned up. </p><p>Wildfires are dangerous, terrifying disasters that can wipe out entire neighborhoods in what seems like the blink of an eye. And with climate change potentially worsening this problem, we'll need to think about how we prepare and plan for these disasters.</p><h2>Though cleanup and rebuilding will be tough, Coffey Park still seems to maintain a resilient spirit.</h2><p class="shortcode-media shortcode-media-rebelmouse-image"><img type="lazy-image" data-runner-src="https://assets.rebelmouse.io/eyJhbGciOiJIUzI1NiIsInR5cCI6IkpXVCJ9.eyJpbWFnZSI6Imh0dHBzOi8vYXNzZXRzLnJibC5tcy8xOTUzMTg3My9vcmlnaW4uanBnIiwiZXhwaXJlc19hdCI6MTYxODQ3MjkzOX0.Tgr0T6yPc2AHn4T6v-WX5sy2cgGSoiyE6ibJdvHUApA/img.jpg?width=980" id="f0048" class="rm-shortcode" data-rm-shortcode-id="2e3cd4bdca7957996857ff0778d216e9" data-rm-shortcode-name="rebelmouse-image"><small class="image-media media-caption" placeholder="add caption...">An American flag hangs in front of a ruined home. Photo by Justin Sullivan/Getty Images.</small></p><h2>And at least one homeowner seems unbowed by their tragedy.</h2><p class="shortcode-media shortcode-media-rebelmouse-image"><img type="lazy-image" data-runner-src="https://assets.rebelmouse.io/eyJhbGciOiJIUzI1NiIsInR5cCI6IkpXVCJ9.eyJpbWFnZSI6Imh0dHBzOi8vYXNzZXRzLnJibC5tcy8xOTUzMTg3NC9vcmlnaW4uanBnIiwiZXhwaXJlc19hdCI6MTY1NzkxNjAwNH0.Vc5z3ByGif-UmdRY5Hen8pBbdi9-exS4pbGkcVX4aME/img.jpg?width=980" id="14312" class="rm-shortcode" data-rm-shortcode-id="a11ddb1491541da8641035c719f679f7" data-rm-shortcode-name="rebelmouse-image"><small class="image-media media-caption" placeholder="add caption...">A message spray-painted on a driveway. Photo by Justin Sullivan/Getty Images.</small></p>