The internet nearly broke when the trailer for "A Wrinkle in Time" went viral last summer.
And with good reason, too.

The cast list reads like a block on the Hollywood Walk of Fame, with Oprah Winfrey, Reese Witherspoon, Mindy Kaling, Storm Reid, Chris Pine, and Zach Galifianakis all starring in the film, which is based off the 1962 sci-fi novel of the same name.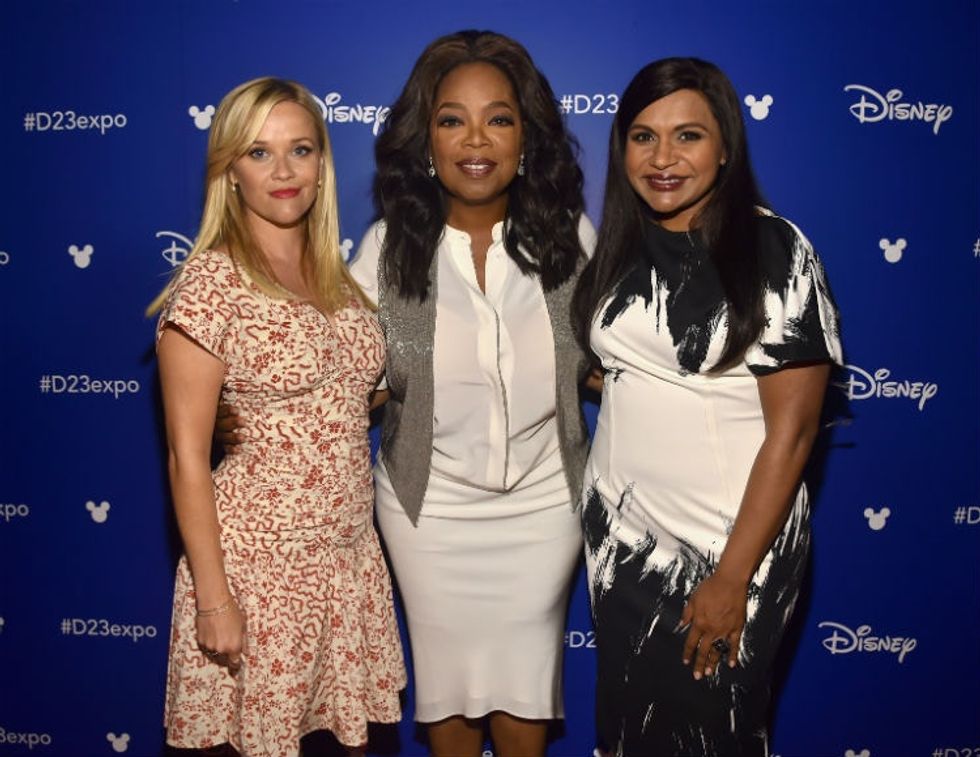 Photo by Alberto E. Rodriguez/Getty Images for Disney.
<h2>And on January 24, 2018, the film gave fans another reason to celebrate: "A Wrinkle in Time" got the Barbie treatment.</h2><p>Dolls made in the likes of Mrs. Who (Kaling), Mrs. Which (Winfrey), and Mrs. Whatsit (Witherspoon), seen respectively below, will <a href="http://barbie.mattel.com/shop/SearchDisplay?categoryId=&amp;storeId=10151&amp;catalogId=10104&amp;langId=-1&amp;sType=SimpleSearch&amp;resultCatEntryType=2&amp;showResultsPage=true&amp;searchSource=Q&amp;pageView=&amp;beginIndex=0&amp;pageSize=36&amp;searchTerm=a+wrinkle+in+time#facet:&amp;productBeginIndex:0&amp;orderBy:&amp;pageView:grid&amp;minPrice:&amp;maxPrice:&amp;pageSize:&amp;contentPageSize:&amp;" target="_blank">go on sale</a> beginning February 23, 2018. </p><p class="shortcode-media shortcode-media-rebelmouse-image"><img type="lazy-image" data-runner-src="https://assets.rebelmouse.io/eyJhbGciOiJIUzI1NiIsInR5cCI6IkpXVCJ9.eyJpbWFnZSI6Imh0dHBzOi8vYXNzZXRzLnJibC5tcy8xOTUzMzc2OC9vcmlnaW4uanBnIiwiZXhwaXJlc19hdCI6MTU5ODM1ODI3OX0.46hmAZsNOE0GvLMVoLh58D8oV85IPKQqo5oJx9X3q0w/img.jpg?width=980" id="b0835" class="rm-shortcode" data-rm-shortcode-id="bea2088c6e2f7a6fc50535c98c48ee0a" data-rm-shortcode-name="rebelmouse-image"><small class="image-media media-caption" placeholder="add caption...">Photo courtesy of Mattel, used with permission.</small></p><p>Obviously, they look <em>marvelous</em>.</p><h2>Mrs. Whatsit? Perfection.</h2><p class="shortcode-media shortcode-media-rebelmouse-image"><img type="lazy-image" data-runner-src="https://assets.rebelmouse.io/eyJhbGciOiJIUzI1NiIsInR5cCI6IkpXVCJ9.eyJpbWFnZSI6Imh0dHBzOi8vYXNzZXRzLnJibC5tcy8xOTUzMzc2OS9vcmlnaW4uanBnIiwiZXhwaXJlc19hdCI6MTY0MDY3Njk2OH0.6KNmFZGBuyhK11A96Hvme096HxGpVLZ3Nw3dGfdY0f0/img.jpg?width=980" id="54e7f" class="rm-shortcode" data-rm-shortcode-id="33377e443a79ea9058887227be374cca" data-rm-shortcode-name="rebelmouse-image"><small class="image-media media-caption" placeholder="add caption...">Photos via "A Wrinkle in Time"; and courtesy of Mattel, used with permission.</small></p><h2>Mrs. Who? YES.</h2><p class="shortcode-media shortcode-media-rebelmouse-image"><img type="lazy-image" data-runner-src="https://assets.rebelmouse.io/eyJhbGciOiJIUzI1NiIsInR5cCI6IkpXVCJ9.eyJpbWFnZSI6Imh0dHBzOi8vYXNzZXRzLnJibC5tcy8xOTUzMzc3MC9vcmlnaW4uanBnIiwiZXhwaXJlc19hdCI6MTY0NDQzMDQ2MH0.g6BU2NNlvqr9QDcCb657FRmnFVEyGzJfczuwyZNWgmE/img.jpg?width=980" id="197f5" class="rm-shortcode" data-rm-shortcode-id="9303784874d5e71895d2f20f62e68c4c" data-rm-shortcode-name="rebelmouse-image"><small class="image-media media-caption" placeholder="add caption..."></small></p><h2>And Mrs. Which? <em>Nailed it.</em></h2><p class="shortcode-media shortcode-media-rebelmouse-image"><img type="lazy-image" data-runner-src="https://assets.rebelmouse.io/eyJhbGciOiJIUzI1NiIsInR5cCI6IkpXVCJ9.eyJpbWFnZSI6Imh0dHBzOi8vYXNzZXRzLnJibC5tcy8xOTUzMzc3MS9vcmlnaW4uanBnIiwiZXhwaXJlc19hdCI6MTU5ODM0MzQ0M30.jt8buBgGQE3ZuFGUFVmo77KqvS-ImxF4fz4FetP3rPI/img.jpg?width=980" id="87e8f" class="rm-shortcode" data-rm-shortcode-id="cf275c317699c2a380f1e496fe854419" data-rm-shortcode-name="rebelmouse-image"><small class="image-media media-caption" placeholder="add caption..."></small></p><h2>Fans are loving the dolls. </h2><div id="84c13" class="rm-shortcode" data-rm-shortcode-id="0Z9OYD1559350462"><blockquote class="twitter-tweet twitter-custom-tweet" data-twitter-tweet-id="956561074635067392" data-partner="rebelmouse"><div style="margin:1em 0">I extremely need every Wrinkle in Time @Barbie, especially the Mindy Kaling one https://t.co/W0kQTDnijq</div> — Hanna Howard (@Hanna Howard)<a href="https://twitter.com/_HannaHoward/statuses/956561074635067392">1516896906.0</a></blockquote></div><div id="a3384" class="rm-shortcode" data-rm-shortcode-id="DNBVIN1559350462"><blockquote class="twitter-tweet twitter-custom-tweet" data-twitter-tweet-id="956595838171705345" data-partner="rebelmouse"><div style="margin:1em 0">Me: This is the year I get my finances in check. No more frivolous spending. Newsflash: Barbie creates A Wrinkle in… https://t.co/1ChAksYaKS</div> — ☠️Angry Bruja💀 (@☠️Angry Bruja💀)<a href="https://twitter.com/bunnyha79/statuses/956595838171705345">1516905195.0</a></blockquote></div><div id="67070" class="rm-shortcode" data-rm-shortcode-id="HM15D51559350462"><blockquote class="twitter-tweet twitter-custom-tweet" data-twitter-tweet-id="956524400530153473" data-partner="rebelmouse"><div style="margin:1em 0">I hope y'all understand how important it is to me that I own the complete set of Wrinkle in Time Barbies.</div> — No spoons, just knives (@No spoons, just knives)<a href="https://twitter.com/AWisher_ALiar/statuses/956524400530153473">1516888163.0</a></blockquote></div><h2>Let's face it: The Barbie brand has been a bit ... <em>problematic</em>, historically speaking. </h2><p>But Mattel has been trying to change that.</p><p>In recent years, the brand has launched <a href="http://time.com/3593968/the-new-normal-barbie-comes-with-an-average-womans-proportions-and-cellulite-sticker-extension-packs/" target="_blank">new dolls</a> that are more <a href="https://www.upworthy.com/mattel-is-welcoming-ashley-graham-body-positive-fashion-icon-to-the-barbie-family">body positive</a> and <a href="https://www.upworthy.com/check-out-mattels-new-badass-hijab-wearing-barbie">inclusive</a>. It made waves in 2015 with its clever, progressive <a href="https://www.upworthy.com/a-clever-hilarious-ad-that-shatters-gender-stereotypes-by-barbie-yep">ad campaign</a> encouraging girls to dream big, and the company has also made efforts to <a href="https://www.upworthy.com/why-the-boy-in-this-new-barbie-ad-has-the-whole-internet-abuzz">shatter gender norms</a> that suggest that Barbies are for girls only.</p><p><strong>Mattel's bold moves haven't been lost on Ava DuVernay, who directed "A Wrinkle in Time."</strong> She was loving the new looks modeled after the film's characters too, claiming in a tweet that while she had Barbies growing up, she's "never had any like these."</p><div id="ac60a" class="rm-shortcode" data-rm-shortcode-id="5862OW1559350462"><blockquote class="twitter-tweet twitter-custom-tweet" data-twitter-tweet-id="956380733848743936" data-partner="rebelmouse"><div style="margin:1em 0">When Disney makes Barbies of your movie's characters and you just want to stare at them all day in disbelief becaus… https://t.co/TV9dnD48YX</div> — Ava DuVernay (@Ava DuVernay)<a href="https://twitter.com/ava/statuses/956380733848743936">1516853910.0</a></blockquote></div><p>More of this, please, Mattel!</p><h2>Check out the trailer for "A Wrinkle in Time" below:</h2><div><div data-card="youtube" data-reactroot=""><div><span style="display:block;position:relative;padding-top:56.25%;" class="rm-shortcode" data-rm-shortcode-id="bda23ebdd8e93f1f3819e235317ebd97"><iframe type="lazy-iframe" data-runner-src="https://www.youtube.com/embed/E4U3TeY2wtM?rel=0" width="100%" height="auto" frameborder="0" scrolling="no" style="position:absolute;top:0;left:0;width:100%;height:100%;"></iframe></span></div></div></div>