Heroes
"It's the circle of life..."
True
Savers
There's one in every closet.
It's torn at the hem and along the neckline. There are stains all over — some you remember, some you don't. It's been washed so many times that it's see-through, making it simultaneously the definition of comfort and completely unwearable in public — which is fine because it has shrunk in some places and stretched in others and hasn't really fit right in years.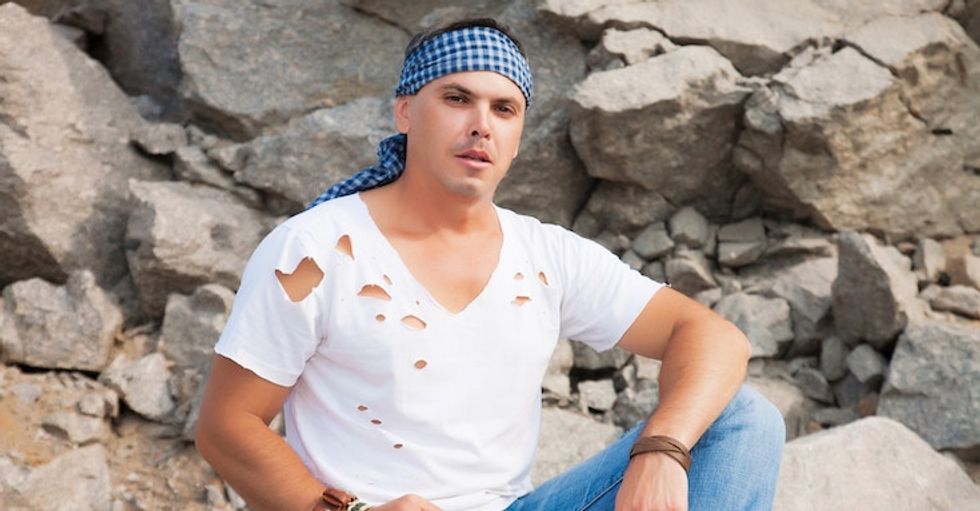 <p class="image-caption">Sometimes shabby-chic just isn't a really good look. Image via iStock.</p><p>It's your favorite T-shirt, and it really needs a new home. <strong>Markham, Ontario, wants to give it one. </strong></p><h2>This small-but-mighty suburb of Toronto has been recycling for a really long time.</h2><p>They've recycled newspapers for <a href="http://www.cbc.ca/news/technology/textile-recycling-1.3569138" target="_blank">nearly three decades</a>, later expanding to aluminum cans, glass bottles, plastics, then electronics, then composting. <a href="http://www.markham.ca/wps/portal/Markham/Residents/RecyclingWaste/!ut/p/a1/jZFbc4IwEIX_SvG9zQoIdqZ2hnJJY0FFwQsvTAZBM3IrRKfTX19QOz4Vm6ec5Dt7dhMUoDUKcnpiO8pZkdO01YESylOs6_Zy6IpzGYAQYzmYGG4fe2IDbBpAx9q7rNoA4GMDiOq--VPnQwKiXPzDuaZbE3BV7PWBmDPTmqmOBPLg6oc_lgb_83cAd_ofn4GO_CZArBzd2aGgpHz_yPKkQOuXE6v4kaYPZVFxmr6iFQq6ooZzuAJdT3Wvl1UzrHob1jL0ZyDWeGHgmSQB7qOgYWjU_h1atOXqMgm1s57QLEabm7ZZzeM8rn6pmldHXl_u0EYQkzqmVbR_2haClERFltF8O7qc2Sw_CKLyOep5NDqkcS2I4MVfnDXbHioz319_28mChLYpZdoPTuMU7w!!/dl5/d5/L3dHQSEvUUtRZy9nQSEh/" target="_blank">There are places</a> to drop off appliances, household waste, and old electronics. But until recently, there was nothing for textiles. That's a problem for nearby landfills.</p><p><img type="lazy-image" data-runner-src="https://assets.rebelmouse.io/eyJhbGciOiJIUzI1NiIsInR5cCI6IkpXVCJ9.eyJpbWFnZSI6Imh0dHBzOi8vYXNzZXRzLnJibC5tcy8xOTUxODk1OS9vcmlnaW4uanBnIiwiZXhwaXJlc19hdCI6MTYwMzQ4MzMyM30.UOszrVLEG62L6Bt71a3Pi0hVb0S9ZE5aBzgGS4DbCXs/img.jpg?width=980" id="e60ef" class="rm-shortcode" data-rm-shortcode-id="2ec77f59be57f6c67a856f9ff580a5da" data-rm-shortcode-name="rebelmouse-image"></p><p class="image-caption">Landfills: A great place for hungry birds — not a great place for your clothes. Image via iStock.</p><p>A <a href="https://uwspace.uwaterloo.ca/bitstream/handle/10012/9604/Weber_Sabine.pdf?sequence=1" target="_blank">2015 survey of Ontario residents</a> found that <strong>only 15% of unwanted textiles in the region were recycled</strong>.</p><p>For the Markham region specifically, that meant that about <a href="https://www.markham.ca/wps/wcm/connect/markhampublic/ee40a525-ee1b-4cf8-814f-f953cc859d61/TextileFactSheet-2016-web.pdf" target="_blank"><strong> 4,425 tons</strong></a><strong> of textile waste ended up at the garbage dumps every year</strong>, making up <a href="http://www.markham.ca/wps/wcm/connect/markhampublic/4cb8abf1-02ac-4385-b8c2-e8cf47cb5465/FINAL+Waste+Strategy+%283%29.pdf?MOD=AJPERES&amp;CACHEID=4cb8abf1-02ac-4385-b8c2-e8cf47cb5465" target="_blank">about 7%</a> of their volume. City sanitation workers knew it was happening — they already operate a "clear bag" program for waste so everything on its way to a landfill is easy to see. And with fast fashion encouraging consumers to buy cheap, quick clothes with short lives, the mountain of textiles in the local landfill was only going to get bigger.</p><p><strong>For the government of Markham, this felt like something they could fix — or even eliminate completely. </strong><strong></strong><br></p><h2>Their first step in taking on textile waste was talking to the people of Markham about it. What they found out was fascinating.</h2><p>They discovered that residents were open to donating and recycling more of their textiles, but that they only wanted to pass on their nicest articles of clothing. Claudia Marsales, Markham's senior waste manager, <a href="http://www.cbc.ca/news/technology/textile-recycling-1.3569138" target="_blank">described the city's findings</a> to the CBC. "People only thought you could donate something that was perfect."</p><p>While that's very thoughtful, it misses the second life that many less-than-perfect textiles can have after being recycled. Less-fashionable or rewearable clothes, along with other unwanted textiles and fabrics, can be repurposed in <a href="http://www.bir.org/industry/textiles/" target="_blank">many fascinating ways</a>: making automotive rags, home insulation, carpet padding, diapers, landscaping fabrics, even "<a href="https://www.sciencedaily.com/releases/2016/02/160219092156.htm" target="_blank">smart skin</a>" for medical researchers. There are second lives for clothes, blankets, sleeping bags, furniture fabric, mattress padding, backpacks, rugs, cushions, curtains, and, — since it's Canada — winter outerwear and gear.</p><h2>Earlier this year, the town introduced "<a href="https://www.markham.ca/wps/portal/Markham/Residents/RecyclingWaste/CollectionServices/sa-textilerecycling/textilerecycling/!ut/p/a0/04_Sj9CPykssy0xPLMnMz0vMAfGjzOJN_N2dnX3CLAKNgkwMDDw9XcJM_VwCDQM9jPULsh0VARCN0hA!/" target="_blank">Markham Tackles Textiles</a>," a new program designed to make fabric recycling easier than ever before. </h2><p>Now there are adorably designed textile donation bins located in convenient places around the city where people can drop off unwanted textiles. A local charitable organization sorts through the donations and preps them for their second life.</p><p><img type="lazy-image" data-runner-src="https://assets.rebelmouse.io/eyJhbGciOiJIUzI1NiIsInR5cCI6IkpXVCJ9.eyJpbWFnZSI6Imh0dHBzOi8vYXNzZXRzLnJibC5tcy8xOTUxODk2MC9vcmlnaW4uanBnIiwiZXhwaXJlc19hdCI6MTY0MTg1MjEzMn0.Feb4pm2Wl7h9P6mzG5AQtxNhzHWK8ZGMCiahon77hE8/img.jpg?width=980" id="26eb9" class="rm-shortcode" data-rm-shortcode-id="b753071de4d0d2bfb3baa665caffd1f7" data-rm-shortcode-name="rebelmouse-image"></p><p class="image-caption">Pictured: your old clothes and bedding, en route to a brand-new life. Image via iStock.</p><p>The nicest and most fashionable clothing and bedding donations will head to local charity thrift shops for sale. Others will be bundled into 1,000-pound bales and sold to private companies for reuse in a variety of industrial purposes. Only when all other opportunities for reuse are exhausted are some products sent on to the landfill.</p><h2>Getting serious about textile recycling is one more step toward sustainability for this Canadian city. </h2><p>It's already Canada's first "<a href="https://www.markham.ca/wps/portal/Markham/AboutMarkham/NewsRoom/NewsReleases/markham-becomes-canadas-first-monarch-friendly-city/!ut/p/a1/nVBNc4IwFPw1HDN5QkA8KraCBRzooMLFCRAwLQSHRDv9942OPfYzl-wm--btLi7wHheCXnhLFR8E7a68cA5ks_K8cOsmZkoAgmC5teNlMol8B-9wgYtKqJM64ryn4-uR9tUgpOLqzITSUOnLAJh8flLJFTOAlsNZ3d8MEOxNjsOgkaToRljHqGTSgLsGlawaeiZRRQWtqUQNH6VCvbY5VkfUjJyJuntHFVfvV08n2rKaSd6KG6t4jXOztohJHAuVdm0jAgTQrHQdRB0GVm2T2p5QHTnXkeGLM4dfNaIl3mruk2moZ7LVEoJpssg20ZMFgXMXfLMi1x6mB-Kmc-8xhiTezkwIsofMW_j-Oskm-PmPodY_udapzTHyovbanDoiLpoB7__T_W6BizAu0ibBp753X5rQSV2w7O4SfADeIphV/dl5/d5/L2dBISEvZ0FBIS9nQSEh/" target="_blank">monarch-friendly</a>" city, devoted to protecting the habitat of the popular but endangered butterfly. It operates one of the <a href="http://www.markham.ca/wps/portal/Markham/MunicipalGovernment/MayorAndCouncil/StrategicPriorities/MarkhamsSolarFleet/!ut/p/a1/jc89D8IgGATgn8RbS4EVoUW0X1SplcUwGRKtDsbfbzU6Sr3tkueGQw4NyI3-EU7-Hq6jP7-6I0fMOi6KGgxVuwR03uZFS6s143gChwkIxVeYlgBglQRNzdI21SYFTf7bw49wmNvvkYuQlG7JFzRKiLJnZtFhAK1ln9XSJIzMAZN9QOzkG0Re3C52gKDDE7meT2w!/dl5/d5/L2dJQSEvUUt3QS80SmlFL1o2X0pJMEMxQUswSjBQRjUwQTlWT0U1UUdWQkE3/" target="_blank">largest solar-powered</a> installations in the region. Markham is focused on local food and green transportation, managing a community seed library, regular farmers markets, and a 125-mile network of bike paths. <span class="redactor-invisible-space"><strong>Now it's committing to another incredibly ambitious goal: recycling 100% of unwanted textiles in the community.</strong> </span></p><p><span class="redactor-invisible-space">For Claudia Marsales, this textile recycling program is <a href="http://www.solidwastemag.com/downloads/427/download/SWR_JJ16_scrn.pdf?cb=c958840bb9ec319e418b3ee94727d6bd" target="_blank">also part of a campaign</a> to educateMarkham residents about the social andenvironmental effects of disposablefashion and encourage them to think about the end-of-life for all fabric products they buy. </span></p><p><span class="redactor-invisible-space">As for that unwanted old T-shirt you can't seem to let go of, this might be the perfect place. </span><span class="redactor-invisible-space">As Marsales <a href="http://www.yorkregion.com/news-story/6530925-markham-rolls-up-sleeves-on-textiles-recycling/" target="_blank">told the York Region</a> this month: </span><strong>"The message is we will take every piece you have."</strong></p><p><strong></strong></p>