Rainn Wilson started his New Trier High School commencement speech poking lighthearted fun at the graduates' wealth.
Pulling from the Chicago North Shore's most affluent neighborhoods, New Trier is known as a public school for rich kids. Even their traditional graduation garb highlights the school's demographic.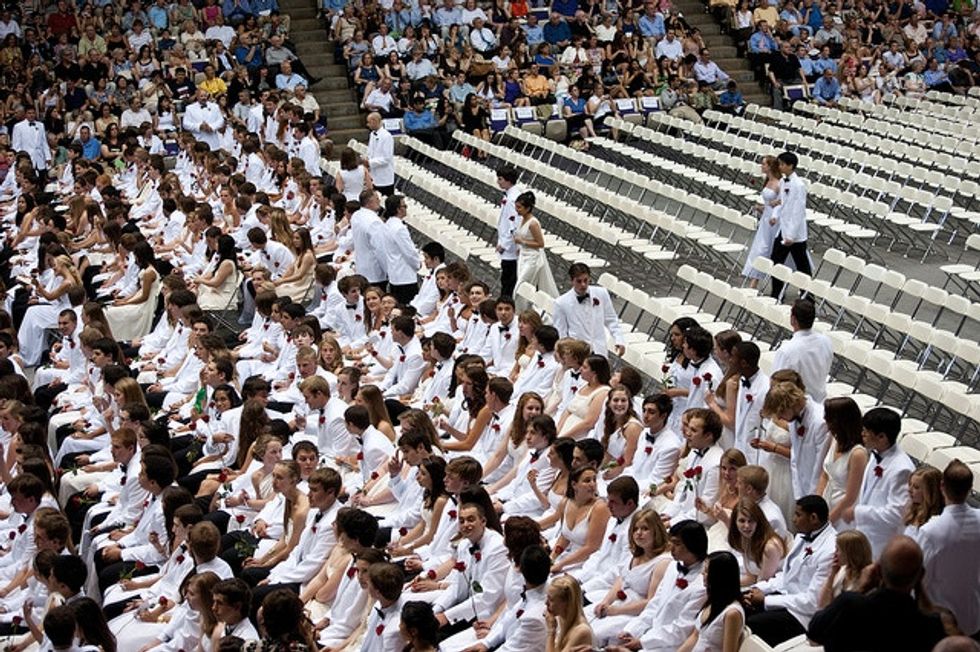 Rather than the traditional cap and gown, the 1,000 or so graduating seniors don white tuxedos and dresses adorned with a red rose. It's quite a sight. Photo via Upsilon Andromedae/Flickr.
<p>Wilson graduated from New Trier decades ago. Best known for his iconic role as Dwight K. Schrute in the "The Office," Wilson also co-founded <a href="https://www.facebook.com/soulpancake/" target="_blank">SoulPancake</a>, a digital media company that explores life's big questions. </p><h2>The actor's love of humor and humanity shine through in his commencement speech to New Trier's 2018 graduates.</h2><p>Wilson started off joking about the school's mascot, the Trevian. </p><p>"For those of you who don't know, a 'Trevian' is a person from Trier, Germany, who was given a BMW on their 16th birthday," Wilson said. (Cue laughter.) He also pointed out the irony of having the ceremony in the Sears Centre "considering probably not a single person in this room has ever set foot inside of a Sears." Again, laughter. These folks know themselves.</p><h2><strong>Then he got serious about what the students' privilege means for them as they move into the world. </strong>   </h2><p>"We're a privileged bunch in many ways," Wilson said. "Most of us have come from money, have some money, most of us are white-skinned, and come from families where there's been a tremendous amount of success. Most of us are going to get an amazing secondary education. And for most of us, the doors to the business world, or the art world, or political world, or science world will be wide open for us."</p><p>"This is not something I ever want you to feel bad about," he continued. <strong>"What privilege means is that we have an opportunity ... not to be entitled, not to be superior, but to acknowledge our privilege and do whatever we can to help those who don't have it." </strong> </p><iframe width="100%" height="150" scrolling="no" class="rm-shortcode twitter-embed-1004094523230715904" id="twitter-embed-1004094523230715904" type="lazy-iframe" data-runner-src="/res/community/twitter_embed/?iframe_id=twitter-embed-1004094523230715904&amp;created_ts=1528229764.0&amp;screen_name=rainnwilson&amp;text=I+was+thrilled+to+give+the+commencement+address+for+my+old+HS+%40NewTrier303.+1000+shiny+Trevians+-+off+to+make+the+w%E2%80%A6+https%3A%2F%2Ft.co%2FKR2KQ8hAlt&amp;id=1004094523230715904&amp;name=RainnWilson" frameborder="0" data-rm-shortcode-id="2HVO221559350443"></iframe><p>People sometimes mistake pointing out privilege with pushing guilt. As Wilson explained, advantages and abundance are simply opportunities "to make the world a better place."</p><p>"We have an opportunity to create jobs, nonprofits, to help fund arts organizations, help make science make tremendous strides forward, and to use our education for the greater good rather than merely seeking personal comfort and personal status," he said.</p><h2>The standard mantra of "be a good person" is inadequate to conquer the challenges facing humanity, Wilson explained. </h2><p>"The world is hurting from disunity and injustice, and we need to do more," Wilson said. "It is our privilege to be change agents in this world, to be of maximum love in this world, of maximum service, to make every school on this planet as great as the incredible New Trier High School."</p><h2><strong>And Wilson walks his talk.</strong></h2><p>He and his wife, Holiday Reinhorn, founded an educational initiative for girls in Haiti called Lidè. He also serves on the board of the global grassroots educational nonprofit, <a href="https://www.monafoundation.org/blog_post/index/25" target="_blank">Mona Foundation</a>.</p><p>Wilson capped off his thoughts on privilege with a quote from 'Abdu'l-Bahá, the son of the founder of the <a href="https://www.youtube.com/watch?v=J8ufwUb7RF4" target="_blank">Bahá'í Faith</a>, from which Wilson draws his inspiration to serve humanity:</p><blockquote>"Be ye loving fathers to the orphan, and a refuge to the helpless, and a treasury for the poor, and a cure for the ailing. Be ye the helpers of every victim of oppression, the patrons of the disadvantaged. Think ye at all times of rendering some service to every member of the human race. Do some good to every person whose path you cross, and be of some benefit to him ... for love is light, no matter in what abode it dwelleth; and hate is darkness, no matter where it may make its nest." </blockquote><p><strong>Imagine what the world would look like if all of us took Wilson's advice to heart and used whatever privilege we have for good. </strong></p><p>Watch Wilson's full speech here:</p><div><div data-card="youtube" data-reactroot=""><div><span style="display:block;position:relative;padding-top:56.25%;" class="rm-shortcode" data-rm-shortcode-id="7d471143c40825d5ce09304d9fc7f208"><iframe type="lazy-iframe" data-runner-src="https://www.youtube.com/embed/5c12NcyaxVA?rel=0" width="100%" height="auto" frameborder="0" scrolling="no" style="position:absolute;top:0;left:0;width:100%;height:100%;"></iframe></span></div></div></div>