Most Shared
Pornhub wants you to help it save our whales.
7 of the 13 great whale species are endangered or vulnerable. But nearly one-third of all the data transferred across the Internet is content for, ah, adults ... if you know what I mean.
If you think these figures are completely irrelevant to each other, well, you'd be wrong — at least during the month of February (or for someone who's conducting very niche research).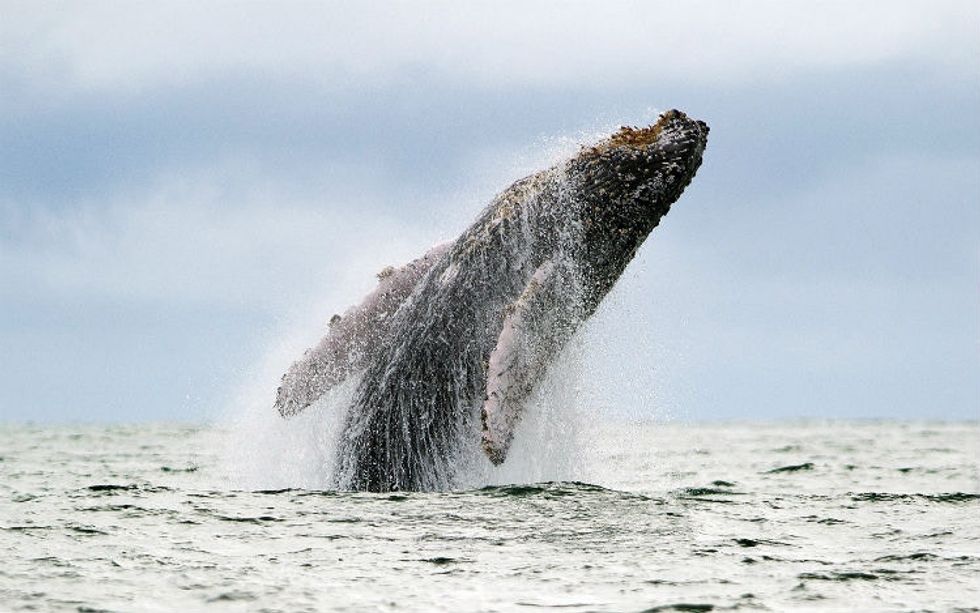 <p class="image-caption">Photo by Luis Robayo/AFP/Getty Images.</p><p>Because here's the thing: Although the complex, systemic problems facing whale populations across the globe can be overwhelming (I'll get to those in a moment), <strong> there's a simple, free, and (dare I say) <em>fun</em> way you can help save the </strong><strong>whales this very moment.</strong></p><p><img type="lazy-image" data-runner-src="https://assets.rebelmouse.io/eyJhbGciOiJIUzI1NiIsInR5cCI6IkpXVCJ9.eyJpbWFnZSI6Imh0dHBzOi8vYXNzZXRzLnJibC5tcy8xOTUxNTYxMC9vcmlnaW4uZ2lmIiwiZXhwaXJlc19hdCI6MTY0MTg3MzA1MX0.m4dIxAF5x-9FznRO3VO7Babk6pZZPW9cT6kIZPqB4Zg/img.gif?width=980" id="4bbcf" class="rm-shortcode" data-rm-shortcode-id="ca159def5edf7f31cb80d5491b36143b" data-rm-shortcode-name="rebelmouse-image"></p><h2>Adult entertainment. XXX content. "Hanky panky" videos. Whatever you want to call it, yes — watching porn can help save the whales.</h2><p>Thanks to adult content website Pornhub (I would link here, but ... you know), supporters can, um ... <em>enjoy themselves</em> ... and fund whale conservation efforts at the same time.</p><p><strong>Now that's a win-win.</strong></p><p><img type="lazy-image" data-runner-src="https://assets.rebelmouse.io/eyJhbGciOiJIUzI1NiIsInR5cCI6IkpXVCJ9.eyJpbWFnZSI6Imh0dHBzOi8vYXNzZXRzLnJibC5tcy8xOTUxNTYxMS9vcmlnaW4uZ2lmIiwiZXhwaXJlc19hdCI6MTYxNDE4NjIyOH0.n91IvkvYT4oV0soq-fKTb0580cBidj7bPwu8frINF10/img.gif?width=980" id="776e5" class="rm-shortcode" data-rm-shortcode-id="fb71a124059c2119c52f050e18484ab0" data-rm-shortcode-name="rebelmouse-image"><span class="redactor-invisible-space"></span></p><p>Seeing as World Whale Day is Feb. 13, 2016, Pornhub launched its <a href="http://www.pornhub.com/cares/save-the-whales" target="_blank">Save the Whales campaign</a> (<em>that</em> link is safe to open at work, I swear), which runs now through the end of the month. <strong>For every 2,000 videos viewed on the site through Feb. 29, Pornhub will donate 1 cent to the Moclips Cetological Society</strong>, a Washington-based nonprofit dedicated to researching and protecting whales.</p><p>"We're doing this specifically because it's a brand-new way for us to lend a hand in terms of supporting causes that might not have a large enough platform behind them," the site's vice president, Corey Price, told <a href="http://www.buzzfeed.com/bradesposito/sperm-for-sperms#.lnqZRbw58" target="_blank">BuzzFeed News</a>. <br></p><p>His company is aiming to raise $30,000 from the campaign ...<strong> yes, that's 6 billion video views. Wowza. </strong>(Is it hot in here, or is it just me?)</p><blockquote>"This initiative allows us to demonstrate our sincerity and integrity when it comes to helping out one of the planet's most sacred populations of creatures — especially with what's been going on in the U.K. as of late with sperm whales washing ashore mysteriously — these animals need help."<span class="redactor-invisible-space"><br>— Corey Price, to <a href="http://www.buzzfeed.com/bradesposito/sperm-for-sperms#.lnqZRbw58" target="_blank">BuzzFeed News</a><br></span></blockquote><p>This thing that happened in the U.K. he speaks of is pretty awful — <a href="http://www.cnn.com/2016/01/25/europe/whales-beached-england/" target="_blank">three whales washed ashore</a> on a beach in Eastern England in January, just days after the same thing happened in <a href="http://www.dw.com/en/beached-whales-pose-risk-of-explosion/a-18982380" target="_blank">other areas of Europe</a>. Yeah, not good.</p><p><span></span></p><p><img type="lazy-image" data-runner-src="https://assets.rebelmouse.io/eyJhbGciOiJIUzI1NiIsInR5cCI6IkpXVCJ9.eyJpbWFnZSI6Imh0dHBzOi8vYXNzZXRzLnJibC5tcy8xOTUxNTYxMi9vcmlnaW4uanBnIiwiZXhwaXJlc19hdCI6MTYzOTgwMTA0OX0.NJCFJYo-EfRwShgbqVF7INzDrhyL4h-Lm0Kxnua6G74/img.jpg?width=980" id="66966" class="rm-shortcode" data-rm-shortcode-id="f6e2974a292856ebf23164284d851b2a" data-rm-shortcode-name="rebelmouse-image"></p><p class="image-caption">Someone graffitied "mans fault" on one of those poor whales in England. Photo by Dan Kitwood/Getty Images.</p><h2>We don't have the best track record when it comes to treating our whale friends fairly.<br></h2><p><strong>Commercial whaling</strong>, although illegal, is still <a href="https://www.worldwildlife.org/species/whale" target="_blank">happening</a>, <strong>lethal "scientific" whaling </strong><a href="https://www.worldwildlife.org/species/whale" target="_blank">is unnecessary</a>, and<strong> climate change</strong> (again, caused by us) means whales' habitats have been affected tremendously in recent decades.<br></p><p><img type="lazy-image" data-runner-src="https://assets.rebelmouse.io/eyJhbGciOiJIUzI1NiIsInR5cCI6IkpXVCJ9.eyJpbWFnZSI6Imh0dHBzOi8vYXNzZXRzLnJibC5tcy8xOTUxNTYxMy9vcmlnaW4uanBnIiwiZXhwaXJlc19hdCI6MTYwNzgxMjI3OH0.b3UXKaCcCKyrvoTEAl1A7kYWTRZewUnRT57ulUVhH-w/img.jpg?width=980" id="4c293" class="rm-shortcode" data-rm-shortcode-id="f600e86efe1f39e0b563e7b3ed45ec8f" data-rm-shortcode-name="rebelmouse-image"></p><p class="image-caption">Photo by Dan Kitwood/Getty Images<span class="redactor-invisible-space">.</span></p><p>We could be doing so much better.</p><h2>This can be your way of lending a helping hand (er, you get my drift) for sea creatures that desperately need our help.</h2><p>Hey, and if this <em>isn't</em> your preferred method of philanthropy — to each his own — you can always learn more about how to help on the Moclips Cetological Society's <a href="http://www.moclipscetologicalsociety.com/" target="_blank">website</a>. (I doubt you'll find as fun of an option to give back, but you can try.)</p>